Benz STAR C6, BMW ICOM, JLR, VAS, HONDA, TOYOTA, PIWIS, Subaru, VOLVO, GM, ford, MAZDA Multiple in one diagnostic tool
All original software will be installed
1. If you select the software installed the HDD/SSD , you can insert the it to your laptop then can use it
Configuration requirements and usage of PC
1.1 Computer hardware requirements: CPU i5/i7; memory: 8g.
1.2 Usage: there are 4 options after power on, which can be selected by the up and down keys, and then click enter to confirm.
2. If you select the software installed the laptop , you can use it directly when you get it
Note:
The hard drive comes with MB STAR C6 DoIP,BMW ICOM, GM Tech2Win and GM GDS2 ,Ford IDS,Mazda IDS,Toyota TIS, Honda HDS,VW ODIS,JLR SDD and Pathfinder(option),Subaru SSM3,Volvo VIDA,Porsche Piwis2 Original Software.
Software version:
1.Toyota TIS V18.00.008
For Toyota,support year 2000-2023
2.Honda HDS HDS V3.105.12
For Honda,support year 2005-2023
3.FORD/ MAZDA IDS V129
Ford,support year 2005-2023
(some F series models which car year is before 2010 cannot work for Ford IDS and some model need to work with FDRS
please contact seller if you are not sure the device can work for your model or not.thanks)
For Mazda support year 2005-2023
4.GM MDI2 V2023.05
For GM,support year 2000-2023
5.VOLVO Vida V2014D
6.JLR SDD and Pathfinder V161 and V374
JLR SDD,support year 2007-2017
JLRPathfinder,support year 2016-2022
7.VW ODIS V11
For VW AUDI,support year 2001-2022
8.Benz Star C6 V2023.06
For Mercedes Benz,support year 2005-2023
9.BMW ICOM V2023.06 ISTA-D V4.41.30, Programming: ISTA-P v3.71.0.200
For BMW,support year 2004-2022
10.PORSCHE PIWIS 2 V18.1000
For Porsche 2,support year 2005-2017
11. SUBARU SSMIII V2022.01, SSM3 V1.57.71.8, SSM4 V22.60
For Subaru,support year 2005-2021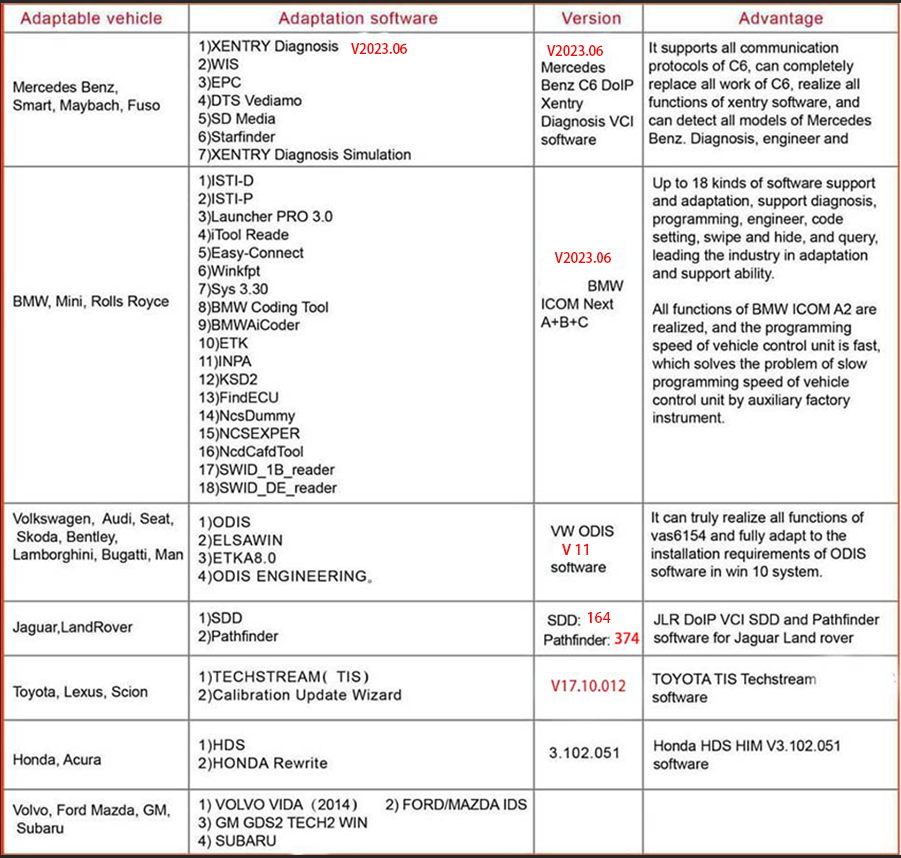 Multi in one DoIP OE diagnosis
is a real DoIP original diagnosis instrument based on DOP, J2534 and more original protocols adaptation under OEMD brand. It not only supports all J2534 protocols, but also takes the lead in realizing perfect and complete DoIP adaptation in the industry, replacing the original diagnosis instrument's adaptation ability, programming ability, diagnosis and programming speed, stability and original diagnosis. The ability of the instrument has been greatly improved, taking the lead in the industry to replace C6 in an all-round way, and it is also the first comprehensive original diagnostic instrument in the industry to realize all functions of ICOM A2 and VAS6154. OD6 has really raised the multi in one and comprehensive original diagnosis instrument to a new benchmark height, which has become the only choice for J2534 and DoIP OE diagnosis tool.
Features:
It adapts to the OE diagnosis software, perfectly replaces the OE diagnosis, and realizes the OE diagnosis functions such as control unit identification, reading and deleting fault information, data flow, guided fault query, action test, programming, matching, code setting, brush hiding, changing vehicle configuration, etc.
Advantage characteristics
1.Multi in one comprehensive diagnosis instrument VCI of the original factory, one machine is multi-purpose and cost-effective;
2.Comprehensive and perfect DoIP support, not only support but also more perfect adaptation;
3.Realize the functions and speeds that J2534 and other comprehensive original diagnosis instruments cannot achieve;
4.Solve the problem that non doip or other diagnostic instruments are unable to program audio gateway and instruments;
5.Solve the problem that non doip or other diagnostic instruments cannot test the new and old models;
6.The industry takes the lead in supporting and adapting 18 BMW series softwares;
7.The industry takes the lead in supporting the programming software of Toyota and Honda;
8.The industry takes the lead in adapting and supporting Mercedes Benz disassembly and assembly tutorials, diagnostic demonstration programs and third-party line query software;
9.It can perfectly replace BENZ STAR C6 and many original diagnostic instruments;
10.Realize all functions of BMW ICOM A2, and realize rapid programming of vehicle control unit;
11.Realize the installation and use of win 10 of Audi ODIS series;
12.Realize all functions of VAS6154;
13.At the same time, it supports SDD and Pathfinder, and can modify the vehicle and program the control unit to read the data quickly;
14.Support all functions of tis software of the main factory, and realize the function of upgrading vehicle power system software that 4S stations at home and abroad can't do at will;
15.Support all functions of the factory's HDS software, so as to realize the function that 4S stations at home and abroad cannot upgrade the vehicle power system software at will;
16.Multi protocol is added to ensure comprehensive adaptation ability and programming function;
17.Support model expansion, such as Volvo, Ford Mazda, GM, Porsche, Subaru, etc;
18.The actual measurement of doip programming, no gimmick, with data and facts.
Protocol support:
1.SAE-J2534-1
2.SAE-J2534-2
3.ISO-9141 K-Line
4.ISO-14230 K-Line
5.ISO-15765 K-Line/CAN
6.ISO-11898 DWCAN
7.ISO-11898 DWFTCAN
8.SAE-J1850 VPW(GM Class2)
9.SAE-J1850 PWM(FORD SCP)
10.SAE-J2411 Single Wire CAN(GMLAN)
11.SAE-J2610 SCI(Chrysler)
12.SAE-J2740 GM ALDL
13.SAE-J2809 (HONDA DIAG-H)
14.SAE-J1939 CAN
15.SAE-J1708 On RS 485
16.VAG TP16 CAN
17.VAG TP20 CAN(SAE J2819)
18.VAG KW81(SAE J2818)
19.BMW DS2
20.FORD UBP
21.DOIP
1. 2023.06 Mercedes Benz C6 DoIP Xentry Diagnosis VCI software display: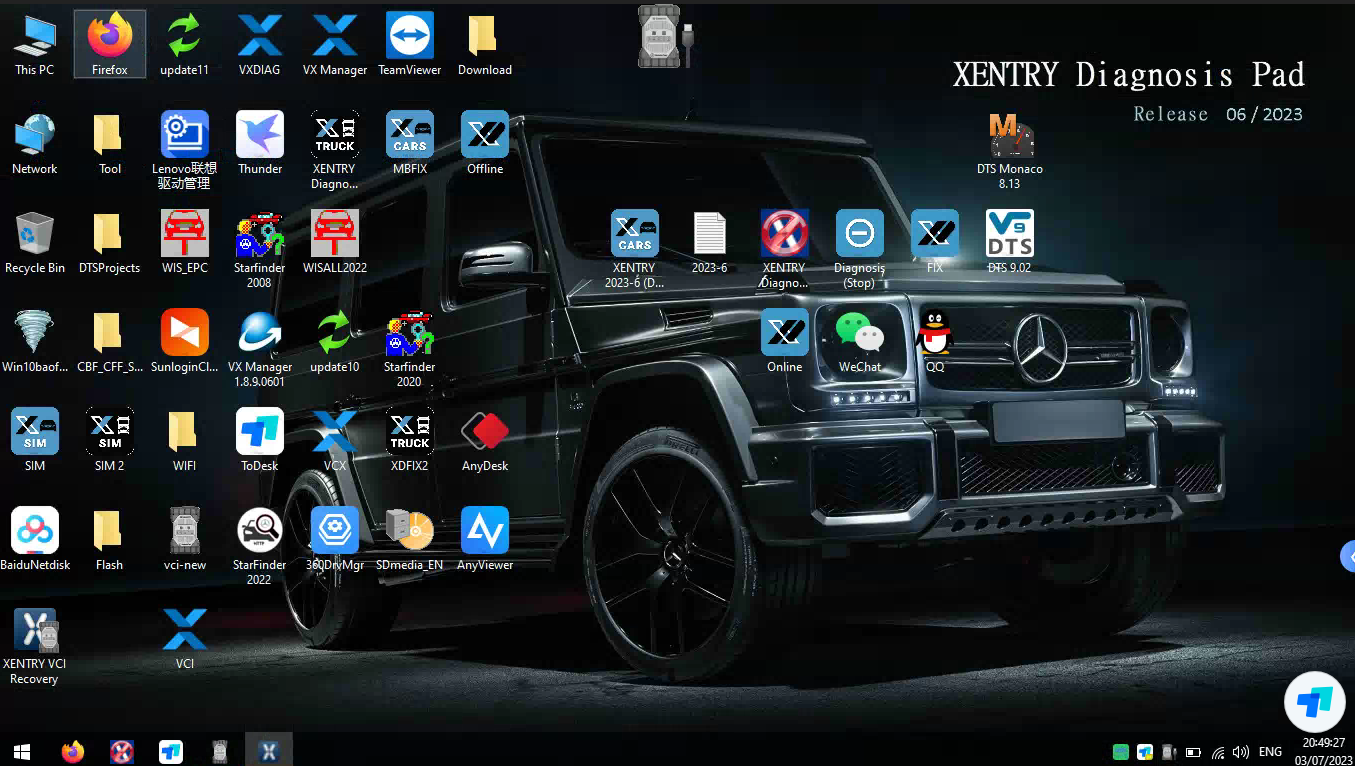 Benz software include two versions of PASSTHRU & PDU,including DAS,Xentry software.Version of PDU support new car models of 222,213,205 etc,other car models need to usepassthru version to diagnose. Not support old models of 210,203,220 with K-Line communication. It support connections of WIFI,LAN and USB.
Product Features:
Engines (All Gasoline & Diesel Systems)
Transmissions and Electronic Selector Modules
Airmatic and Active Body Control Suspension Systems
Traction Systems: ESP / ASR / ETS / ABS / BAS / SBC braking systems
Supplementary Restraint Systems (SRS) / Airbag, All body modules OCP / UCP / LCP / SCM / SKF / KFB / RCM / DCM's
Drive Authorisation System
Sam (Signal Acquisition) Modules
Electronic Ignition System (EIS)
Pneumatic System Equipment and ATA functions
Air Conditioning / climate control Systems
Instrument Cluster
Tyre Pressure Control
Parktronic System
Keyless Go
D2b Command & Audio Gateway (D2B and MOST networks)
TV Tuner
Headlamp Range Adjustment
Seat Electronics
Rvc, RST & Vario Roof modules
Automatic Clutch System ACS
M-Class Body Modules (AAM / EAM / DAS / SEM / VG Transfer Case)
Assyst & ASSYST + systems
2. V2023.06 BMW ICOM Next A2+B+C software display: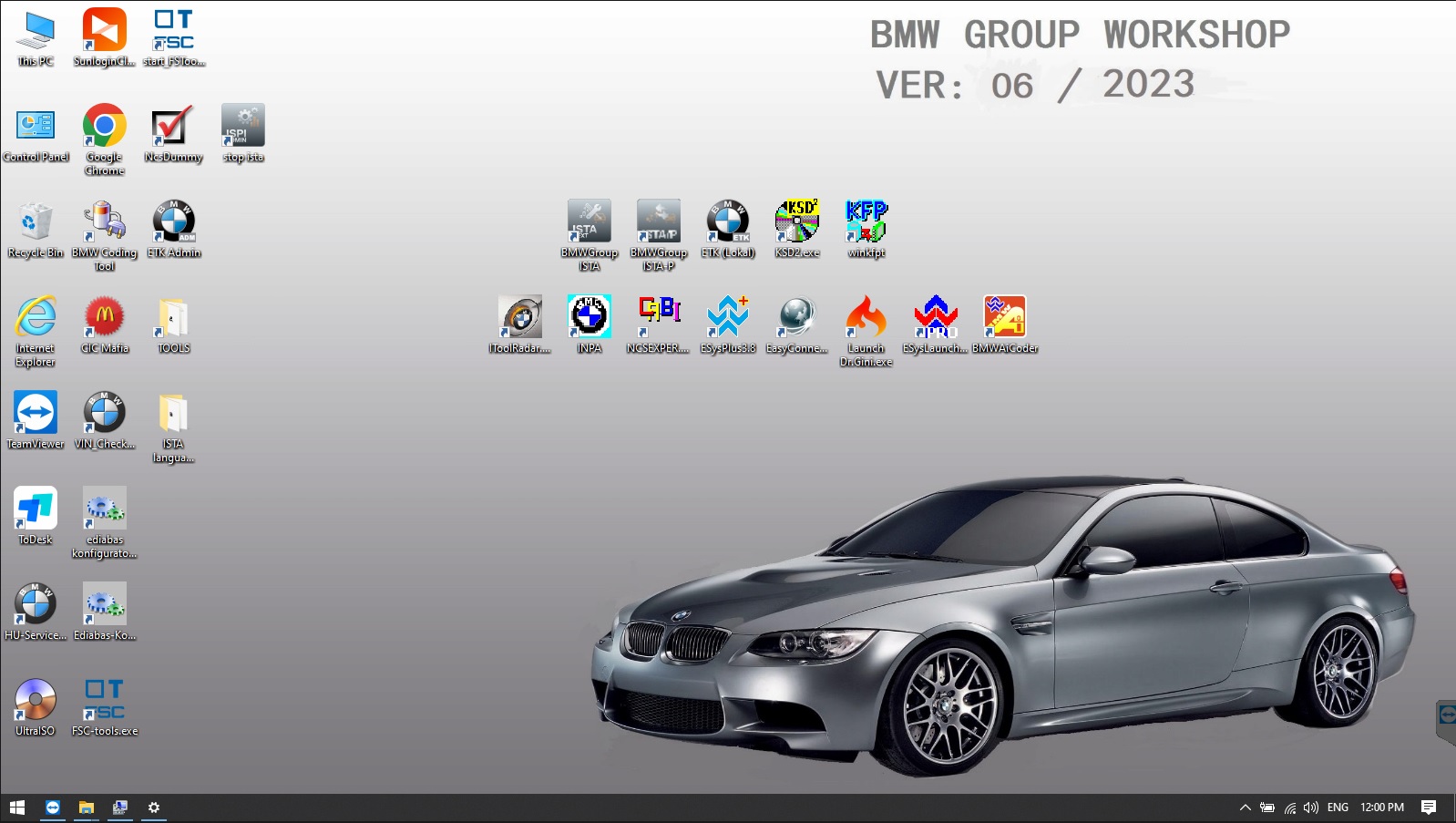 BMW software version:
Diagnosis:
ISTA-D V4.41.30
Programming:
ISTA-P v3.71.0.200
The new BMW software can perform programming and coding for all BMW E/ F/ G series cars. Same as BMW ICOM A1 / A2 / A3, ALLSCANNER VXDIAG A3 supports all BMW software and is good at fiber programming.
The main diagnostic software includes:
BMW ISTA-D (Diagnostic);
BMW ISTA-P (Programming)
BMW Group ISPI (the fourth generation of BMW diagnostic software client);
E-SYS (Engineer Software for F series, available for programming, coding, Chinesization, realize hidden functions, advanced features);
WINKFP (for E series: programming, upgrade and downgrade);
Tool32 (enter key, import codes, delete certification, advanced features of BMW series);
INPA (read vehicle information, diagnosis, read and clear trouble codes);
BMW Coding (for E series: import data, change the code or realize hidden functions);
KSD2 (offer full vehicle repairing information for diagnosis or programming);
NCS-Expert tool (for E series: set codes, realize hidden functions and change settings);
BMW software includes the engineer version, which is the quick and easy diagnostic programming and coding system that German BMW engineers are using. The system is designed in English and German. The Engineer version is so practical and powerful that it can achieve professional features which all the original professional computers can realize, can change the language into Chinese through the OBD port for import cars (Europe regulation cars, the United States and the United States, Africa, etc.). Features mainly include: diagnosis, programming (incl. programming one module only), coding, realize hidden function, new features activation, the module system update.
3.Toyota TIS

V18.00.008

Functions and Descriptions:
1.Fully compatible with SAE J2534
2.Fully compatible with Toyota TIS Techstream
3.Supports Diagnostics, and Active tests.
4.Supports most 1996 and newer Toyota, Lexus, and Scion vehicles with OBDII/DLC3 diagnostics
4. Honda HDS

HDS V3.105.12

Function:
Functions Supported by Hond
a/Acura Protocols
Reading and decoding fault codes from control blocks memory
Deleting fault codes
Displays system current parameters in digital form
Combined displaying of data
Management of executive devices
Logs keeping - writing and keeping of digital parameters in memory
Special functions - changing of permissible settings of blocks, programming etc.
5. Ford/Mazda IDS VCM2 V129 Function: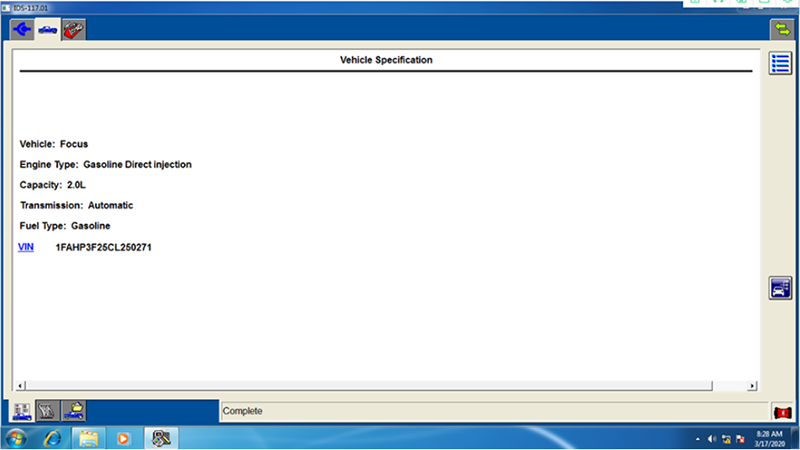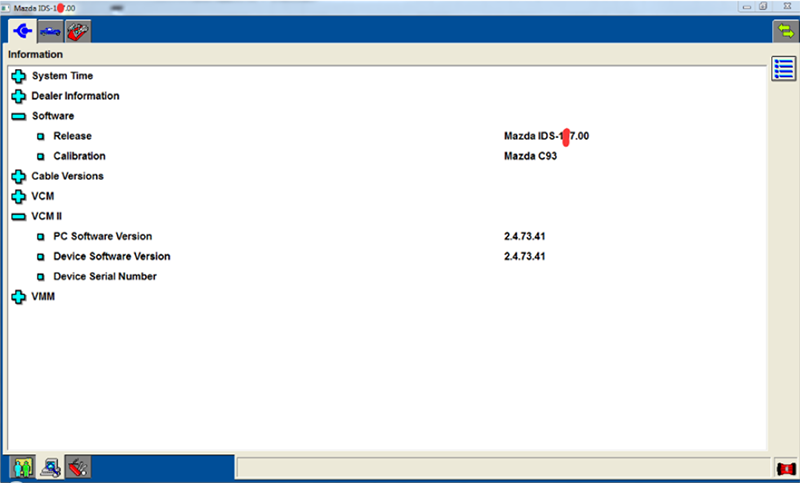 1. Programming & Installation of new ECUs (PCM, ABS, Instrument Cluster, Air Bag, Fuel Pumps, etc.)
2. Live Data-stream with Recording & Playback Functions for Main ECUs
3. Read & Clear Diagnostic Trouble Codes (DTCs)
4. Set, Adjust or Remove Speed Governors
5. Automatic vehicle recognition
6. New Software Re-flash for Existing ECUs
7. All Other Dealer Functions
8. Steering Angle Resets
9. Guided Fault Finding
10. Program New Keys
11. DPF Regeneration
12. Brake Bleeding
13. Injector Coding
6.GM MDI 2 V2023.05 GM/OPEL FEATURES:
GDS2:
https://mega.nz/#F!jN4lSYaA!5Q_p4sZEySxLu6HVPP418A
(
VIDEO:
https://youtu.be/WrzPriILVaU
)
GDS2 Patch(2021.03.01)
https://mega.nz/file/oZ820RCJ#BXRW3mOGCC7mfMjtaJ71AzjwghBlCogoM7RNGWi9KmE
Tech2Win:
https://mega.nz/#!tIFWUIxT!XBAFZWEFPhQ3A9MtyPYfT1wojVgB1sEmt2T62nrmQcM
1.Fully compatible with SAE-J2534-1 & SAE-J2534-2
2.All current and most legacy vehicle protocols: CAN, UART, KW2000, Class2, GM LAN, etc.
Global Diagnostic System (GDS & GDS2)
* New Diagnostic Application Software required for all GM Global Architecture (Global A) Vehicles.
* GDS & GDS2 is software which runs on a specific PC. Updates received via TIS2Web.
GM Kit support both GDS & GDS2. GDS 2 works similar to the original GDS. easier and faster
GDS 2 provides the following capabilities in multiple languages:
* Read codes, code status, Freeze Frame data and Clear Codes.
* Read VIN, ECU part numbers and software numbers.
* Record, store and replay Stored data.
* Control and monitor Output Control functions.
* Configure and Reset functions.
* Record or display history of the previous vehicle diagnostic sessions.
COMPATIBLE SOFTWARE:
* Support PC-based diagnostics with rollout of the Global Diagnostic System GDS & GDS2
* Support GM TIS2WEB online Service Programming System (SPS)
* Support Tech2Win application to offering a larger screen with all of the Tech 2 tool functionality
Service Programming System (SPS)(For this function, you need have GM online account for online programming)
* passthrough programming on GM past model and Global A vehicles
* Increase reprogramming speed 20-70% and get ready to service new models
For pass-through programming of electronic control units on all vehicles built since 1996 and future model releases. The VCX Nano Prime GM KIT is between 20% and 70% faster than Tech 2.For example, on a new Tahoe hybrid with 7 ECUS, it would normally take 2 full hours to reprogram. But, with VCX Nano the process is completed in just 45 minutes. That's a 64% difference and means you could service 10vehicles rather than 4in an 8-hour day! The potential to increase revenues is dramatic.
Tech2Win Function
Tech2Win, an application version of the Tech 2 and CANdi (Control Area Network diagnostic interface) moduleTech2Win can be used during a vehicle road test, offering a larger screen with all of the Tech 2 tool functionality. The Tech2Win application offers all of the features and functions of the Tech 2 for Opel etc. Tech2win need to install on win 7 32 bits.
7.Volvo Vida V2014D Function: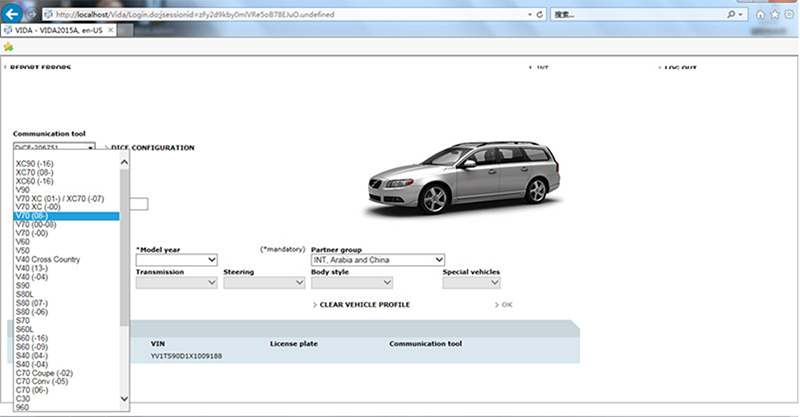 2014D Software Language: Italiano, English, French, Portuguese, Swedish, Japanese, Korean, Dutch, Russian, Turkish, Thai, Chinese
1) Administration - General information, design and function
2) Standard components, service materials and consumables. General information (among other things, control modules, SRS, general safety)
3) Service and maintenance
4) Engine with mounting and equipment
5) Electrical system
6) Power transmission
7) Brakes
8) Suspension and steering
9) Springs, shock absorbers and wheels
10) Body and interior - among other things, diagnostics, design and function, repair and spare part information
11) Other - special vehicles, e.g., ambulances, police cars. Components that deviate from standard.
8.LAND ROVER Jaguar SDD V161 and Pathfinder V374 Software Feature: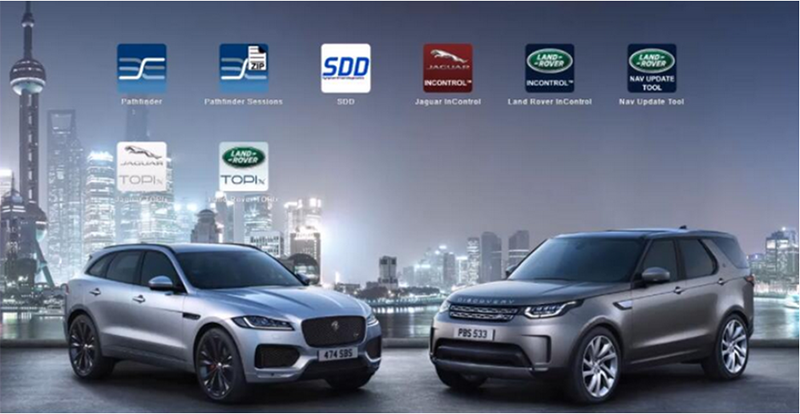 The Pathfinder software
It is the only unit that will be compatible with the Pathfinder software and all JLR vehicles with the new vehicle architectures found in 2018 and newer vehicles (from the Range Rover/Range Rover Sport L405/L494). In addition to the 2018 and newer vehicles, the DoIP VCI will also be capable of interfacing with 2014 through 2022 Multi-CAN architecture vehicles (see application list below).
The SDD software
All 2014-2022 with no DOIP and earlier (2006 to 2022) land rover and Jaguar will still use the SDD JLR software.
The NEW JLR DoIP VCI is the newest interface for Jaguar and Land Rover vehicles.
It is the only unit that will be compatible with the Pathfinder Software and all JLR vehicles with the new vehicle architectures found in 2017 and newer vehicles (from the Range Rover/Range Rover Sport L405/L494). In addition to the 2022 and newer vehicles.
The DoIP VCI will also be capable of interfacing with 2014 through 2022 Multi-CAN architecture vehicles (see application list below). Vehicles 2014 and older vehicles not detailed here will continue to use the current diagnostic system and VCIs.
DoIP VCI Applications:
· XE (X760)
· F-Pace (X761)
· F-Type (X152)
· XF (X260)
· XJ (X351) – 16MY only
· Evoque (L538)
· Discovery Sport (L550)
· Range Rover (L405)
· Range Rover Sport (L494)
9. VW ODIS V11 for VW Audi Skoda
Support the newest ODIS 11 software and UDS protocol.
Support Volkswagen, Audi, Skoda, Bentley, Lamborghini
10.Porsche Piwis Tester II Functions and Descriptions: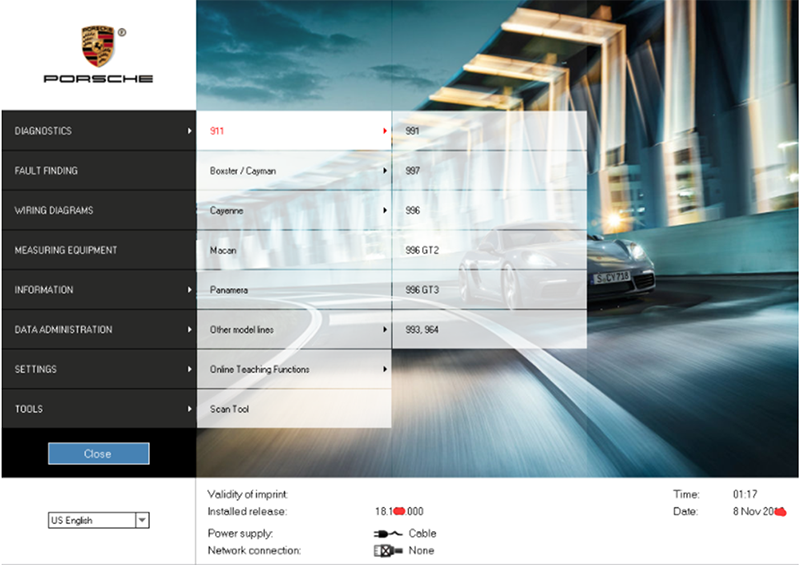 1. Read/clear error code, catch data stream, computer programming match, component test, maintenance information consult, components site drawing, wiring diagram.
2. Porsche Piws2 II works with the old and latest Porsche cars. It is equipped with the Lenovo or Dell laptop and original software for the test.
Porsche Piws2 II can help you diagnose and program all new and old kind of Porsche cars. For example: 911(997)(991),Boxster/Cayman, (987),
Cayenne up to MY 2010, Cayenne from MY 2011 and Panamera.
3. New Panamera can only be diagnosed by using Porsche Piws2.
4. Able to work with both old and new Porsche cars up to MY 2013.
Porsche Piws2 II Support Systems:
Engine, automatic transmission, air-conditioning, SRS, ABS, ASR, MPL, GM, Original antitheft System, Keyless GO system, OBDII system.
Porsche Piws2 Vehicle Coverage:
1. 911(997) (991)
2. Boxster/Cayman (987)
3. Cayenne up to MY 2010
4. Cayenne from MY 2011
5. Panamera
6. Support Porsche Cars Till 2017
11.SUBARU V2022.01 Software Function:
1. All System Diagnosis. Selecting this item displays on a single screen the fault detect status of all control system control modules for which SSMΙΙΙ diagnosis is supported, and memorized diagnostic codes.
2. Each System Check. Selecting this item makes it possible to select a particular system from among the control systems forwhich SSMΙΙΙ diagnosis is supported, and perform fault diagnosis. This item can be used to view input/output data of the system control modules that perform fault diagnosis, memorized diagnostic codes, and other data on the PC display. This menu item is also used after repair work is complete to delete diagnostic codes, to configure control module settings, etc.
3. Saved Data Display. This item can be used to save various data sampled during fault diagnosis operations, and to load data for viewing after work is complete.
4. Immobilizer. This item performs immobilizer registration.
5. Reprogram. This item performs reprogramming of the control module.
6. Read CF application measurement data. This item performs reading stand alone measurement data saved in a CF card to hard disk of your PC.
7. Convert/Save measurement data on driving recorder. Loads data sampled on the driving recorder to the PC from the CF card, and converts and saves that data.
8. Oscilloscope. After attaching the optional pulse/analog cartridge to SDI, connect the pulse/analog box to the SDI and using pulse/analog probe to perform analog sampling. But we do not provide pulse/analog cartridge.
Package List:
1pc x VXDIAG VCX-PLUS Machine
1pc x OBDII Cable
1pc x USB Cable
1pc x 2TB HDD (Optional)
1pc x Second Hand Lenovo T450 Laptop(Optional)
Second Hand Laptop Lenovo T450 Specification:
Brand: Lenovo
Condition: Used
Type:Laptop/Notebook
Screen Size:12.5
Processor Type:Intel (R) Core(TM) I5-5200U CPU
Memory: 8GB
Hard Disk:2000G HDD or 2000G SSD