Autel Maxisys MS919 Diagnostic Tablet with Advanced Maxiflash VCMI and Measurement System
The MaxiSYS MS919 is a 9.7-inch touchscreen Android-based advanced diagnostic device powered by an Octa-core processor (2.3GHz Quad + 1.7GHz Quad), 128GB memory. MS919 features the MaxiFlash VCMI, a 5-in-1 communication and testing tool providing wireless vehicle communications between the vehicle and tablet and supporting the latest DoIP, D-PDU, and Mega CAN vehicle communication protocols. The VCMI also functions as a 4-channel oscilloscope, waveform generator, multimeter, and CanBUS tester. The MS919 features dynamic topology module mapping for supported vehicles and its Intelligent Diagnostics feature that guides the technician from code to repair to test with detailed repair information and illustrations, and Oscilloscope preset guides and tests and waveform library. In addition, the MS919 features a rechargeable Lithium battery proving 8 hours of continuous use, a convenient docking station, and front and rear cameras.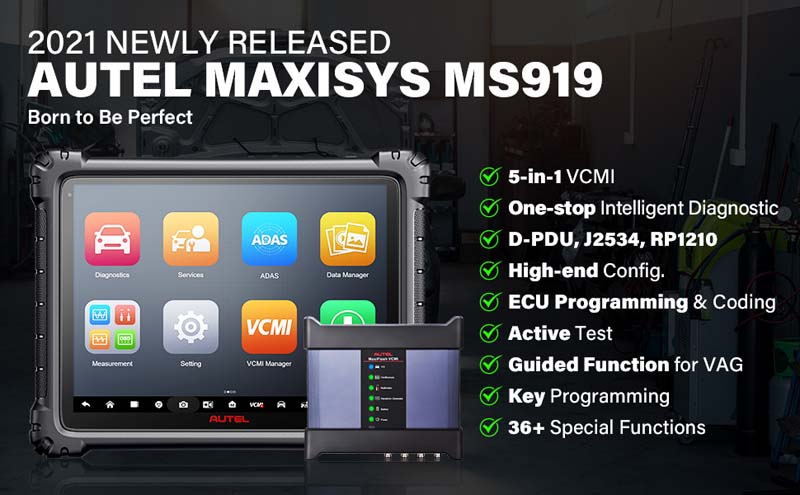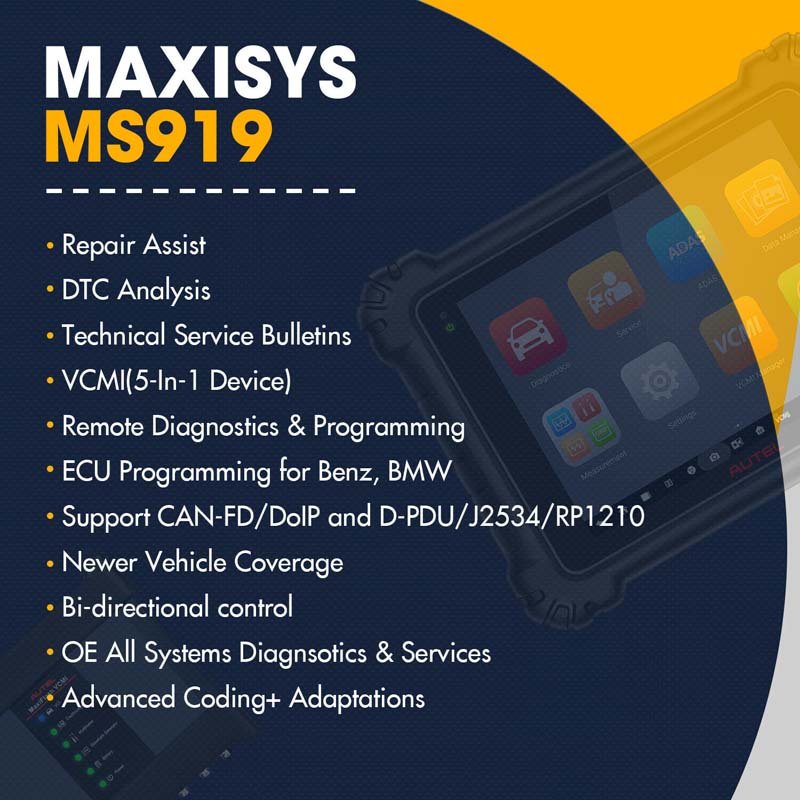 MaxiSYS MS919 Description
1. Autel updates provide latest OE level coverage for more than 80 US Domestic, Asian and European vehicles, including supercar
2. Exceptional OE-Level functionality from comprehensive OBDII diagnostics & services to advanced ECU coding and programmin
3. Automatic system and software updates with real-time push message notifications via interne
4. Interactive Data Logging sessions enable direct contact with Autel Support for first-hand troubleshooting of diagnostic bugs and error
5. One-stop multitasking designed for ideal management of workshop operations to keep all data files, customer info, and vehicle records well organized
6. Cloud-based Data Manager saves customer and vehicle records, scanner data and technician notes
MaxiSYS MS919 Features:
9.7'' Touchscreen (1536 x 2048)
Android 7.0
2.3GHz + 1.7GHz Octa-core Processor / 256GB Memory
Advanced VCMI 5-In-1 Device: VCI, Oscilloscope, Multi-meter, Waveform Generator, CAN BUS Check
Oscilloscope Preset Guided & Component Tests / Waveform Library
New VCI Protocols: D-PDU, DoIP/CAN FD, Mega CAN
Topology Module Mapping: Color Coded All System Status Screen (on supported vehicles)
Relevant Cases: DTC Troubleshooting / Repair Tips Video Library
Repair Assist: Guided Procedures with DTC Analysis & Fault Code Solutions
Code-Related Technical Service Bulletins (on select vehicles)
License Plate Reader
ScanVIN: Barcode or Text Recognition with Camera
Secure Gateway Access: Authorized FCA SGM Access with AutoAuth Account (sold separately)
Includes Docking Station, Cables, Scope Connectors, Carrying Case
Enhanced Diagnostic Reports: PreSCAN & PostSCAN
15000mAh - 8hrs Continuous Use
16MP Rear Camera & 5MP Front Camera
1-year Warranty & Software Subscription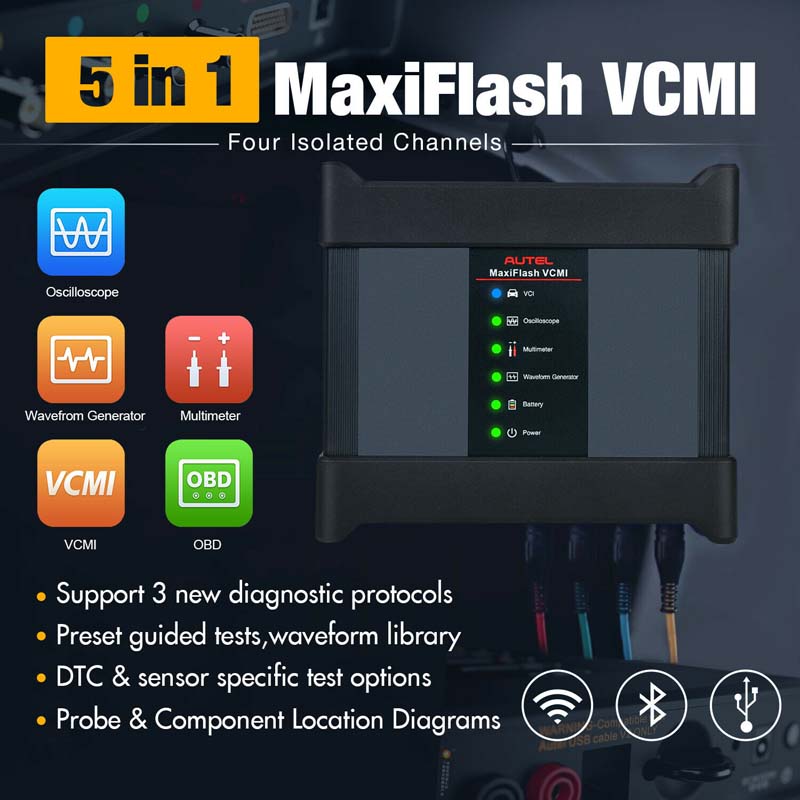 Intelligent Diagnostics:
After all the faults of the vehicle systems are scanned, tap the Intelligent diagnosticsbutton on the lower corner of the screen to directly enter the Intelligent Diagnostics screen. Entering the Intelligent Diagnostics screen, you can find the TSB, DTC analysis, repair assist and repair tips information of All DTCs for all the systems that have been scanned.
1.Vehicle System and Detected DTC(s)– displays the name of the vehicle system(s) and the detected DTC(s)
2.Technical Service Bulletin– contains DTC-related recalls, TSB, and OEM campaigns.
3.DTC Analysis– provides repair assistance information related to the fault code.
4.Repair Assist – intelligently prioritizes DTCs and leads the user to the proper repair.
5.Component Measurement– provides detailed information and instructional guides on using the oscilloscope to test components for faults.
6.Relevant Cases – offers relevant fault-clearing cases for reference.
7.Repair Tips–Intelligent guide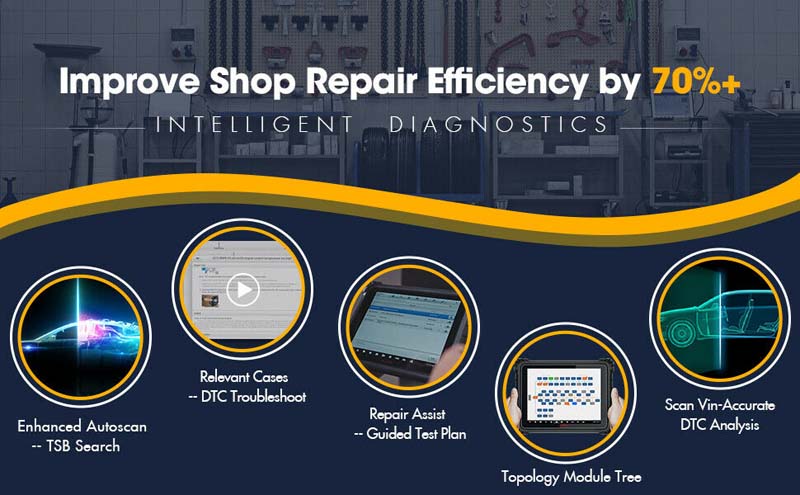 MaxiSys MS919 Service:
The Service section is specially designed to provide quick access to the vehicle systems for various scheduled service and maintenance tasks. The typical service operation screen is a series of menu driven executive commands. Follow on-screen instructions to select appropriate execution options, enter correct values or data, and perform necessary actions. The application will display detailed instructions to complete selected service operations. After entering each special function, the screen will display two application choices: Diagnosis and Hot Functions. The Diagnosis enables the reading and clearing of codes which is sometimes necessary after completing certain special functions. Hot Functions consists of sub functions of the selected special function.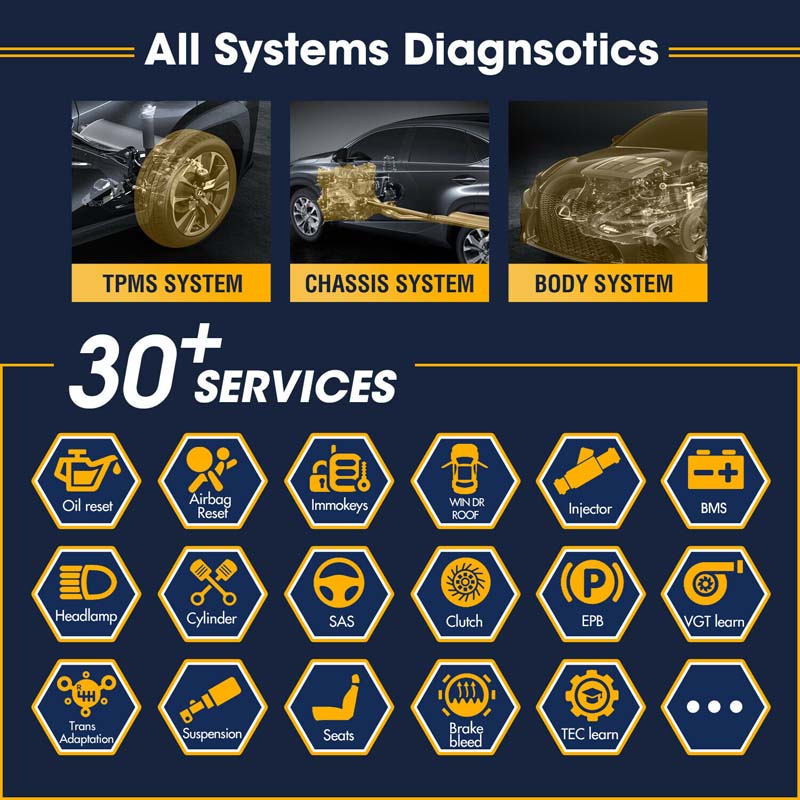 How the Autel MS919 differs from the older Elite and MS908S Pro:
More memory: 128GB Memory
Advanced VCMI 5-In-1 Device: VCI, Oscilloscope, Multi-meter, Waveform Generator, CAN BUS Checker
Topology M Module Listing CAN BUS Tree
Faster processor
Does not include a docking station
Does not include early OBD-II adapters!
Android 7.0
1-year subscription with renewable warranty.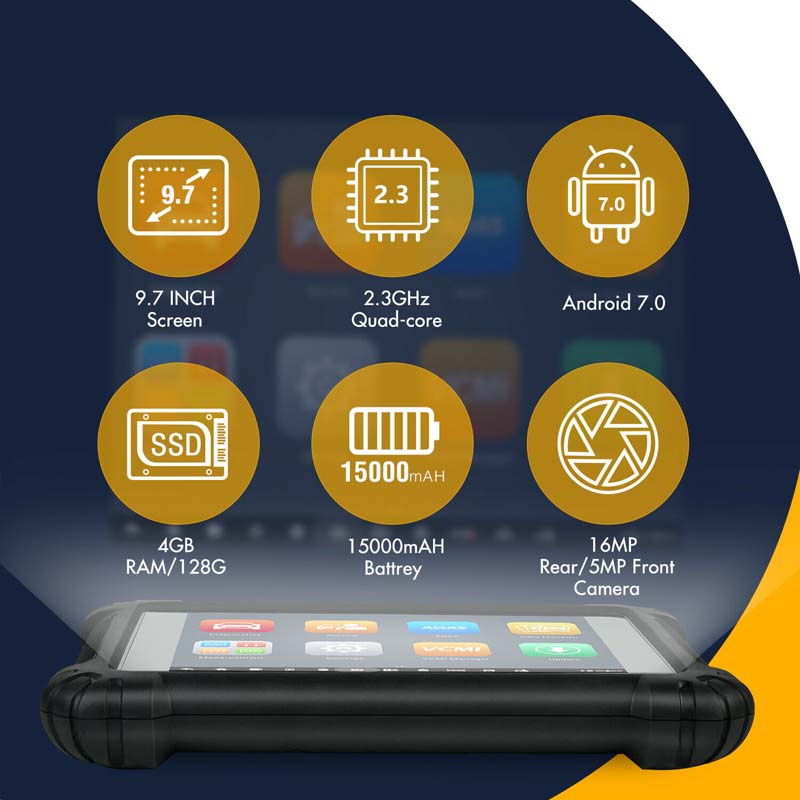 Comparison Among MS909, MS919 & Ultra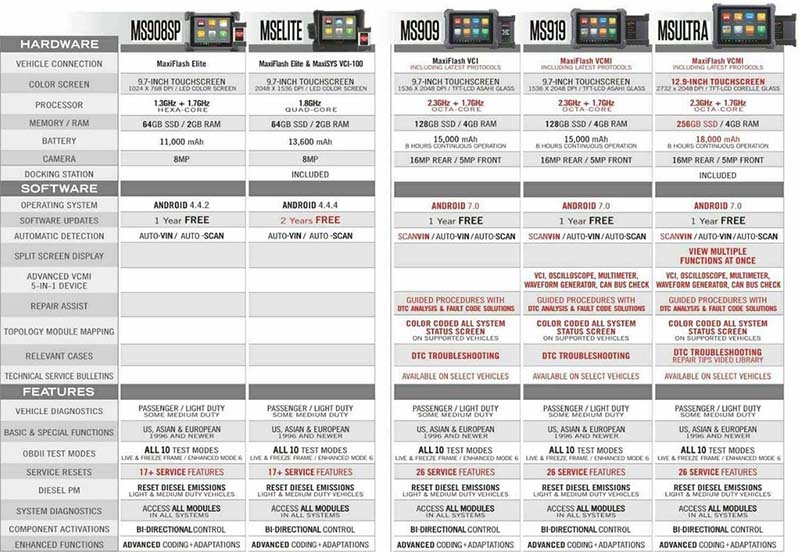 MaxiSYS MS919 Includes:
Main Unit
MaxiFlash VCMI
Main Cable V2.0
USB 2.0 Cable V2
AC/DC Adapter(12V)
Cigarette Lighter
Light Fuse 6x30mm 2 PCS
Clipper Cable
Scope Test Lead 4 PCS
Multimeter Test Lead 2 PCS
Secondary Ignition Pickup 2 PCS
Attenuator 20:1 2 PCS
Breakout Lead 4x6 PCS
Multimeter Probe 1x2 PCS
Flexible Back-pinning Probe 2x2 PCS
Back-pinning Probe - Red/Green/Blue/Yellow/Black 1x5 PCS
Back-pinning Probe Screw 2 PCS
Back-pinning Probe Replacement Needle 20 PCS
Small Crocodile Clip 2x2 PCS
Large Dolphin Clip 1x2 PCS
Quick Reference Guide
Packing List
Soft Cloth
Tool Box 177 x 102.5 x 23.5 mm
Carrying Case 634 x 170 x 404 mm