Launch X431 V(X431 PRO)8inch Tablet Wifi/Bluetooth Full System Diagnostic Tool Two Years Free Update Online
Top 7 Reasons to Buy Launch X431 V:
1. Multi-Languages:
English, German, Japanese, Russian, French, Korea, Arabic, Spanish, Italian, Portuguese, Polish, Turkish, Dutch, Greek, Hungarian, Arabic, Danish, Persian, Romanian, Serbian, Finnish, Swedish and Czech
2. One-Click Free Update Online for 2 Years
, update cost is 399.00USD/Year, after first two years
3. Dealer Code:
755D, no IP or language limitation, directly to use
4. Communicate with vehicle via Wifi and Bluetooth
, Bluetooth distance:10M (without obstacle)
5. Full system diagnosis and fast running speed, Reasonable PDA design, easy to carry
6. Work on to 69 car brands about 220 car models from European, USA, Asian, Australian, Indian, Malaysian cars, such as Benz, BMW, Ford and other mainstream models, also support IRKIA, PERODUA, Proton, TATA, Maruti, Lancia etc.
7. Support 11 Special Functions Full System Diagnosis:
Brake reset, Oil reset, SAS Rest, BAT reset, Bleeding , Elec. throttle Relearn, TPMS reset, DPF reset., Gear learning, IMMO, etc, also support special function such as BMW idle study, BMW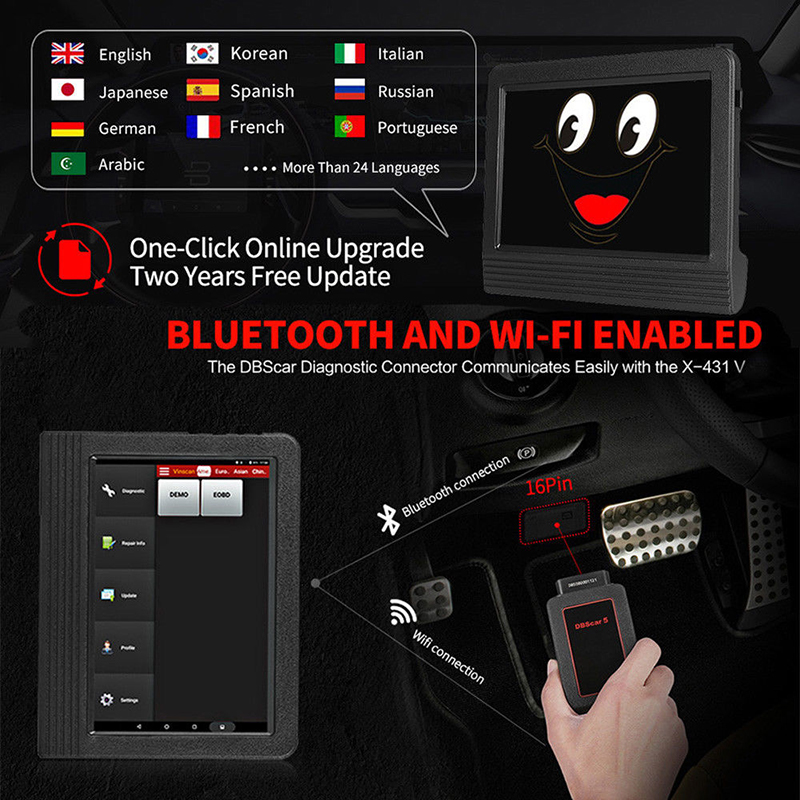 Launch X431 V is a drop-tested Android™ based scan tool tablet with an 8″ high resolution IPS touch screen (1280 x 800).It inherits from LAUNCH's advanced diagnosing technology and is characterized by covering a wide range of vehicles, featuring powerful functions, and providing precise test result.Through the Bluetooth communication between vehicle diagnostic connector and variant mobile intelligent terminals, it achieves X-431 series full car model and full system vehicle trouble diagnosis, which includes Reading DTCs, Clearing DTCs, Reading Data Stream, Actuation Test and Special Functions.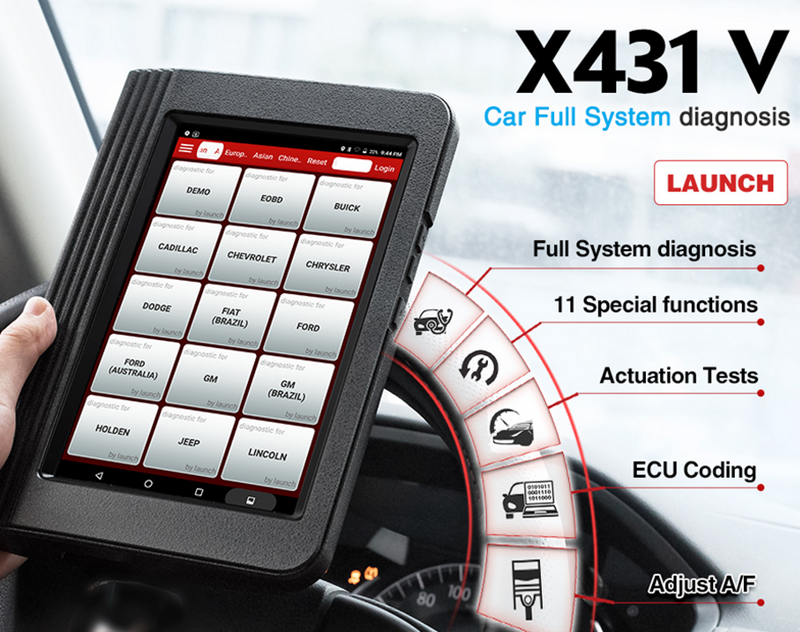 X431 V support full system diagnose Function:
X-431 V can diagnose the electronic control system of prevailing vehicle models covering Asian,European, American and China. Full range car models and full car system diagnose make itaprofessional automotive diagnostic tool.
Include :
ABS system, Engine system, SAS system , TPMS system , IMMO system , Battery system ,Oil service system , SRS system , ect...
Diagnosis functions include: Read DTCs, Clear DTCs, Read datastream, Actuation Test , ECU coding and 11 Special Function ect...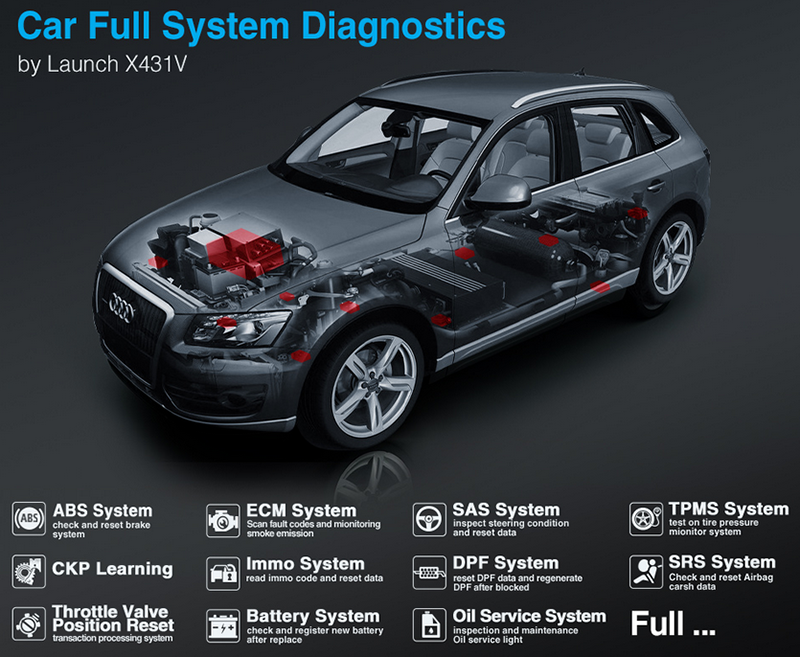 11 Kinds of Special Reset Service Functions:
This option allows you to detect whether the system parameters are normal or not. It mainly includes: Injector test, fuel pump test, purge control solenoid and so on.In addition to amazing & powerful diagnostic function, X-431 V also features various service functions. The most commonly performed service functions contain:
1.Oil Reset:
allows you to perform reset for a new calculation of Engine Oil Life system once changed the oil.
2.EPB Reset:
is important in the maintenance of electronic braking system's safety and efficiency.
3.BMS Reset:
allows the scan tool to evaluate the battery charge state, monitor the close-circuit current, register the battery replacement, and activate the rest state of the vehicle.
4.DPF Reset:
specially works for Diesel Particulate Filter system with DPF regeneration, DPF component replacement teach-in and DPF teach-in after replacing the engine control unit.
5.SAS Reset:
helps clear the fault steering angle sensor memories and plays an important role in the steering angle sensor calibration.
6.TPMS Reset:
makes sense in displaying sensor IDs from the vehicle's ECU, inputting TPMS sensor replacement IDs and testing sensors.
7.IMMO reset:
it is mainly used to disable the lost vehicle keys and program a new replacement key fob.
8.ABS Bleeding:
ABS brake bleeding to get a firm brake pad after air exhaustion.
9.Throttle reset:
The throttle body is a tube containing a pivoting flat valve (butterfly) that is used to control the amount ofair entering an engine. In an electronically fuel injected car, a throttle position sensor and air flow sensorcommunicate with the computer, which supplies the corresponding amount of fuel needed at the injectors. It must need re-learning throttle sensor position after clearing or repair
10.Gear Learning:
The scan tool monitors certain camshaft position sensors signals to determine if all conditions are met to continue with the procedure for Engine running
11.Injector Coding:
Leaking injectors and some dead injectors can be missed even when an injector is disabled. Otherproblems with the ignition system and mechanical components also may not show an rpm loss when aninjector is turned off
Note:
These special function NOT for all car models, if you are confused, Please send your car brand, model and release year to seller to check it for you .
Launch X431 V 8inch Support Vehicle List:
Supports most car models from European, USA, Asian, Australian, Indian and Malaysia.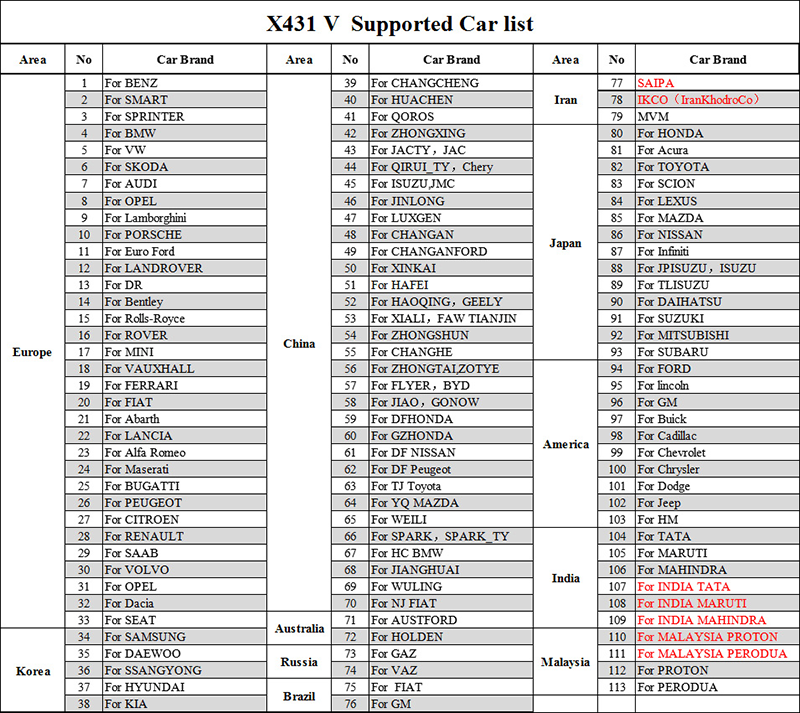 Note: Software with red font is required to be purchased separately.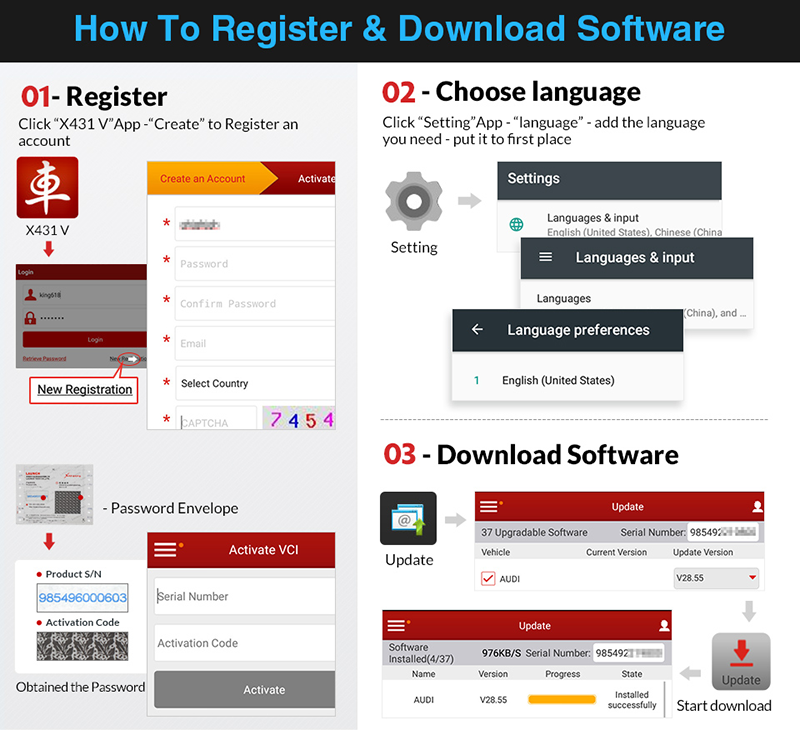 Launch X431 V Packing List:
While opening X-431 V package for the first time, please carefully check the following components:
1pc x X-431 v handset
1pc x Password envelope
1pc x X-431 v protection sleeve
1pc x DBScar diagnostic connector (For connecting OBD II vehicles)
1pc x OBD II extension cable
1pc x Cigarette lighter cable
1pc x Power adaptor
1pc x USB data cable
1pc x Non-16pin connector (For connecting non-OBD II vehicle)