Product Description

how-to-uninstall-a-new-x431-v-or-x431-vplus-from-your-pad-store.pdf

x431-vplus-x431-v-x4315v-x4315cpro-software-list.xlsx

comparasion-between-launch-tools-jpg.jpg
Original Launch X431 X-431 V+ (X431 Pro+ Pro3) Wifi/Bluetooth Tablet Full System Diagnostic Tool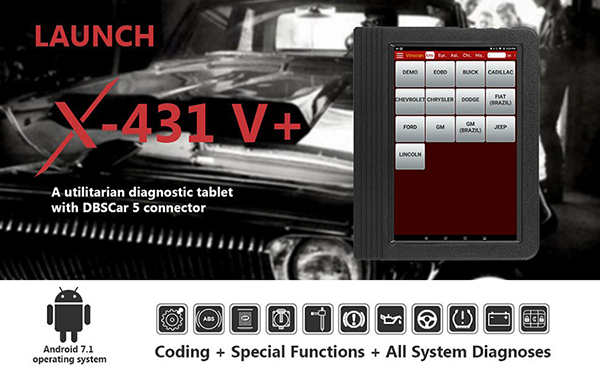 Highlights of Launch X431 V+:
1. Supported Languages: English, Italian, German, Japanese, Russian, French, Spanish, Portuguese, Polish, Turkey, Dutch, Greek, Hungarian, Arabic, Denish, Korean, Farsi, Romanian, Serbian, Finish, Swedish, Czech.
2. Wi-Fi: Supported
3. Bluetooth: Supported
4. Global Version NO IP Limit
5. One click update: You do not have to download software to memory card anymore, can do one click update directly through your machine.
6. Lifetime Tech Support Online
7. V4.0 2021 Global Version 3GB ROM + 32GB RAM
8.Bigger, Larger storage and Faster working speed than LAUNCH X431 V
9.Over 150 Car Brands and 10000+ cars supported
10.Supports Full Systems Diagnoses and 31+ Special Services
11.Adaptation+ Matching+ Reset + Initialization + Coding+ Auto VIN
12.Allows you to print our diagnostic data with Wifi printer
13.Support 12V/24V gasoline (petrol) cars, 12V for some diesel cars
14.Supports Diagnosing Heavy Duty Trucks with Extra X-431 HD III Module (You need to buy it additionally)
15.Supported system: Engine,A/T,ABS, SRS, electronic control system,body control system,vehicle theft deterrent,instrument panel cluster,radio
16.Based on Android OS, Bluetooth connection between DBSCar connector and X431 V+ PAD
17.2021 Newly Added Function: For 2017 and later FCA Vehicles with Secure Gateway Module (SGW). This function requires online subscription.
18.OBD1 & OBD2 diagnosis:LAUNCH X431 V automotive tool supports full OBD1 and OBD2 protocols both. It will be shipped as a complete package with necessary connectors and accessories. Some vehicle-specific OBD1 adapters are also included.
19.Fixed more bugs and Upgrade new car makes (BMW, Benz, BMW, VW etc) up to 2021 models, including cars, SUVs, minvans, 12v light-duty trucks. Expanded vehicle coverage can grow your customer base.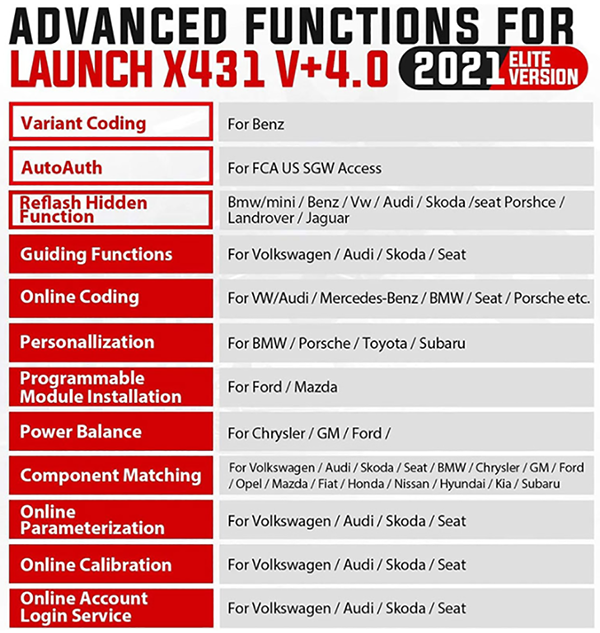 Download : launch x431 v+ Software List and Pack List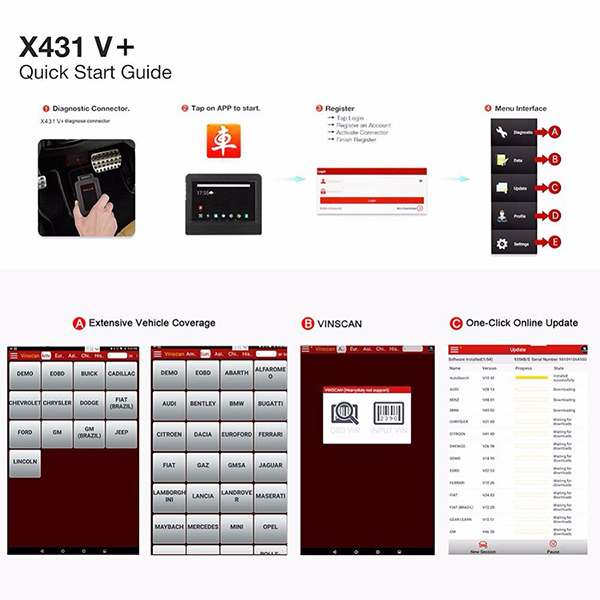 Launch X431 V+ Functions:
All Systems Diagnosis
The diagnostic scanner X431 V+ enables you to scan full control units for a number of cars such as Engine, ABS, SAS, Transmission, Fuel system, Emission system, Body, and so on. Deep Diagnosis Your Vehicles: access to ALL vehicle systems and subsystems, to perform a comprehensive scanning on ECUs.

X-431 V+ is taking the advantage of mobile internet, can share maintenance data and case library, provide instant maintenance information, and build public and private maintenance social circle,etc.,thus lead to wide car diagnostic community.
It is a typical diagnostic device contributed by Launch to diagnostic industry concerning internet application.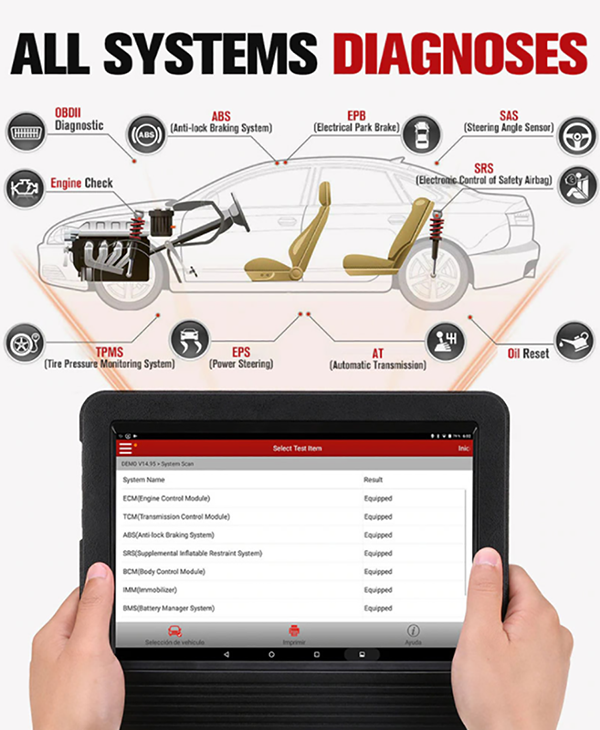 ECU CODING
The Coding function is used to re-flash the vehicle control modules, it allows you to reprogram adaptive data for certain components after making repairs or replacements, providing ways for the issues of Drivability, Fuel Efficiency, Power Loss, Fault Codes, Durability of Mechanical Parts.

Because every automobile actuator has a record code in ECU, which is the basis for automobile computer to mobilize their work. LAUNCH X431 V+ is equipped with advanced ECU coding function for addressing the following issues:
1. After you change the bad actuators or certain parts, you need to use this function to make a new code and recognize the new actuators.
2. By changing the code with the ECU coding, it's easy to improve vehicle performance or stimulate high-end functions for the car.
3. ECU coding enables multiple car systems to recognize each other and then the actuators can start to work.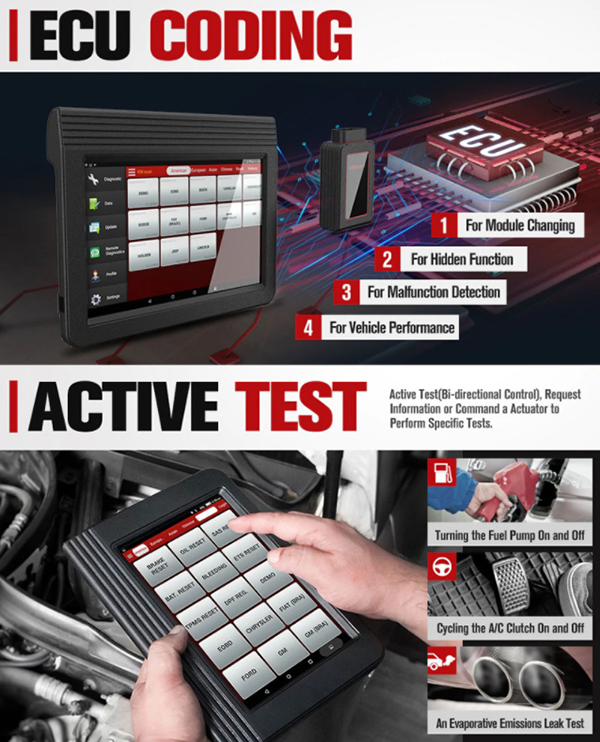 BI-DIRECTIONAL CONTROL/ ACTIVE TEST
This diagnostic tool LAUNCH X431 V+ supports active test (Bi-directional control) to request information or command a module to perform specific tests and functions.
For instance, in the case of OBD II generic information Mode 1, you can initiate a request for information from the powertrain control module, and the PCM responds by sending the information back to the scan tool for display.
This LAUNCH X431 V+ also have the ability to actuate relays, injectors, coils, or perform system tests, etc.

Special Service Reset Functions:
1. Oil Reset
Clear the oil light, reset the oil life systems every time the oil and oil filter are changed.
2. Steering Angle Calibration
Perform steering angle adjustment, clear steering sensor fault memory and turn off steering wheel warning light.
3. Electronic Parking Brake Reset
Reset the brake pad after repairs in electronic parking brake system are done. Deactivate and activate the brake control system, assist with brake fluid control, open and close brake pads, etc.
4. Battery Register & Battery Maintenance
Re-match the control module and motoring sensor for battery detecting more accurately, clear original low battery information and prevent the related control module from detecting false information.
5. ABS Bleeding
Perform various bi-directional tests to check the operating conditions of Anti-lock Braking System (ABS). When the ABS contains air, the ABS bleeding function must be performed to bleed the brake system to restore ABS brake sensitivity.
6. Electronic Throttle Position Reset & Learn
Initialize the throttle actuators to the default state for regulating throttle (or idle engine) operations accurately.
7. Diesel Particulate Filter (DPF) Regeneration
Clear PM (Particulate Matter) from the DPF filter through continuous combustion oxidation mode to stabilize the filter performance
8. Tire Pressure Monitor System Reset
Reset tire pressure and turn off the tire pressure MIL.
9. Gear Learning
Perform gear learning for the car when the engine ECU, the crankshaft position sensor, or the crankshaft flywheel is replaced. Help the user to finish tooth learning after changing crankshaft in a car engine, so the new part can be used.
10. Anti-theft Matching(Key Programming)
Clear the lost car key's information and program the new key into the ECU database to protect user's car from being stolen. (Help ECU to recognize the new keys when you need to add new keys.)
11. Fuel Injector Coding
Program in the new fuel injector numbers after replacement to replace the ones previously programmed into the ECU.

ADDITIONAL 5 SPECIAL SERVICE FUNCTIONS:
12. Air Suspension Reset
When the body height sensor and control module in the air suspension system are replaced or the level of the car is wrong, this function needs to be performed to level the body height sensor.
Car List of Air Suspension Reset Functions: Audi, Mercedes Benz, BMW, Citroen, Chrysler, Ford, GM(Cadillac, Chevrolet, GMC, Holden), Peugeot, Seat, Skoda, VW, ChangAnFord, DFCitroen, SGM, YQVW.
13. Gearbox Reset
When the gearbox is disassembled or repaired (after some car batteries are powered off), it will cause shift delay or impact problem. At this time, this function needs to be performed to automatically test the gearbox according to driving conditions. Compensate for a more comfortable and ideal shift quality.
Car List of Gearbox Reset Functions: BMW, Mercedes Benz, Chrysler, Ford, GM(Buick, Cadillac, Chevrolet, GMC, Holden, Hummer, Pontiac, Saturn), ChangAnFord, SGM(BUICK, CADILLAC, CHEVROLET, BUICK TRUCK), BYD, CHANGAN, Chery, Geat Wall, Geely.
14. Sunroof Reset
Set the sunroof lock switch, the sunroof when it is raining, the memory function of the sliding/tilting sunroof, and the temperature threshold outside the car.
Car List of Sunroof Reset Functions: Mercedes Benz, BMW, CHRYSLER, Cadillac
15. AFS Reset
Headlight matching function is used to match the headlights of the vehicle. It detects the light of the environment, then decides whether to automatically turn on the headlights, and can monitor the driving speed and body posture of the vehicle, and adjust the headlights in time.
Car List of AFS Reset Functions: AUDI, MERCEDES-BENZ, MG, CHRYSLER, GM(Cadillac, Chevrolet , GMC, Daewoo, Alpheon, PONTIAC, Holden, OLDSMOBILE, BUICK, SATURN, GMC TRUCK, CHEVROLET TRUCK), OPEL, SEAT, SKODA, VW, SHVW, SGM(BUICK, CADILLAC, CHEVROLET, BUICK TRUCK), YQVW, BAIC, GREATWALL, CHERY, CHANGAN, ROEWE, YQJC, ZOTYE.
16. EGR Reset
The main purpose is to reduce nitrogen oxides (NO x ) in the exhaust gas and improve fuel economy at partial load.
Car List of EGR Reset Functions: MERCEDES-BENZ, BMW, CITROEN, Chevrolet, Daewoo, Holden, PEUGEOT, RENAULT, VOLVO.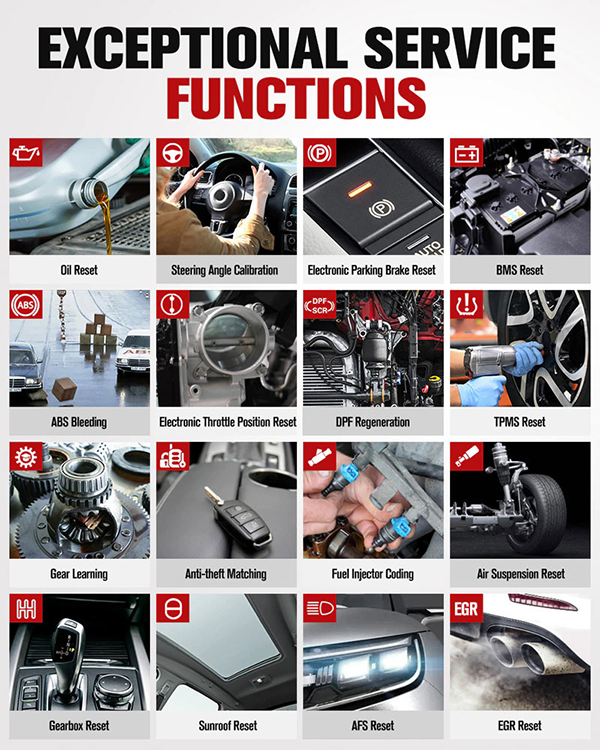 Accompany with continuous update of Launch X431 software and program, More functions has been added : Head light Fitting, Seat Matching, Door and Window Initialization Study, Sunroof Initialization, Air Suspension Matching, Gearbox Matching, Injector Calibration, Multimedia Video Reset, Cluster Reset, Immobilizer Service, Tire Change Reset, (depending on the specific car models, not for all cars, ). and more and more function will be improved and optimized ....

2021 New Added Exceptional OE-LEVEL Function till Year 2021 (All the function is car-specific):
Compatible with Benz
Basic Functions & Maintenance Services: For all models (chassis) till 2021.
Offline Coding: For all models (chassis) till 2019.
Online SCN Coding: For chassis of 204, 212, 207, 205, 222, 156, 253, 117, 190, 213, 238, 177, till 2021.
Setting/Changeover:
Adblue Reset;Unlock the engine after a collision; Cancel ABS driving test; Enable / disable seat cushion sensors; Turn off seat belt alarm; Stop/Start Reset; And more.

Compatible with BMW
For E/F/G Chassis: Basic functions, maintnance services, online programming, coding, matching and initialization, for all models till 2021.
Maintenance after Programming: Integrate the related maintenance services into the Online Programming, for all models till 2021.
Individualisation: Flash hidden functions for all models till 2021.
Modification: For all models till 2021.

Compatible with Volkswagen / Skoda / Seat
Basic Functions: Read / Clear Cods, Live Data, Active Test, Component Matching etc., for all models till 2021.
Online Account Login Service
Online Calibration
Online Parameterization
Online Coding
Guided Functions

Compatible with Porsche
Flash Hidden Function / Modification / Online Coding: For all models till 2021.
Advanced OE-Level Diagnostic Tool
Active Test & Compatible with HD Module to Diagnose CV
26 Service Function & One-Click Update

More Advantages of LAUNCH X431 V Plus:
Diagnostic Report Upload & Printing --- This diagnostic tool can automatically generate a diagnostic report when diagnostic work is successfully finished. Generated diagnostic report will be saved and sent to the email box. You are allowed to print the diagnostic report out for asking assistance or recording history fault information. With Wi-Fi Connection, you can even upload the diagnostic report and find solutions with people who are familiar with vehicle repair, or who are encountering the same issue.

Auto VIN Tech --- Instead of entering Vehicle VIN number manually, this professional diagnostic scanner comes with efficient Auto VIN Technology for retrieving vehicle information in just one touch, so the users are capable of quickly testing all the ECUs on their vehicles and running diagnosis on the selected systems.

Remote Diagnosis --- LAUNCH X431 V+ Scan tool provides practical remote diagnosis, user can ask for the remote control through phones, tablets, and computers etc. It has realized the reality that a mechanic can diagnose an abnormal vehicle which is even thousands of miles away.

Health Report Generate and Share --- With Launch X431 V+, you can generate a full system Diagnostic Report by ONE-CLICK. The reports can be emailed to the office or directly to your customer. You can also print out the vehicle health report card .

Online Repair Resources --- Provide more than 1600 vehicle models' service & repair information, handbook, repair case and operation skill

View History --- Once a vehicle diagnosis is performed, LAUNCH X431 V+ will record the every detail of the diagnostic process. The History function provides quick access to the tested vehicles and users can resume from the last operation, without the necessity of starting from scratch.

Maintenance Help --- Including How-to Videos, operation skills, and user manual, Quick start guide etc.

What If I meet with Issues during the diagnosis? --- For any problems found during the diagnosis, submit the feedback immediately. LAUNCH professional experts will provide perfect solutions for you as soon as possible .

Social Network --- This vehicle code reader helps quickly retrieve vehicle history maintenance record so you can get a series of useful diagnostic references and recourses when you meet any problems in the process of repairing. In addition, you are able to connect with other users, sharing experiences of your automobile maintenance.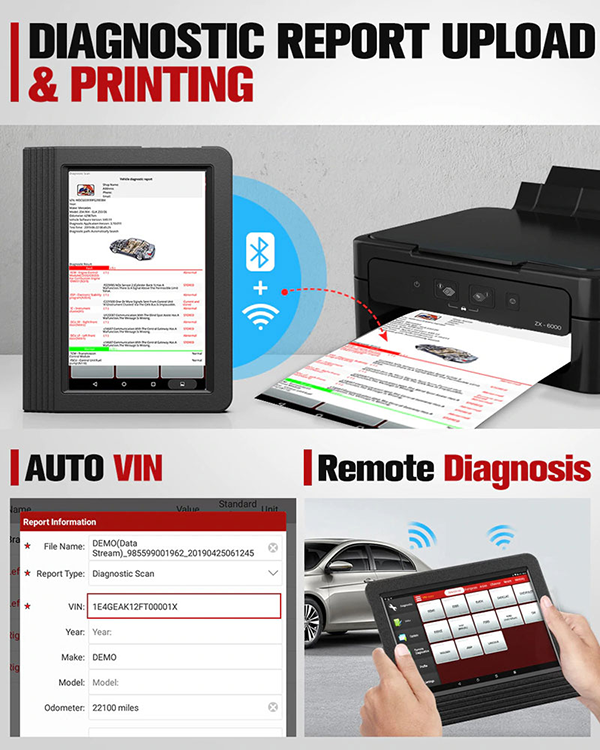 Support Diagnosing Heavy Duty Trucks] with Extra X431 HD III Module
You can purchase additional heavy-duty truck diagnostic module (a Bluetooth adaptor that works with LAUNCH X431 V+) to diagnose all systems on trucks.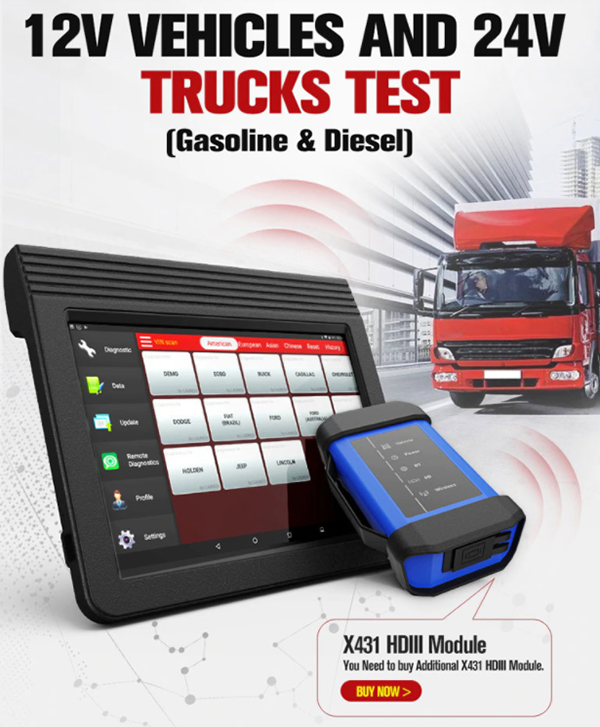 Printer diagnostic result
You can share car diagnostic data via email ,then print it via PC , or optional wifi , and you can order Launch x431 mini wifi printer , then one-key priner

Extensive Vehicle Coverage] 87 Car Brands and 10000+ Cars supported
USA: FORD, LINCOIN, GM, BUICK, CADILLAC, CHEVROLET, CHRYSLER, DODGE, JEEP, HM
Europe:BENZ, SMART, SPRINTER, BMW, VW, SKODA, AUDI, OPEL, LAMBORGHINI, PORSCHE, MAYBACH, EURO FORD, LANDROVER, DR, BENTLEY, Rolls- Royce, ROVER, MINI, VAUXHALL, FERRARI, FIAT, Abarth, LANCIA, Alfa Romeo, Maserati, BUGATTI, PEUGEOT, CITROEN, RENAULT, SAAB, VOLVO, OPEL, Dacia, SEAT
Aisa : SAMSUNG, DAEWOO, SSANYYONG, HYUNDAI, KIA, HONDA, Acura, TOYOTA, SCION, LEXUS, MAZDA, NISSAN, Infiniti, JPISUZU, TLISUZU , DAIHAT, SUZUKI, MITSUBISHI, SUBARU, CHANGCHENG, HUACHEN, ZHONGXING, JACTY, QIRUI_TY, ISUZU, JINLONG, CHANGAN, LIUWEI_TY, XINKAI, JPISUZU, ZHONGSHUN, HAOQING, HAFEI, XIALI, CHANGHE, ZHONGTAI, FLYER, SSANGYONG, JIAO, WEILI, LUXGEN
Russia:GAZ, VAZ
Brazil: FIAT, GM
Malaysia: PERODUA, PROTON
India: TATA, MARUTI, MAHINDRA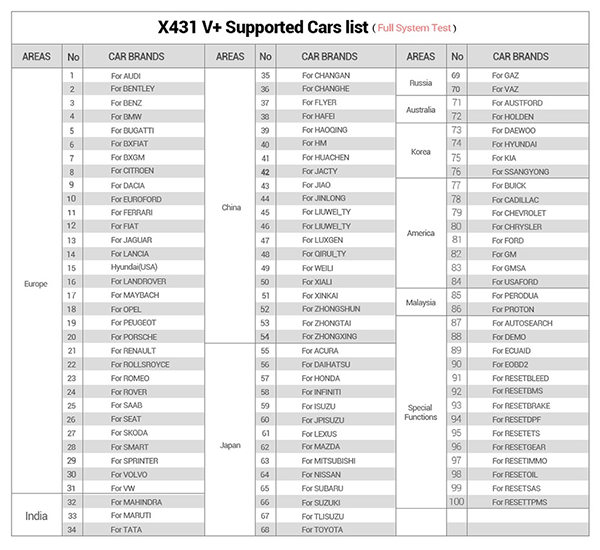 X431 V+ tablet Parameters
CPU: X431 V+host (Lenovo flat). RoHS
Screen: 10.1 inch Multi touch capacitor Screen
Screen Resolution: 1920x1200 FHD IPS
Operation system: Android 9.0
Memory: 3G
Storage: 32GB(can be expanded to 128GB)
Battery: Polymer Lithium-ion battery, 6600mAh
Cameras: 5.0 mega pixels front and 8.0 mega pixels rear
Operating Temperature :0°C~+50°C
Storage Temperature :-10°C~+45°C

DBSCar Connector Parameters
Connection: Standard OBDII Interface, Micro USB 2.0
Typical Power Consumption:(12V)Static current 25 mA,
overall unit average current 35 mA
Working Temperature: - 20 °C~6 0°C
Storage Temperature: -30°C~70°C
Dimension: L * W * H = 72*47*24 (mm)
Unit Weight: 26 g
Working Voltage: powered by vehicle battery, DC 9V-18V

LAUNCH X431 V+ Packing List:
Main unit:
1pc x X431 V+host (Lenovo flat).RoHS
Connectors:
1pc x Android edition diagnostic connector (10 meters Bluetooth)
1pc x BENZ-38 diagnostic connector
1pc x DAEWOO-12 diagnostic connector integrated
1pc x AUDI-4 diagnostic connector linear
1pc x BENZ-14 diagnostic connector linear
1pc x BMW-20 diagnostic connector integrated
1pc x CHRYSLER-6 diagnostic connector integrated
1pc x DAIHATSU-4 diagnostic connector linear
1pc x FIAT-3 diagnostic connector linear
1pc x FORD-6+1 diagnostic connector integrated
1pc x GAZ diagnostic connector linear
1pc x GEELY-22 diagnostic connector integrated
1pc x GM/VAZ-12 diagnostic connector integrated
1pc x HONDA-3 diagnostic connector integrated
1pc x KIA-20 diagnostic connector integrated
1pc x MAZDA-17 diagnostic connector integrated
1pc x MITSUBISHI/HYUNDAI-12+16 diagnostic connector
1pc x NISSAN-14+16 diagnostic connector
1pc x SSANGYONG-14 diagnostic connector linear
1pc x SSANGYONG-20 diagnostic connector integrated
1pc x SUBARU-9 diagnostic connector integrated
1pc x SUZUKI-3 diagnostic connector linear
1pc x TOYOTA-17 diagnostic connector integrated
1pc x TOYOTA-22 diagnostic connector integrated
1pc x UNIVERSAL-3 diagnostic connector linear
Test cable:
1pc x OBDII -16 extension 135mm, RoHS
1pc x OBD I Adaptor BOX switch wiring
1pc x LIGHTER
1pc x CLIPPER
Accessories:
1pc x MicroSD card, SanDisk 32G capacity, RoHS
1pc x X431 PIN envelope
4pcs x Clipper fuse 5*20mm
2pcs x Lighter fuse 6*30mm

What is advantange of X431 V+?
X-431 V+ taking the advantage of mobile internet, can share maintenance data and case library, provide instant maintenance information, and build public and private maintenance social circle,etc.,thus lead to wide car diagnostic community. It is a typical diagnostic device contributed by Launch to diagnostic industry concerning internet application. Launch X431 V+ with Bluetooth/Wifi based on Android system, is a new car malfunction diagnostic device developed by Launch Tech for internet application. X-431 V+ completely substitutes X431 IV and X431 Diagun III.

Comparisions for Old red color X431 V+ and New black color X431 V+ :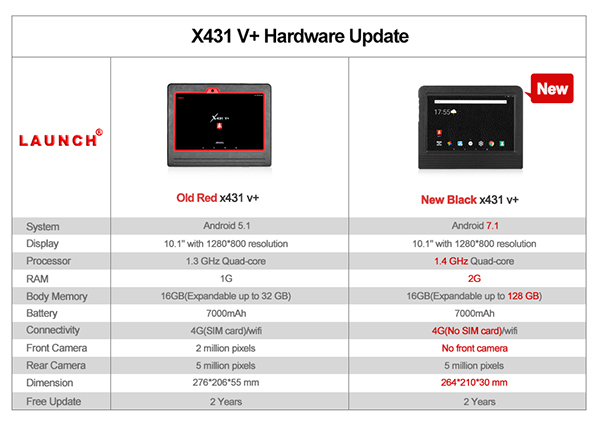 Launch X431 V+ Display :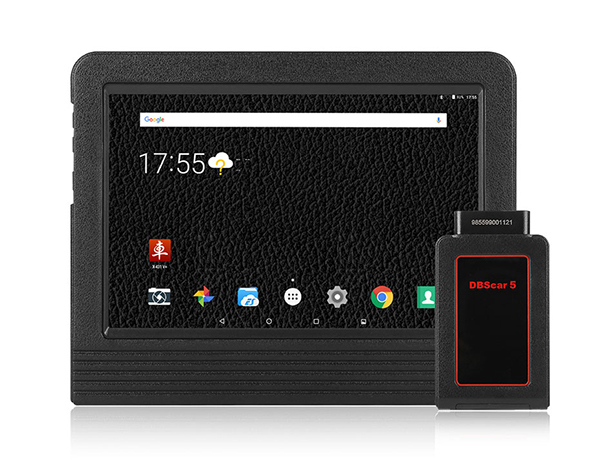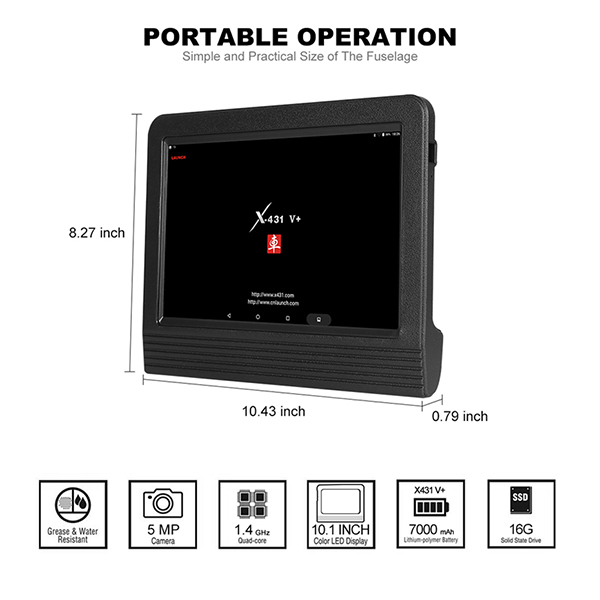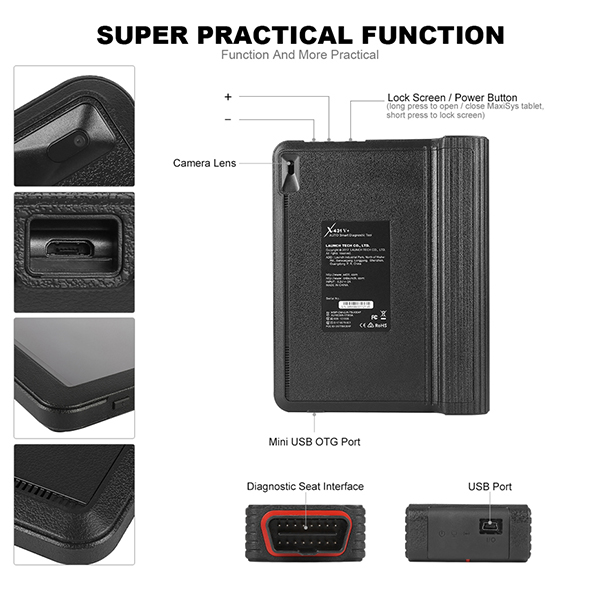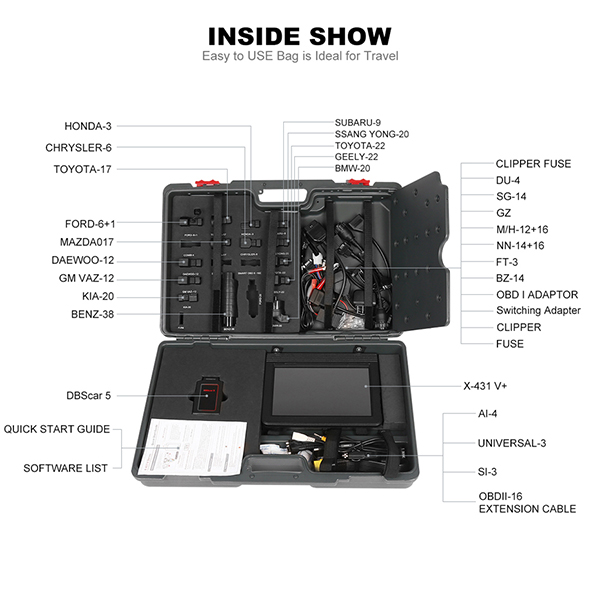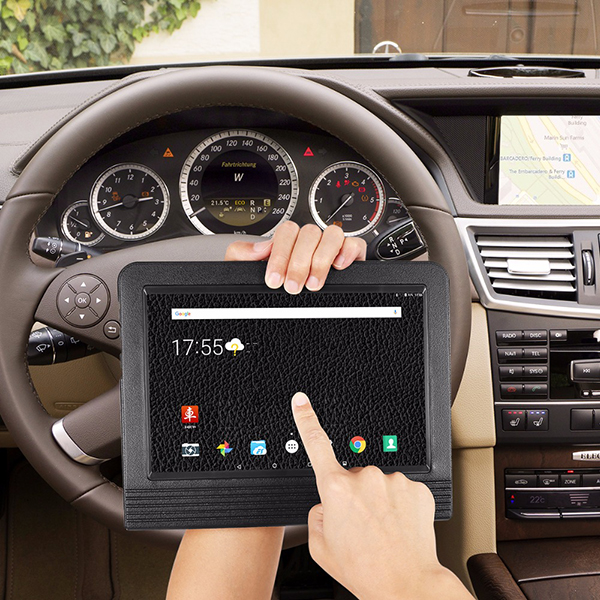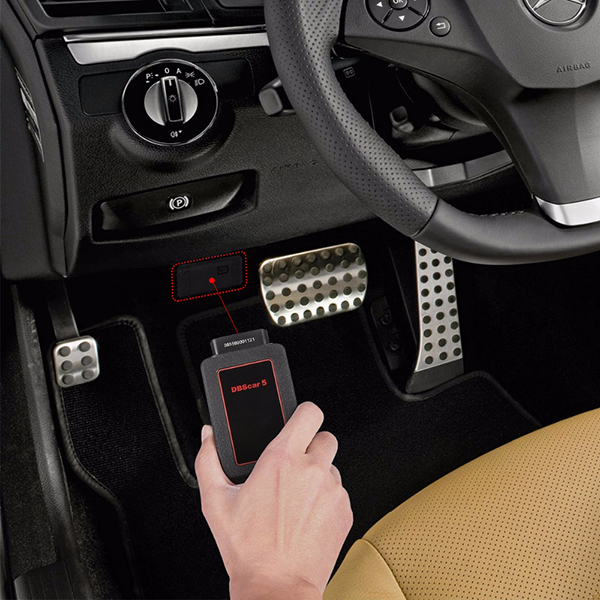 Please feel free to contact us ,If you have any question:
Email:
Sales@obdii.shop
Whatsapp: +8613428908617

Shipping Terms:
a) Items will be sent to all the countries over the world. This package will be sent by DHL, Post, Fedex, EMS or UPS .
b) Items will be checked carefully before sent out.
c) We will use air bubbles to wrap the items carefully.

Shipping Time:
a) Ships within 48 hours on working days after received the payment.
b) The shipping time is about 5-7 days via DHL, UPS, 5-10 days Via Fedex, 7-10 days via EMS, 7-30 days via Post to Worldwide
Note: We hope it arrive on time but since this is an international delivery, shipping time will be highly depended on the courier company and local customs/duties. Thank you for your understanding.
Return Policies:
Returns will be allowed only with prior authorization, and must be made within 30 days after package delivery.
Item conditions that allow returns Brand new Item, returns must include all accessories, Items must include original packaging
Other cases are as follows:
(1) When the item is defective, the item was sent in error, damaged in transit, or otherwise defective,It can not work once you receive it. In this case we allow returns. We bear the shipping cost.
(2) When you buy the wrong item, the item doesn't fit, or you don't want the item, the item you return need to be brand new. you need bear shipping costs.

Contact Us:
Our Email sales@obdii.shop 24 hours 7 days
And if nobody answer you online in time sometimes,do not worry.leave us a message or write down your desires,we will contact you as soon as possible.
Attention: PLZ leave your telephone number and address in detail when you take order in our website, it is very important to ship your order. (Customers from Brazil PLZ leave your Cutsom ID also, thanks!)