Product Description

IM608-User-Manual.pdf

Autel-IM-case-study-youtube-link.pdf

IM508-IM608-Comparison.pdf
Autel MaxiIM IM608 Advanced IMMO & Key Programming & ECU Coding Tool Replaces Auro OtoSys IM600
Autel MaxiIM IM608 Highlights:
1.Free Update Online for 1 Year, after one year, it will cost $1100
2.Warranty for 12 Months.
3.ADVANCED IMMO & KEY PROGRAMMING
4.OE-Level Diagnostic and Service Functions as MaxiSYS Pro
5.with XP400 and MaxiFlash JVCI for ECU Programming
6. Language: English, Spanish and French. (We can ship to Spain and France now)
7. Autel have released BMW CAS4/CAS4+ through OBD update!
Kindly Note:
Clients from UK,Portugal please do not buy AUTEL IM608 from China, or your device will get locked.
For America customer, last offer is $3100 free shipping by DHL.
Description:
Autel MaxiIM IM608 is the most advanced and the unique all in one key programming and diagnostic tool that combines advanced key programming, all systems diagnostics, and advanced services in one Android based 10.1-inch touchscreen tablet. It is equipped with XP400 key programmer and MaxiFlash ECU programmer to provide complete coverage of IMMO and programming functions. Together with the ability to quickly diagnose all modules of the majority of the makes and models on the market, IM608 provides you with all special functions. It is the unprecedented key programming and diagnostic tool that you ever wanted
IM608 is a state of the art 10-inch Android-based touchscreen tablet combining the most advanced key programming and immobilizer capabilities with OE-level diagnostics and service functions. Equipped with XP400 key programmer and MaxiFlash JVCI ECU programmer, IM608 is a comprehensive immobilizer and key programming tool and ideal for auto technicians and locksmiths.?It combines the most advanced key programming and immobilizer experience with advanced automotive diagnostics and service functions, a 10-inch Android-based, touch-screen tablet with the latest in art. Autel MaxiIM IM608, a comprehensive, ideal immobilizer and key programming tool for automobile technicians and locksmiths.
Autel MaxiIM IM608 Features:
The IM608 is an OE-Level Diagnostic and Service Functions as MaxiSYS Pro with additional software and accessories for IMMO and key programming.
1. Extraordinarily powerful Cortex A7+A15 six-core processor
2. 10.1-inch LED capacitive touch screen with 1920x1200 resolution
3. Internal reliable 64GB On-board Memory for better performance
4. Built-in 8-megapixel rear camera with autofocus and flashlight
5. 802.11 a/b/g/n/ac Wi-Fi to access your favorite web resources
6. Open source Android Operating System for fast boot-up and multitasking
7. Powerful combination of advanced key programming/all systems diagnostics/advanced maintenance services
8. Professional key programming equipped with XP400 key programmer and MaxiFlash ECU programmer for complete Immo coverage
9. Smart mode for guided and automated key learning
10. Expert mode for advanced key learning
11. Read PIN/CS (all key lost), generate key, key learning, remote learning
12. IMMO ECU reset/adaptation, refresh/coding
13. Read/write transponder data, ECU/MCU/EEPROM data (eg. 9S12 encryption chip), IC card, detect remote frequency
14. Powerful OE level diagnostics for more than 80 US, Asian and European makes and models
15. Complete capabilities for codes, live data, active test, ECU information, adaptation, matching, coding etc.
16. All special functions, EPB, DPF, SAS, Oil reset, BMS, TPMS sensor ID relearn, etc.
Autel MaxiIM IM608 Functions:
1. Read & Clear Fault Codes | Short description & code provided (can clear faults & warning lights)
2. Service Functions | Oil light / EPB / BMS / SAS / DAF etc
3. Access Live Data | Data from the ECU/Modulesnsors displayed in real-time (Oxygen sensor-rich/lean etc)
4. Actuation/Component Testing | Actuate (switch on/off) to diagnose functionality (relays, fans, locks etc)
5. Coding Functions | Allows you to change vehicle parts that need to be "coded" (Injectors, ABS, starters etc)
6. Flashing/ Reprogramming | Advanced updating/coding of ECU's online through a J2534 pass-through flashing device
7. Advanced Key Programming | IMMO functions, Transponder read/write/identify, MCU/EEPROM chip read/write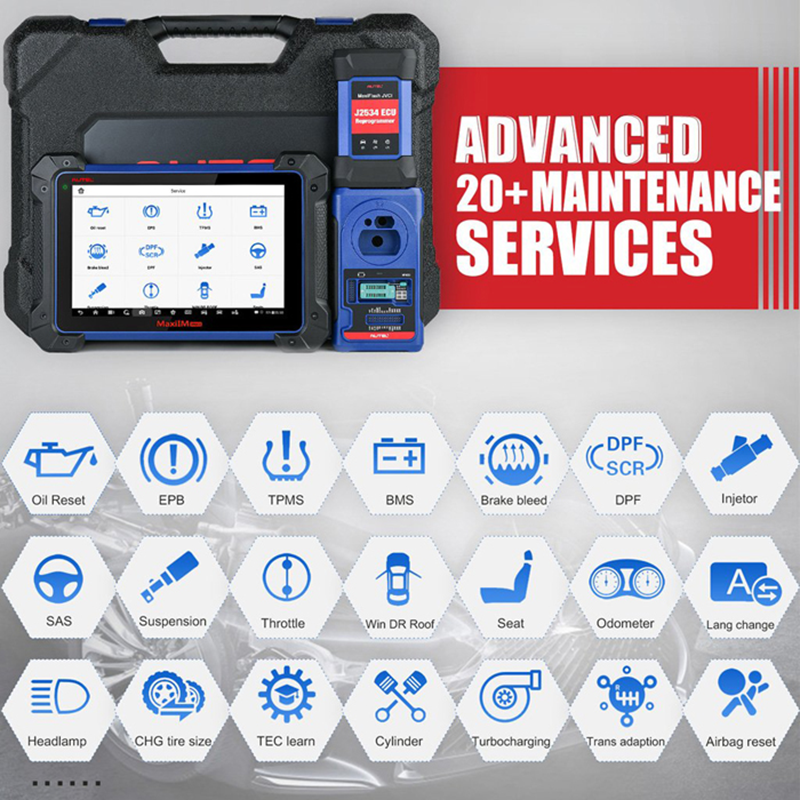 ADVANCED IMMO & KEY PROGRAMMING:
Connect the IM608 tablet to the vehicle (via the Bluetooth VCI or Main Cable) and to the XP400 (via USB cable) to access IMMO related functions, including Key Learning, Remote Control Learning, Remote Control Add, etc. The software provides two methods to access IMMO functions
1. Smart Mode – for Guided and Automated Key Learning - step by step through a series of functions.
2. Expert Mode – for Advanced Key Learning - select a specific function.
1). PIN / CS Reading (Full Lost)
2). Key Generation
3). Key Programming
4). Command Introduction
5). Backup / Repair IMMO Data
6). IMMO ECU Brain Reset / Adaptation
7). IMMO ECU Brain Reset / Coding
8). BENZ 3rd Generation IMMO Key Splicing, Full Lost, Key Programming
9). BMW FEM / BDC Key Programming and ECU Adaptation
10). BMW CAS4 / 3/2 Key Programming
11). VW / AUDI MQB Key Programming, 48 Transponder (96-bit) Key Splicing, Full Lost, A6 Full Lost and More ...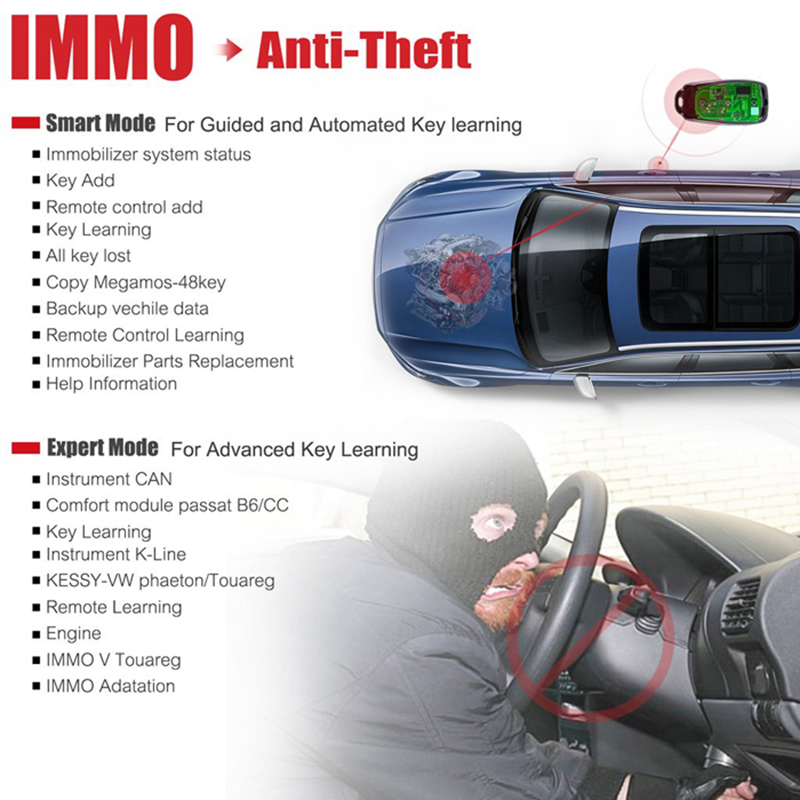 XP400 KEY & CHIP PROGRAMMER:
Support PC
MCU / EEPROM Chips Read / Write
ECU Read / Write
MC9S12 Encryption Chip Read / Write
Key Read / Write
Mercedes Infrared Key Read / Write
Remote Frequency Detect
IC Card Read/Write
OE-Level DIAGNOSTIC FUNCTION OF MORE THAN 80 VEHICLES IN ADVANCED LEVEL
MaxiFlash JVCI ECU Programmer (Bluetooth/USB cable)
Connect the IM608 tablet to the vehicle via the OtoFlash (VCI) to perform extensive diagnostic and service functions.
1. All System Diagnostics
2. Auto Search / VIN Finding
3. Reading / Deleting Error Code
4. Viewing the Live Data Stream
5. View Records of Failure History
6. Store and Data Management Applications
7. MaxiFlash JVCI ECU Programmer (Bluetooth / USB Cable)
ADVANCED SERVICE FUNCTIONS
1. ECU Coding
2. All Special Functions, EPB, DPF, SAS, Oil Reset, BMS and TPMS Sensor ID Re-Programming etc.
3. 10.1-inch LCD Touch Screen-64GB Memory-Android Kit Floor-TURKISH LANGUAGE Support-15000mAh Li-polymer Battery-8.0 Megapixel Camera-Wi-Fi-Bluetooth
Autel MaxiIM IM608 IMMO Vehicle List:
Chrysler, Dodge, Ford, GM, Hummer, Jeep, Citroen, Fiat, Jaguar, LandRover, Maserati, Opel, Peugeot, Renault, Saab, Volvo, Volkswagen, Audi, Bently, Seat, Skoda, BMW, Mini, Honda, Hyundai, Kia, Lexus, Mazda, Mitsubishi, Nissan, Subaru, Suzuki, Toyota
Audi:
A1, A3, A4, A5, A6, RS4, B6, B7, RS5, RS6, A4 Allroad, A8, S8, Q3, RSQ3, Q5, Q7, R8, TT,
Seat:
Alhambra, Altea, Altea, Cordoba, CupraLeon, Exeo, Ibiza, Leon, Mii, Toledo
Skoda:
Citigo, Fabia India, Fabia, Kamiq, Karoq, Octavia, Rapid India, Rapid, Roomster, Superb, Yeti
VW:
Amarok, Arteon, Atlas, Beetle, Bora, BoraGli, Caddy, Crafter, EOS, Fox Africa, , Fox EU, Fox, GTI, Gol County, Gol(5U), Gol(5W), Golf PLUS, Golf/Rabbit(1K), Golf6 ESTATE, Jetta, Parati, Passat, Phaeton, Polo, Scirocco, Sharan, Suran, T-Roc, Tiguan, Touareg, Touran, Transporter5/Multivan, up, UP!/cross UP!
Fiat:
500, 500L, 500X prox, Albea, Boxer, Daily, Doblo, Doblo New, Ducato, Egea, Fiorino, Freemont, , Idea, Grande punto
, Jumper, Linea, Marea, Nemo, Ottimo, Palio, Palio RST, Panda, Perla, Promaster, Punto, Sinea, Stilo, Viaggio
More Autel MaxiIM IM608 IMMO vehicle models please check here:
https://pro.auteltech.com/measurecarApp-1-1.html?m=94&proTypeCode=IM608(IMMO)&operatorType=2
Autel MaxiIM IM608 vs. IM508 Comparison Chart: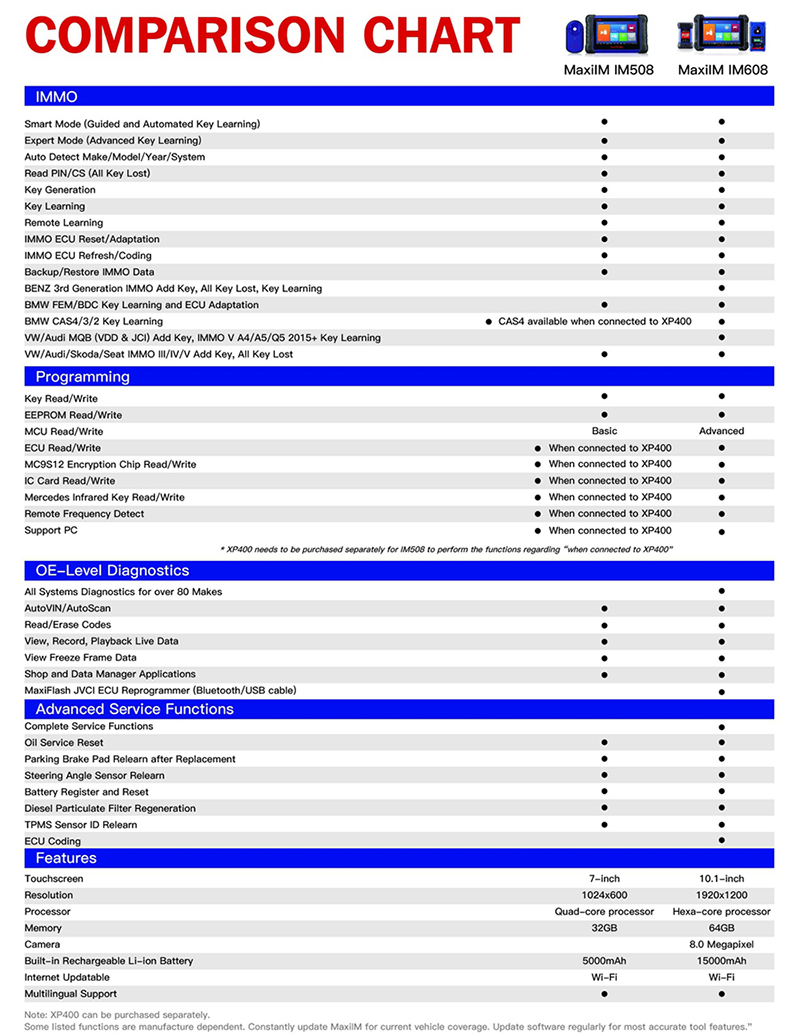 Autel MaxiIM IM608 Main Unit Overviews:
1.10.1-inch LCD Capacitve Touchscreen
2.Ambient Light Sensor-detects ambient brightness.
3.Power LED-indicates battery level & charging or system status.
4.Microphone
5.Collapsible Stand-extends from the back to allow hands-free viewing of the Display Tablet
6.Built-in Bttery
7.Loudspeaker
8.Camera Lens
9.Camera Flash
10.DC Power Supply Input Port
11.Headphone Jack
12.USB Port
13.HDMI (high-definition multimedia interface) Port
14.USB Port
15.Mini USB Port
16.Lock/Power Button-turns the evice on & off with long press,or locks the screen with short press.

Autel MaxiIM IM608 Specifications:
Operating System AndroidTM 4.4.2, KitKat
Processor Samsung Exynos hexa-core Processor (1.3GHz Quad-core ARM Cortex-A7 + 1.7GHz Dual-core ARM Cortex-A15)
Memory 2GB RAM & 64GB On-board Memory
Display 10.1-inch LED capacitive touch screen with 1920x1200 resolution
Connectivity Wi-Fi (802.11 a/b/g/n/ac)
USB: 2.0
BT v.2.1 + EDR
SD Card (Support up to 32GB)
HDMI
Camera (rear) 8.0 Megapixel, AF with Flashlight
Sensors Gravity Accelerometer, Ambient Light Sensor (ALS)
Audio Input/Output Microphone
Dual Speakers
3-Band 3.5 mm stereo/standard headset jack
Power and Battery 15000 mAh 3.8 V lithium-polymer battery
Charging via 12 V AC/DC power supply with the temperature between 0°C and 45°C
Input Voltage 12 V (9-24 V)
Power Consumption 6.5 W
Operating Temp 0 to 50°C (32 to 122°F)
Storage Temp -20 to 60°C (-4 to 140°F)
Dimensions (W x H x D) 300 mm (11.81") x 220 mm (8.66") x 50 mm (1.97")
Weight NW: 1.42 kg (3.13 lb.) GW: 8.655 kg (19.08 lb.)
Protocols ISO 9142-2, ISO 14230-2, ISO 15765-4, K/L-Line, Flashing Code, SAE-J1850 VPW,
SAE-J1850 PWM, CAN ISO 11898, Highspeed, Middlespeed, Lowspeed and Singlewire CAN,
GM UART, UART Echo Byte Protocol, Honda Diag-H Protocol, TP 2.0, TP 1.6, SAE J1939,
SAE J1708, Fault-Tolerant CAN

Autel MaxiIM IM608 Packling List:
1x Autel MaxiIM IM608 Main Unit
1x APC101 USB Cable
1x APA101 Signal Cable
1x MaxiFlash JVCI
1x APB101+APD101(EEPROM Adaptor+EEPROM Adapter Shell)
1x APA103(EEPROM Clamp)
1x XP400
1x APB102 MB IR Cable
1x APA104 ECU Clamp
1x Main Cable
1x APB104(MCU_FQFP64)
1x APA105(MCU Clamp)
1x USB Cable (2m)
1x APB105 MCU_FQFP80
1x APA106(MC9S12 Clamp)
1x Mini USB Cable
1x APB106(MCU_FQFP144)
1x APA107(Connect Cable)
1x AC/DC 12V Adapter
1x APB107(MCU_FQFP144)
1x Quick Reference Guide
2x Light Fuse 6*30mm
1x APB108(MCU_FQFP176)
1x Packing List
1x Cigarette Lighter
1x APA002(EEPROM Socket)
1x Carrying Case 634*170*404mm
1x AAC001

How to Update Autel MaxiIM IM608 Software:
Autel IM608 Update application allows you to download the latest released software.
The updates can improve the MaxiIM applications' capabilities, typically by adding new tests, new models, or enhanced applications to the database. The Display Tablet automatically searches for available updates for all of the MaxiIM software when it is connected to the internet. Any updates that are found can be downloaded and installed on the device. This section describes installing an update to the MaxiIM System. A notification message displays if an update is available when the Notifications Center function is enabled in the Settings application.

1. Make sure the Display Tablet is connected to a power source with stable access to the internet.
2. Tap the Update application button from the MaxiIM Job Menu; or tap the update notification message when received one; or tap the Update icon on Vehicle Menu in Diagnostics application. The Update application screen displays.
3. Check all available updates:
--If you decide to update all the items of IMMO software, select IMMO Tab and then tap the Update All button; if you want to update all items of diagnostic software, select Diagnose Tab and then tap the Update All button.
-- If you only want to update one or some of the item(s), tap the Update button on the right column of the specific item(s).
4. Tap the Pause button to suspend the updating process. When you tap Continue to renew the update, the updating process will resume from the break point.
5. When the updating process is completed, the firmware will be installed automatically. The previous version will be replaced.

Autel MaxiIM IM608 Customers Feedbacks:
Golf MK5 2005 AKL - add key OK - 2min
Scirocco 2011 - add key OK - 2min40sec
Honda Civic 2006 - add key OK - 55sec
Golf V AKL 2007 without remove dashboard
Done Tiguan 2013, Scirocco and few others VAGs. Works fine on them
Autel MaxiIM IM608 program key for Volvo XC60 successfully
Benz W212 akl can be done by OBD
2014 Seat Ibiza, 2 keys added
Mercedes ML320 CDI 2007
BMW FEM system Add Key complete
Audi a3 2010 add key Sprinter 2006 add key Vw t5 2008 add key Skoda yeti 2014 add key
Added keys on Golf MK5 2005 AKL, Honda Civic 2006, Scirocco 2011, really fast!!!
Works Great on adding keys, all keys lost, G key
Mercedes E220 (All lost keys) New key works
Please feel free to contact us ,If you have any question:
Email:
Sales@obdii.shop
Whatsapp: +8613428908617

Shipping Terms:
a) Items will be sent to all the countries over the world. This package will be sent by DHL, Post, Fedex, EMS or UPS .
b) Items will be checked carefully before sent out.
c) We will use air bubbles to wrap the items carefully.

Shipping Time:
a) Ships within 48 hours on working days after received the payment.
b) The shipping time is about 5-7 days via DHL, UPS, 5-10 days Via Fedex, 7-10 days via EMS, 7-30 days via Post to Worldwide
Note: We hope it arrive on time but since this is an international delivery, shipping time will be highly depended on the courier company and local customs/duties. Thank you for your understanding.
Return Policies:
Returns will be allowed only with prior authorization, and must be made within 30 days after package delivery.
Item conditions that allow returns Brand new Item, returns must include all accessories, Items must include original packaging
Other cases are as follows:
(1) When the item is defective, the item was sent in error, damaged in transit, or otherwise defective,It can not work once you receive it. In this case we allow returns. We bear the shipping cost.
(2) When you buy the wrong item, the item doesn't fit, or you don't want the item, the item you return need to be brand new. you need bear shipping costs.

Contact Us:
Our Email sales@obdii.shop 24 hours 7 days
And if nobody answer you online in time sometimes,do not worry.leave us a message or write down your desires,we will contact you as soon as possible.
Attention: PLZ leave your telephone number and address in detail when you take order in our website, it is very important to ship your order. (Customers from Brazil PLZ leave your Cutsom ID also, thanks!)