V2019.01 Volvo PROSIS Parts Catalog & Repair Manual for Volvo construction machinery excavator
Volvo PROSIS Specification:
Region: All regions
Languages: English, Spanish, German, French, Japanese
OS: Windows7
Quantity of CD: 3 DVD
Year: V2019.01
Date of update: 01.2019
No need activate
Prosis NT Offline Data in this release is extracted 2019-01-12. Added model / component variants in this release:
EC15E
EC18E
EC20E
ECR18E
EC750E HR
EC200E
EC200E L
EC200E NL
Volvo PROSIS Introductions:
1. Spare Parts Catalog & Service Information for VOLVO Equipments.
2. PROSIS – THE FASTEST WAY TO ALL THE PARTS INFORMATION YOU NEED
3. Volvo Prosis 2019.1 spare parts catalog, workshop service manual, electrical wiring diagram, hydraulic diagram, maintenance all models Volvo Construction Equipment.
Volvo PROSIS Functions:
1. Parts information is stored on DVD-ROM and can be retrieved via the user-friendly system PROSIS.
PROSIS is an abbreviation of PROduct Support Information System. PROSIS contains parts catalogs for just about all of Volvo Construction Equipment's products.
2. Easier to use than a Parts Catalog Volvo Prosis
If you're used to working with parts catalog, you'll recognize the structure in PROSIS. The same graphic design makes it fast for you to learn how to use PROSIS. The connection between the parts list and illustration makes it easy to choose the right part. When a row in the parts list is marked the corresponding position number lights up in the illustration.
3. Simple search function Volvo Prosis
PROSIS has a very user-friendly search function. Activate the desired search area; Part, Heading, Figure or Equipment, by clicking on the right section.
After entering the search conditions, the results are displayed fast.
4. Create order in Prosis Volvo
In PROSIS, you can quickly create an order list with the part numbers you want to order.By clicking on the part number in the list or on the part's position number in the figure, the part ends up in the order list.The order can be saved as a file, it can be copied, e-mailed or printed.
Volvo PROSIS V2019.01 Software display: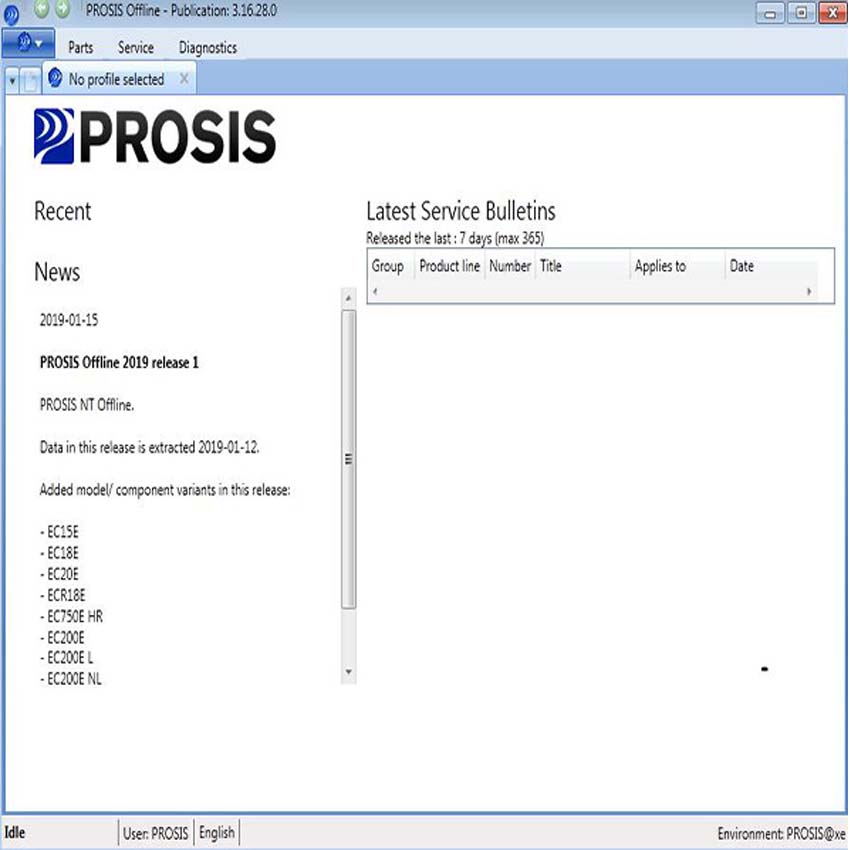 Service information includes following function groups:
All function groups
(a) Training documents
(0) GENERAL
(1) STANDARD PARTS, SERVICE
(2) ENGINE WITH MOUNTING AND EQUIPMENT
(3) ELEC. SYSTEM; WARNING SYSTEM; INFORMATION SYSTEM; INSTRUMENTS
(4) POWER TRANSMISSION
(5) BRAKE
(6) STEERING
(7) FRAME; SPRINGS; DAMPING; AXLE SUSPENSION; WHEEL/TRACK UNIT
(8) MACHINERY HOUSE; CAB; EXTERIOR TRIM PARTS ANYWHERE
(9) HYDRAULIC SYSTEM; DIGGING / HANDLING / GRADING EQUIPM.; MISC. EQUIP.

Added VolvoCE models / component variants in this release:
L20H
L25H
ECR355E L
ECR355E NL
P6820D
P6820D L
P7820D
P7820D L
MC100C
EW220E
EW240e MH
EWR170E
L350H

Volvo PROSIS Construction Equipment EPC covers following models:
Articulated Haulers (ART)
860 Volvo BM
861 Volvo BM
5350 Volvo BM
5350B Volvo BM
5350B 4x4 Volvo BM
5350B 6x6 Volvo BM
A20 Volvo BM
A20 6x4 Volvo BM
A20C Volvo BM
A20C Volvo
A25 Volvo BM
A25 4x4 Volvo BM
A25 6x4 Volvo BM
A25B 4x4 Volvo BM
A25 6x4 Volvo BM
A25C Volvo BM
A25C Volvo
A25C 4x4 Volvo
A25C 4x4 Volvo BM
A25D Volvo
A25D 4x4 Volvo
A25E Volvo
A25E 4x4 Volvo
A25F Volvo SN 300000-
A25F Volvo SN -99999
A25G Volvo
A30 Volvo BM
A30C Volvo
A30C Volvo BM
A30D Volvo
A30E Volvo
A30F Volvo SN 300000-
A30F Volvo SN -99999
A30G Volvo
A35 Volvo BM
A35C Volvo
A35C Volvo BM
A35D Volvo
A35E Volvo
A35E FS Volvo
A35F Volvo SN 300000-
A35F Volvo SN -99999
A35F FS Volvo SN -99999
A35F FS Volvo SN 300000-
A35G Volvo
A35G FS Volvo
A40 Volvo
A40 Volvo BM
A40D Volvo
A40E Volvo
A40E FS Volvo
A40F Volvo SN 300000-
A40F Volvo SN -99999
A40F FS Volvo SN 300000-
A40F FS Volvo SN -99999
A40G Volvo
A40G FS Volvo
T450D Volvo

Asphalt Compactors (COA)
CR24 Volvo
CR30 Volvo
DD14S Volvo
DD15 Volvo
DD16 Volvo
DD22 Volvo
DD24 Volvo
DD25 Volvo PID:12759565
DD25B Volvo
DD29 Volvo
DD30 Volvo
DD31HF Volvo
DD70 Volvo
DD80 Volvo
DD85 Volvo
DD90 Volvo
DD90HF Volvo
DD100 Volvo
DD100HF Volvo
DD110B Volvo
DD112HF Volvo
DD118HA Volvo
DD118HF Volvo
DD118HFA Volvo
DD120 Volvo
DD120B Volvo
DD126HF Volvo
DD132HF Volvo
DD136HF Volvo
DD138HA Volvo
DD138HF Volvo
DD138HFA Volvo
DD140 Volvo
DD140B Volvo
DD146HF Volvo
PT125 Volvo
PT220 Volvo
PT220RH Volvo
PT240RH Volvo

Backhoe Loaders (BHL)
BL60 Volvo
BL60B Volvo
BL61 Volvo
BL61 PLUS Volvo
BL61B Volvo
BL70 Volvo
BL70B Volvo
BL71 Volvo
BL71 PLUS Volvo
BL71B Volvo

Compact Excavators (CEX)
EC13 XR Volvo
EC13 XTV Volvo
EC14 Volvo
EC15 XR Volvo
EC15 XT Volvo
EC15 XTV Volvo
EC15B XR Volvo
EC15B XT Volvo
EC15B XTV Volvo
EC15C Volvo
EC17C Volvo
EC18C Volvo
EC20 XT Volvo
EC20 XTV Volvo
EC20B XT Volvo
EC20C Volvo
EC25 Volvo
EC27C Volvo
EC30 Volvo
EC35 Volvo
EC35C Volvo
EC45 Volvo
EC50 Volvo
EC50 VV Volvo
EC55 Volvo
EC55-EU Volvo
EC55B Volvo
EC55C Volvo
EC60C Volvo
EC70C Volvo
EC70 VV Volvo
EC80D Volvo
ECR25D Volvo
ECR28 Volvo
ECR38 Volvo
ECR48C Volvo
ECR50D Volvo
ECR58 Volvo
ECR58D Volvo
ECR88D Volvo
EW50 Volvo
EW50 VV Volvo
EW55 Volvo
EW55B Volvo
EW60C Volvo
EW70 Volvo
EW70 VV Volvo

Compact Wheel Loaders (CWL)
L20B Volvo
L20F Volvo
L25B Volvo
L25F Volvo
L30 Volvo BM
L30 Volvo
L30B Volvo
L30G Volvo
L32 Volvo
L32B Volvo
L35 Volvo
L35B Volvo
L35G Volvo
L40 Volvo
L45 Volvo
L45B Volvo
L45F Volvo
L45G Volvo
L50F Volvo
L50G Volvo
ZL302C Volvo
ZL402C Volvo
ZL502C Volvo
Excavators (EXC)
EC130 Akerman
EC130C Volvo
EC130C Akerman
EC135B LC Volvo
EC140 LC Volvo
EC140 LCM Volvo
EC140B LC Volvo
EC140B LCM Volvo
EC140C L Volvo
EC140C LM Volvo
EC140D L Volvo
EC140D LM Volvo
EC150 Volvo
EC150 Akerman
EC150 LC Volvo
EC150C Volvo
EC150C Akerman
EC160 Volvo
EC160B LC Volvo
EC160B NLC Volvo
EC160C L Volvo
EC160C NL Volvo
EC160D L Volvo
EC160D NL Volvo
EC170D Volvo
EC170D L Volvo
EC180B LC Volvo
EC180C L Volvo
EC180D L Volvo
EC200 Volvo
EC200 Akerman
EC200B Volvo
EC210 Volvo
EC210 F Volvo
EC210 LC Volvo
EC210 LR Volvo
EC210 NLC Volvo
EC210B F Volvo
EC210B FX Volvo
EC210B LC Volvo
EC210B LR Volvo
EC210B NC Volvo
EC210B NLC Volvo
EC210C L Volvo
EC210C LD Volvo
EC210C LR Volvo
EC210C N Volvo
EC210C NL Volvo
EC220D L Volvo
EC220D LR Volvo
EC220D N Volvo
EC220D NL Volvo
EC220E L Volvo
EC220E LD Volvo
EC220E LR Volvo
EC220E N Volvo
EC220E NH Volvo
EC220E NL Volvo
EC220E NLD Volvo
EC230 Akerman
EC230B Volvo
EC230B Akerman
EC235C LD Volvo
EC235C NL Volvo
EC235D NL Volvo
EC240 Volvo
EC240 LC Volvo
EC240 LR Volvo
EC240 NLC Volvo
EC240B FX Volvo
EC240B LC Volvo
EC240B LR Volvo
EC240B NLC Volvo
EC240C L Volvo
EC240C LD Volvo
EC240C LR Volvo
EC240C NL Volvo
EC250D Volvo
EC250D L Volvo
EC250D LR Volvo
EC250D NL Volvo
EC250E L Volvo
EC250E LD Volvo
EC250E LR Volvo
EC250E NL Volvo
EC250E NLD Volvo
EC280 Volvo
EC290 Volvo
EC290 LC Volvo
EC290 LR Volvo
EC290 NLC Volvo
EC290B FX Volvo
EC290B LCD Volvo
EC290B LR Volvo
EC290B NLC Volvo
EC290C L Volvo
EC290C LD Volvo
EC290C LR Volvo
EC290C NL Volvo
EC300 Akerman
EC300D L Volvo
EC300D LD Volvo
EC300D LR Volvo
EC300D NL Volvo
EC300E L Volvo
EC300E LD Volvo
EC300E LR Volvo
EC300E NL Volvo
EC300E NLD Volvo
EC330B LC Volvo
EC330C L Volvo
EC330C LD Volvo
EC340 Volvo
EC340D L Volvo
EC350D Volvo
EC350D L Volvo
EC350E L Volvo
EC360 Volvo
EC360 LC Volvo
EC360 NLC Volvo
EC360B LC Volvo
EC360B LR Volvo
EC360B NLC Volvo
EC360C HR Volvo
EC360C L Volvo
EC360C LD Volvo
EC360C NL Volvo
EC380D HR Volvo
EC380D L Volvo
EC380D NL Volvo
EC380E HR Volvo
EC380E L Volvo
EC380E LR Volvo
EC380E NL Volvo
EC390 Volvo
EC420 Akerman
EC450 Volvo
EC450 Akerman
EC460
EC460 LC Volvo
EC460B LC Volvo
EC460B LR Volvo
EC460C HR Volvo
EC460C L Volvo
EC460C LD Volvo
EC480D HR Volvo
EC480D L Volvo
EC480E HR Volvo
EC480E L Volvo
EC480E LD Volvo
EC480E LR Volvo
EC620 Akerman
EC650 Akerman
EC650 Volvo
EC700B HR Volvo
EC700B LC Volvo
EC700C HR Volvo
EC700C L Volvo
EC700C LD Volvo
ECR145C L Volvo
ECR145D L Volvo
ECR235C L Volvo
ECR235D L Volvo
ECR305C L Volvo
EW130 Akerman
EW130 Volvo
EW130C Volvo
EW130C Akerman
EW140 Volvo
EW140B Volvo
EW140C Volvo
EW140D Volvo
EW145B Volvo
EW150 Akerman
EW150C Akerman
EW150C Volvo
EW160 Volvo
EW160B Volvo
EW160C Volvo
EW160D Volvo
EW160E Volvo
EW170 Volvo
EW170 KR Volvo
EW180 Volvo
EW180B Volvo
EW180C Volvo
EW180D Volvo
EW180E Volvo
EW200 Akerman
EW200 Volvo
EW200B Volvo
EW205D Volvo
EW210C Volvo
EW210D Volvo
EW230 Akerman
EW230B Akerman
EW230B Volvo
EW230C Volvo
FC2121C Volvo
FC2421C Volvo
FC2924C Volvo
FC3329C Volvo


Motor Graders (GRD)
G710 Volvo
G710 VHP Volvo
G710B Volvo
G716 VHP Volvo
G720 Volvo
G720 VHP Volvo
G720B Volvo
G726 VHP Volvo
G726B Volvo
G730 Volvo
G730 VHP Volvo
G730B Volvo
G736 VHP Volvo
G740 Volvo
G740 VHP Volvo
G740B Volvo
G746B Volvo
G780 Volvo
G780 VHP Volvo
G780B Volvo
G930 Volvo
G930B Volvo
G930C Volvo
G940 Volvo
G940B Volvo
G940C Volvo
G946 Volvo
G946B Volvo
G946C Volvo
G960 Volvo
G960B Volvo
G960C Volvo
G970 Volvo
G976 Volvo
G990 Volvo


Pipelayers (PIP)
PL3005D Volvo
PL4608 Volvo
PL4611 Volvo
PL4809D Volvo


Road Wideners (RWD)
RW100A Volvo
RW195D Volvo


Screeds (SCR)
2.5/5B HSE Volvo
3/6 HSE Volvo
10 FT Electric WL Volvo
10 FT Wedgelock Volvo


CDT121 Volvo PID:12803387
MB 120 Vario Volvo
MB 122 Vario Volvo
MB120 Volvo
MB122 Volvo
Omni 1A Volvo
Omni 318 Volvo
Omni 1000 Volvo
Omni 1011 Volvo
Omni 1021 Volvo
Omni IIIA Volvo
Omni IIIE Volvo
Omni V Volvo
Ultimat 8 Volvo
Ultimat 10 Volvo
Ultimat 16 Volvo
Ultimat 20 Volvo
Ultimat 200 Volvo
VB30 Volvo
VB50 Volvo
VB78 ETC Volvo
VB78 GTC Volvo
VB79 ETC Volvo
VB88 ETC Volvo
VB88 GTC Volvo
VB89 ETC Volvo
VB-T 78 ETC Volvo
VB-T 78 GTC Volvo
VB-V50 Volvo
VDT120 Volvo
VDT120 Vario
VDT121 Volvo
VDT121 Vario
VDT-V78 ETC Volvo
VDT-V78 GTC Volvo
VDT-V88 GTC Volvo
VDT-V89 ETC Volvo


MC95C Volvo
MC105C Volvo
MC110 Volvo
MC110B Volvo
MC110C Volvo
MC115C Volvo
MC125C Volvo
MC135C Volvo
MC155C Volvo
MCT70C Volvo
MCT85C Volvo
MCT95C Volvo
MCT110C Volvo
MCT125C Volvo
MCT135C Volvo
MCT145C Volvo


Skid Steer Loaders (SSL)
MC60 Volvo
MC60B Volvo
MC60C Volvo
MC70 Volvo
MC70B Volvo
MC70C Volvo
MC80 Volvo
MC80B Volvo
MC90 Volvo
MC90B Volvo


Soil Compactors (COS)
SD25 Volvo
SD25D Volvo
SD25F Volvo
SD45 Volvo
SD45D Volvo
SD45F Volvo
SD70 Volvo
SD70D Volvo
SD70F Volvo
SD75 Volvo
SD77DA Volvo
SD77DX Volvo
SD77F Volvo
SD100C Volvo
SD100D Volvo
SD100D C Volvo
SD100F C Volvo
SD105 Volvo
SD105F Volvo
SD110 Volvo
SD110C Volvo
SD115 Volvo
SD115D Volvo
SD115F Volvo
SD116DX Volvo
SD116F Volvo
SD122 Volvo
SD130 Volvo
SD130D Volvo
SD130DX Volvo
SD130F Volvo
SD135 Volvo
SD150 Volvo
SD160 Volvo
SD160DX Volvo
SD190 Volvo
SD190DX Volvo
SD200 Volvo
SD200DX Volvo


Tracked Milling Equipment (MET)
MT2000 Volvo
Tracked Pavers (PAT)
ABG325 Volvo
ABG2820 Volvo
ABG5820 Volvo
ABG6820 Volvo
ABG7820 Volvo
ABG7820B Volvo
ABG8820 Volvo
ABG8820B Volvo
ABG9820 Volvo
P6820C ABG Volvo PID:12762715
P7110 Volvo
P7820C ABG Volvo PID:12762881
P8720B Volvo PID:12768640
P8820C ABG Volvo PID: 12763184
PF4410 Volvo
PF6110 Volvo


Wheel Loaders (WLO)
616B Volvo BM
646 Volvo BM
4200 Volvo BM
4200B Volvo BM
4300 Volvo BM
4300B Volvo BM
4400 Volvo BM
4500 Volvo BM
4600 Volvo BM
4600B Volvo BM
6300 Volvo BM
EL70 Volvo BM
EL70C Volvo BM
L50 Volvo BM
L50B Volvo BM
L50C Volvo
L50C Volvo BM
L50C OR Volvo BM
L50C OR Volvo
L50D Volvo
L50E Volvo
L60E Volvo
L60E OR Volvo
L60F Volvo
L60G Volvo
L60H Volvo
L70 Volvo BM
L70B Volvo BM
L70C Volvo BM
L70C Volvo
L70D Volvo
L70D OR Volvo
L70E Volvo
L70E OR Volvo
L70F Volvo
L70G Volvo
L70H Volvo
L90 Volvo BM
L90 CO Volvo BM
L90B Volvo BM
L90C Volvo BM
L90C Volvo
L90C OR Volvo BM
L90C OR Volvo
L90D Volvo
L90D OR Volvo
L90E Volvo
L90E OR Volvo
L90F Volvo
L90G Volvo
L90H Volvo
L105 Volvo
L110E Volvo
L110F Volvo
L110G Volvo
L120 Volvo BM
L120B Volvo BM
L120C Volvo BM
L120C Volvo
L120D Volvo
L120E Volvo
L120F Volvo
L120G Volvo
L120H Volvo
L150 Volvo BM
L150C Volvo BM
L150C Volvo
L150C LB Volvo
L150D Volvo
L150E Volvo
L150F Volvo
L150G Volvo
L150H Volvo
L160 Volvo BM
L160 CO Volvo BM
L180 Volvo BM
L180 CO Volvo BM
L180 HL Volvo BM
L180C Volvo BM
L180C Volvo
L180C CO Volvo
L180C HL Volvo BM
L180C HL Volvo
L180D Volvo
L180D HL Volvo
L180E Volvo

L180E HL Volvo
L180F Volvo
L180F HL Volvo
L180G Volvo
L180G HL Volvo
L180H Volvo
L180H HL Volvo
L220D Volvo
L220E Volvo
L220F Volvo
L220G Volvo
L220H Volvo
L250G Volvo
L250H Volvo
L330C Volvo BM
L330C LL Volvo BM
L330C LL Volvo
L330D Volvo
L330E Volvo
L350F Volvo
Wheeled Milling Equipment (MEW)
MW500 Volvo

Wheeled Pavers (PAW)
ABG3870 Volvo
ABG4361 Volvo
ABG5770 Volvo
ABG5870 Volvo
ABG6870 Volvo
AGS 7.5 Volvo
P4370B Volvo
P5770C ABG Volvo PID:12766580
P5870C ABG Volvo PID:12783746
P6870C ABG Volvo PID:12763524
P7170 Volvo
Paver Controls Volvo
PF161 Volvo
PF2181 Volvo
PF3172 Volvo
PF3200 Volvo

Air Conditioning
R134A

Automatic Greasing System, TWIN
Automatic Greasing System, TWIN

Cables and Connectors
Cables and connectors, general

Drive Axle
26.00-A
26.00-B
26.16-A
26.16-B
26.22-A
26.22-B
28.32-H-A
28.32-M-A
28.43
28.44
53R312
AH56E
AH56F
AH56H PID:56043
AH56I PID:56044
AH56J PID:56045
AH64D
AH64E
AH64F
AH64J
AH64K
AH64L
AH64P PID:56040
AH64Q PID:56041
AH64R PID:56042
AHW64M
AHW64N
AHW64O
AHW71L
AHW71M
AHW71N
AHW71O
AHW71P
AHW71Q
AHW90 PID:11145758
AHW90 PID:11145761
AHW90 PID:11145762
AHW90 PID:11145757
APB745
APLB745
APLB755
APR70
APR70A
APR90
APR90A
ARB/H35 PID:23962
ARB/H35 PID:23961
ARB/H35 PID:23960
ARB/H35 ATC PID:56039
ARB/H40 PID:23957
ARB/H40 PID:23958
ARB/H40 PID:23959
ARB/H40 ATC PID:56038
AV230
AVG150
AWB10 PID:23819
AWB15 PID:56055
AWB15 PID:56014
AWB15
AWB20 PID:56013
AWB20 PID:56012
AWB20
AWB20 PID:56010
AWB20 PID:56011
AWB25 PID:56009
AWB25
AWB25 PID:56008
AWB30
AWB31 PID:56005
AWB31
AWB40
AWB40B PID:56049
AWB40B PID:56052
AWB40B PID:23881
AWB40B
AWB40B PID:56000
AWB41
AWB50 PID:56061
AWB50
LF1701
LR1701
MS-E3050
MS-E3060
MS-E3070
MT-E3050
MT-E3060
MT-E3070
MT-L3045
PGRF3402/3

Engine
D1.1A
D1.2A
D1.6A
D1.7A
D1.8A
D2.0A
D2.2A
D2.6A
D2.6H
D3.1A
D3.3H
D3.4A
D3.8H
D3D
D4D
D4E
D4H
D5D
D5E
D6D
D6E
D6H
D7D
D7E
D8H
D9A
D9B
D10B
D11F PID:15050661
D11H PID:15050660
D11H PID:15050662
D12C
D12D
D13F PID:15049437
D13F PID:15049431
D13H PID:15049439
D13H PID:15117870
D13H
D13H PID:15049433
D13H PID:15117868
D16B
D16E
D16F PID:15050684
D16H PID:15050683
D16H PID:15117877
Dieselmax 444
Ecomax 444
L3E2-64ESA
Perkins 400 Series
TD40
TD45
TD48
TD61
TD63
TD71
TD73
TD102
TD103
TD122
TD164
Hydraulic Transmission
2HL270
2HL290
8421H-5
8421H-19
8421H-21
HL70
HL100
HT90
HT93
HT95
HT130
HT131
HT132
HT200
HT205
HT210
HT220
HTE110
HTE120
HTE125 PID:22579
HTE202
HTE204 PID:22547
HTE204 PID:22563
HTE205 PID:22564
HTE205 PID:22521
HTE206
HTE206B
HTE206C PID:22595
HTE210 PID:22535
HTE210 PID:22565
HTE210 PID:22553
HTE210 PID:22554
HTE210 PID:22522
HTE300
HTE305 PID:22566
HTE305 PID:22580
HTE305 PID:22534
HTE305 PID:22544
HTE400
HTE840 PID:22583
HTE840 PID:22557
HTE1160 PID:22559
HTE1160 PID:22584
HTL206B PID:22598
HTL220
HTL222C PID:22596
HTL305
HTL306
HTL307 PID:22581
HTL307B PID:22597
PT1560
PT1562
PT1563
PT1860
PT1862
PT1863
PT2116 PID:22416
PT2509 PID:22401
PT2519 PID:22418
PT2519 PID:22419
TLB2 4WD-A
TLB2 4WD-B

Manual Transmission
FL852
FL862
FL992
FL1002
FL-IL1
FL-IL2
TLB1 2WD-A
TLB1 2WD-B
TLB1 4WD-A
TLB1 4WD-B
Powertrain

Packing list:
1pcs x PROSIS V2019.01 Parts + Repair For Volvo (3DVDS—26GB)