Product Description

kess_5.017_support_models_list.pdf

kess_5017_red_pcb_firmware_supported_cars_model.zip

kess_v2_5017_red_pcb_support_protocol_list.pdf
KESS V2 V5.017 Red PCB Firmware EU Version V2.8 ECU Tuning Kit Master No Token Limited
KESS V2 V5.017 With Red PCB Features
1. With best PCB board.
2. Better performance,function as well as more online protocols supported.
3. Online Operation Supported,No tokens limited.
4. Multi-Languages supported.
5.Perfect for OBD use,Read and write ECU via OBD2 port directly, no need disassemble ECU from the car, easy to use .
6.No reset button,no USB dongle,no tokens limited and has tested by many users as well as our technology department, 100% workable
Red KESS 5.017 Install/User Note
Model name:Kess V2 Master
Software Version: V2.8 (Newest)
Fireware Version: V5.017
Update:By link
Car Models:For Multi-cars and trucks,no year limited
Languages:English/ German/ Spanish/ Italian/ Portuguese/ French
Functions:Ecu Programming Tool
Connection:By OBD2.Read and write ECU via OBD2 port directly, no need disassemble ECU from the car, easy to use . KESS V2 5.017 Red PCB
Support Protocol:OBD2,BOOT...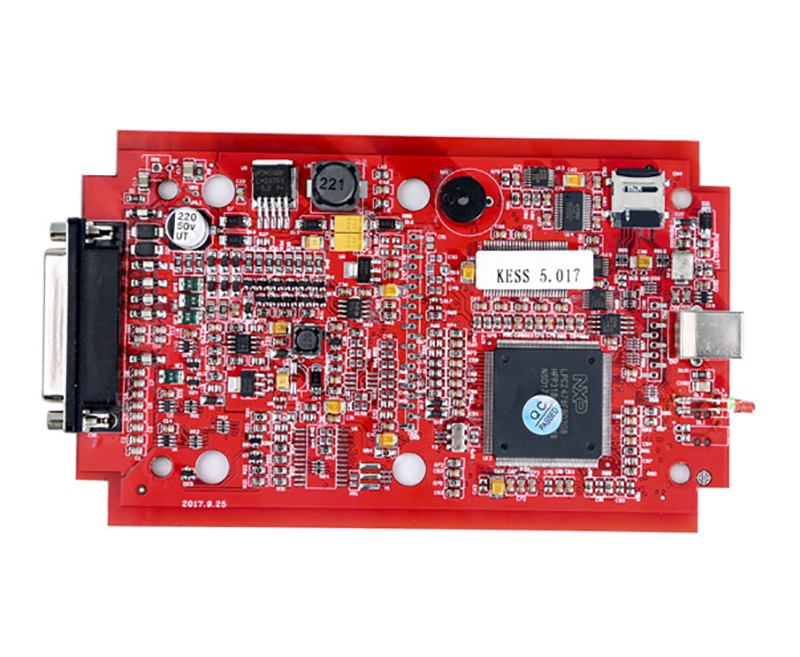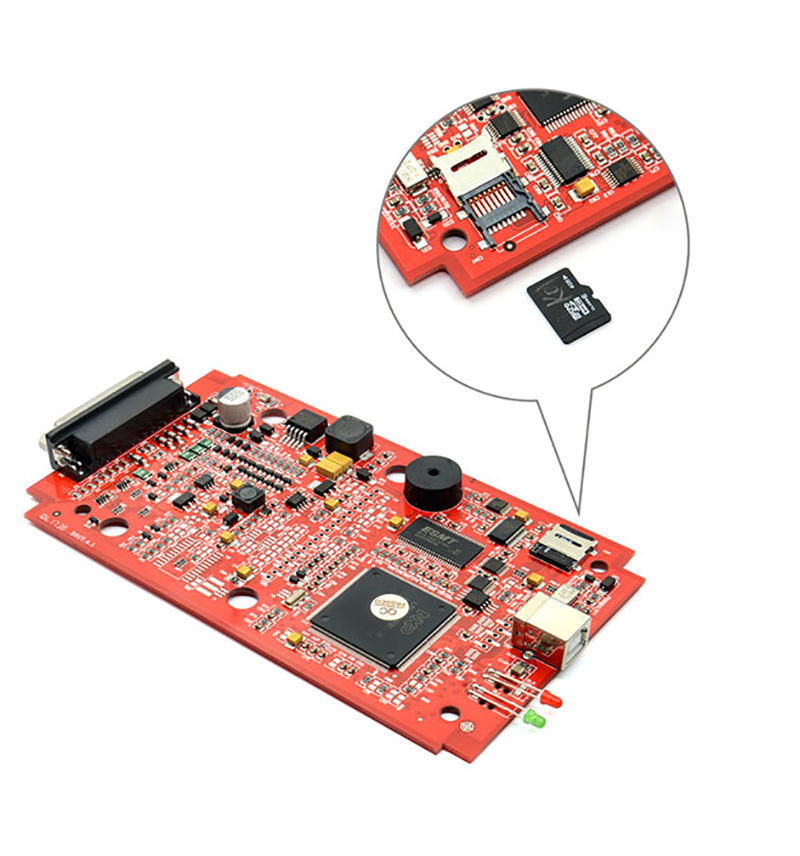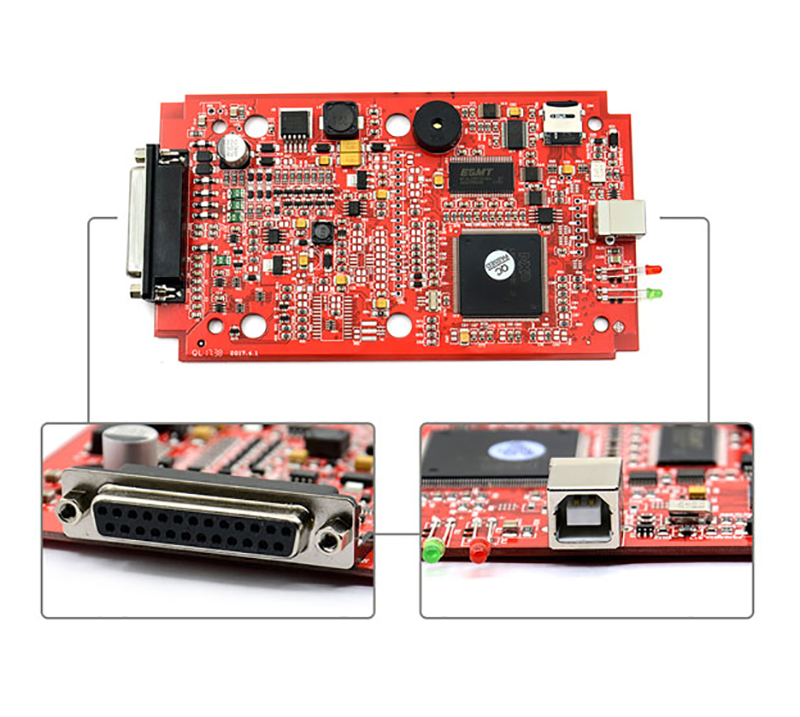 1.The left upper corner and the lower right corner notch size is not the same
2.More than buzzer
3.WFs = Infineon, BCR112 NPN Digital Transistor
4.27E = ON Semiconductor NUP2105LT1G
5.6DW = NXP BC817,215 NPN Bipolar Transistor
6.A6c =MMUN2113LT1G / MMUN2113LT3G
7.K5B = BC807-25-7-F PNP Bipolar Transistor
8.Using imported Japanese Murata filter NFE61PT472C1H9L

Red PCB KESS 5.017 Ksuite 2.23 European Version
1.Check of the battery voltage in real-time
2.Full Recovery function in case of problems
3.Automatic correction of the Checksum, (where available)
4 Boot-Loader mode supported
5.Management of the programming counters
6.ScanTool function to remove DTC
7.Several options of reading/writing speed
8.Option to write full file/section of the map
9.Full integration with ECM Titanium,which means it can work with ECM Titanium perfectly

What new protocols added with KESS V2 V5.017?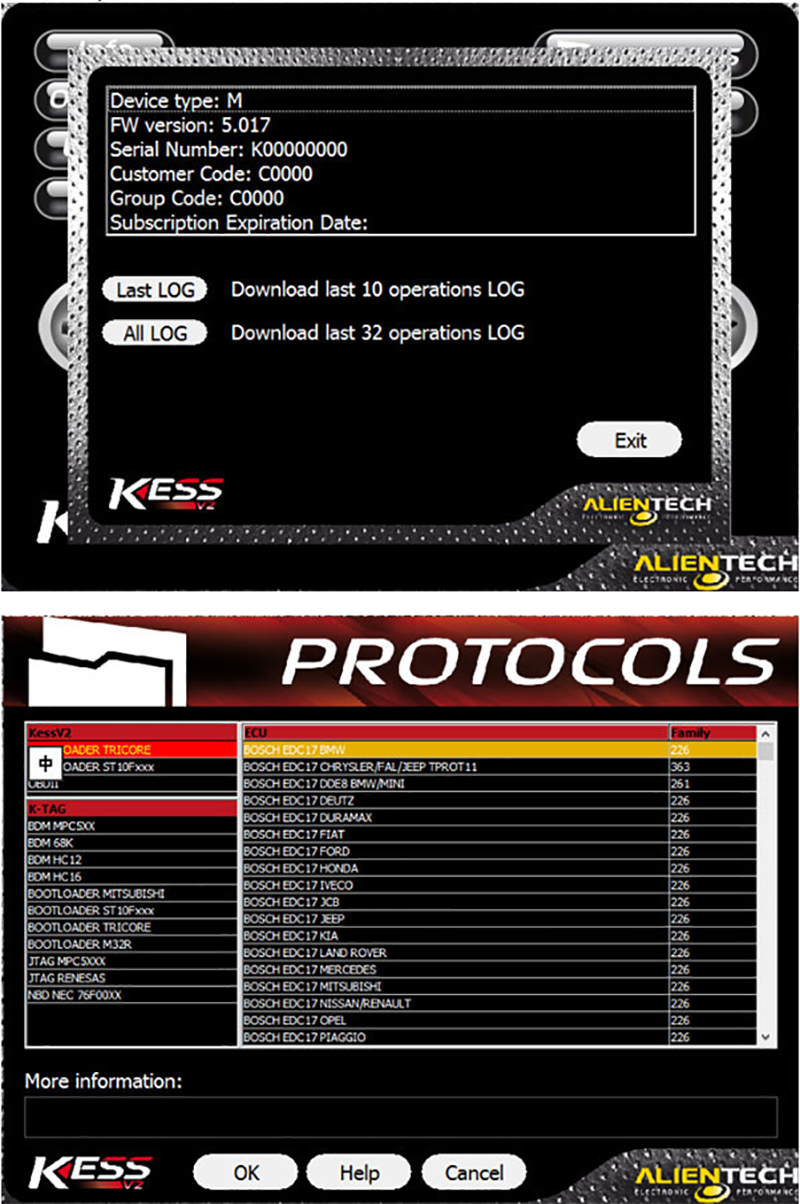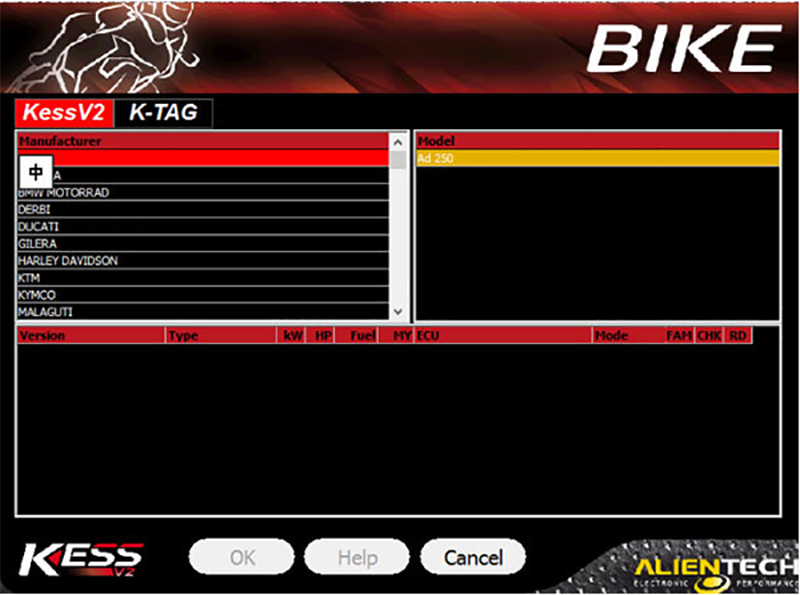 Package List:
1 x Kess v2 V5.017 Main Unit
1 x 144300T 104
1 x 144300T 103
1 x 144300T 101
1 x 144300T 106
1 x 144300T 102
1 x 144300T 105
1 x 144300T 100
3 x Chips Inside
1 x Multi-Color Cable
1 x USB Cable
1 x Power Adapter
1 x CD

FAQS :
Q1 : Is it original KESS 5.017 EU or KESS V2 5.017 CN EU ?
A1 : It is the red kess 5.017 china version,but with original databases ,with new NXP + Newer SD Card to provide better quality as well as performance. And Red KESS 5.017 EU Version has been tested by many tuners 100% workable with decent quality at cheap affordable price.

Q2 : Will Red KESS V5.017 Europe Version can be used online with Virtual file ?
A2 : Yeah,of course,online operation supported,no tokens limited.

Q3 : What is the advantages of KESS 5.017 With Red PCB EU over than KESS FW5.017 Green PCB ?
A3 : To be honest, these two kits shared almost same features, the only different lies in the red kess v2 5.017 has same look as the original one and used better PCB to provide better quality.

Q4 : How many online protocols will New Red PCB KESS 5.017 EU Supported ?
A4 : KESS V2 5.017 With Red PCB EU can support 140+ online protocols unlimited tokens and We also have attached the KESS 5.017 Red supported vehicle list in our product page,you can download to check freely.
Please feel free to contact us ,If you have any question:
Email:
Sales@obdii.shop
Whatsapp: +8613428908617

Shipping Terms:
a) Items will be sent to all the countries over the world. This package will be sent by DHL, Post, Fedex, EMS or UPS .
b) Items will be checked carefully before sent out.
c) We will use air bubbles to wrap the items carefully.

Shipping Time:
a) Ships within 48 hours on working days after received the payment.
b) The shipping time is about 5-7 days via DHL, UPS, 5-10 days Via Fedex, 7-10 days via EMS, 7-30 days via Post to Worldwide
Note: We hope it arrive on time but since this is an international delivery, shipping time will be highly depended on the courier company and local customs/duties. Thank you for your understanding.
Return Policies:
Returns will be allowed only with prior authorization, and must be made within 30 days after package delivery.
Item conditions that allow returns Brand new Item, returns must include all accessories, Items must include original packaging
Other cases are as follows:
(1) When the item is defective, the item was sent in error, damaged in transit, or otherwise defective,It can not work once you receive it. In this case we allow returns. We bear the shipping cost.
(2) When you buy the wrong item, the item doesn't fit, or you don't want the item, the item you return need to be brand new. you need bear shipping costs.

Contact Us:
Our Email sales@obdii.shop 24 hours 7 days
And if nobody answer you online in time sometimes,do not worry.leave us a message or write down your desires,we will contact you as soon as possible.
Attention: PLZ leave your telephone number and address in detail when you take order in our website, it is very important to ship your order. (Customers from Brazil PLZ leave your Cutsom ID also, thanks!)