Product Description
V2022.12 SD Connect MB Star C5 Doip+V2022.12 BMW ICOM NEXT + VAS 5054A 3-In-1 Automotive Diagnostic Tool With Lenovo T420 Laptop Ready to use

Software version:

1.MB Star SD Connect C5 V2022.12
2.BMW ICOM NEXT V2022.12
3.VAS 5054A ODIS V7.11
Attention:
The package contain MB Star SD Connect C5 / BMW ICOM NEXT / VAS 5054A hardware and one set Lenovo T420 Laptop installed MB Star SD Connect C5 / BMW ICOM NEXT / VAS 5054A software well ready to use
MB SD Connect C5 DoIP MB Star Diagnostic Tool Support DOIP function
for Benz car commander online programming. MB SD Connect C5 DoIP works with Xenrry DAS diagnostic system for diagnostic, with Monaco, Vediamo engineering software for Benz car programming.
Top Reasons to Get MB SD C5 DoIP:
1.The new SDconnect C5 is able to work for DoIP.
2.It's the only C5 that supports ethernet communication (DoIP).
3.Have tested no issues on the new Mercedes with DoIP.
4.No need to worry about firmware damage during the update process
5.The wireless connection is stable. (With built-in Wifi Chip)
6.Remote help is available.
7.Good Quality, It's waterproof, shockproof, and tamper-proof.
8.With Free DTS Monaco & Vediamo
9.Support both 12V Cars and 24V Trucks.
10.not only supports K line diagnosis and CAN BUS, but also UDS diagnose protocol.
11.Connector adopt Military quick swap technology, it can support 10,000 times pull the plug, more stable;
All core accessories adopt the original new packing chip, and a 24hours test, guarantee the quality of the products.
1.MB Star SD Connect C5 Doip Diagnosis Tool with 2022.12 Vediamo and DTS Engineering Software
Software Features :
1.Including Super Engineer Software
:DTS monaco V8.16.15 And Vediamo V5.01.01 Support Offline Programming
2.Support Wireless
3.Software Version:
V2022.12
4.Support Multi-Language:
(Default language is English, if you want other languages, please leave message)
English/ Bulgarian/ Danish/ Greek/ Spanish/ French/ Italian/ Korean/ Polish/ Romanuan/ Serbo-Croatian/ Turkish/ Czech/ German/ Finish/ Hyngarian/ Japanese/ Dutch/ Portuguese/ Russian/ Swedish/ Chinese.
5.Support Both Mercedes Benz Cars and Trucks
6.Support Mercedes Benz Cars After Year 2000
7.Support Offline and Online Programming, If You Want to Do Online,you must have an account online.
Softwares list:
1. DAS 2022.12: the automatically Diagnosis Assistance System
2. Xentry 2022.12: New software released by Bennz Company after 04/2009 by diagnosis new cars.
3. WIS net 2021.07:Workshop Information System
Supply the whole view of the wiring diagram in a car, component location diagram and maintenance method. What you do is to enter the chassis number, and then you will get the manufacture data, engine configuration and the car model -all in detail.
4. EPC.net 2018.11:Electronic Parts Catalog
5. ST Finder:Part Location Finder options: 2016 and 2020 and 2022
6. STARUTILITIES : the movement management system and self-test
7. SD MEDIA 2014
8. PL72 2022.01
9.HHT Software for old cars
10.Engineer version Vediamo updated to V5.01.01 ,Engineer version DTS updated to V8.16.015,Upgrade to the latest version of 2021 data
1) Fix the error that Mercedes-Benz DAS cannot directly call WIS
2) Join the DAS sedan smart offline programming
3) Join the 204 DAS stand-alone version, which can be mutated (German), which is more powerful than Vediamo
4) Join DAS special function password-free access PKW and SMART
5) Repair SMART 450, 451, 452, 454 No longer need TAN Caculator, all offline
6) Increase offline EOL and VMAX all LKW, modify truck maximum speed limit
7) Lift the truck NOx TORGUE restriction, do not need FDOK XT calculation code, directly enter, directly cancel the legal speed limit, you can modify without special function
8) Clear the truck SCR/ADBLUE fault code (MR), do not need FDOK XN calculation code, enter directly
9)Add DAS 212,207 prototyp model
10)Add Xentry special features and the VeDoc calculator($53 for activation)
2.V2022.12 BMW ICOM NEXT Diagnostic Tool
Software Version :
V2022.12
ISTA - D:
4.37.43 with SDP Programming Database 4.37.43
ISTA - P:
3.71.0.200 with Engineer Programming,supports the programming of BMW motorcycles and electric vehicles can program F/G/I/K chassis for car (through the ICOM, not other cable )
Vin: V2022.09.20
BMW ETK: 2019.12
BMW KSD: 2019.12 Multi-language
BMW FSC Navigation Code Generator
BMWAiCoder for BMW Coding
Win10 64 bit operating system
BMW ICOM V2022.12, With free Software:
1. Get engineer version, INPA 5.06,winkfp 5.2.3,NCS 3.5.1, e-sys 3.31,data V71.0
2. get Chinese software DR.GINI B022
3. get count code navigation tool software FSC operator code
4. get one-click hidden brush tool BMWAi V4.6
5. Add DIS Software for Old cars, DISV57 and DISV44,diagnosis and programming for BMW virtual machines
6. Support Vehicles: F
or BMW Cars,For BMW Motorcycle,For Rolls-Royce, For Mini Cooper
ISTA-D Language: Czech, Dutch, French, German, Greek, Italian, Japanese, Korean, Polish, Portuguese, Russian, Spanish, Sweden, Thai, Turkish
ISTA-P Language: English, Chinese, Czech, Dutch, French, German, Greek, Indonesian, Italian, Japanese, Korean, Polish,
Portuguese, Russian, Spanish, Swedish, Thai, Turkish
Notice : The software installed English language in default

3.VAS 5054A With OKI Chip VAG Diagnostic Tool
1.ODIS V7.11 includes: Audi, Skoda, FAW-Volkswagen, Volkswagen, Shanghai Volkswagen, Volkswagen Commercial, Bugatti, Lamborghini, SEAT, MAN, Bentley
2.ODIS Engineer Software: V12.1 Version
3.ETKA 8.2, data updated to 2021.3
4.Elsawin 6.0, support VW, Audi, data updated to 2016.1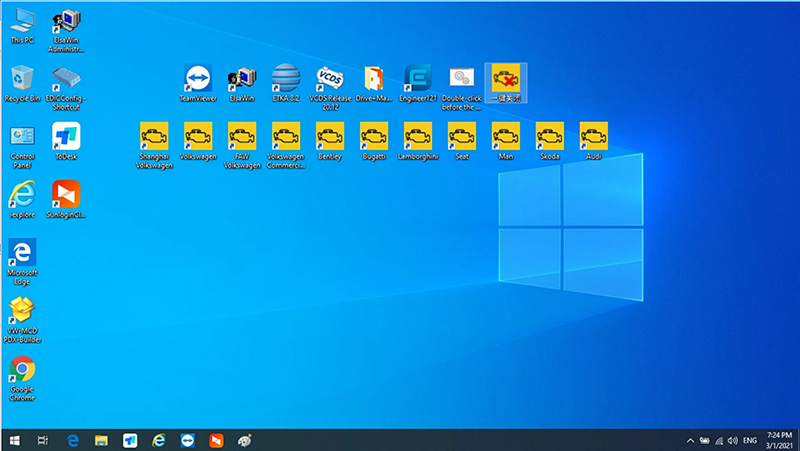 VAS 5054A Features:
1.Full chips version Support UDS Protocol and PWM
2.Support Language: English
3.Supported Car Models: VW, AUDI, SKODA, SEAT
4.VAS 5054a Full Chips diagnosis and programming tool for VAG vehicles, come with ODIS software V7.11 support all Volkswagen, Audi, Seat, Skoda, Bentley, Lamborghini
The following vehicle bus systems are supported:
K line (ISO9141-2)
High-speed CAN (ISO 11898-2)
Low-speed CAN (ISO 11898-3)
J1850 (SAE J1850)
Packing List:
MB STAR C5
1pc x MB STAR C5 Multiplexer
1pc x OBDII 16Pin Cable
1pc x 38PIN Cable
1pc x 14PIN Cable
1pc x 8PIN Cable
1pc x Lan Cable
BMW ICOM NEXT
1pc x BMW ICOM NEXT
1pc x LAN Cable
1pc x OBD Cable
VAS 5054A
1pc x VAS 5054A Main unit
1pc x USB Cable
2pcs x CD Software
1set x Second Hand Lenovo T420 Laptop I5 4GB Laptop
Second Hand Laptop Lenovo T420 Laptop Specification :
Brand:
Lenovo
Condition:
Used
Type:
Laptop/Notebook
Screen Size:
14.0
Processor Type: Intel (R) Core(TM) I5-2520M CPU
Processor Speed: 2.50 GHz
Processor Configuration: Dual Core
Memory: 4GB
Compared with other laptop, this one is better quality and run faster.
Please feel free to contact us ,If you have any question:
Email:
Sales@obdii.shop
Whatsapp: +8613428908617

Shipping Terms:
a) Items will be sent to all the countries over the world. This package will be sent by DHL, Post, Fedex, EMS or UPS .
b) Items will be checked carefully before sent out.
c) We will use air bubbles to wrap the items carefully.

Shipping Time:
a) Ships within 48 hours on working days after received the payment.
b) The shipping time is about 5-7 days via DHL, UPS, 5-10 days Via Fedex, 7-10 days via EMS, 7-30 days via Post to Worldwide
Note: We hope it arrive on time but since this is an international delivery, shipping time will be highly depended on the courier company and local customs/duties. Thank you for your understanding.
Return Policies:
Returns will be allowed only with prior authorization, and must be made within 30 days after package delivery.
Item conditions that allow returns Brand new Item, returns must include all accessories, Items must include original packaging
Other cases are as follows:
(1) When the item is defective, the item was sent in error, damaged in transit, or otherwise defective,It can not work once you receive it. In this case we allow returns. We bear the shipping cost.
(2) When you buy the wrong item, the item doesn't fit, or you don't want the item, the item you return need to be brand new. you need bear shipping costs.

Contact Us:
Our Email sales@obdii.shop 24 hours 7 days
And if nobody answer you online in time sometimes,do not worry.leave us a message or write down your desires,we will contact you as soon as possible.
Attention: PLZ leave your telephone number and address in detail when you take order in our website, it is very important to ship your order. (Customers from Brazil PLZ leave your Cutsom ID also, thanks!)