Product Description
Auto Ecu Programmer Ultraprog Airbag Reset Tool
Please note:
1. You have to remove the ECU circuit from the car, and work with it on your bench.
2. Please note, this tool is not diagnostic tool, it is not able to use as diagnostic interface, can't connect to car directly, it has no CAN bus or any other wired protocol support.
Languages: English, French, Spanish, Italian, Japanese, Hungarian
This is an excellent wide range device programmer for commercial EEPROM's and microcontrollers, and cover all protocols like JTAG, I2C, Microwire, SPI, BDM, BKGD for most familar makers like Motorola, Freescale, ST micro, Infineon, Renesas, National and possible clearing 2200 different ECU devices Airbag crash data too.
This tool is able to read out the memory content of many commercial EEPROM or micro controller devices, and change the contents of binary files on your PC then write back to the target device. You have to remove the ECU circuit from the car, and work with it on your bench.
All supported Airbag ECU list: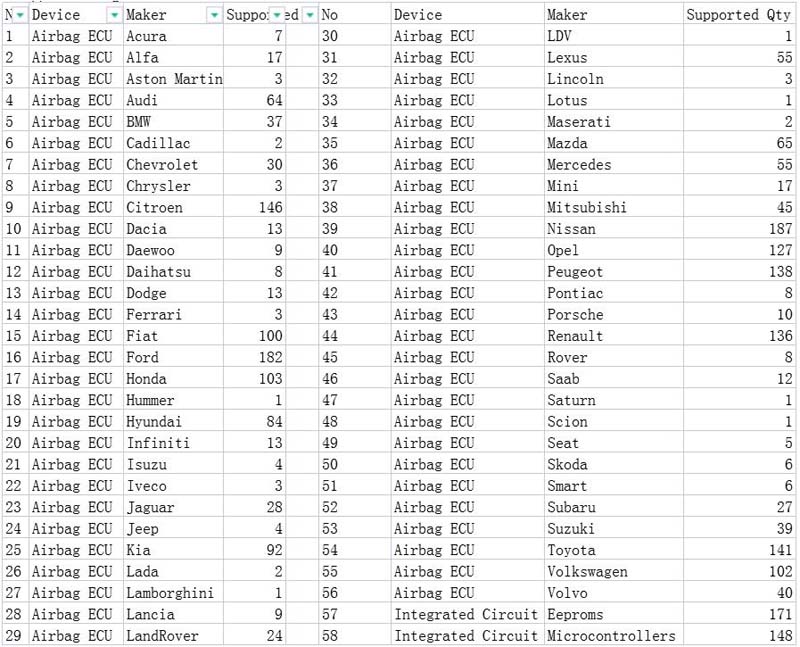 Supported memory devices see below:
Renesas:

RH850: R7F7010023AF R7F7010033AF R7F7010063AF R7F7010073AF R7F7010083AF R7F7010093AF R7F7010103AF R7F7010113AF R7F7010123AF R7F7010133AF R7F7010143AF R7F7010153AF R7F7010163AF R7F7010173AF R7F7010183AF R7F7010193AF R7F7010203AF R7F7010213AF R7F7010223AF R7F7010233AF R7F7010243AF R7F7010253AF R7F7010283AF R7F7010293AF R7F7010303AF R7F7010323AF R7F7010333AF R7F7010343AF R7F7010403AF R7F7010413AF R7F7010423AF R7F7010433AF R7F7010443AF R7F7010453AF R7F7010463AF R7F7010473AF R7F7010483AF R7F7010493AF R7F7010503AF R7F7010513AF R7F7010523AF R7F7010533AF R7F7010543AF R7F7010553AF R7F7010563AF R7F7010573AF R7F7010643AF R7F701A033, R7F701A223
V850: uPD70F3370 uPD70F3371 uPD70F3372 uPD70F3373 uPD70F3374 uPD70F3375 uPD70F3376 uPD70F3377 uPD70F3378 uPD70F3379 uPD70F3380 uPD70F3381 uPD70F3382 uPD70F3383 uPD70F3384 uPD70F3385 uPD70F3610 uPD70F3611 uPD70F3612 uPD70F3612 uPD70F3614 uPD70F3615 uPD70F3616 uPD70F3617 uPD70F3618 uPD70F3619 uPD70F3620 uPD70F3621 uPD70F3622 uPD70F3623 uPD70F3624 uPD70F3625 uPD70F3626 uPD70F3627 uPD70F3628 uPD70F3629 uPD70F3630 uPD70F3631 uPD70F3632 uPD70F3633 uPD70F3634 uPD70F3635 uPD70F3636 uPD70F3637 uPD70F3638
JTAG Devices Infineon:
XC2336A-56F, XC2336A-72F, XC2336B-40F, XC2361A-56F, XC2361A-72F, XC2361B-40F
JTAG devices ST Micro, Freescale:
SPC560P50,MPC5604,SC66705
Motorola:
MC68HC08AB16A, MC68HC08AS20, MC68HC08AZ32, MC68HC08AZ60
MC68HC908AB32, MC68HC908AZ48A, MC68HC908AS60, MC68HC908AZ32A, MC68HC908AZ60
MC68HC11E9, MC68HC11E20, MC68HC11K4, MC68HC11KA4
MC68HC12BE32, MC68HC12D60
MC68HC912B32, MC68HC912D60, MC68HC912D60A
Freescale:
MC9S12DG64, MC9S12DJ64, MC9S12A128, MC9S12DG128, MC9S12DJ128, MC9S12DT128, MC9S12DG256,
MC9S12DJ256,MC9S12DP512
MC9S12XD64, MC9S12XD128, MC9S12XD256, MC9S12XDT384, MC9S12XDP512
National Semiconductor:
CR16HCS9 CR16MAR5 CR16MAS5 CR16MAS9 CR16MBR5 CR16MCS5 CR16MCS9, CR16HCT5, CR16HCT9, CR16MCT5, CR16MCT9
EEPROM:I2C General(14)
24C00, 24C01, 24C02, 24C04, 24C08, 24C16, 24C32, 24C64, 24C128, 24C256, 24C512,
24C1024, 24C1025, 24C1026
SPI General(11)
25C010, 25C020, 25C040, 25C080, 25C160, 25C320, 25C640, 25C128.25C256, 25C512, 25C1024
MWIRE 8bit(6)
93C06A, 93C46A, 93C56A, 93C66A, 93C76A, 93C86A
MWIRE 16bit(6)
93C06B, 93C46B, 93C56B, 93C66B, 93C76B, 93C86B
MWIRE Rotated 16bit(6)
93C06X, 93C46X, 93C56X, 93C66X, 93C76X, 93C86X
MWIRE Secured 16bit(3)
93CS46, 93CS56, 93CS66
Asahi Kasei Microdevices(10)
AK6420AF, AK6420AM, AK6440AF, AK6440AM, AK6440B, AK6480AF, AK6480AM, AK6480C, AK6416AF, AK6416C
Atmel(3)
AT59C11, AT93C57, AT59C22
Catalyst(11)
CAT35C102, CAT35C104, CAT35C108, CAT35C116, CAT35C202
CAT64LC10P, CAT64LC20P, CAT64LC40P, CAT64LC10W, CAT64LC20W, CAT64LC40W
CAT64LC10P, CAT64LC20P, CAT64LC40P, CAT64LC10W, CAT64LC20W, CAT64LC40W
ITT(1)
NVM3060
Ford(3)
6005L, 7002MN010, 77007MC
General Instruments(1)
ER59256
Grundig(2)
GRN-001, GRM008
Microchip(5)
59C11, ER5911, 85C72, 85C82, 85C92
Mitsubishi(3)
M6M80011, M6M80021, M6M80041
Motorola(1)
MCM2814P
National(2)
NMC9306, NMC9314
NEC(3)
uPD6252, uPD6253, uPD6254
OKI(6)
MSM16811, MSM16812, MSM16851, MSM16911, MSM16912, MSM16951
ON Semi(6)
CAT64LC10P, CAT64LC20P, CAT64LC40P, CAT64LC10W, CAT64LC20W, CAT64LC40W
Philips(1)
PCF8582
Rohm(11)
BR9010, BR9020, BR9040, BR9080, BR9016
BR9010F, BR9020F, BR9040F, BR9080F, BR9016F
BR93H86
Seiko(23)
S25A640
S29130A, S29220A, S29230A, S29330A, S29430A, S29530A, S29630A
S29131A, S29221A, S29231A, S29331A
S29190A, S29290A, S29390A, S29590A, S29690A
S29191A, S29291A, S29391A
S29255A, S29355A, S29453A
Siemens(5)
SDE2506, SDA2516, SDA2526, SDA2546, SDA2586
Sony(4)
CXK1011, CXK1012, CXK1013, PDG011
STMicro(15)
M24M01, M24M02 with ID page read write features
M35080
M95010, M95020, M95040, M95080, M95160, M95320, M95640, M95128, M95256, M95512
M95M01, M95M02 with ID Page read write and ID page LOCK features
ST24E16
ST95P02, ST95P04, ST95P08
Toshiba(2)
TC89101P, TC89102P
Xicor(3)
X2444, X5043, X5045

Screenshot of software part: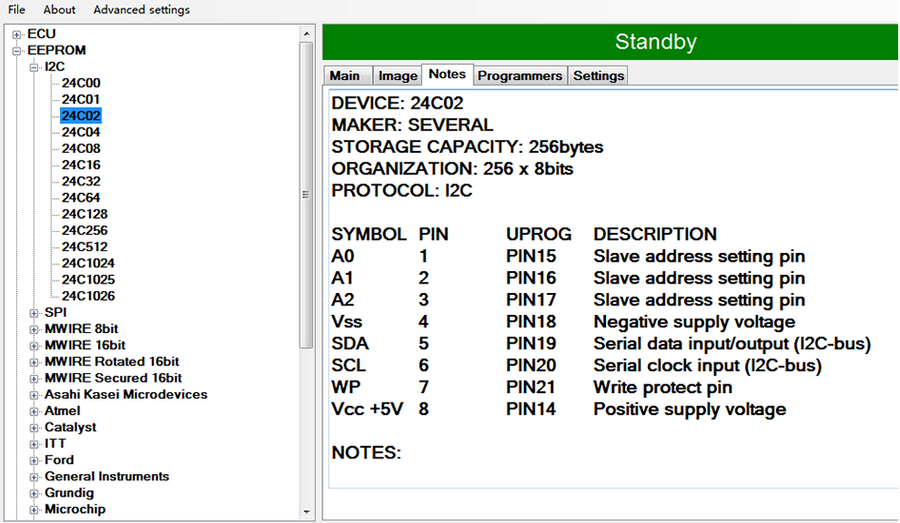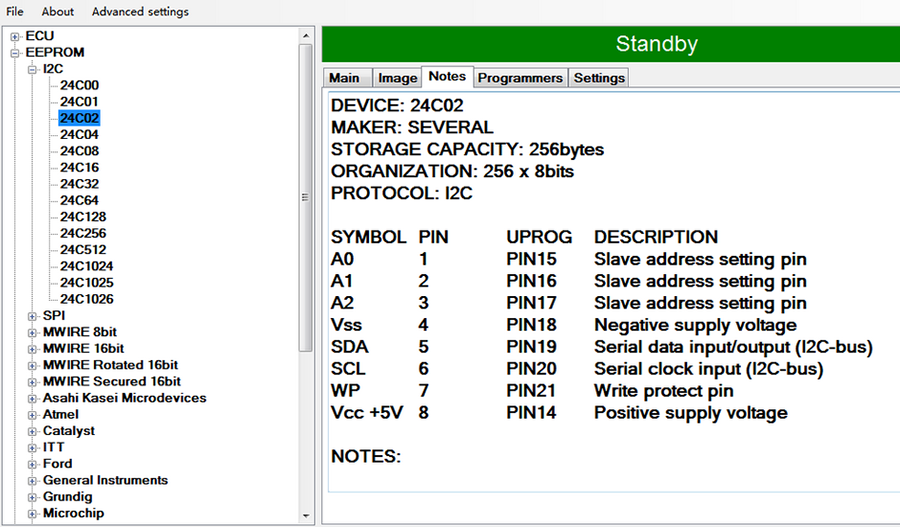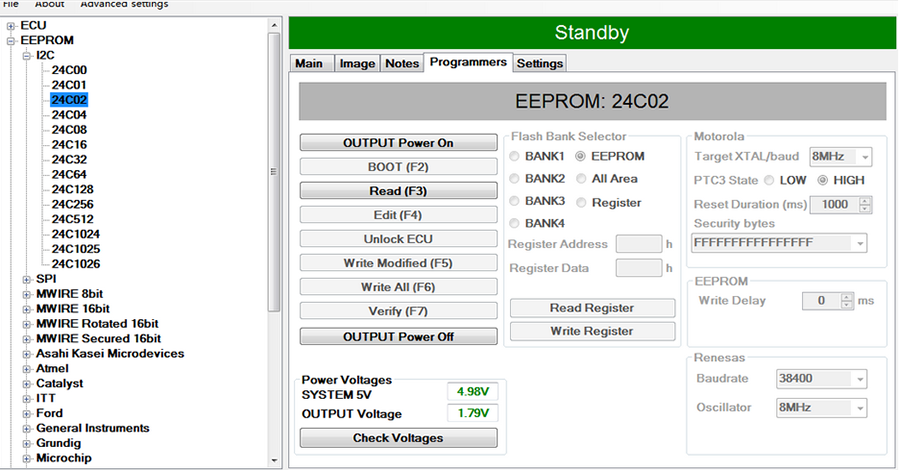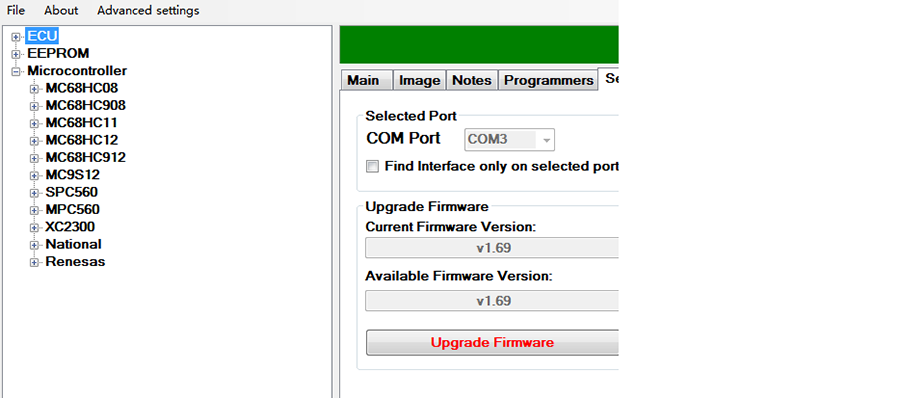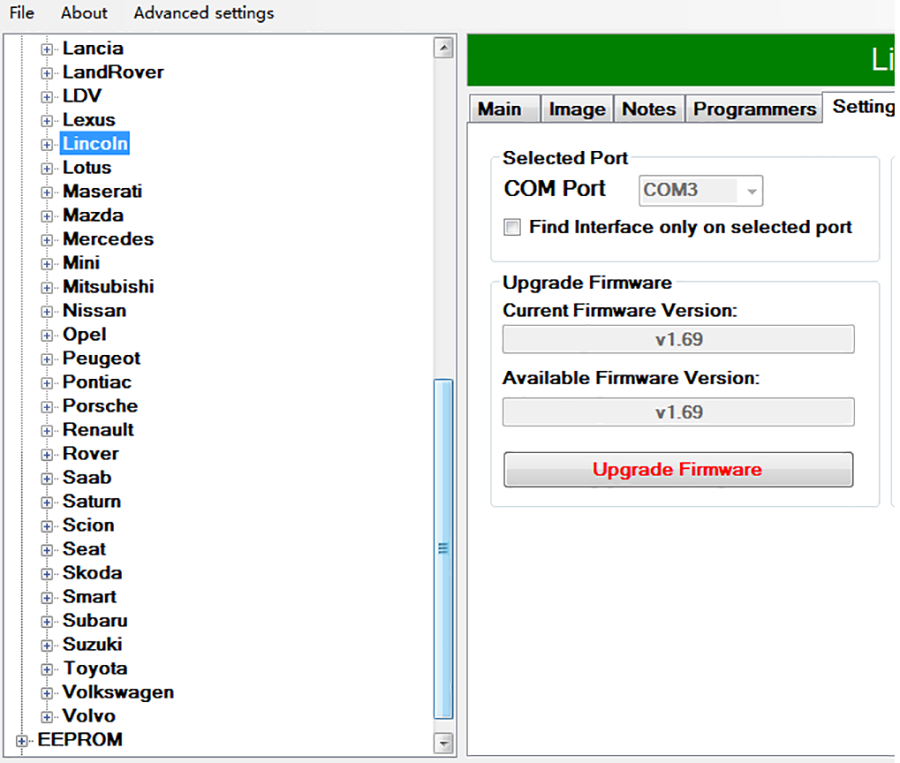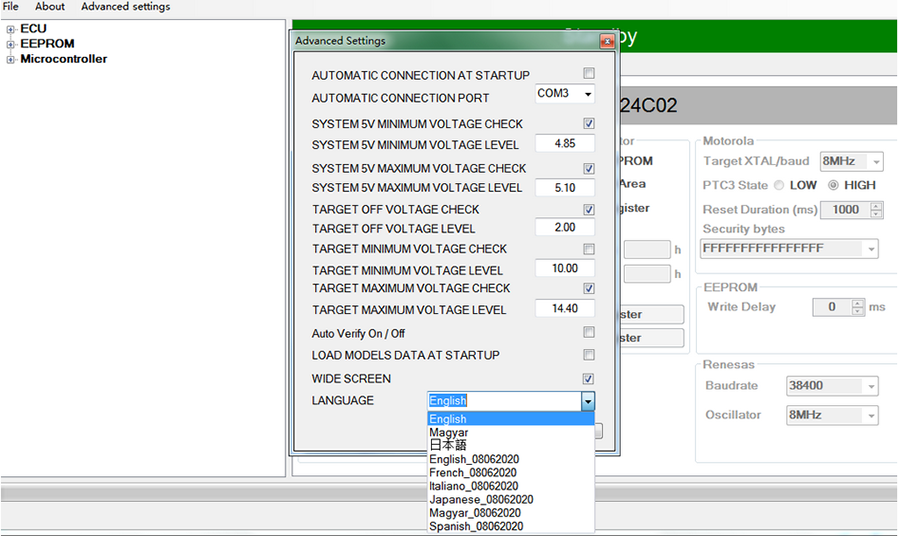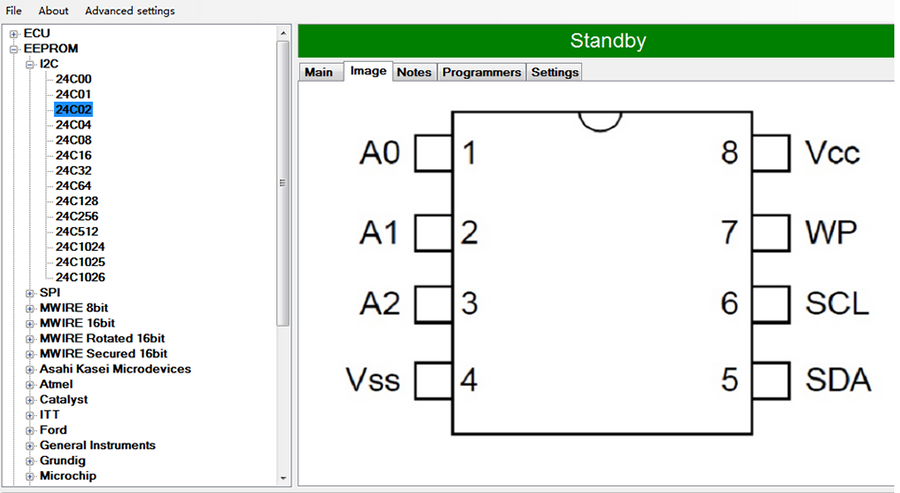 You will get with the FULL kit:
1.UltraProg USB interface
2.USB A-B Cable
3.12V DC power supply with EU plug
4.1 year support and free software updates
Please feel free to contact us ,If you have any question:
Email:
Sales@obdii.shop
Whatsapp: +8613428908617

Shipping Terms:
a) Items will be sent to all the countries over the world. This package will be sent by DHL, Post, Fedex, EMS or UPS .
b) Items will be checked carefully before sent out.
c) We will use air bubbles to wrap the items carefully.

Shipping Time:
a) Ships within 48 hours on working days after received the payment.
b) The shipping time is about 5-7 days via DHL, UPS, 5-10 days Via Fedex, 7-10 days via EMS, 7-30 days via Post to Worldwide
Note: We hope it arrive on time but since this is an international delivery, shipping time will be highly depended on the courier company and local customs/duties. Thank you for your understanding.
Return Policies:
Returns will be allowed only with prior authorization, and must be made within 30 days after package delivery.
Item conditions that allow returns Brand new Item, returns must include all accessories, Items must include original packaging
Other cases are as follows:
(1) When the item is defective, the item was sent in error, damaged in transit, or otherwise defective,It can not work once you receive it. In this case we allow returns. We bear the shipping cost.
(2) When you buy the wrong item, the item doesn't fit, or you don't want the item, the item you return need to be brand new. you need bear shipping costs.

Contact Us:
Our Email sales@obdii.shop 24 hours 7 days
And if nobody answer you online in time sometimes,do not worry.leave us a message or write down your desires,we will contact you as soon as possible.
Attention: PLZ leave your telephone number and address in detail when you take order in our website, it is very important to ship your order. (Customers from Brazil PLZ leave your Cutsom ID also, thanks!)