VAS 5054A With OKI Chip VAG Diagnostic Tool ODIS V7.21 Plus Lenovo X220 Laptop Ready to Use
This is full version VAS 5054A software ODIS V7.21 installed on Lenovo X220 Laptop, you can operate directly.
Software installed on Lenovo X220 Laptop:
1.ODI-S V7.21 includes: Audi, Skoda, FAW-Volkswagen, Volkswagen, Shanghai Volkswagen, Volkswagen Commercial, Bugatti, Lamborghini, SEAT, MAN, Bentley
2.ODI-S Engineer Software: V12.1 Version
3.ETKA 8.2, data updated to 2021.3
4.Elsawin 6.0, support VW, Audi, data updated to 2016.1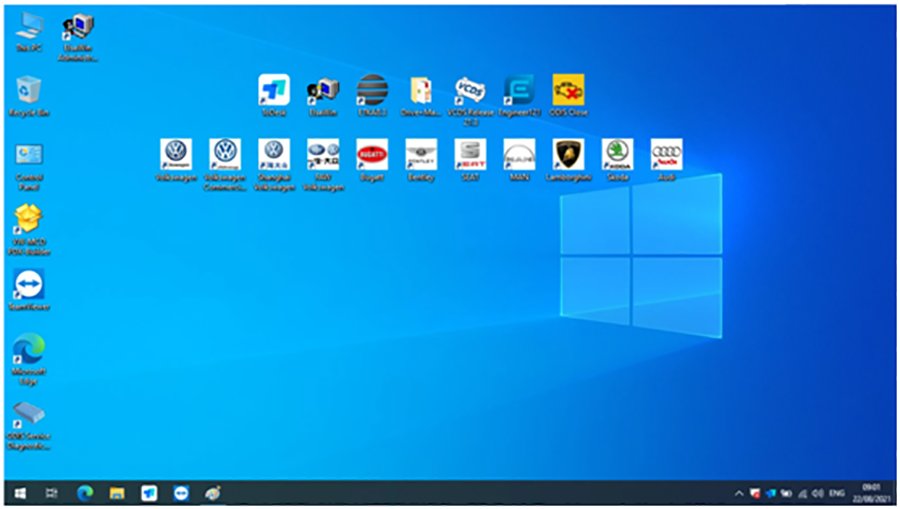 VAS 5054A Features:
1.Full chips version Support UDS Protocol and PWM
2.Support Language: English (other language database not full, can not installed successful)
3.Supported Car Models: VW, AUDI, SKODA, SEAT
4.Bluetooth Version
VAS 5054a Full Chips diagnosis and programming tool for VAG vehicles, come with ODIS software V7.21 support all Volkswagen, Audi, Seat, Skoda, Bentley, Lamborghini
Vas 5054a is full version with VW ODIS V7.21 installed on High Quality Lenovo X220 Laptop, You just need to connect the VAS5054A head to the car, and use the bluetooth to connect to this Dell computer, then you can operate directly, no need to install.
VAS 5054A V7.21 Bluetooth version:
The VAS 5054A is a universal diagnostic interface for the vehicles of the Volkswagen Group and all OBD vehicle systems from other manufacturers.
The integrated Bluetooth interface connects the vehicle with a notebook, desktop PC or test system.
No cables are needed for vehicle diagnostics using the VAS 5054A.
The range of the wireless Bluetooth connection is 5 to 10 meters,depending on the environment and the type of Bluetooth adapter used on the PC side.
The Serial Port Profile (SPP) is used for data transfer via Bluetooth. Different Bluetooth security levels are supported.
VAS 5054A V7.21 Specification:
The vehicle protocols are handled directly in the VAS 5054A.
This ensures fast response times and a reliable real-time behavior independently of the PC operating system. Every time a connection is established, the VAS 5054A software is identified with the version installed on the application PC. The VAS 5054A thus automatically adopts any new features provided after a new software version has been installed on the application PC.
The diagnostic application and the associated Diagnostic Base System are installed on the application PC.
The diagnostic base system can access the VAS 5054A via Bluetooth or USB.
Access via Bluetooth: After a connection to the VAS 5054A has been set up, the Bluetooth software provides a virtual serial COM port (Bluetooth Serial Port Profile). The Diagnostic Base System uses this COM port to communicate with the VAS 5054A.
Access via USB: You can also connect the VAS 5054A to the application PC by using the supplied USB cable.
The following vehicle bus systems are supported:

K line (ISO9141-2)
High-speed CAN (ISO 11898-2)
Low-speed CAN (ISO 11898-3)
J1850 (SAE J1850)

Second Hand Laptop Lenovo X220 Laptop Specification :
Brand: Lenovo
Condition: Used
Type: Laptop/Notebook
Screen Size: 12.0
Processor Type: Intel (R) Core(TM) I5-2520M CPU
Processor Speed: 2.50 GHz
Processor Configuration: Dual Core
Memory: 4GB
Compared with other laptop, this one is better quality and run faster.
VAS 5054A will Lenovo X220 Laptop Package list:
1PCS VAS 5054A main unit
1PCS Lenovo X220 Laptop with VAS5054A software ODIS 7.21 installed