Product Description
Autel XP400 SWITCH & CHIP PROGRAMMER
XP400 can be used with Autel MaxiIIM IM508 / IM608, Auro Otosys IM100 / IM600 to do advanced key progeamming work. Note: The tablet and J2534 Box in the advertising image are for display only, do not include in the package content.
PC Supported
MCU / EEPROM Chip Read / Write
ECU Read / Write
MC9S12 Encrypted Chip Read / Write
Key Reading / Writing
Mercedes Infrared Key Reading / Writing
Finding the Control Frequency
IC Card Reading / Writing
XP400 Key & Chip Programmer Instruction:
Connect the IM608 tablet to the XP400 Key Programmer (no vehicle connection required) to access the key chip, read, retrieve and write key information, as well as other key related functions.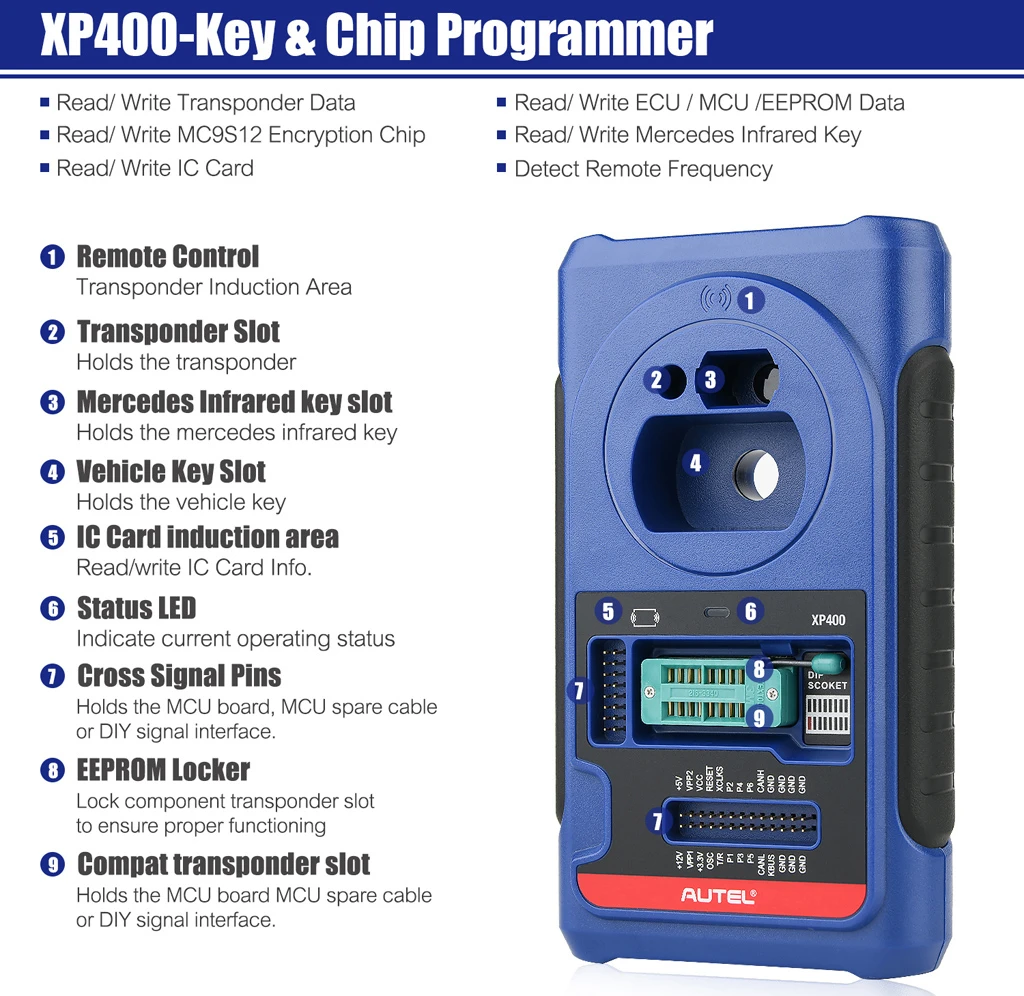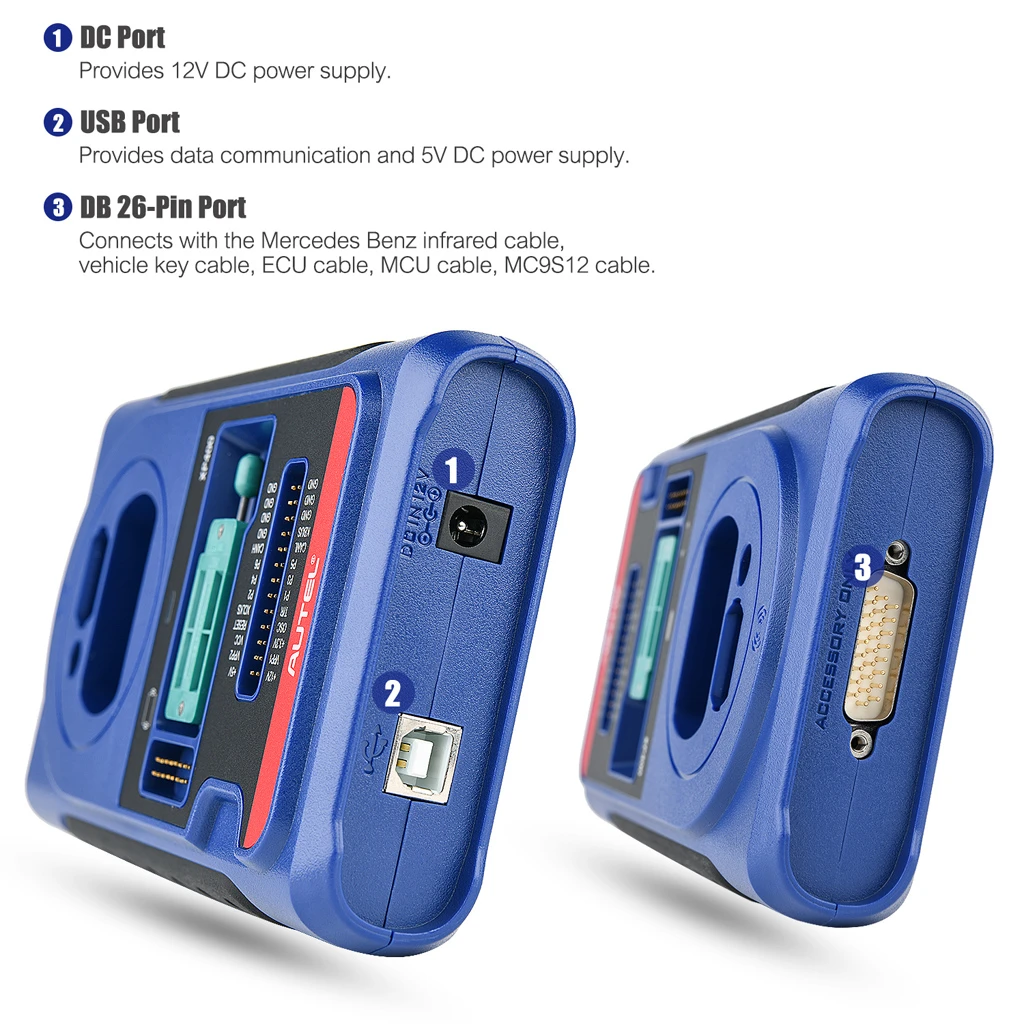 Autel xp400 key programmer
1. Remote Control Transponder Induction Area Figure 2-5 XP400 Views 11
2. Transponder Slot – holds the transponder.
3. Mercedes Infrared Key Slot – holds the Mercedes infrared key.
4. Vehicle Key Slot – holds the vehicle key.
5. IC Card Induction Area
6. Status LED – indicates the current operating status.
7. Cross Signal Pins – holds the MCU board, MCU spare cable or DIY signal interface.
8. EEPROM Locker – locks the EEPROM component transponder slot to ensure proper functioning.
9. EEPROM Component Transponder Slot – holds the EEPROM plug-in transponder or EEPROM socket.
Autel XP400 Interfaces
1. DC Port – provides 12V DC power supply.
2. USB Port – provides data communication and 5V DC power supply.
3. DB 26-Pin Port – connects with the Mercedes Benz infrared cable, vehicle key cable, ECU cable, MCU cable, MC9S12 cable.
Autel XP400 Mercedes cables
3
Mercedes Infrared Cable
APA102 – Remote Match Cable (optional)
APA104 – ECU Cable
APA105 – MCU Cable
APA106 – MC9S12 Cable
Why Buy an XP400 Device?
If your original XP400 for IM608 / IM600 is broken, you can buy this to replace the old one. Or If you have a MaxiIM IM508 or Otosys IM100, you want to do advanced IMMO reprogramming like IM608 / IM600 do, you can buy an XP400 for your machine. Then it works on IMMO functions as im608 / im600. Detailed functions comparison between XP400 and XP200, please refer to bellow chart.
Why buy Autel XP400? Autel im508+xp400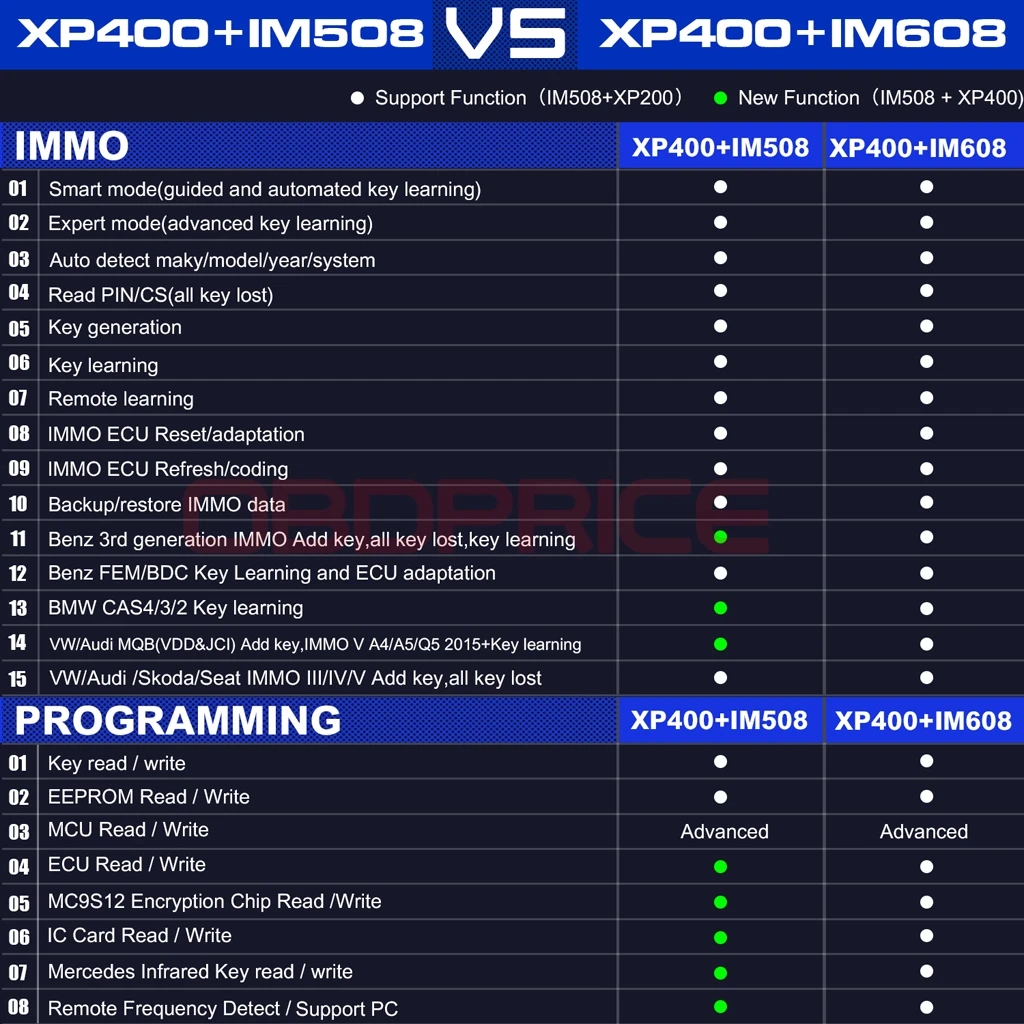 Attention Please!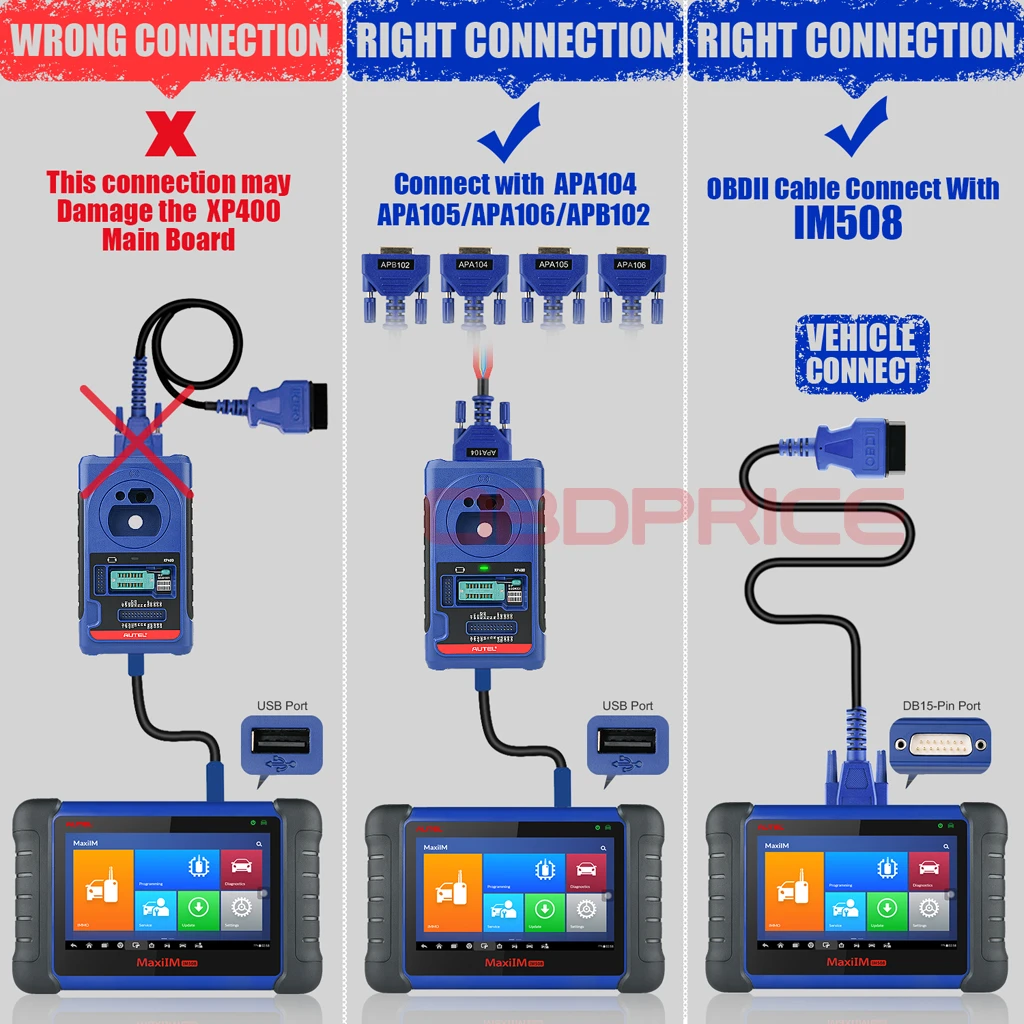 Please feel free to contact us ,If you have any question:
Email:
Sales@obdii.shop
Whatsapp: +8613428908617

Shipping Terms:
a) Items will be sent to all the countries over the world. This package will be sent by DHL, Post, Fedex, EMS or UPS .
b) Items will be checked carefully before sent out.
c) We will use air bubbles to wrap the items carefully.

Shipping Time:
a) Ships within 48 hours on working days after received the payment.
b) The shipping time is about 5-7 days via DHL, UPS, 5-10 days Via Fedex, 7-10 days via EMS, 7-30 days via Post to Worldwide
Note: We hope it arrive on time but since this is an international delivery, shipping time will be highly depended on the courier company and local customs/duties. Thank you for your understanding.
Return Policies:
Returns will be allowed only with prior authorization, and must be made within 30 days after package delivery.
Item conditions that allow returns Brand new Item, returns must include all accessories, Items must include original packaging
Other cases are as follows:
(1) When the item is defective, the item was sent in error, damaged in transit, or otherwise defective,It can not work once you receive it. In this case we allow returns. We bear the shipping cost.
(2) When you buy the wrong item, the item doesn't fit, or you don't want the item, the item you return need to be brand new. you need bear shipping costs.

Contact Us:
Our Email sales@obdii.shop 24 hours 7 days
And if nobody answer you online in time sometimes,do not worry.leave us a message or write down your desires,we will contact you as soon as possible.
Attention: PLZ leave your telephone number and address in detail when you take order in our website, it is very important to ship your order. (Customers from Brazil PLZ leave your Cutsom ID also, thanks!)