Product Description

Autel-IM-case-study-youtube-link.pdf
Autel APB112 Smart Key Simulator Compatible with Autel MaxiIM IM508 IM608
The APB112 smart key simulator is used to collect the data sent from the ignition coil,aiming to identify the ignition coil troubles and decode the data of the vehicle key chip.
It can also simulate the vehicle key chip.
Currently, it supports to simulate the 4D type chip.
More key chip types will be supported with future upgrades.
AUTEL APB112 Features:
1. Smart key simulator
2. Compatible with IM608, IM508, and MX808IM
3. Compact but would need to be used with the XP400
4. Cannot be used with the XP200
5. 46, 4D data collection
6. 46 smart key password calculation
7. 46 chip simulation
8. Toyota 4D (94/ D4, 98) smart key simulation
9. Toyota H (88/ A8, A9, 39) smart key simulation
10. Collects data from the ignition coil
11. Identify ignition coil troubles
12. Decode vehicle key chip data
13. Simulate vehicle key chip (ex - 4D chip)
14. Must be used with an Autel diagnostic tool
15. Toyota/ Lexus smart key all key lost
16. Chip decoding (Hyundai 46)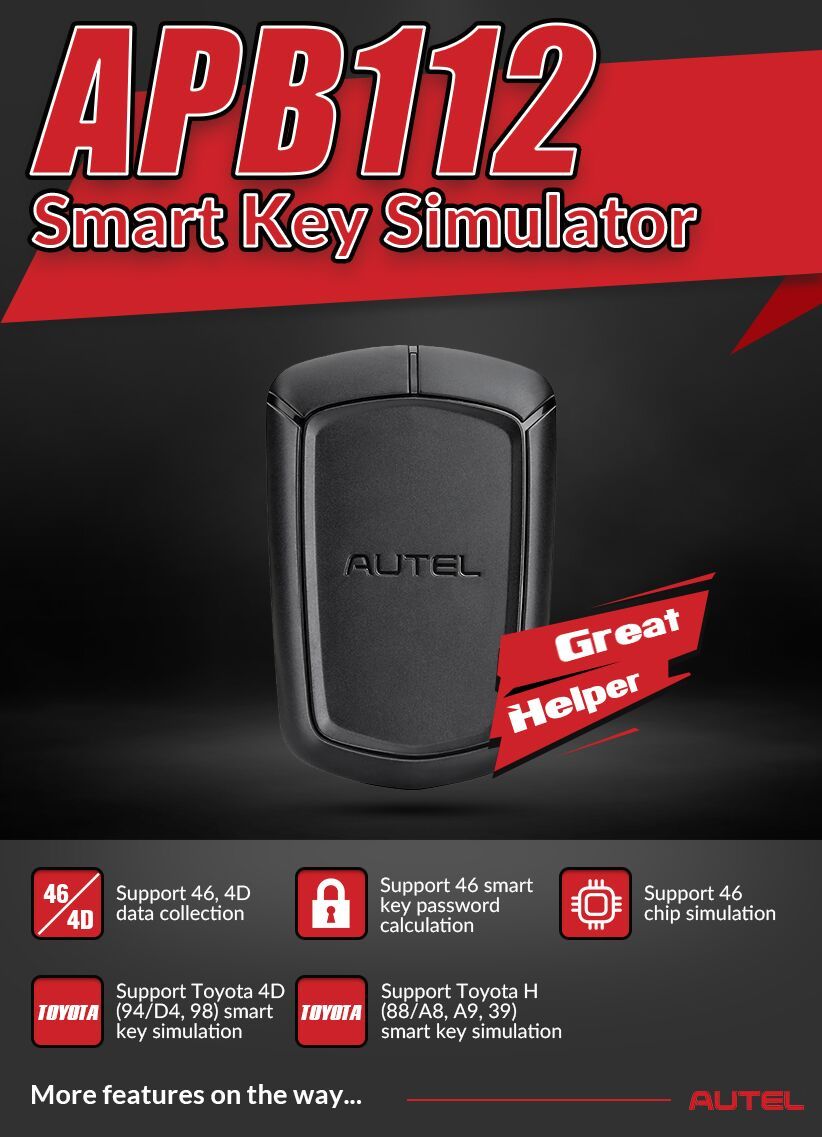 AUTEL APB112 Smart Key Simulator Overviews: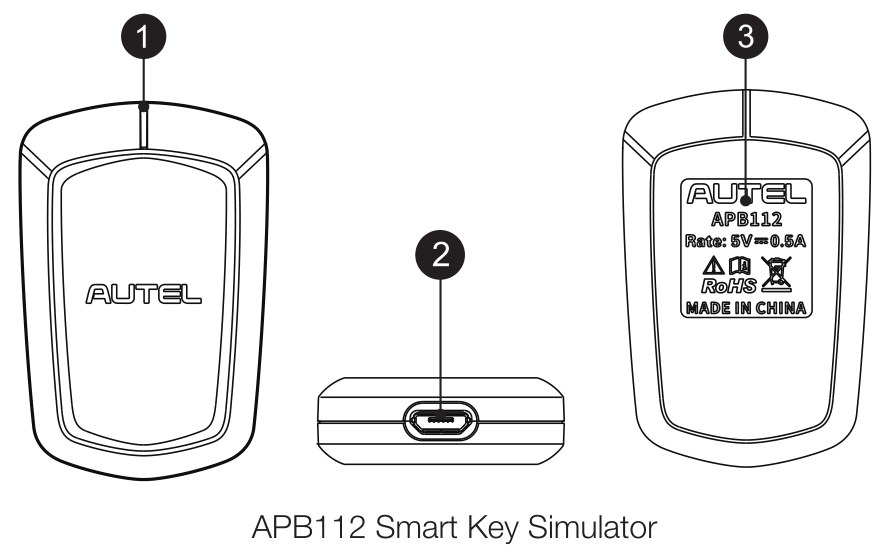 1. Status Indicator - Indicates The Current Status
1) Lights Solid Blue - the power supply is working properly and in default state;
2) Falshes Green - the data interaction status;
3) Flashes Red - the status of upgrading;
4) Lights Solid Red - the boot status
2. USB Interface - Provides power and data communication
How to Use Autel APB112?
1. Connect the APB112 Smart Key Simulator to Autel Diagnostic Device using the supplied USB cable.
2. After connection, the status indicator lights solid blue,indicating that the APB112 Smart Key Simulator is working properly and then automatically communicates with the Diagnostic Device.
3. The APB112 Smart Key Simulator application is automatically upgraded on Autel Diagnostic Device according to the selected vehicle system function.
4. Place the Smart Key Simulator close to the ignition coil for data collection, which is used for decoding the chip.After decoding, the original car chip data can becopied.
5. The emulator key chip can generate various types ofkey chips with subsequent upgrades according to requirements.

Notes:
1. Not work alone, but works together with any of the Autel Diagnostic Device i.e MaxiIM IM608, Autel MaxiIM IM508, and MX808IM
2. Compact but would need to be used with the XP400, not with XP200.
3. Do Not disconnect the USB Cable when use
AUTEL APB112 Package List:
1pc x APB112 Smart Key Simulator
1pc x USB cable
1pc x Quick Reference Guide
Please feel free to contact us ,If you have any question:
Email:
Sales@obdii.shop
Whatsapp: +8613428908617

Shipping Terms:
a) Items will be sent to all the countries over the world. This package will be sent by DHL, Post, Fedex, EMS or UPS .
b) Items will be checked carefully before sent out.
c) We will use air bubbles to wrap the items carefully.

Shipping Time:
a) Ships within 48 hours on working days after received the payment.
b) The shipping time is about 5-7 days via DHL, UPS, 5-10 days Via Fedex, 7-10 days via EMS, 7-30 days via Post to Worldwide
Note: We hope it arrive on time but since this is an international delivery, shipping time will be highly depended on the courier company and local customs/duties. Thank you for your understanding.
Return Policies:
Returns will be allowed only with prior authorization, and must be made within 30 days after package delivery.
Item conditions that allow returns Brand new Item, returns must include all accessories, Items must include original packaging
Other cases are as follows:
(1) When the item is defective, the item was sent in error, damaged in transit, or otherwise defective,It can not work once you receive it. In this case we allow returns. We bear the shipping cost.
(2) When you buy the wrong item, the item doesn't fit, or you don't want the item, the item you return need to be brand new. you need bear shipping costs.

Contact Us:
Our Email sales@obdii.shop 24 hours 7 days
And if nobody answer you online in time sometimes,do not worry.leave us a message or write down your desires,we will contact you as soon as possible.
Attention: PLZ leave your telephone number and address in detail when you take order in our website, it is very important to ship your order. (Customers from Brazil PLZ leave your Cutsom ID also, thanks!)