Humzor NexzDAS ND106 Bluetooth Special Functions Resetting Tool work on Android & IOS for ABS, TPMS, Oil Reset, DPF
NexzDAS ND106
comprehensive resetting tool fully covers OBD2 functions and maintenance functions.
Besides, it perfectly provides you with the easy and quick access to select wide brands of vehicles to perform resetting functions
The innovative modality VCI+App (iOS & Android) with the most user-friendly experience makes ND106 become a convenient assistant for technicians.
Humzor NexzDAS ND106 Features:
1. Multiple Platform Supported:
Android and iOS are available ( windows under developing).
Freely choose Smartphone, Tablet, and PC (under developing) to achieve intelligent and efficient operation.
2. Enhanced Special Functions
One-click to complete reset, special functions provides the most efficiency diagnosis for the professional mechanic .
3. Extended Car Selection Interface
Each special function provides specific vehicle selection interface,aiming to quick access for resetting.
4. Fulfilled OBD2 Diagnosis
Powerful OBD2 function supports OBD2 mode01-mode0a which can not only read and clear codes, but also o2 sensor, smog check, battery test added.
5.One Key Upgrade, Free Lifetime Update
One key upgrade provides the most user-friendly experience.
Continuously releasing more special functions, all free to download.
6. All-around Assistance Offered
Quick access to Remote Ass, VIN Query, DTC Query, Data Manage, Data playback, Feedback icon, screenshot, etc.
Fully intelligent and easy to operate.
7. Professional Data, Fast Diagnosis
Exclusively database provides professional data information.
Large memory for smoother operation, quick access to inspection ans service.
Multiple languages supported, leading to international trend.
8. Multi-languages Supported
English, German, Russian, French, Spanish, Polish, Italian, Chinese, Traditional Chinese available now and more are under adding, leading to international trend.
Freely switch it with in the App.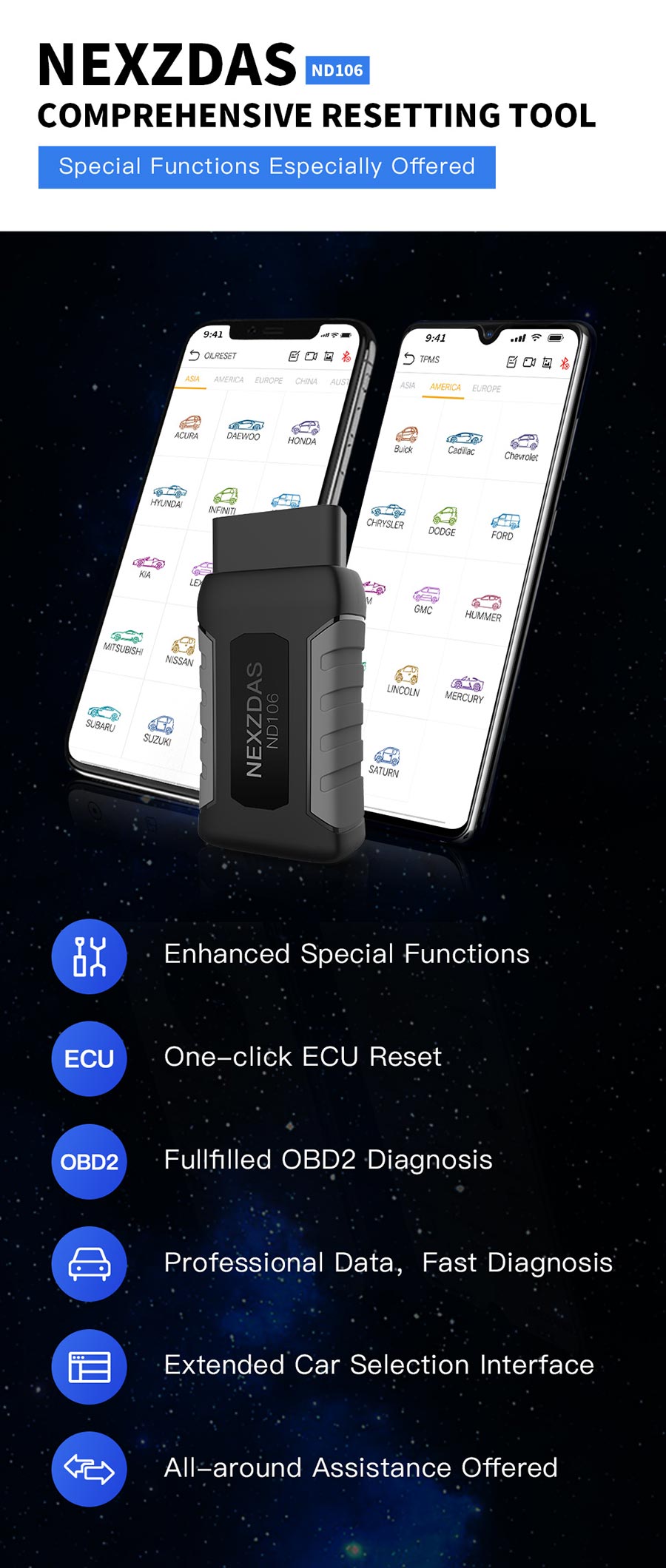 Comprehensive OBD2 Diagnosis
Powerful OBD2 functions supports OBD2 Mode01-Mode0A which can read and clear all the codes.
Read and Clear Codes:
Read and clear engine codes. Stored, Pending and Permanent for all makes.
Freeze Frame:
Freeze frame data is a snapshot of the vehicle when the freeze frame code was stored.
Mode 6:
Advanced test results (like misfire counts) for on-board diagnostic system monitors.
O2 Sensor:
Check the vehicle o2 sensor values.
Battery Test:
Show battery voltage and comment battery status.
Smog Check:
Indicate whether or not the various emissions-related systems on the vehicle are operating properly and are ready for inspection and maintenance testing.
MIL Status:
MIL is essentially an emission warning light.
If the light comes on, it means the OBD II system has detected an emissions-related problem.
Live Data:
DIY diversified PID display method (graphic display, dashboard display and digital display).
iOS supports 4 parameters comparison and android supports 2.
Repair Reports:
Generate a comprehensive report for the DTC, containing the definition, possible causes, saving you time and money.
Quick Scan:
Quickly scan the vehicle and analyse the vehicle status.
Vehicle Info:
Check the make,year,VIN code and other detail information of your vehicle.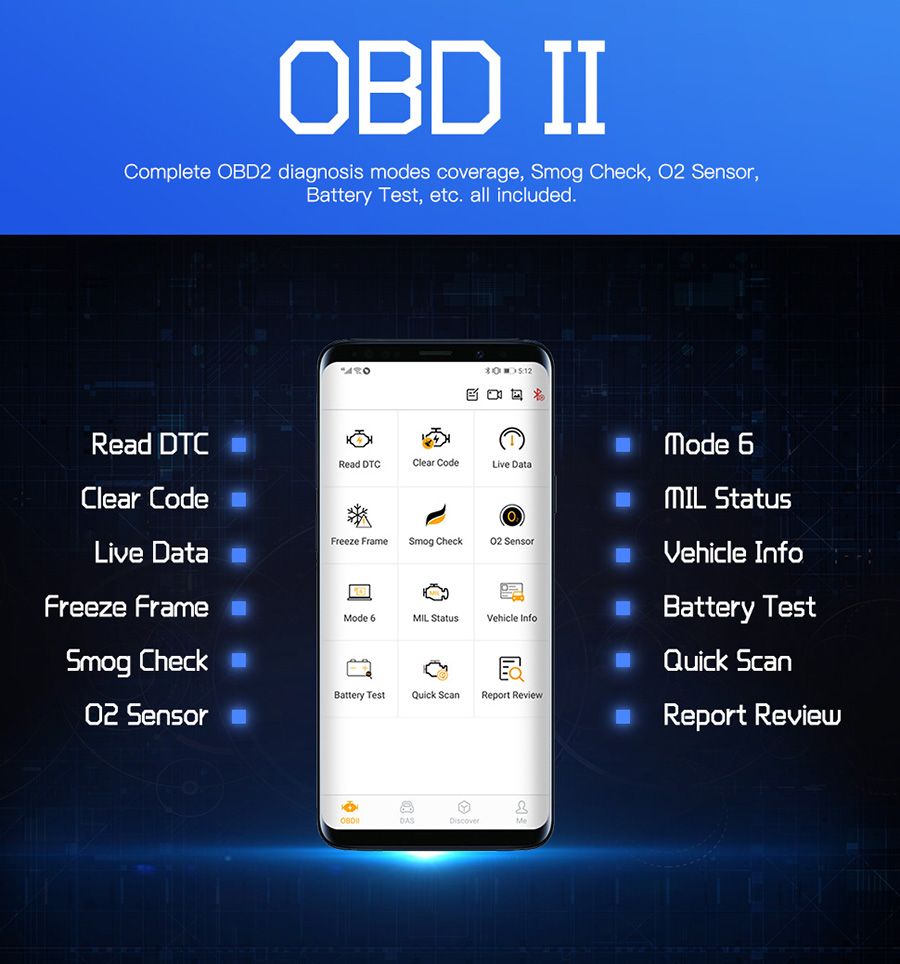 Humzor NexzDAS ND106 Functions:
Maintenance/Resetting:
Enhanced maintenance functions give professional mechanic complete access to vehicle information and provide more efficiency diagnosis.
Oil Reset:
Allows you to perform reset maintenance mileage and data intervals for a new calculation of engine oil Life system once changed the oil.
TPMS Reset:
Makes tpms senser in displaying sensor IDS from the vehicle's ECU, inputting TPMS sensor replacement IDS and activate tpms sensors.
Injector Adjust:
Diesel injector code requires programming ID and parameters to the ECU for accurate communication and injection control system.
EPB Reset:
It is important in the maintenance of electronic braking system's safety and efficiency when replace brake pad or motor
DPF:
Specially works for diesel particulate filter system with DPF regeneration, DPF component replacement teach-in and DPF teach-in after replacing the engine control unit.
TPS/Throttle Sensor:
The vehicle's throttle position system sensor is connected to the butterfly spindle and is primarily used to monitor the throttle position within an inner combustion engine.
Due to its location, the throttle position sensor is able to effectively observe where the throttle butterfly valve is positioned.
ABS Bleeding:
The auto bleed procedure is used for BOSH 5.3 equipped vehicles.
This procedure uses a scan tool to cycle the system solenoid valves and run the pump in order to purge the air from the secondary circuits.
SAS Reset:
Helps clear the fault steering angle sensor memories and plays an important role in the steering angle sensor calibration.
Battery Change:
Allows the scan tool to evaluate the battery charge state, monitor the close-circuit current, register the new battery replacement, and activate the rest state of the vehicle battery system.
Further more will be released for free updating:
Gear Learning, Odometer Adjustment, SRS, CVT Transmission...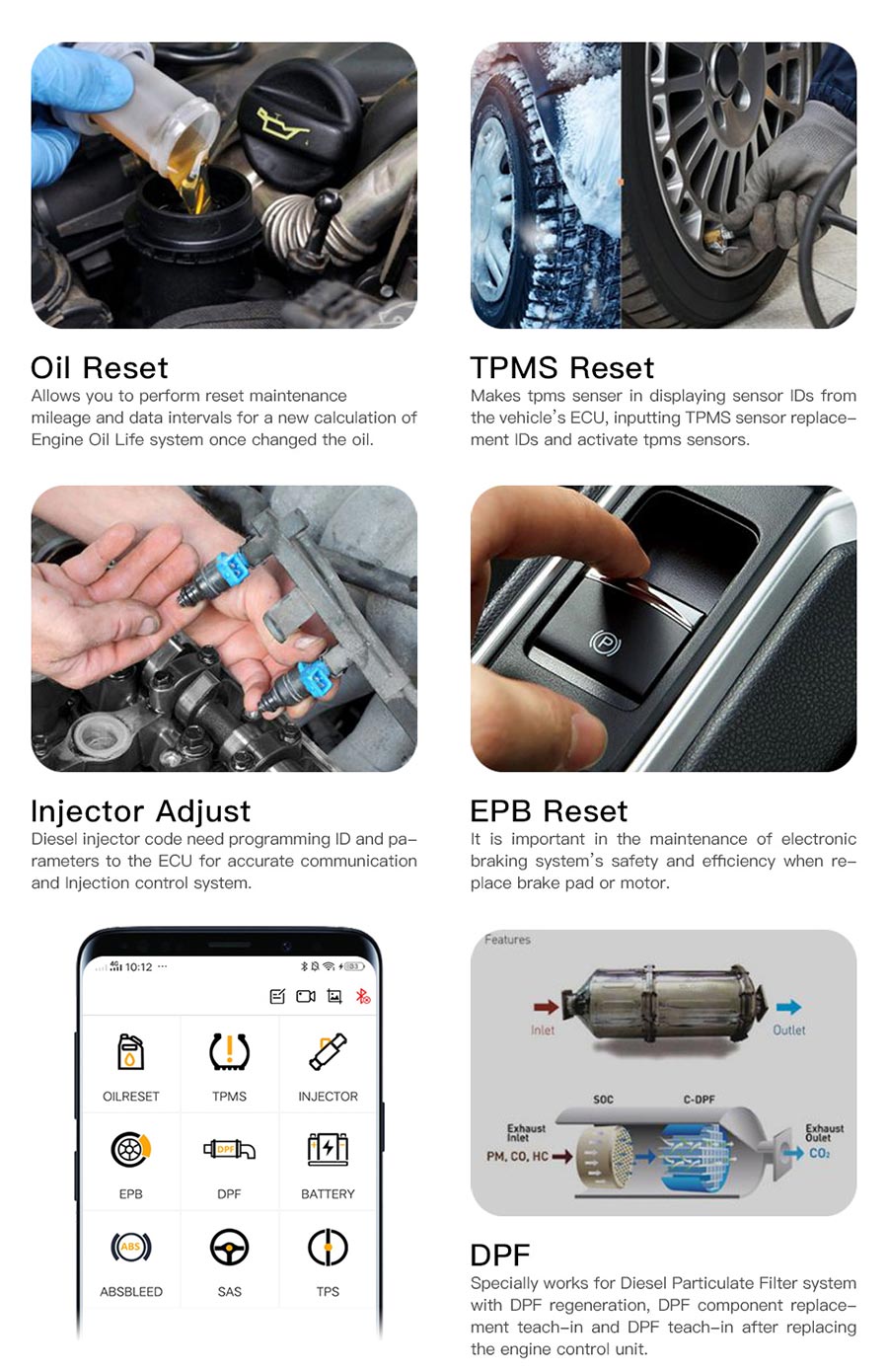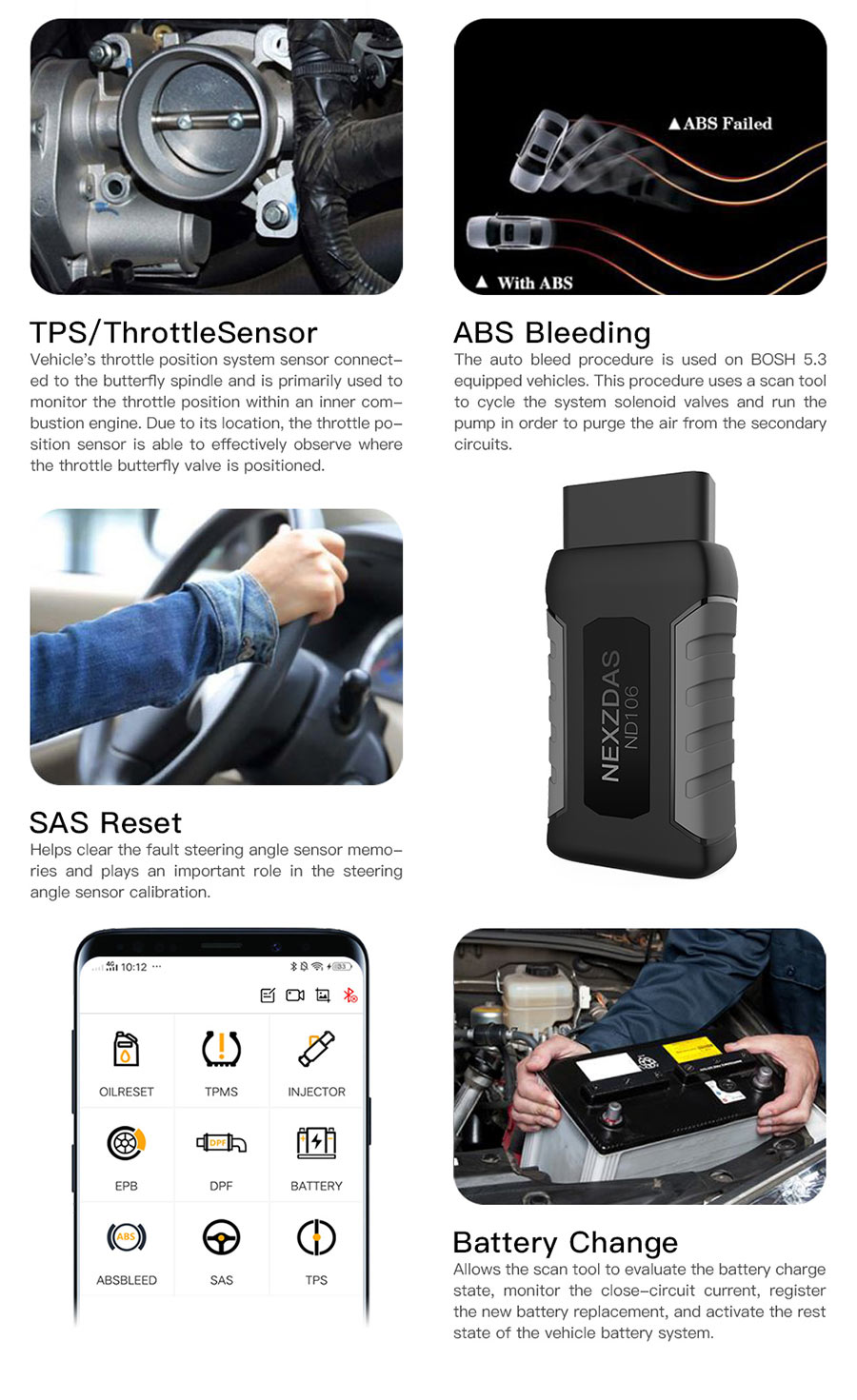 Auxiliary Functions
One-Key DTC Query:
powerful database available for you to search code definition and description.
One-Key Data Manage:
check the stored information at any time and anywhere, both images and videos.
One-Key VIN Query:
search the car information online. Input the VIN or scan it directly.
One-Key Feedback:
Multi methods to contact us and feedback your questions by clicking the button at the top right corner.
One-Key Update:
No PC, no SD card. Get new version upgrade information in time and choose to update it at fast speed within App.
Vehicle Coverage:
Oil Reset:
BAIC, BYD, CHERY, FAW CAR, GREATWALL, JAC, LUXGEN, SOUEAST, ROVER, BESTURN, TOYOTA, SCION, LEXUS, HONDA,
ACURA, NISSAN], INFINITI, ISUZU, MAZDA, SUBARU, SUZUKI, MITSUBISHI, KIA, HYUNDAI, DAEWOO, VW, AUDI, SEAT, SKODA, BENTLEY,
LAMBORGHINI, BUGATTI, BENZ, SMART, BMW, MINI, ROLLS-ROYCE, RENAULT, DACIA, OPEL, VAUXHALL, JAGUAR, LANDROVER, PEUGEOT,
CITROEN, FERRARI, MASERATI, PORSCHE, ROMEO, ROVER, SAAB, VOLVO, FIAT, GM, CHEVROLET, BUICK, HUMMER, SATURN, PONTIAC,
CADILLAC, OLDSMOBILE, FORD, LINCOLN, MERCURY, CHRYSLER, JEEP, DODGE, HOLDEN
TPMS Reset:
SGM, TOYOTA, SCION, LEXUS, HONDA, NISSAN, INFINITI MAZDA, SUBARU, MITSUBISHI, KIA, HYUNDAI, VW, AUDI, BENZ,
BMW, JAGUAR, LANDROVER, PORSCHE, GM, GMC, BUICK, HUMMER, SATURN, PONTIAC, CADILLAC, FORD, LINCOLN, MERCURY, CHRYSLER,
JEEP, DODGE
Injector Adjust:
SUBARU, MITSUBISHI, KIA, HYUNDAI, OPEL, VAUXHALL, JAGUAR, LANDROVER, CITROEN, FIAT
Brake Reset:
TOYOTA, HONDA, SUBARU, KIA, HYUNDAI, DAEWOO, VW, BMW, RENAULT, OPEL, VAUXHALL, JAGUAR, LANDROVER, PEUGEOT,CITROEN, SAAB, VOLVO, GM
DPF:
SUBARU, DAEWOO, BMW, OPEL, VAUXHALL, JAGUAR, LANDROVER, PEUGEOT, CITROEN
Battery Change:
TOYOTA, LEXUS, JAGUAR, LANDROVER, VOLVO, FORD
Throttle Sensor:
BAOJUN, BYD, ACURA, BMW, CHRYSLER, DAEWOO, BUICK, CADILLAC, CHEVROLET, HOLDEN, PONTIAC, SATURN, HONDA, JEEP, KIA,NISSAN,TOYOTA, VOLVO
SAS:
BAIC, BAOJUN, BYD, ZOTYE, SOUEAST, HAIMA, DF_FENG_XING, DF_FENG_SHEN, DF_XIAO_KANG, CHERY, ROEWE, TRUMPCHE, GEELY EMGRAND,GEELY ENGLON, GEELY GLEAGLE, JAC, JMC, LIFAN, GREATWALL, DAEWOO, SSANG YONG
ABS Bleeding:
SSANGYONG, DAEWOO, RENAULT, OPEL, JAGUAR, LANDROVER

Package Includes:
1 pcs x Humzor NexzDAS ND106 Bluetooth Special Function Resetting Tool