Product Description

car-fans-c800-software-update-guide.pdf

car-fans-c800-heavy-duty-tool-user-manual.pdf

car-fans-c800-coverage-list.xlsx
CAR FANS C800+ Heavy Duty Truck Diesel Vehicle Diagnostic Scan Tool
CAR FANS C800 Diesel & Gasoline Vehicle Diagnostic Scan Tool for Commercial Vehicle, Passenger Car, Machinery with Special Function Calibration
Car Fans C800 Feature:
1.Wide Vehicle Coverage: CAR FANS C800 support 35 Heavy duty brand, 21 BUS Brand, 16 Passenger car Brand, 32 Machinery vehicle brand and 46 ECU System, almost cover all brand heavy duty vehicles in market
2.Powerful function of software: C800 is fully optimized based on the OEM scanner, which enhances the comprehensive diagnostic capability of the diesel vehicle. Some of the functions are based on the advanced technology accumulated by the R & D team for many years. The main diagnostic functions include reading the version information, reading/clearing the fault code, actual values, actuators, advanced function
3.Fashionable design of hardware: 7 inch 800 x 480 touch screen, super light main unit, is easy to hold and operate. ARM9 CPU with 4GB memory, the software operation is faster than similar tools
4.Advance Functions: Adjustment/Settings,Function Test、Special function, calibration.
5.Online Updating: Log in the official website (www.carfans.net.cn) download and install the C800 intelligent diagnostic device upgrade client software, the device SD card through the card reader plug in the computer USB interface to complete the device software upgrade.
6.ECU Programming & Coding for 5 Brands
7.1 Year Free Update Online
8.Support Languages: English
Car Fans C800 Function List:
Identification
Read Fault code
Erase Fault code
Actual Values
Actuators
Advance Functions: Adjustment/Settings, Function Test, Special function, calibration etc.
Diagnosis:
Euro 5: Cummins,For Weichai,For Yuchai,For Shangchai,For Xichai,For Yunnei,For Foton,For FAW,For JMC,For Qingling, For IVECO,etc.(Read Code, Clear Code,Data Stream, Actuation Test)
Gas:For WeiChai WoodardNatural Gas system, For WeiChai BOSCH Natural Gas system,For YuChaiNatural Gas system, For FAWDENatural Gas system, For SDEC Natural Gas system, For CNHTC Natural Gas system,For Nanchong Natural Gas system, For Cummins Natural Gas system, etc.
Machinery:Engine and Hydraulic diagnosis on Caterpillar, For KOMATSU, For VOLVO, For SANY,For HITACHI,For Hyundai, etc.
Post-processing:Urea pump drive/injection test:For BOSCH,For Kailong,For ACT BLUE,For Tenneco,For Henghe,For Bjcats,For CNHTC,For SHACMAN, etc.
ABS:For WABCO,For Kormee,For BOSCH,For WanAn,For HongDing,For Cnhtc,For YaTai,For FAW,For Qinqi,For FAW,For DELPHI,For JingxiHeavy,For Knorr,For DongFeng ,etc.
ECU Reprogram:
1.support all Euro 3 Bosch EDC 7 across the bottom of the brand reprogram;
2.support all Euro 4 Bosch EDC17 bottom cross-version reprogram;
3.support EDC16UC40 bottom reprogram (Dongfeng, Xichai, Yuchai, Cha Cha, cloud, etc.);
4.support the country 4 Bosch EDC17 ECU read reprogram write data, the country 3 Bosch EDC7 / EDC16 read and write;(Weichai, Xichai, Yuchai, Chaichai, Dachai , Dongfeng, cloud, on the red, heavy truck, Valin, Fukuda, JAC, the whole firewood, Chai Chai, Yang Chai, etc.)
5.support the Hino Denso, on the diesel and other equipment,
6.support Weichai country 5, the country 6 ECU reprogram write, Yuchai 5 ECU reprogram to write;
7. support CBCU reprogram: China National Heavy Duty Truck, Fukuda Auman, etc.
8.support DCU reprogram to write: Tenneco, Hino, Weichai autonomy;
Car Fans C800+ Heavy Duty Scanner Vehicle List:
Commercial Vehicle:
FAW,DONGFENG,Mercedes-Benz,CNHTC, FOTON, SANY, JAC, SFH, CAMC,UD, VOLVO, Mitsubishi, IVECO, MAN, SCANIA, JMC, HINO, ISUZU, SHACMAN, C&C, Hyundai,XCMG, BEIBEN, KIA, KING LONG, YUTONG, HIGER, GOLDEN DRAGON, YOUNGMAN, BYD, ANKAI,DAEWOO, SUNWIN, ZHONGTONG,HUANGHAI, WZL, SUNLONG, TOYOTA, ASIASTAR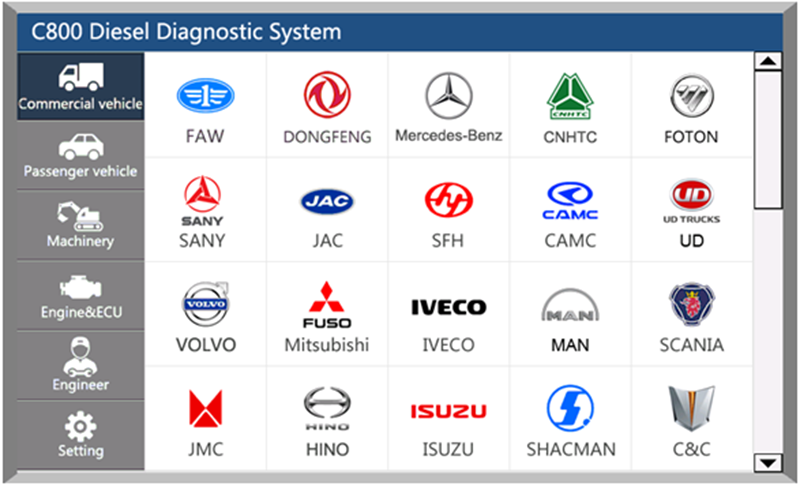 Passenger Car:
Mercedes-Benz, Hyundai, VW, Zhonghua, JMC, GreatWall, ZZNISSAN,JAC, ZXAUTO, DONGFENG, LIEBAO, CHERY, FUDI, GONOW, HUATAI, SSANGY, MAXUS, JX-ISUZU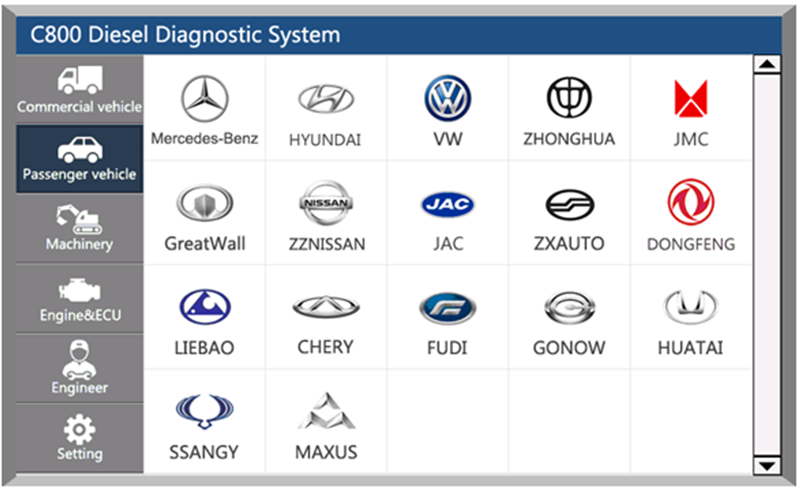 Machinery:
CAT, KOMATSU, VOLVO, SANY, LOVOL, JOHN DEERE, HITACHI, KOBELCO, HYUNDAI,ZOOMLION, CASE, LISHIDE, DOOSAN, SUMITOMO, YUTONG, Bobcat, SHANTUI, LiuGong, IHISCE,XCMG, KUBOTA, Takeuchi, XGMA, Atlas, TEREX, YUCHAI, LONKING, SUNWARD, SEM, Jonyang,PENGPU, YTO, JAC, XINYUAN, DXZG, HENGTE, SANYUAN, HUANGHE, SHUNTONG, STRONG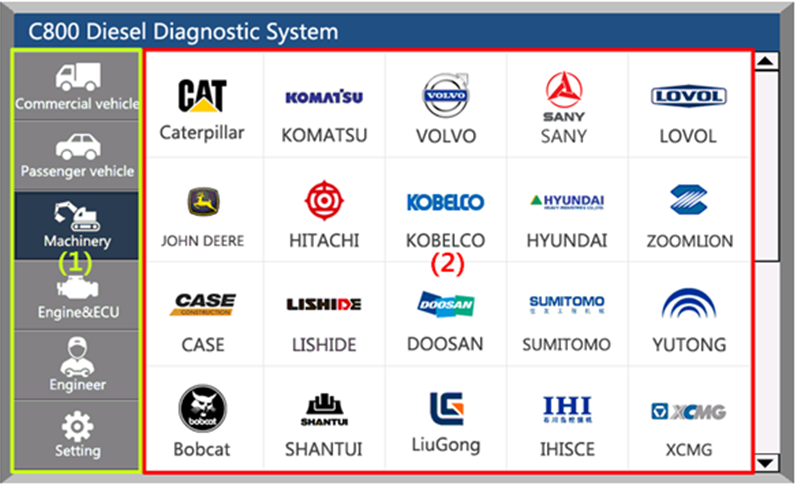 Engine&ECU:
Bosch, Denso, Delphi, Perkins, Deutz, Weichai, Yuchai, Fawde, Cummins,Yunnei, Changchai, SDEC, DCD, Yangchai, Quanchai, EUP, JX-Isuzu, XCE, Kernel, SIDA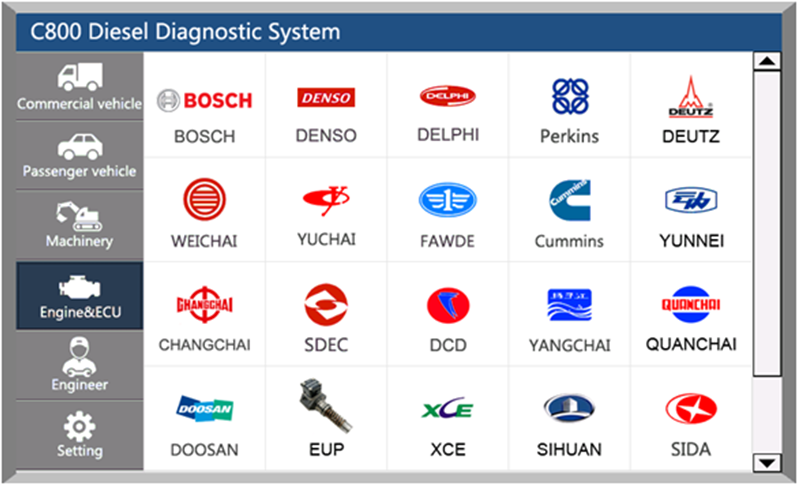 Calibration:
For Weichai,For Xichai, For Yuchai,For Cha Chai,For Dafa,For Dongfeng, For cloud, For heavy truck, For Valin,For Fukuda, For JAC, the whole firewood, on the firewood, For Yang Chai and other engine calibration function (Euro III IV Bosch EOL) :(Idle speed adjustment, clutch switch, main and auxiliary brake switch, the maximum speed adjustment, preheat control, exhaust brake, fuel oil alarm, starter control, air conditioning control, cruise control, Car start and stop switch, oil pressure sensor, oil in the water sensor, fuel oil alarm, engine alarm light, PTO speed, K value, intake preheat, bridge speed ratio, etc.)
the exclusive starting Bosch 4, the Euro 5 post-processing history fault removal function
the exclusive starting the highest speed adjustment calibration function, support Bosch / Cummins 4, the Euro 5 and CBCU (heavy truck, Dongfeng,liberation, on the red)
the Euro 4, the Euro 5 urea injection temperature setting function, used to reduce the consumption of urea (support For Weichai,For FAW,For Xichai,For heavy truck,For Yuchai,For Chai and other DNOX 2.2 / 6.5)
the new For Weichai,For Yuchai, For Dongfeng,For Cummins and other nitrogen sensor test calibration function (test nitrogen and oxygen sensor is good or bad)
China National Heavy Duty Truck CBCU, CBCU3 system calibration,For Weichai Euro five engine calibration; Cummins Euro five all the calibration function
CAR FANS C800+ Packing List:
Power extension cord
1
Battery clip supply line
1
Cigarette lighter supply line
1
SD card
1
SD card reader
1
Test extension cord
1
Power adapter kit
1
C800+ device
1
C800+ carry case
1
OBD16PIN Circular adaptor
1
CUMMINS-9
1
IVECO-38
1
BENZ-14
1
KOMATSU-12
1
VOLVO-14
1
VOLVO-8
1
CAT-9
1
Multi-function jumper adaptor
1
C800 user manual
1
CUMMINS-6
1
MITSUBSHI-12+16
1
DENSO-12
1
WIT-3
1
ISUZU-20
1
HITACHI-6
1
HITACHI-4
1
MAN-37
1
MAN-12
1
RENAULT-12
1
Please feel free to contact us ,If you have any question:
Email:
Sales@obdii.shop
Whatsapp: +8613428908617

Shipping Terms:
a) Items will be sent to all the countries over the world. This package will be sent by DHL, Post, Fedex, EMS or UPS .
b) Items will be checked carefully before sent out.
c) We will use air bubbles to wrap the items carefully.

Shipping Time:
a) Ships within 48 hours on working days after received the payment.
b) The shipping time is about 5-7 days via DHL, UPS, 5-10 days Via Fedex, 7-10 days via EMS, 7-30 days via Post to Worldwide
Note: We hope it arrive on time but since this is an international delivery, shipping time will be highly depended on the courier company and local customs/duties. Thank you for your understanding.
Return Policies:
Returns will be allowed only with prior authorization, and must be made within 30 days after package delivery.
Item conditions that allow returns Brand new Item, returns must include all accessories, Items must include original packaging
Other cases are as follows:
(1) When the item is defective, the item was sent in error, damaged in transit, or otherwise defective,It can not work once you receive it. In this case we allow returns. We bear the shipping cost.
(2) When you buy the wrong item, the item doesn't fit, or you don't want the item, the item you return need to be brand new. you need bear shipping costs.

Contact Us:
Our Email sales@obdii.shop 24 hours 7 days
And if nobody answer you online in time sometimes,do not worry.leave us a message or write down your desires,we will contact you as soon as possible.
Attention: PLZ leave your telephone number and address in detail when you take order in our website, it is very important to ship your order. (Customers from Brazil PLZ leave your Cutsom ID also, thanks!)