Autel MaxiDiag MD806 Pro OBD2 Scanner Full System Car OBD2 Diagnostic Tool Update Online
The Autel Maxidiag MD806 pro scanner is a Combination of Autel MaxiCheck Pro and the Autel Maxidiag Elite MD802. The MD806 Pro diagnostic scanner is an excellent tool for car repair shop owners, professional mechanics, and DIYer enthusiasts. It may not be a high-level diagnostic scanner, but neither is it an entry-level scanner.Autel MD806 PRO is a full system diagnostic scanner that can quickly establish a data link to the electronic control units of the vehicle being serviced directly.
Autel MD806 Pro Features:
1.Supports AutoScan
2.1 Year Warranty
3.Lifetime Free Update
4.Print diagnostic reports via PC connection
5. Multi-language:
English, Traditional Chinese, French, German, Spanish, Portuguese, Dutch, Polish, Swedish, Korean, Japanese, Russian, Italian, Greek, Simplified Chinese.
6.
For UK and US orders , we will ship from UK and US local warehouse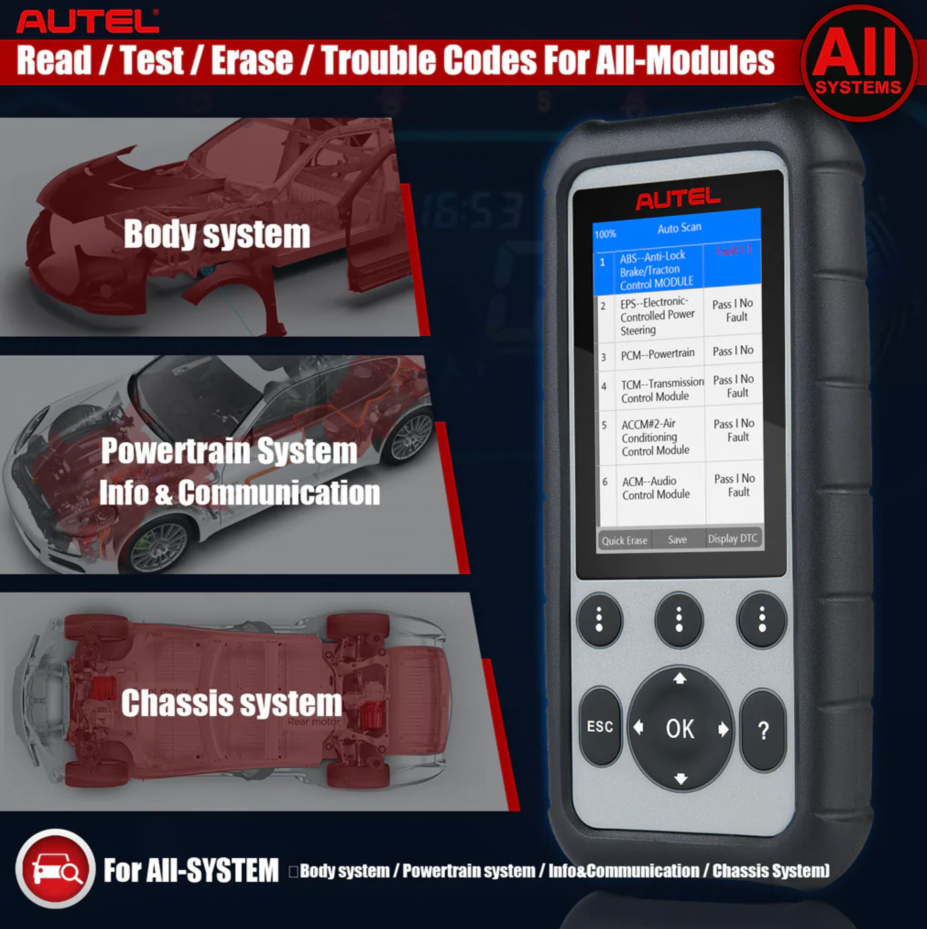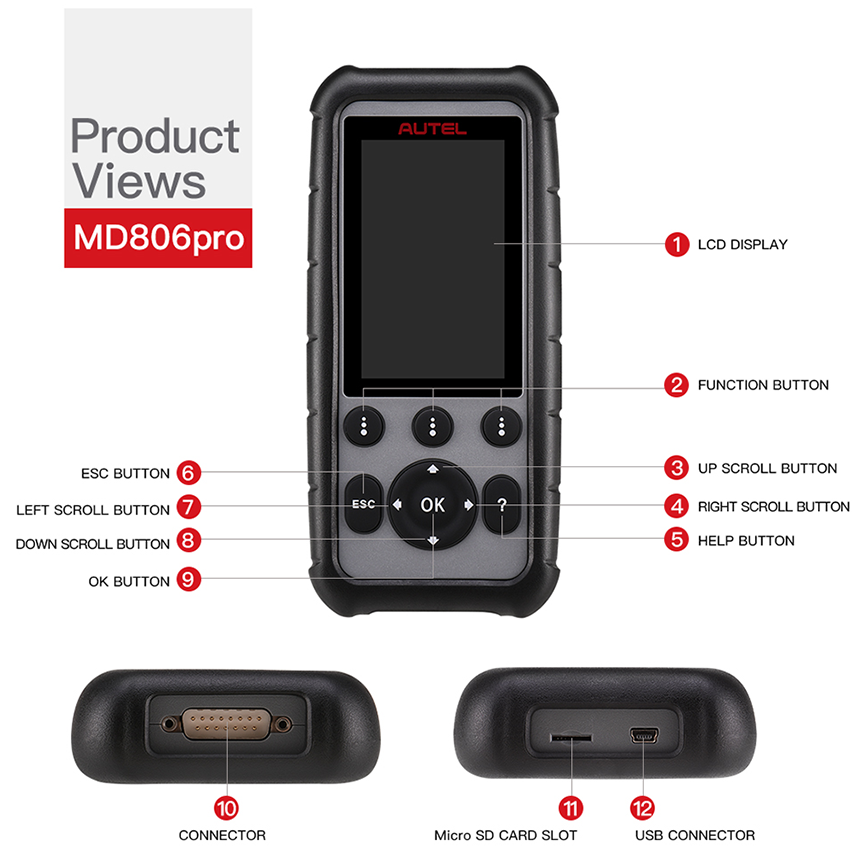 Bullet Points
ALL ECUs COVERED ➤
The diagnostic tool scans all the main systems/subsystems in a vehicle (Body, Chassis, Powertrain, Network and etc.), instantly displays all the errors detected, and allows errors to be viewed and cleared with just a single click.
7 ADVANCED FEATURES ➤
Oil Reset, Electronic Parking Brake Release, Steering Angle Sensor Calibration, Diesel Particulate Filter Service, Battery Management System Service, Throttle Matching, Adjust A/F, all above 7 special services are supported.
FULL OBD2 MODES ➤
Full OBDII functions of this scanner are effective to quick & precise diagnostics of your vehicle (Read OBDII Data/Erase Codes …), and are great for passing the emission test smoothly (I/M Readiness Check, O2 Sensor Test, On-Board Monitor Test …).
USER-ORIENTED ➤
Handheld design for being portable; Hotkeys for quick access to the commonly used functions; Plug & Play, no battery required; DTC LookUp, Data Playback and Print etc., above all for simplifying the analysis and repair process.
WARRANTY & UPDATE ➤
Autel MD806 PRO carries a complete 12-month guarantee from the date of sale provided from Autel Headquarters in China, with free lifetime software update, and 14 languages support (EN, CN, FR, DE, ES, PT, NL, PL, SV, KR, JA, RU, IT, GR).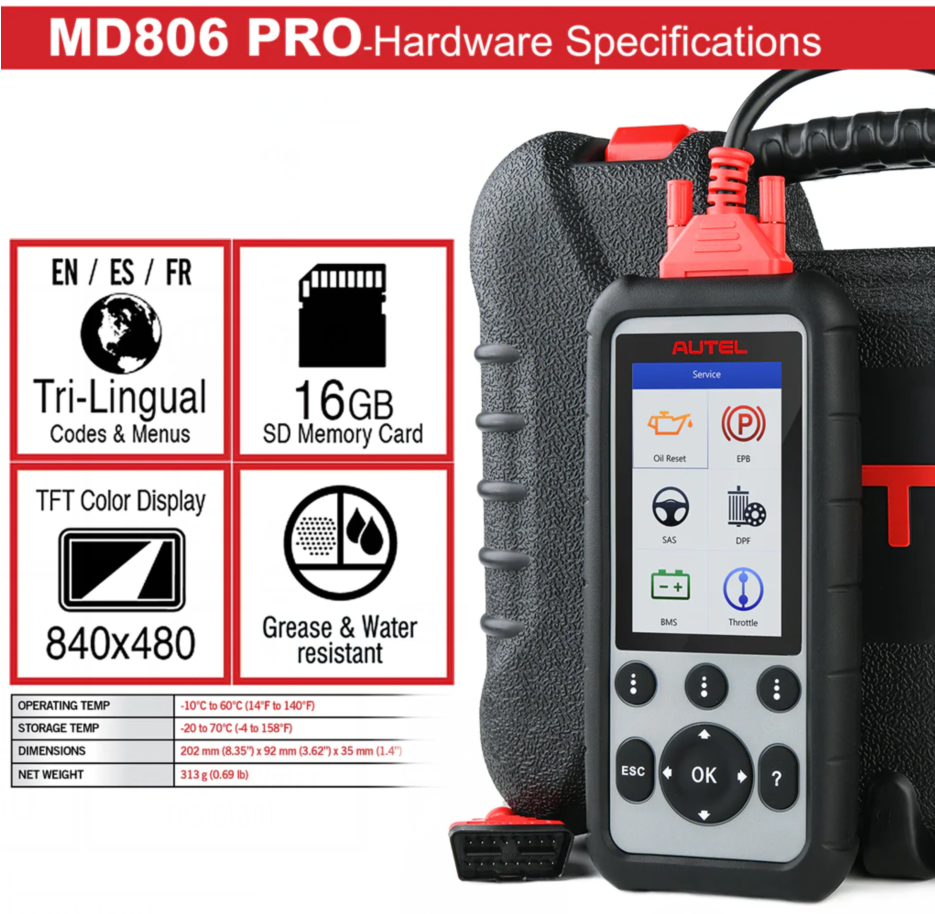 1. Autel MD806 Pro ALL System Diagnoses
Guide Directly to the Fix and Eliminate Guesswork, MD806 PRO allows you to:
1.1 Retrieve ECU information of tested control units including unit type, version numbers, and other specifications;
1.2 Read & Erase DTCs to locate problem areas and clear the codes easily;
1.3 View live data of each parameter item;
1.4 Get access to all vehicle systems and subsystems, such as Engine; Automatic Transmission; Suspension; Audio; IMMO Immobilizer; Air Conditioning; Auto Headlamp; ACC; Car Radio Audio; Car Door Windows etc. To perform a comprehensive scanning process on ECUs to locate the faulty systems and retrieve the DTCs related.
1.5 Read and clear trouble codes for Special Functions
OLS - Oil Service Reset
BMS - Battery Registration & Reset
DPF - Diesel particulate service including forced regeneration
SAS - Reset steering angle sensor functionality
EPB - Relearn parking brake pad after replacement
Odometer - Reset service mileage and service intervals
Throttle
2. Autel MD806 Pro Designed with full OBD2 Functions
2.1 Read & clear detected diagnostic trouble codes and turn off the Check Engine Light;
2.2 Read I/M readiness status to have a vehicle inspected for state emissions compliance;
2.3 View graphical live data of vehicle's computer module(s) for easy analyses;
2.4 View the vehicle's operating parameters at the moment a DTC is detected;
2.5 Show the last results of the O2 sensor test in the graphic display for troubleshooting;
2.6 Read the results of on-board diagnostic monitoring tests for specific components/systems;
2.7 Component Test: Allow initiating a leak test for the vehicle's EVAP system;
2.8 Retrieve the vehicle information of VIN, CINs, and CVNs completely.
3. Autel MD806 Wide Vehicle Coverage
MD806 Pro supports Global OBD II coverage for U.S. domestic, Asian and European makes and models. All OBD II protocols, all 10 test modes and enhanced OBD II mode 6 support.
Oil Reset Service Coverage:
Asian For Acura, Honda, Hyundai, Infiniti, Isuzu, Kia, Lexus, Maruti Suzuki, Mazda, Mitsubishi, Nissan, Scion, Subaru, Suzuki, Toyota; AU Holden
European For Audi, Abarth, Alfa, BMW, Bentley, Benz, Bugatti, Citroen, Dacia, Fiat, Jaguar, Lancia, LandRover, MINI, Maybach, Opel, Peugeot, Porsche, Renault,Saab, Seat, Skoda, Smart, Sprinter, Vauxhall, Volkswagen, Volvo USA For Chrysler, Ford
Service Coverage:
Asian For Acura, Honda, Hyundai, Infiniti, Kia, Lexus, Nissan, Scion, Toyota
European For Audi, BMW, Bentley, Benz, Bugatti, Citroen, EU Ford, Jaguar, LandRover, MINI, Maybach, Opel, Peugeot, Porsche, Renault, Seat, Skoda, Vauxhall, Volkswagen, Volvo USA For Chrysler, Ford
SAS Service Coverage:
Asian For Acura, Honda, Hyundai, Infiniti, Kia, Lexus, Maruti Suzuki, Mitsubishi, Nissan, Scion, Subaru, Suzuki, Toyota, AU Holden
European For Audi, Abarth, Alfa, BMW, Bentley, Benz, Bugatti, Citroen, Dacia, EU Ford, Fiat, Jaguar, Lancia, LandRover, MINI, Maybach, Opel, Peugeot, Renault, Seat, Skoda, Vauxhall, Volkswagen, Volvo USA For Chrysler, Ford, GM
DPF Service Coverage:
Asian For Acura, Honda, Hyundai, Infiniti, Kia, Lexus, Mazda, Mitsubishi, Nissan, Scion, Suzuki, Toyota
European For Audi, Abarth, Alfa, BMW, Bentley, Benz, Bugatti, Citroen, EU Ford, Fiat, Jaguar, Lancia, LandRover, MINI, Opel, Peugeot, Renault, Seat, Skoda, Sprinter, Vauxhall, Volkswagen, Volvo , USA For Chrysler, Ford, GM
BMS Service Coverage:
Asian For Infiniti, Lexus, Mitsubishi, Nissan, Scion, Suzuki, Toyota
European For Audi, BMW, Bentley, Bugatti, Citroen, Jaguar, LandRover, MINI, Peugeot, Porsche, Seat, Skoda, Volkswagen, Volvo USA For Ford
Throttle Service Coverage:
Asian For Acura, Daewoo, HONDA, Hyundai, Infiniti, Kia, Lexus, Maruti Suzuki, Mazda, Mitsubishi, Nissan, Scion, Suzuki, Toyota, AU Holden
European For Audi, Abarth, Alfa, Bentley, Bugatti, Citroen, Dacia, Fiat, FordEU, Jaguar, Lancia, LandRover, Opel, Peugeot, Porsche, Renault, Saab, Seat, Skoda, Vauxhall, Volkswagen , USA For Chrysler, Dodge, Ford, GM, Jeep
Autel MD806 Pro Specification: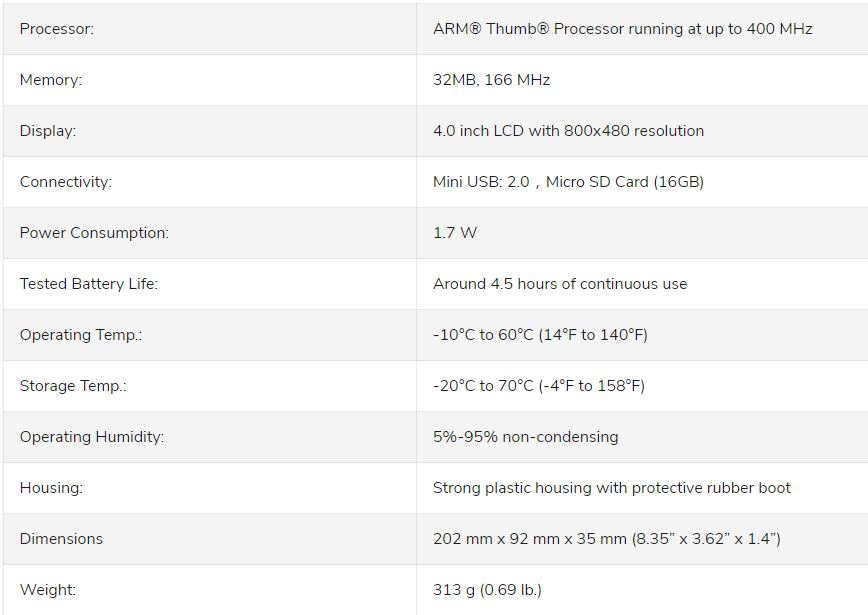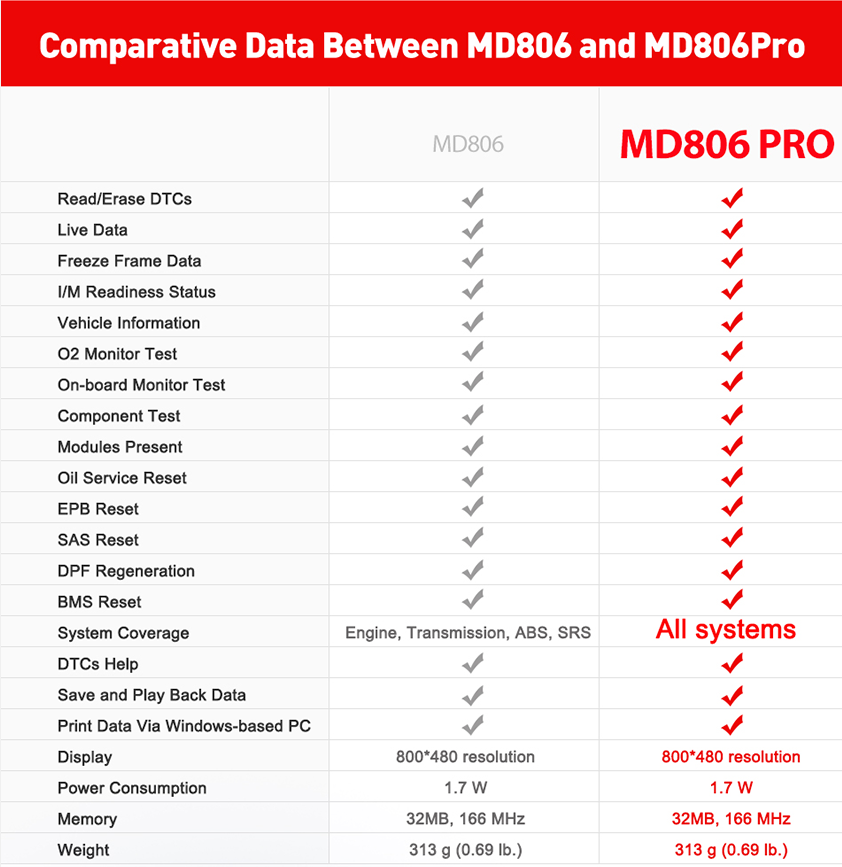 Autel MD806 Pro Package List:
1x MD806 Pro Main Unit
1x User Manual
1x OBD II Cable
1x USB Cable
1x Micro SD Card
1x Quick Guide
1x Carry Case