XTool IP616 Automotive Diagnostic Tool With Key Programming Function 31+ Service Functions
Newest diagnostic tool XTOOL InPlus IP616 can used for automatically retrieve the available system of your car. IP616 comes with 31+ special functions, 15 languages and superior hardware.It would be the best diagnostic tool for your daily car repair and maintenance.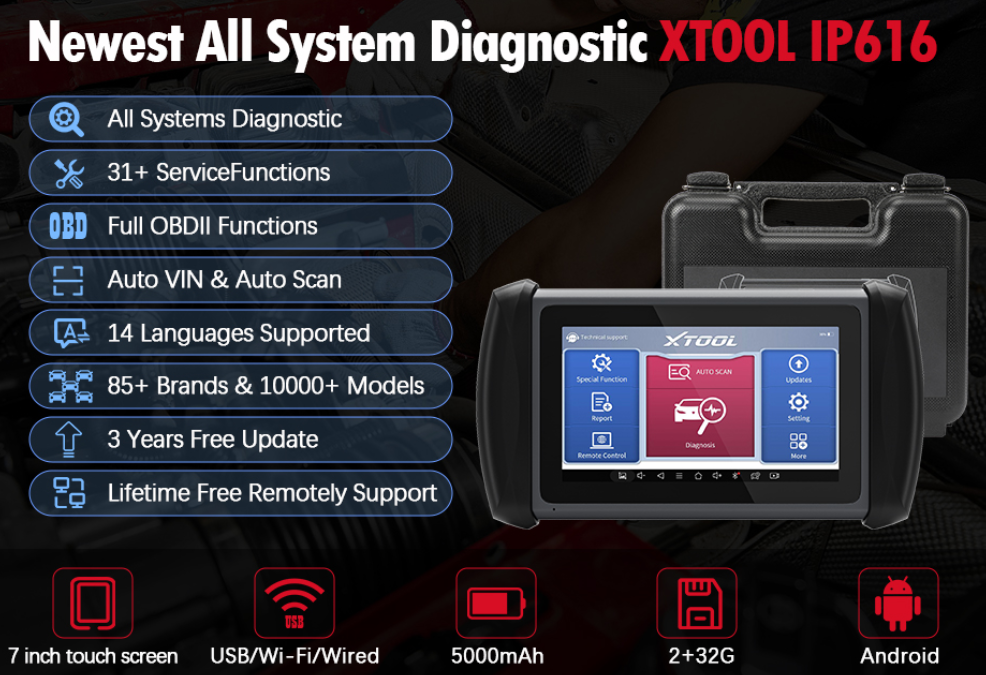 Top Reason For Choosing InPlus IP616:
1. All System Diagnostic:
IP616 provides diagnostic access to all available modules in the car for code, data flow and graphics, freeze frames and ECU information. Can be used in modules such as engine, transmission, ABS, airbag, brake system, chassis, HVAC, etc.
2. 31+ Service Functions:
InPlus IP616 comes with 31 special functions such as Oil Light Reset, EPB, HV Battery, Gear Learning, Airbag Repair, A/F reset, etc. These functions can be used to solve 90% of your daily car problems.
Note: Models are not the same due to all feature support, please consult us for compatibility before purchasing.
3. Auto VIN & Auto Scan:
Automatically retrieve vehicle identification numbers for quick access to vehicle system diagnostics.
4. 14 Languages Supported:
Arabic, German, English, Spanish, Finnish, French, Italian, Japanese, Korean, Polish, Portuguese, Russian, Traditional Chinese, Vietnamese
5. 85+ Brands & 10000+ Models Coverage:
InPlus IP616 covers a wide range of car brands. Support more than 80 brands and more than 10,000 models. Supports 12V cars, light/medium trucks, SUVs, minivans, MPVs, hybrid vehicles.
6. Powerful Key Programming Function:
InPlus IP616 work with KC100, KC501,KS-1,M821, M822 can read Pin codes & add new keys (Fob/Smart) & remote learning & key matching & all key lost etc.
7. 8 In 1 Live Data Graph:
When using the function of reading data stream, InPlus IP616 supports selecting 5 pieces of data at the same time to form a data flow chart, which is convenient for you to understand the status of each module more intuitively.
8. Superior Hardware:
7.0-inch touch screen with 1024×600 resolution, 5000mAh Battery, 2+32G Memory, USB/Wi-Fi/Wired Connection.
All System Diagnostic Tool InPlus IP616: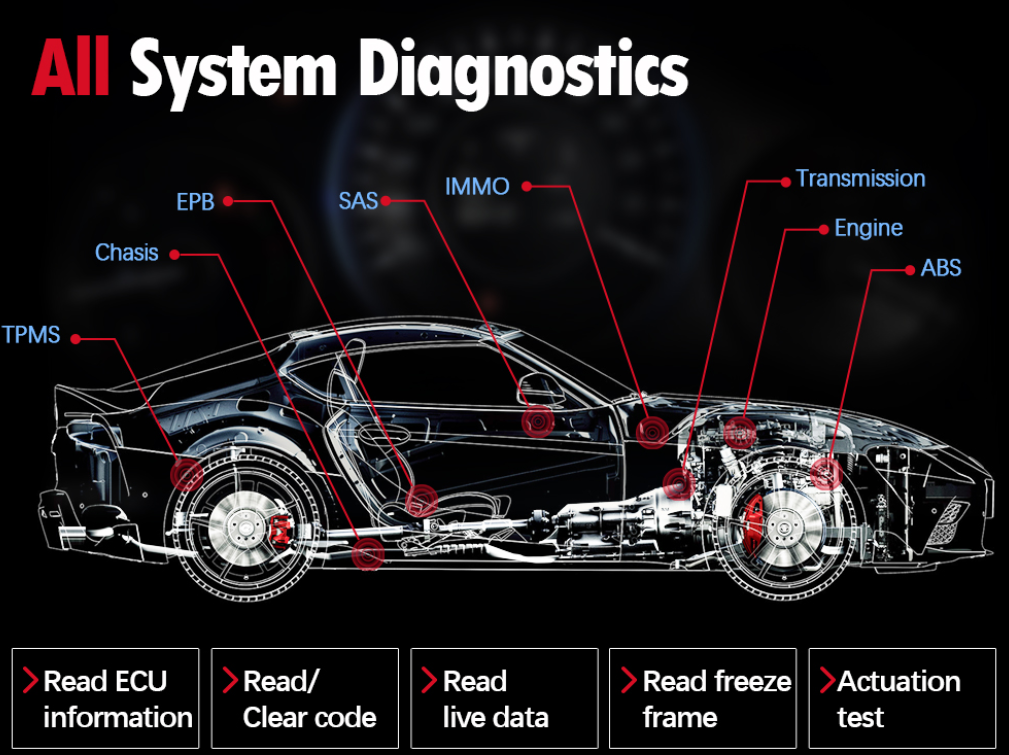 As a newly upgraded diagnostic tool, InPlus IP616 supports system-wide diagnostics. It can perform functions of Read ECU information, Read/Clear code, Read live data, Read freeze frame, Actuation test for all available systems of your vehicle. It supports Engine, Transmission, SRS(Airbag), ABS, TPMS, BODY, A/C and other systems.
31+ Service Functions:
1.SAS Reset:
SAS reset supports recalibration of the steering angle sensor. After the calibration is successfully completed, the SAS fault memory will be automatically cleared.
2.Injector Coding:
This function can write the identification code of the injector into the ECU so that the ECU can recognize and work normally.
3.ABS Bleeding:
The anti-lock braking system (ABS) bleeding allows you to perform various two-way tests to check the operation of the ABS.
4.Gear Learning:
After the gear learning is successful, the MIL will be closed. This function can complete the self-learning of the gearbox and improve the quality of shifting.
5.Air Suspension:
The air suspension system reset function enables the computer ECU to match the current air suspension system information, thereby ensuring the normal damping effect of the vehicle when driving.
6.A/C Relearn:
It is used to reset and self-learn the operation data of the compressor, reset and self-learn the position of the servo motor, and use it to detect and verify the faulty part of the air-conditioning system.
7.VGT Relearn:
Use the VGT Relearn function of InPlus IP616 to reset and learn the turbo system after replacing the turbocharger or the solenoid valve sensor in the turbo system.
8.EGR Relearn:
After the EGR valve is damaged, the engine fault light will be turned on. After the EGR valve is replaced, the EGR valve needs to be matched and learned with a diagnostic instrument to ensure the normal operation of the exhaust gas recirculation system.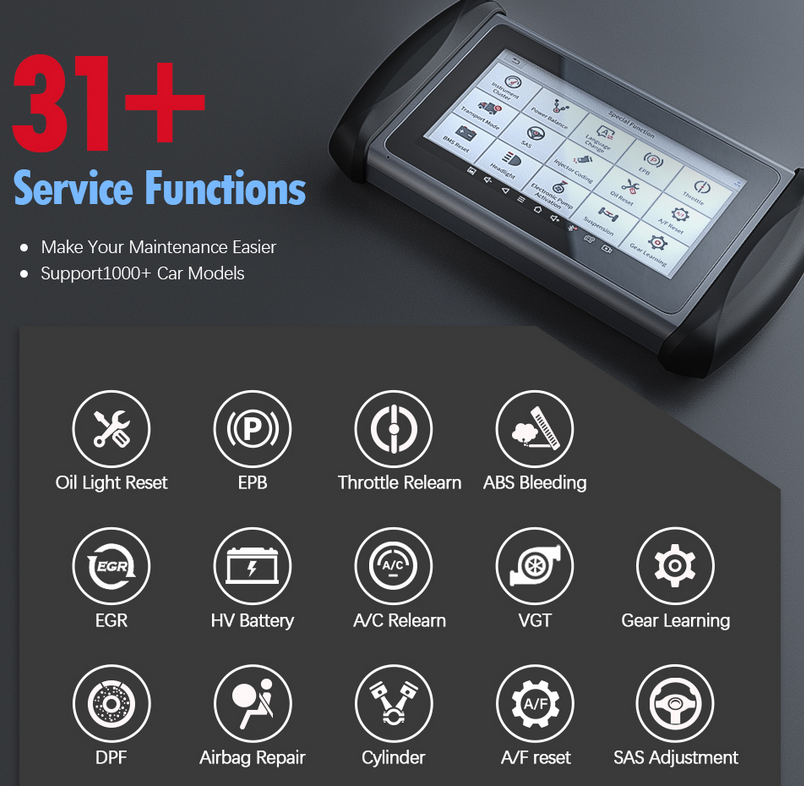 Also including:
IMMO/Key Programmer, EEPROM Adapter, EPB, Oil Light Reset, Gearbox Match, SRS, DPF Regeneration, BMS, Cylinder, TPMS Reset, Headlight Adjustment, Windows Initialization, Seat Match, Electronic Pump Activation, Disable Transport Mode, ECU configuration, Stop/Start Reset, Language Change, A/F Reset, Airbag Reset, Tire Upgrade, EPS, etc.
Full OBDII Functions:
1.Read/Clear Trouble Codes
2.Live Data
3.Read Freeze Frame
4.Read ECU Information
5.Component Test
6.On-Board Monitor Test
7.O2 Sensor Monitoring Test
8.I/M Readiness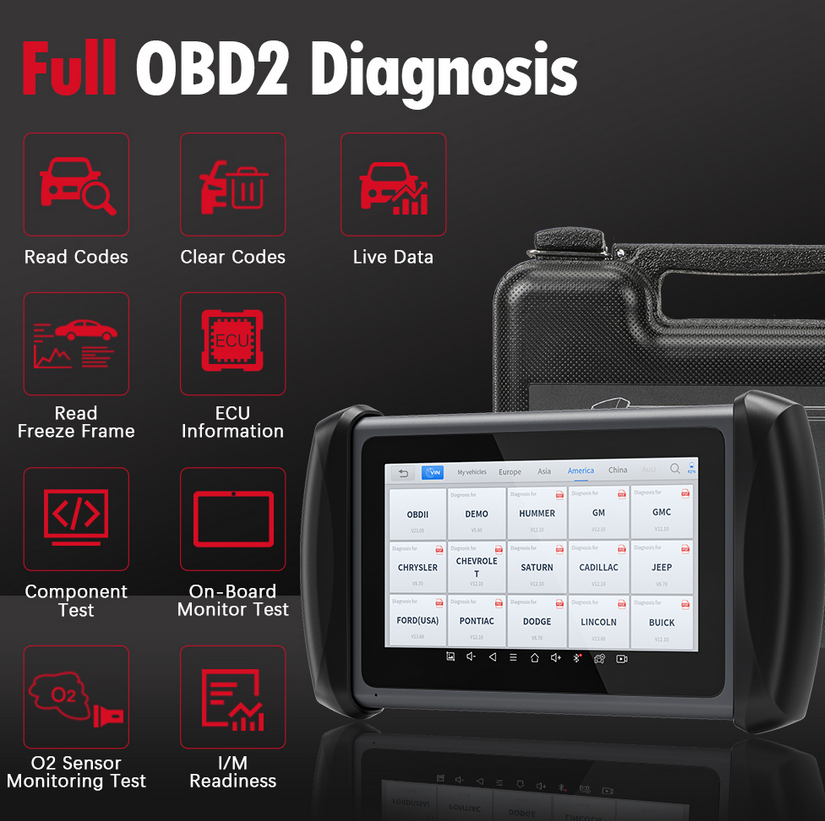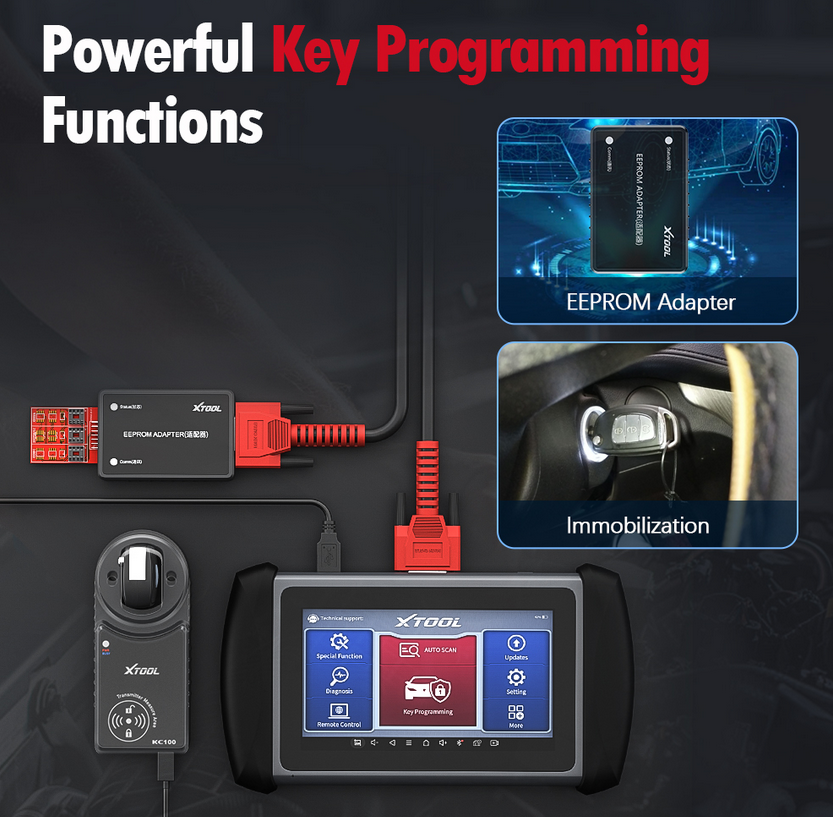 As a multi-function car detector, InPlus IP616 not only supports car diagnosis, but also supports the function of key programming. InPlus IP616 works with KC100, KC501, KS-1, M821, M822 can do key programming.
(Note: You need to buy them separately)
1.With KC100:
Programming key for VW/ for Audi/ For Skoda 4th, 5th / For MQB Key, etc.
2.With KC501:
Programming key for BMW/ for VW/ for BENZ(NO for all)
3.With M821:
Programming some B-ENZ key all lost
4.With M822:
For Toyota 8A/4A Key All Lost
5.With KS-1:
For Toyota/Lexus All Key lost No disassembly
6.With EEPROM Adapter:
Pin Code Reading,VehicleModule Initializing,Chip programming
Function for Immobilizer/Key Programming:
1.Read PIN code/pin code calculation
2.Check number of keys
3.Generate dealer key
4.All key lost
5.Add key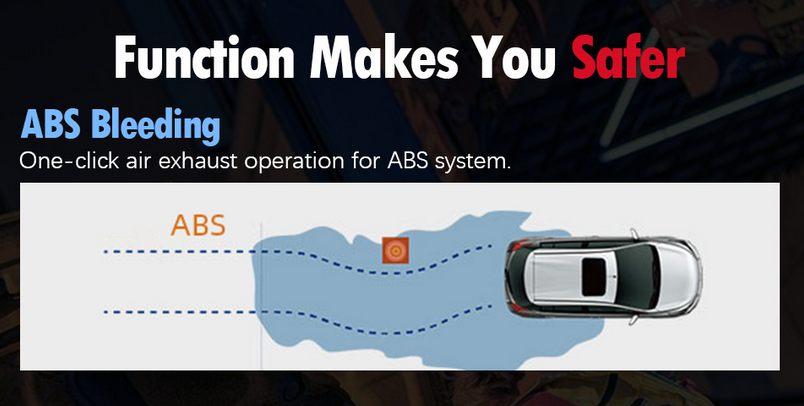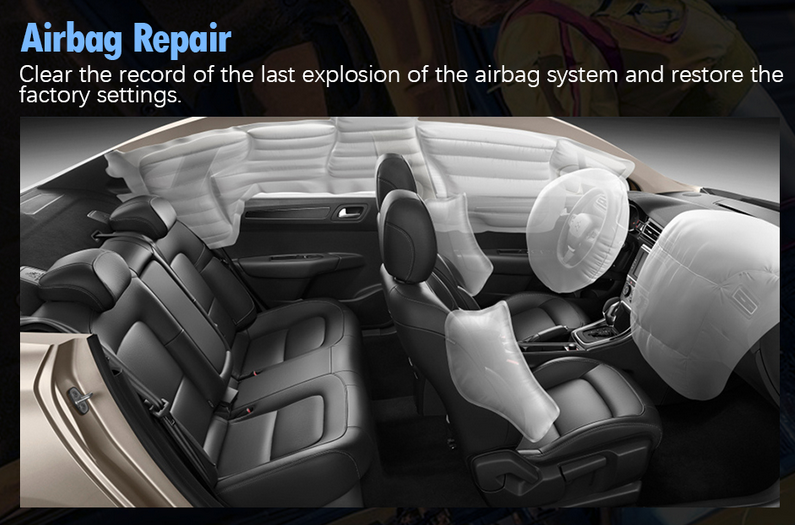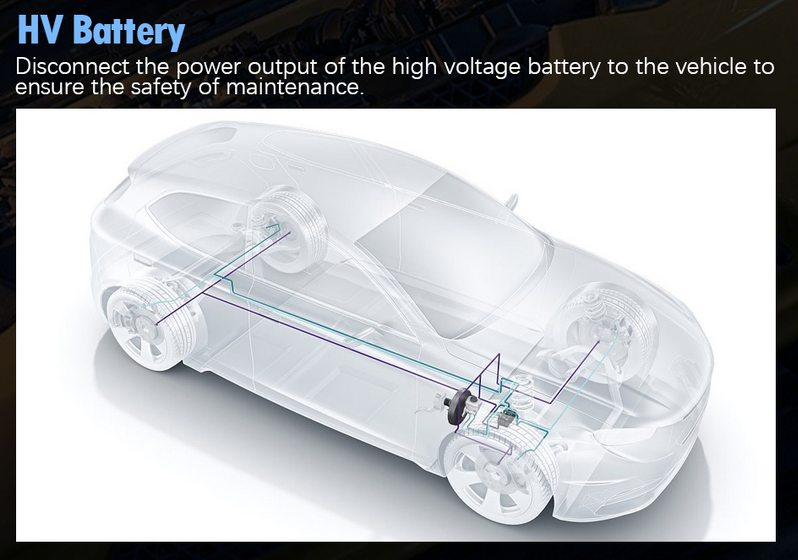 In addition to facilitating your vehicle diagnosis, InPlus IP616 actually solves hidden dangers for you from the perspective of safe driving.
1.ABS Bleeding
The function of the ABS system is to automatically control the braking force of the brakes when the car is braking, so that the wheels are not locked, and are in a state of rolling and slipping, so as to ensure that the adhesion between the wheels and the ground is at the maximum value. When the vehicle instrument illuminates the brake system fault light, it should be checked and repaired as soon as possible. After replacing the brake fluid/brake oil pipe/brake cylinder/ABS pump/brake drum/brake oil pot/brake oil level sensor, the ABS system needs to be vented.
2.Airbag Repair
The purpose of the Airbag system is to prevent injuries from collisions between occupants and interior components in the event of a car crash. When the vehicle collides, the airbag module will judge whether the collision level has reached the level of airbag explosion according to the sensors of the components, and where the airbags need to be exploded, and record the information at that time in the module. The airbag system repair is to put the module The recorded data is erased and the module is restored to its factory settings.
3.HV Battery
When a new energy vehicle fails to be repaired, it is necessary to ensure that the high-voltage battery has no power output. This function can disconnect the power output of the high-voltage battery to the vehicle, so that the maintenance worker can safely perform maintenance and inspection on the vehicle.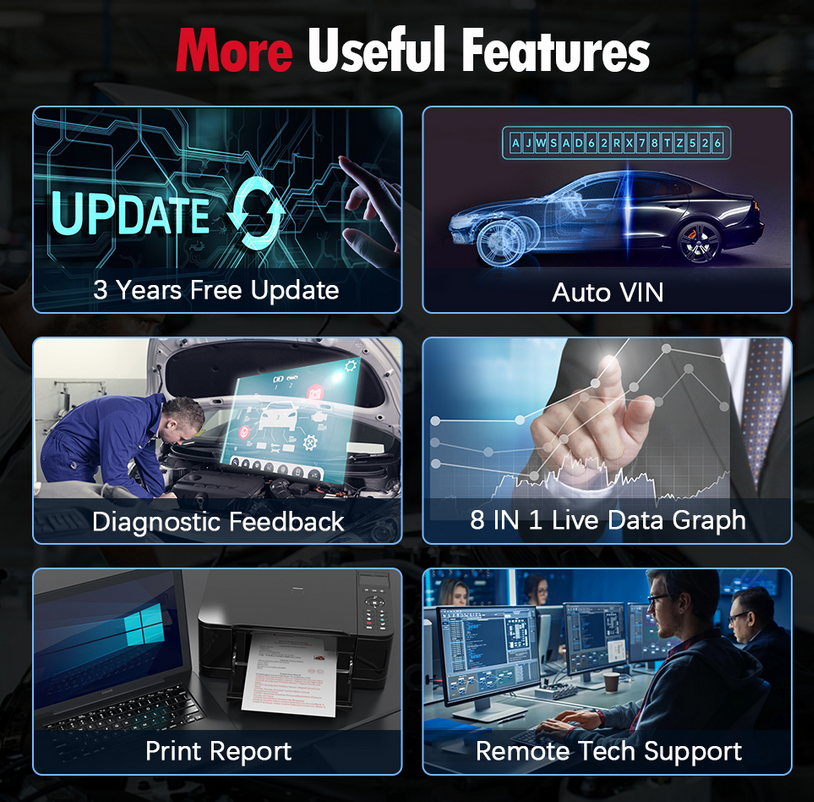 3 Years Free Update
You can update the software of the InPlus IP616 for free in 3 years from your activated. If you want to continue updating after three years, please contact us to renew the software update.
Auto VIN
Automatically retrieve vehicle identification numbers for quick access to vehicle system diagnostics.
Note: Auto VIN does not suitable with all vehicles. Pls select/input your car information manually that can also help you enter the diagnostic system quickly.
Diagnostic Feedback & Print Report
XTOOL InPlus IP616 can generate a diagnostic report after you diagnose or repair the vehicle. You can print out the diagnostic report by connecting to a printer via Bluetooth.
8 in 1 Live Data Graph
When using the function of reading data stream, InPlus IP616 supports selecting 8 pieces of data at the same time to form a data flow chart, which is convenient for you to understand the status of each module more intuitively.
Remote Tech Support
We supply lifetime free remote tech support. Pls feel free to contact us when you are encountering an problem when you are using the InPlus IP616. Pls contact us with your car brand and year, photo of the problem and serial number of the InPlus IP616. We will help you solve the problem as soon as we receive your message. Thanks!!
XTool IP616 Packing List:
XTool IP616 x1
Mains Cable x 1
USB Cable x 1
Power Plug x1
Adaptor Plug for American x 1
Adaptor Plug for British Specification x 1
Adaptor Plug for European Standard x 1
Specification x 1
Plastic Box x 1