XTOOL IP819 All System Automotive Diagnostic Scan Tools ECU Coding 30+ Services Bi-Directional Controls Full Diagnostics
XTool IP819
is a professional Automotive Diagnostic scan tool. As a 2022 Newest Version XTool IP819, it performs various functions like programming new key fobs, reading PIN code, adding smart keys, and programming remote. You can use XTool IP819 Car Diagnostic Tool to improve vehicle performance, make new codes, recognize new actuators, etc.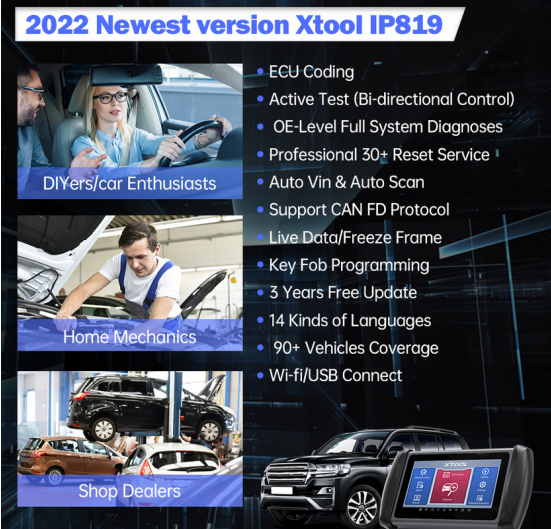 3 Years Free Update
XTool IP819 Superior Functions
ECU Coding:
To improve vehicle performance, make new code, recognize new actuators, car systems to recognize each other and recognize new actuators
Full OE-Level Diagnostics System:
Full features for codes, live data, freeze frame, active tests, ECU info
Professional 30+ Catering Service:
25 service options under common services ", plus additional resets and relearns under the diagnosis diagnostics menu, to meet routine tasks of auto maintenance services
Auto VIN & Auto Check:
Automatically detects and decodes VIN number for comprehensive scanning of all systems for quick diagnostics
Support CAN FD Protocol:
Supports CAN FD Protocol Vehicles (For GM 2020 + Cars)
Live Data/Freeze Frame:
Show live data stream in text or on a graph like fire error data, engine rpm, etc, retrieve data from ECU ice frame to show parameters when a DTC is recorded
Key Fob Programming:
Perform advanced IMMO programming functions & key for the auto-smith lock
14 Kinds of Languages:
Default in English, send us y/n to change to Spanish, French, Portuguese and etc
90+ Vehicle Coverage:
Works on 90+ American, European and Asian brands to perform diagnostics
WiFi/USB Connection:
Connects and communicates with vehicles via WiFi/USB connection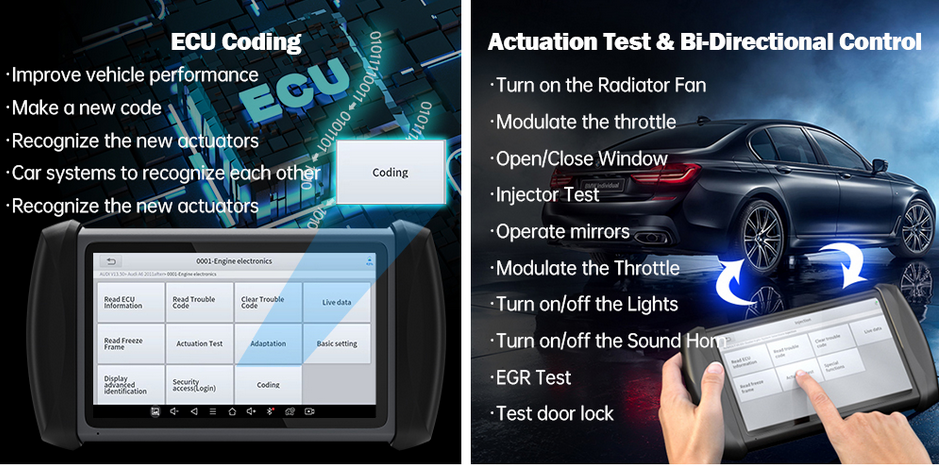 IP819 With ECU Coding Functions
Improve vehicle performance :
To Make the vehicle more safer and more smoother while driving,to ensure the longevity of the vehicle
Make a new code :
Power Window,Illuminated Entry,Warning,Light Control,Slide Roof,Air Conditioner ,Display,Unit Conversion,Entry & Start,PSD & PBD Operation,Seat …
Recognize the new actuators :
can online modify the adaptive data for vehicle control modules after repairs or replacements of vehicle parts
Car systems to recognize each other :
To make the various systems of the car match each other and work with each other, so that all the systems in the car work well
Recognize the new actuators:
New components and systems can be quickly identified after replacement parts or repairs
Note:
ECU Coding Function only can support VAG cars,including VW,Audi,Seat,Skoda
Actuation Test & Bi-Directional Control
Full control over various car components, parts to perform active tests like EVAP test, cooling fan, injector test, cycling ABS motor pump, A/C Clutch Switch On/Off etc.
Turn on the Radiator Fan
Modulate the throttle
Open/Close Window
Injector Test
Operate mirrors
Modulate the Throttle
Turn on/off the Lights
Turn on/off the Sound Horn
EGR Test
Test door lock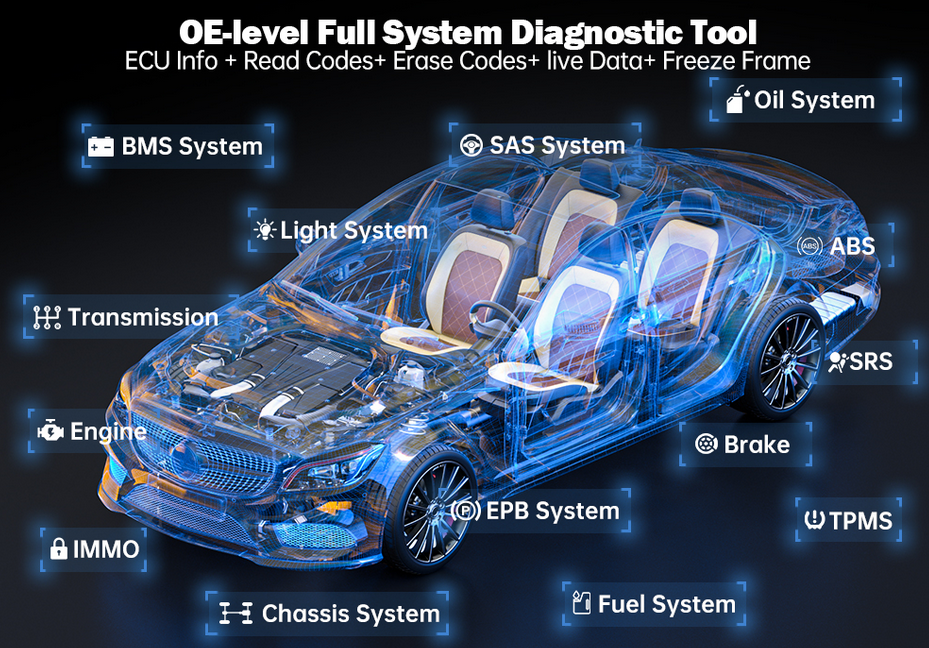 Xtool IP819 OE-level All Systems Diagnoses
The Diagnostics application enables a data link to the electronic control system of the test vehicle for vehicle diagnosis. The application performs functional tests, retrieves vehicle diagnostic information such as trouble and event codes and live data for various vehicle control systems, such as ABS, SRS, Engine, Transmission, Brake System, Emission System, Fuel system, Light system, Wiper System etc.
30+ Services & Resets & Relearns & Matching & Adaptation & Initialization: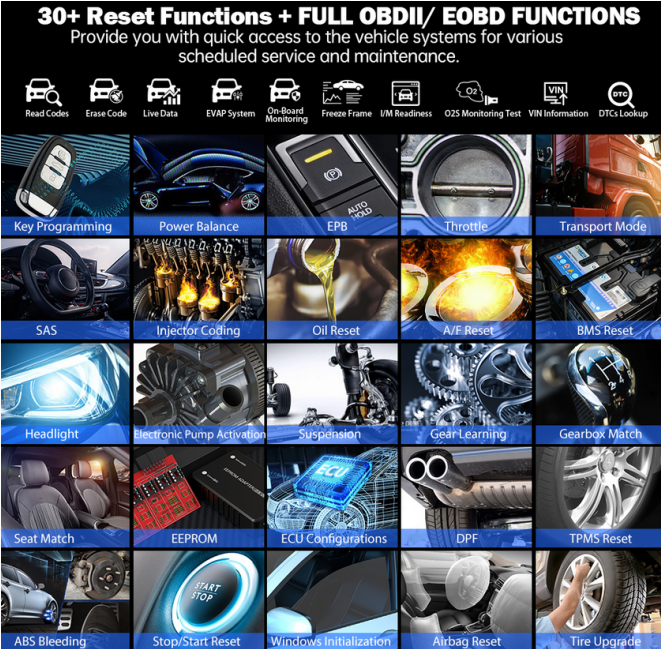 Xtool IP819
car diagnostic tablet comes with 25 service options under "Common Service" and various resets & relearns functions under "Diagnosis", to perform almost all auto maintenance service tasks that a workshop, garage, auto repair shop or car dealers would ever need for day-to-day work. It includes Key Programming, Power Balance, EPB, Throttle, Transport Mode, SAS, Injector Coding, Oil Reset, A/F Reset, BMS Reset, Headlight, Electronic Pump Activation
Suspension, Gear Learning, Gearbox Match, Seat Match, EEPROM, ECU Configurations, DPF, TPMS Reset, ABS Bleeding, Stop/Start Reset, Windows Initialization, Airbag Reset, Tire Upgrade
XTOOL IP819 Been All Systems and full functions
inside the system diagnostic with full functions with more than 36+ special functions inside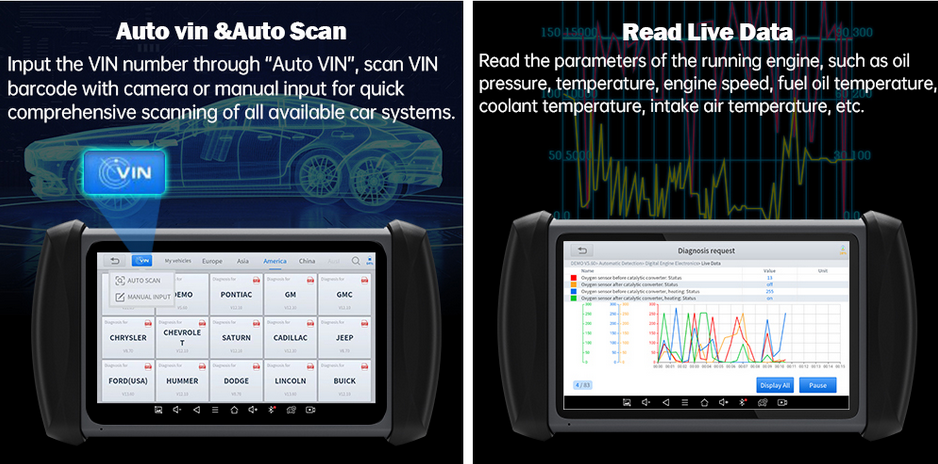 Auto Vin & Auto Scan
Input the VIN number through "Auto VIN", scan VIN barcode with camera or manual input for quick comprehensive scanning of all available car systems.
Read Live Data
Read the parameters of the running engine, such as oil pressure, temperature, engine speed, fuel oil temperature, coolant temperature, intake air temperature, etc.
90+ Car Brands Wide Support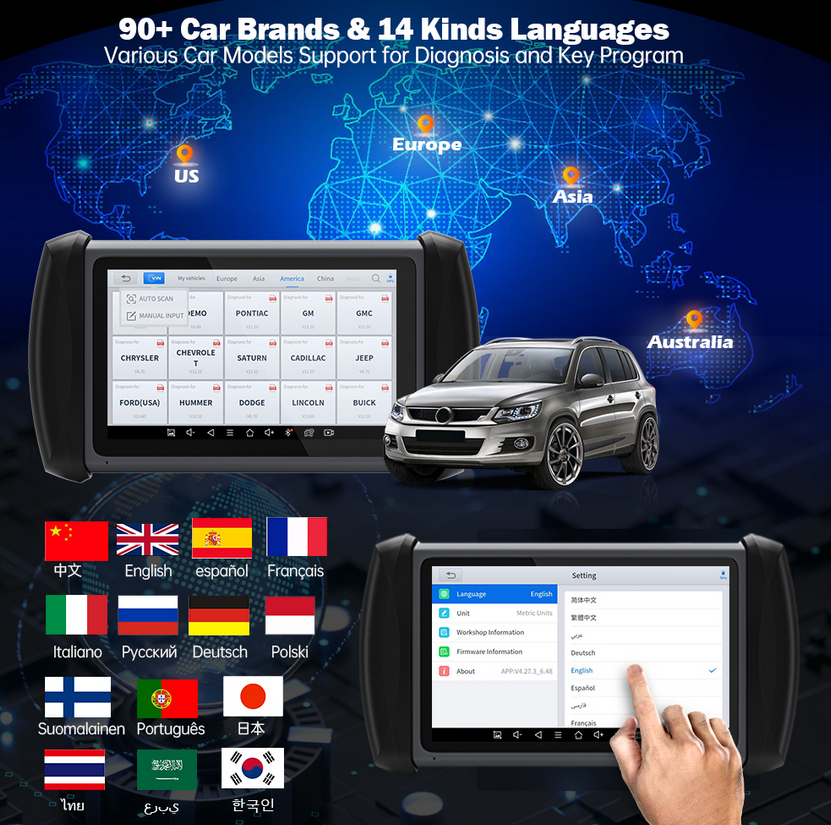 Xtool IP819 including more than 10000+ car models software Including Europe,Asia,America,Australia China Cars . Enjoying 3 years free update ,more and more newest car models will update online.
For benz ,bmw,vw,volvo,Renault, Ford, Citroen, Toyota, Honda ......
14 Kinds of Language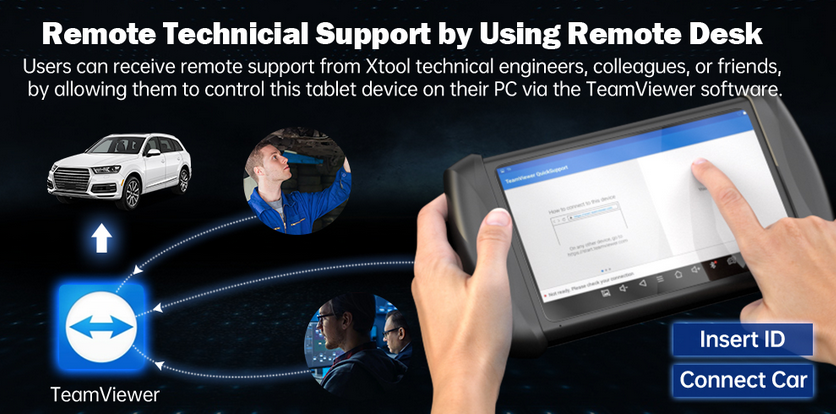 English, Spanish, German, French, Portuguese, Korean, Polish, Italian, Finnish, Arabic, Japanese, Thai, Russian, Chinese
(if you need change the language,pls send us the serial number of the device)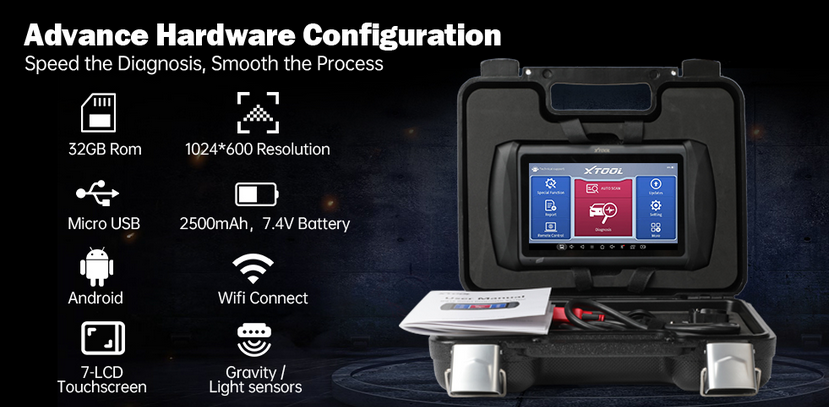 Add An Extra Key for The Vehicle,Add new mechanical keys, all smart keys, disable lost keys, remote learning.
please make sure that the device is connected to the network when you enter the diagnostic software and the firmware will be automatically updated to the latest version.
Support CAN FD Protocol
Xtool IP819 Support including 12V sedans, light duty trucks, mini vans, SUVs including newer vehicles that support CAN FD protocol (for GM 2020+).
Health Report Share + Print Diagnosis Reports
Customize your report with business name, address. Click " Print PDF Report " at the bottom right corner to output the PDF report.
Remote Technical Support by Using Remote Desk
Users can receive remote support from Xtool technical engineers, colleagues, or friends, by allowing them to control this tablet device on their PC via the TeamViewer software.
XTool IP819 Packing List:
XTool IP819 x 1
Mains Cable x 1
USB Cable x 1
Power Plug x1
Adaptor Plug for American x 1
Adaptor Plug for British Specification x 1
Adaptor Plug for European Standard x 1
Specification x 1
Plastic Box x 1