Autel Maxisys MS909CV Heavy Duty Truck Scanner Commercial Vehicle Diagnostic Scan Tool Kit
Autel MaxiSYS MS909CV
is an advanced commercial vehicle diagnostic tool that is compatible with more than 80 models of light, medium and heavy duty vehicles. The 9.7-inch wireless Android-based truck scanner performs extensive vehicle diagnostics including the ability to read/erase codes, view, and graphs live data, and perform active tests. The MS909CV scanner includes a Bluetooth-enabled vehicle communication interface (VCI)/J2534 pass-thru programmer, the MaxiBAS B200 battery, starting and charging system test device and alligator clamps, and a multimeter and amp clamp. It also includes ADAS Calibration Software for Class 3-5 vehicles and Class 6 to 8 Vehicles with Dynamically Calibrated Systems.
Autel Maxisys MS909CV Highlights:
1. MaxiSYS MS909CV performs enhanced all system diagnostics on more than 80 models of light, medium, and heavy duty commercial vehicles
2. Upgraded Octa-Core processor and 128GB storage and 9.7-inch Wireless Android-Based Touchscreen and the whole-new MaxiFlash VCI (J2534 Pass thru programming device ) to deliver smooth operation
3. Intelligent Diagnostics with Topology Module Mapping and Enhanced AutoSCAN / VINScan and DTC Analysis / Repair Guided Assist
4. Support heavy Duty Battery Test & Health Report with included MaxiBAS B200 tester with alligator clamps
5. Includes Multimeter & Amp Clamp
6. ADAS Calibration Software for Class 3-5 vehicles and Class 6 to 8 Vehicles with Dynamically Calibrated Systems
7. One Year Limited Warranty and a year of Free Software Updates
Autel Maxisys MS909CV Hardware Features:
• 9.7"Touchscreen tablet running Android 7.0 Operating System
• Octa-Core Processor / 4GB RAM & 128GB On-board Memory
• Cameras: Front 5.0MP / Rear 16MP, autofocus with flashlight
• Connectivity: WiFix2, BT, GPS, USB 2.0 (TWO USB HOST Type A, ONE USB mini device), HDMI 2.0, SD Card (supports up to 256GB)
• 15000mAH 3.8V lithium-polymer battery
• Charging via 12V AC/DC power supply
• Print via WiFi to PC to Autel's "Maxi PC Suite" software
• Save reports to PDF and email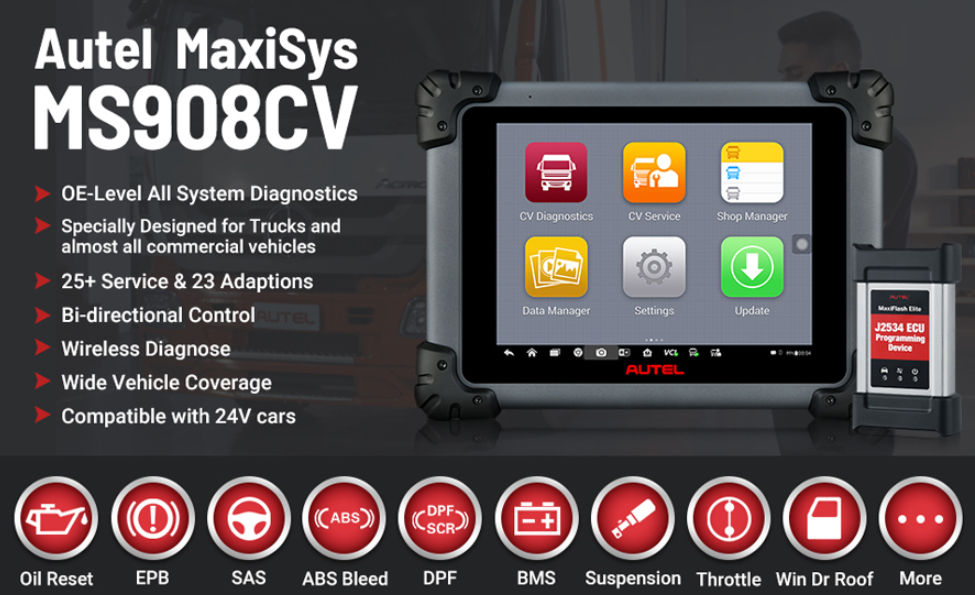 Autel Maxisys MS909CV Functions
INTELLIGENT DIAGNOSTICS
• Enhanced AutoSCAN / VINScan for easy vehicle identification
• DTC Analysis / Repair Guided Assist
• Pre/Post scan reports
• Module Topology on Select Vehicles (coming soon)
ADAS CALIBRATION
• Class 6-8 Dynamic Calibration
• Class 3-5 Complete ADAS Coverage
• Class 6-8 Static Calibration (coming soon)
BATTERY ANALYSIS
• Heavy Duty Battery Test & Health Report
• Includes the BT506 and the BTAK
Autel Maxisys MS909CV Coverage:
The MS909CV includes coverage for more than 80 models of light, medium and heavy-duty vehicles. The MaxiFlash VCI is compatible with the latest J2534 protocols (DOIP) and is compliant with RP1210 ans ISO 22900
25+ SERVICE & 23 ADAPTION FUNCTIONS-----FOR MECHANICS OR GARAGE OWNERS
A total of 46 service functions, provide super-value maintenance service for 99% duty vehicles.
Autel MaxiSYS MS908CV Heavy Duty diagnostic tool comes with 25+ service function and 23+ adaptions function for daily maintenance needs:
25+ Service Functions:
(Effectively improve vehicle efficiency, reduce fuel consumption and parts and tires consumption)
Oil Reset, Injector Coding, DPF, EPB, ABS Brake Bleed, SRS, Suspension, Throttle, Gearbox Match, VGT Learn, Headlight, Air Suspension, Window Initialization, Seat Configurations, Airbag Repair, etc.
23+ Adaptions:
(calibrate or reset certain components after repair or replacement as)
DOC/DPF Replacement Reset, Fuel Pressure Adaptation Reset, Injectors CEOM Reset, Sensor Calibration, Injection Quantity Adjustment, DSI System, De-Aeration, MAF Sensor Calibration, Parameter Setting, Rack Sensor Calibration, Timing Calibration, Boost Calibration, Maintenance Monitor, Injector Trim Calibration, etc.
Note:
Service functions can't work with all vehicles, please send VIN to check compatibility.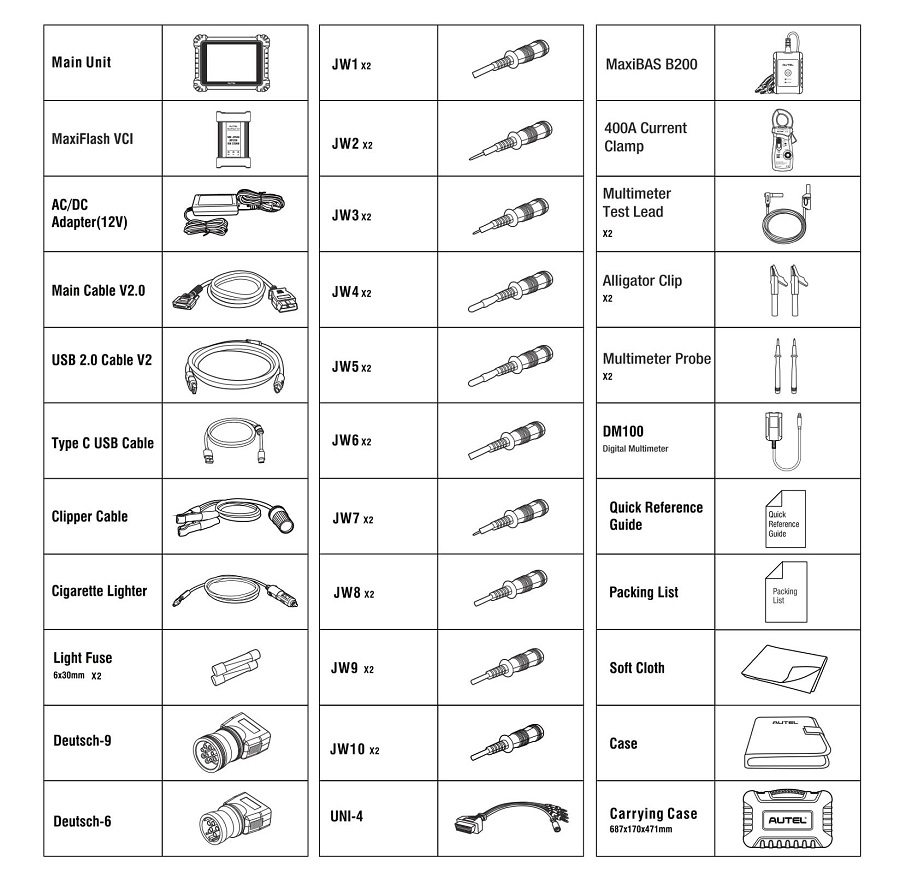 ECU Coding & J2534 ECU Programming
With the increasing complexity of automotive electronic control systems, ECU programming & ECU coding have become a must-learn skill for almost every pro mechanic. So we have pre-emptively followed in the footsteps of the times and have update the MS908 up to a brand new level.
ECU Coding:
The ECU coding for the heavy machinery is always a nightmare, but the time has changed. Once having heavy-duty scanner MS908CV by you side, you can match the modules with components, flash the hidden functions, and customize the OE-settings as you wish. And also it has extensive compatibility, such as light-duty truck Ford F-Series, RAM Trucks Series, Scania (Including CCC, CTS, EACS, EHS, EQU, FSS and SRC), Mercedes-Benz, Iveco, etc.
J2534 ECU Programming:
Along with Autel MaxiSys MS908CV comes a newly updated J2534 ECU programming VCI. It helps you to pass-thru the gateway, access the online data, and flash the emission-related ECUs regardless of the communication protocol that is used by the ECU.
J2534 is fully compatible with both SAE J2534-1 and J2534-2 reprogramming standards
Performs the standard PassThru J2534 functionality
Fast performance ensures quickly reprogramming even the newest controllers
Wireless with advanced networking functions
Built-in wireless and data storage
Rugged design capable of withstanding harsh environments
Internet updateable
Comprehensive Vehicle Coverage:
As a product tailored for heavy-duty vehicles, we have adapted our model support to the market in the country or region where it is located. Here is a list, come and check it out!
e.g.
Freightliner, Kenworth, Peterbilt, International, Volvo, DAF, MAN, Dodge, Ford, Hyundai USA, Isuzu, Iveco, MACK, Mercedes-Benz, Nissan, Renault, Peugeot, Toyota, etc.
Hardware Expansion Support:
It supports an extremely rich hardware expansion such as multimeter, oscilloscope, endoscope to provide greater convenience for your work or you can work with MV105, MV108, MV400.
Package List: