PORSCHE PET2 8.3 SPARE PARTS CATALOG
After payment, we will give a link for you to download the software, and then help you to remote activation.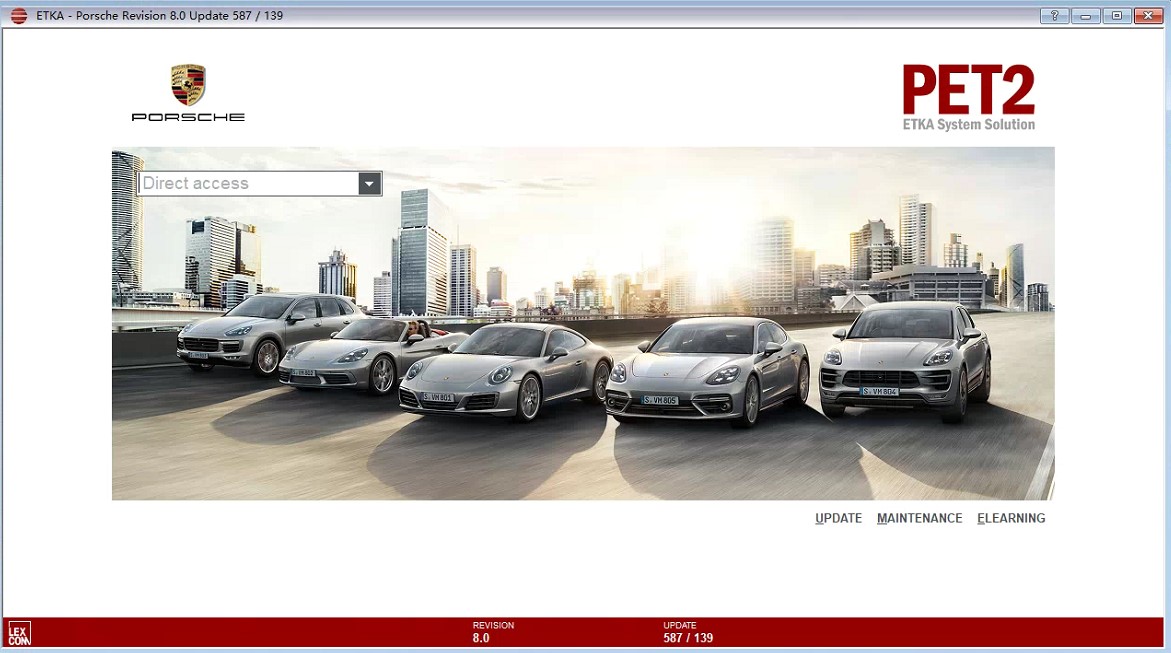 Porsche PET2 8.3 Spare Parts Catalog [03.2022]
Size: 3.37 GB
Region: All regions
Languages: English, Deutsch, US English, France, Italian, Espanol, Portuges, BR Portuges, Nederlands, Polski, Pycc..v..v.
Type: Spare Parts Catalog
Year: 2022
Date of update: 03.2022
OS: Win8 or Win10 64 bit (Only)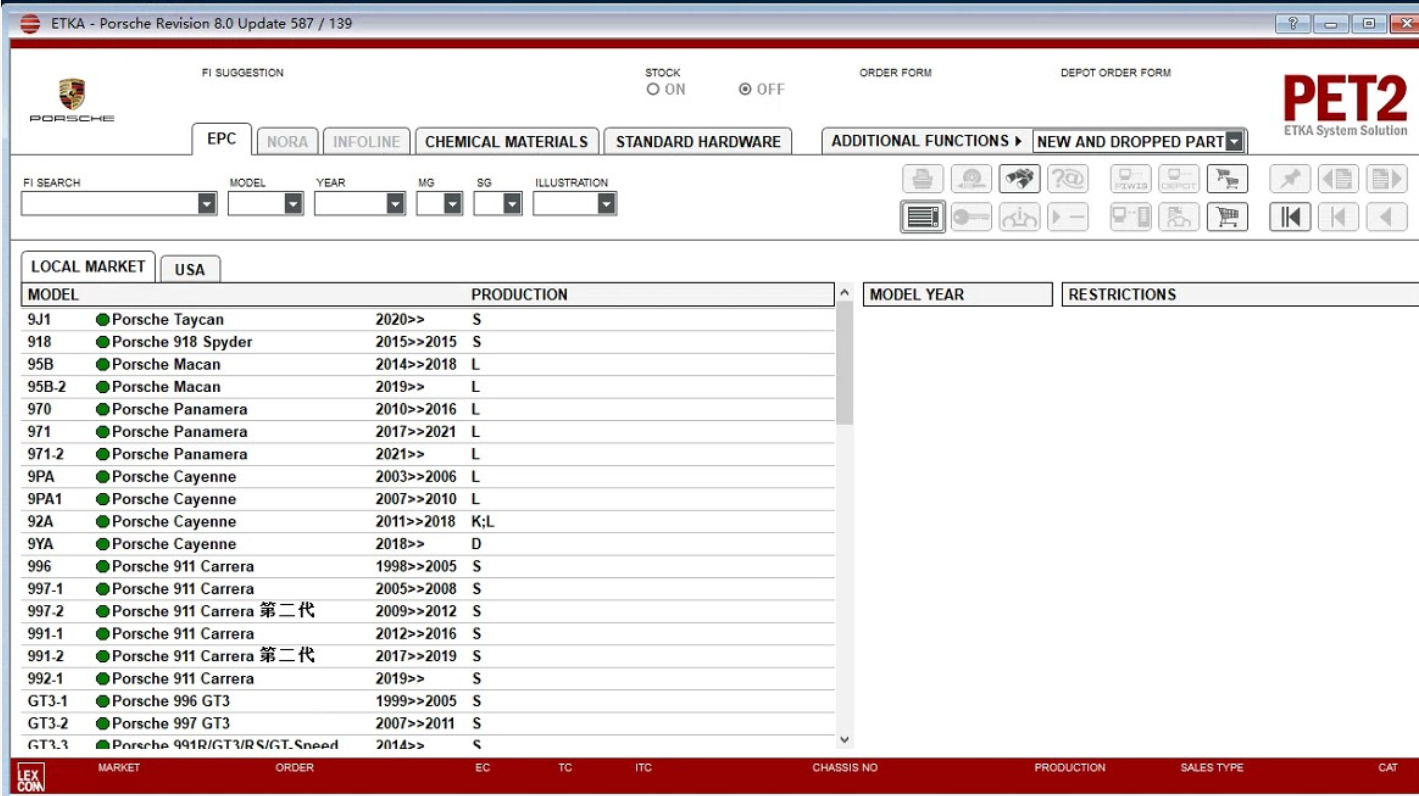 NOTE:
PET8.3 don't uses internet to identify Porsche vehicle by VIN numbers.
PET is the Porshe electronic parts catalog. It contains part numbers for Porsche genuine parts.
PET is the abbreviation for Porsche Electronic
Parts Catalog, a database-based software solution for finding spare parts and placing orders. It is produced and updated by the LexCom company. The catalog includes expanded views of individual assemblies and various lists and notes on the Porsche car brand models, such as equipment variants and the installation period of engines and gearboxes by code. In this case, a specific spare part for a vehicle has a printed or embossed number assigned once to the entire group, on the basis of which the search for spare parts for the dealer and customers is simplified. In addition, there are vehicle-specific standard parts (such as screws, hose clamps), some of which are only available in Porsche, such as XZN profile screws. The catalog can propose successive models of spare parts, but several parts of a group can also represent a spare part that has been omitted. But it is also possible that technically identical parts have different numbers, since each one is designed for a different vehicle model.
Models covered by this program:
Porsche 918 Spyder [918] 2015 ->
Porsche Macan [95B] 2014 ->
Porsche Panamera [970] 2010 ->
Porsche Cayenne [9PA] 2003 - 2006
Porsche Cayenne [9PA1] 2007 - 2010
Porsche Cayenne [92A] 2011 ->
Porsche 911 Carrera [996] 1998 - 2005
Porsche 911 Carrera [997-1] 2005 - 2008
Porsche 911 Carrera 2nd gen. [997-2] 2009 - 2012
Porsche 911 [991] 2012 ->
Porsche 996 GT3 [GT3-1] 1999 - 2005
Porsche 997 GT3 [GT3-2] 2007 - 2011
Porsche 991 GT3 [GT3-3] 2014 ->
Porsche 911 Turbo/GT2 [996T] 2001 - 2005
Porsche 911 Turbo/GT2 [997T] 2007 - 2009
Porsche 911 T / GT2 RS 2nd gen. [997T2] 2010 - 2013
Porsche 991 Turbo [991T] 2014 ->
Porsche Boxster [986] 1997 - 2004
Porsche Boxster [987] 2005 - 2008
Porsche Boxster, 2nd generation [987-2] 2009 - 2012
Porsche Boxster [981] 2012 ->
Porsche Cayman [987C] 2006 - 2008
Porsche Cayman, 2nd generation [987C2] 2009 - 2012
Porsche Cayman [981C] 2014 ->
Porsche 356 356A [356] 1950 - 1959
Porsche 356B 356C [356.] 1960 - 1965
Porsche 911 Turbo/GT2 [911E] 1975 - 1977
Porsche 911 912 [911-1] 1965 - 1969
Porsche 911 [911] 1970 - 1989
Porsche 911 Carrera 2/4 [964] 1989 - 1994
Porsche 911 Carrera [993] 1994 - 1998
Porsche 914 [914] 1970 - 1976
Porsche 924 [924] 1976 - 1985
Porsche 924S [924S] 1986 - 1988
Porsche 944 [944] 1982 - 1985
Porsche 944 [9442] 1985 - 1991
Porsche 968 [968] 1992 - 1995
Porsche 928 [928] 1978 - 1995
Porsche Carrera GT [GT] 2004 - 2006
Porsche 959 [959] 1987 - 1988
Special Catalogues:
Tequipment Catalogue [TEQ] 1985 - 2012
Tequipment 981 991 [TEQ1] 2012 ->
Tequipment Cayenne [TEQ2] 2003 ->
Panamera Tequipment [TEQ3] 2010 ->
Tequipment Macan [TEQ4] 2014 ->
Classic accessories [CLA] 1950 - 1998
Exchange Catalogue [ATK] 1963 - 2012
After Sales Seivice literature [LIT] 1950 - 2011
Seats Catalogue - 944/968/911/928 [STZ] 1985 - 1998