OBDSTAR P002 Adapter Full Package with TOYOTA 8A Cable + Ford All Key Lost Bypass Alarm Cable Work with X300 DP Plus X300 Pro4
OBDSTAR P002 Adapter
Highlights:
1. Portable design, easy operation, high performance
2. Used with X300 DP, X300 DP Plus and X300 Pro4.
3. Supports TOYOTA 8A non-smart key all keys lost programming
4. This adapter need to work with OBDSTAR Key SIM 5 in 1 (for Toyota).
5. Supports Ford all keys lost programming.
This set allows all keys lost programming for Ford remotes without needing to manipulate the battery or constant powering on and off. This allows the user to bypass an active alarm using OBDStar X300 DP Plus, X300 Pro4 or Key Master DP Plus devices.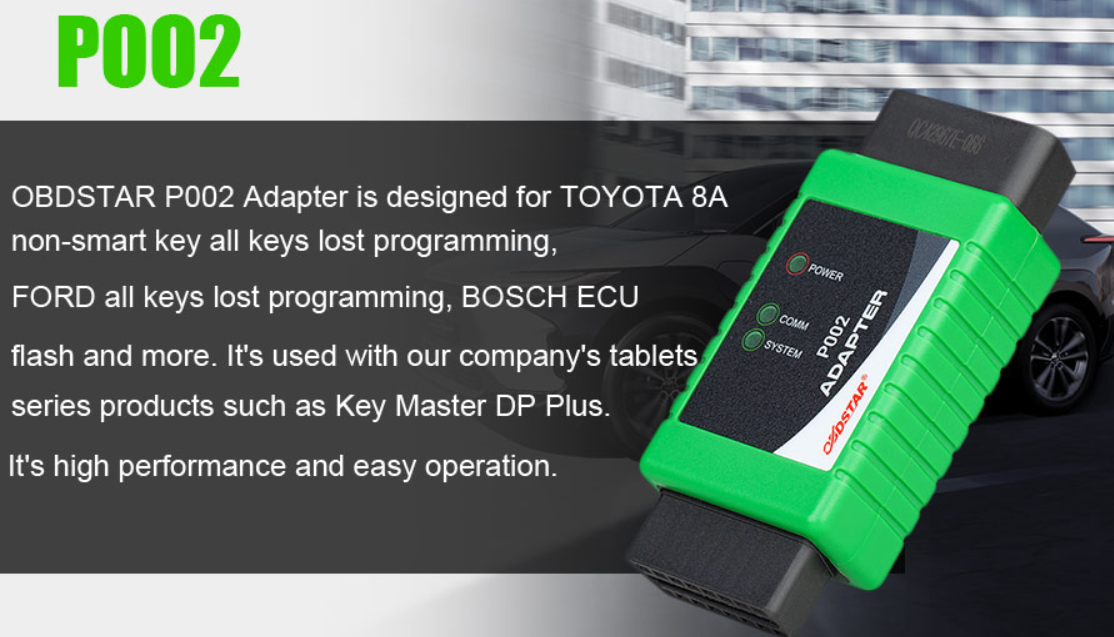 Supported Car Models and Functions:
FUNCTION
TYPE

MODELS

FUNCTION

TOYOTA 8A

RAV4, HILUX
CROWN KLUGER, COROLLA
CAMRY, LEVIN
PRADO, REIZ

All Key Lost (OBD or BENCH mode)
Need to work with OBDSTAR Key SIM 5 in 1

FORD/ LINCOLN/ MUSTANG

ESCAPE 2020-2021, ESCORT 2018-
EXPEDITION 2020 , EVEREST 2017-
EXPLORER 2017- , F-150 2017-
F-250 2017- , FOCUS 2018-
MUSTANG 2017- , TAURUS 2017-
MONDEO 2017- , FUSION 2017-
RANGER 2017- , AVIATOR 2020
CONTINENTAI 2016- , CORSAIR 2020
MKC2015- , MKT 2020
MKX2015- , MKZ2015-
NAUTILUS 2018- , NAVIGATOR 2018-

All Key Lost (no need to repeatedly disconnect/connect battery cables)

BOSCH ECU (COMMING SOON)

BOSCH EDC17C55, EDC17C63
MED17.5, MED17.5.1
MED17.5.2, MED17.5.5
MED17.5.5, MED17.5.21
MED17.5.25, EDC17CV44
EDC17CV54, EDC17C54
EDC17C64, MED17.1.6
ME17.1.6, EDC17C81
EDC17C53, EDC17C46
ME17.5.6, MED17.5.20
EDC17U01, MED17.4.4
EDC17CP44, ME17.1.1
MED17.1.1, ME17.5.20
EDC17CV45, EDC17CV41
EDC17C04, EDC17CP52

BOSCH ECU Flash (BENCH or BOOT mode, used to read and write FLASH or read Pincode, CS code, etc.)
Package includes:
1pc x OBDSTAR P002 Adapter
1pc x Ford All Keys Lost Bypass Alarm Cable
1pc x Toyota-1 Cable
1pc x Toyota-2 Cable
1pc x Multi-funcitional Cable