XTOOL D8 Diagnostic Tool ECU Coding Scanner Automotivo Bi-Direction Control OBD2EOBD CAN FD Professional Tools

XTOOL D8 can support 15 kinds of language:
English, Spanish, German, French, Italian, Finnish, Arabic, Japanese, Korean, Polish, Portuguese, Vietnamese, Russian, Simplified Chinese and traditional Chinese.
(please send us the S/N of the device and then we will help you authorize language, and you can free switch it)

One Click Update Online & 3 Years Software Free Update
XTOOL D8 comes with one click online and 3 years free update to get the newest software that can support more functions and new vehicle models coverage.
The device still can work normally even when the free updates period expires

D8 is the 2021 latest diagnostic tablet designed for auto repair shops and technicians. D8 features advanced ECU Coding, Bi-Directional Control, OE level all systems diagnostics with Auto VIN/VIN scan/Auto Scan technology, extensive vehicle coverage of 88+ US, Asian and European car brands, including CAN FD protocol vehicles(for 2020+ GM).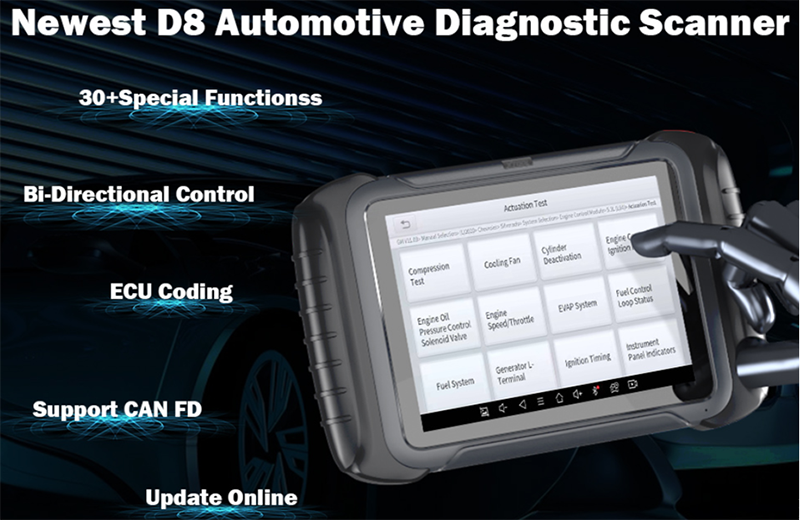 Newest Professional Diagnostic Scanner D8 with Advanced ECU Coding, Bi-Directional Control, OE Level All Systems Diagnostics, Key Programming Functions, Support CAN FD Protocol.

1.Advanced ECU Coding: Re-flash vehicles control modules, and customize the vehicle as need, optimize the specific performance to improve fuel efficiency, reduce power loss, improve the durability of mechanical parts.
2..Support CAN FD Protocol: D8 is the only tool in this range that supports CAN FD protocol vehicles(for GM vehicles after 2020), saving on buying adapter.
3.Full Bi-Directional Controls: Receive information and send the commands to the system/components to perform active tests like EVAP Test, Fuel Pump, Fuel Injector Test, Cycling A/C Clutch On/Off, Window/Door Lock/ Horn, EGR Test, etc.
4.31+ Special Functions: 27 top popular maintenance functions include ABS Bleeding, Key Programming, Injector Coding, Oil Reset, EPB, etc, also comes with advanced Reset / Relearn / Matching / Calibration / Initialization Functions for specific vehicle brand, such as Camshaft Position Sensor Relearn, Cam Crank Relearn, Zero-Point Calibration, etc functions.
5.Powerful Key Programming capalities include Read Pin~code + Add New Keys (Fob/Smart)+ Remote Learning + Key Matching, ALL-KEYS-LO*ST, etc.
6.OE-Level All Systems Diagnosis: Read/Clear Trouble Codes + Live Data Stream in graphing/text like Engine rpm/ Misfire/ Transmission temperature and sensors, etc + Retrieve Freeze Frame + Read ECU Information + Active Tests to quickly troubleshooting the vehicle issues.
7.AutoVin + Auto Scan + Manual Selection: Automatically retrieve the vehicle identification number for comprehensive all available systems scan for quick diagnostics.
8.Work with 8+12 Cable Adapter (Package NOT Included) : Support for Chrysler 2018 and later vehicles.
9.Work with X100 Inspection Camera (Package NOT Included): Inspect hard-to-reach vehicle spots.
10."My Vehicle" Function: Add common vehicle brands for quick access the diagnostic menu.
11.88+ Brand Coverage & Growing: Broad vehicle coverage, work on more than 88 brands, 10000 cars, and it is still growing.
12.Dual-Band WIFI Frequency + 10000 mAh: Both 2.4Ghz and 5Ghz WiFi for best signal or connection speed and long time working hours lasts for up to 10 hours.
13.8'' Touch Screen + 1024*762 Resolution + Android 5.1 + 1.8GHz processor + 2G/64G Storage for easily interpreting data and fast running and multitask easily.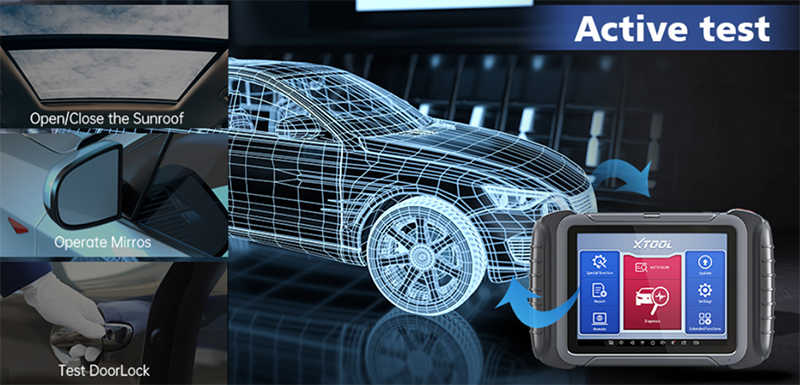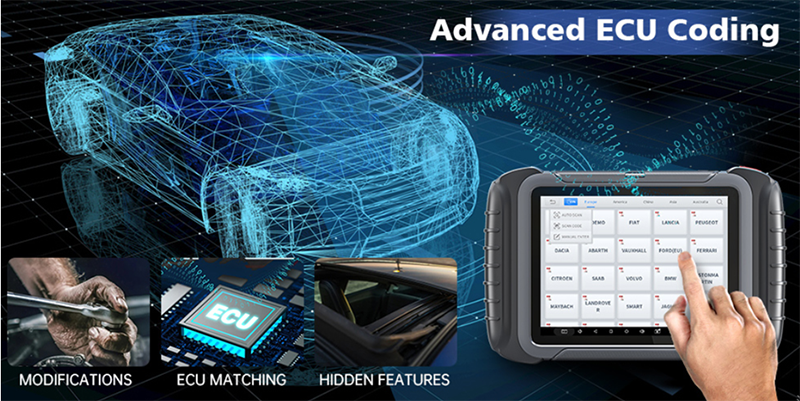 Advanced ECU Coding
>> Allow to re-flash the hidden functions for personalization to optimize the vehicle's performance and recode the adaptive for certain components after making repairs or replacements. With the help of ECU coding, you can change the chimes on your car, set the mirrors automatically folding and unfolding, deactivate the Start/Stop function, Seatbelt warning sounds, and more, these automatic functions allows you to concentrate on your driving experience mostly.

﹡Recode Changed Modules
﹡Optimize Vehicle Performance
﹡Re-Flash Hidden Functions
﹡Renew ECUs Coordination
﹡Reprogram Adaptive Data
﹡Improve Fuel Efficiency
﹡Reduce Power Loss
﹡Improve the Durability of Mechanical Parts

Marks:
﹡Please be reminded that D8 does not have ECU Programming function.
﹡ECU Coding Capability: Compatible with VW/AUDI/SKODA ONLY
﹡Re-flash Hidden Function (Customization) : Compatible For BMW/VW/AUDI/SKODA/TOYOTA/LEXUS/SCION/MAZDA/FORD/LINCOLN ONLY
﹡Guided Functions: Compatible For VW/AUDI/SKODA ONLY

Active Test ( BI-Directional Control)
>> XTOOL D8 is a bi-directional scan tool, allow you to perform the active test of vehicle system parts, while observing the resulting data to troubleshoot and fast repair. Bi-directional Control function is a commonly-used function for mechanic/workshop, can save you a loads of time and help you get through more jobs every day.

Commonly-Used Tests include:
﹡EVAP Test
﹡Cycling A/C Clutch On/ Off
﹡Cycling ABS Pump Motor
﹡Injector Buzz Test
﹡EGR Test
﹡Door Lock/Window/Horn/ Light/ Headlamp Test, etc

NOTE:
Available test vary by vehicle. Please come to us with the vehicle Make/Model/Year/Vin to check compatibility before purchase.

Support CAN FD Protocol
As a newest automotive diagnostic scanner, D8 can work on newer CAN FD protocol vehicles (for GM vehicles after 2020).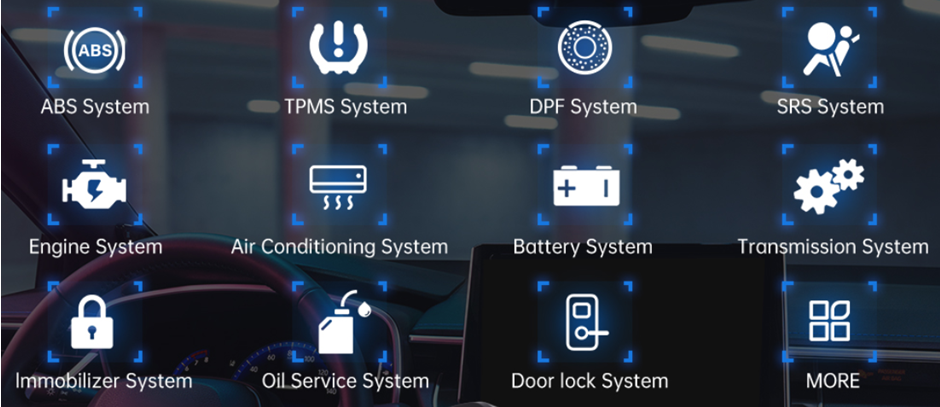 OE Level All Systems Diagnostic (Few minutes Read all systems)
To diagnose car comprehensively, XTOOL D8 scanner can access most car ECUs to read, clear DTCs, retrieve live data, freeze frame, ECU information and perform active tests, matching, adaptation, turn off warning lights, reset monitors.

For instance: Engines/Auto Transmission/Airbags/Immobilizer/Key Coding/ABS/Cruise Control/Instruments/Self Leveling Suspension systems/Seats/Doors/Gateway/Steering Angle/Air Suspension/Body Systems/Electronic Power Steering & Motor Assisted/Power Steering/Tyre Pressure/Rain Sensors/4WD System/Stabilizer/Intelligent Parking Assist/Door Motors/Audio Systems/Air Conditioning/Tiptronic/Anti Theft/Soft Top/Headlamp Leveling/Central Locking/Automatic Clutch/ DPF Reset/Electric Windows/Plip Programming/Heated Rear Window/Xenon Headlights/Wash Wipe/Fuel Burning Heater/Transfer Box/Seat Memory/Oil Life Service Reset/Sliding Doors/Electronic Throttle/Navigation System/Rollover Sensor/Cruise Control/ Multi Function Steering Wheel/Aux Heating/Electronic Parking Brake/Clutch Electronics and etc...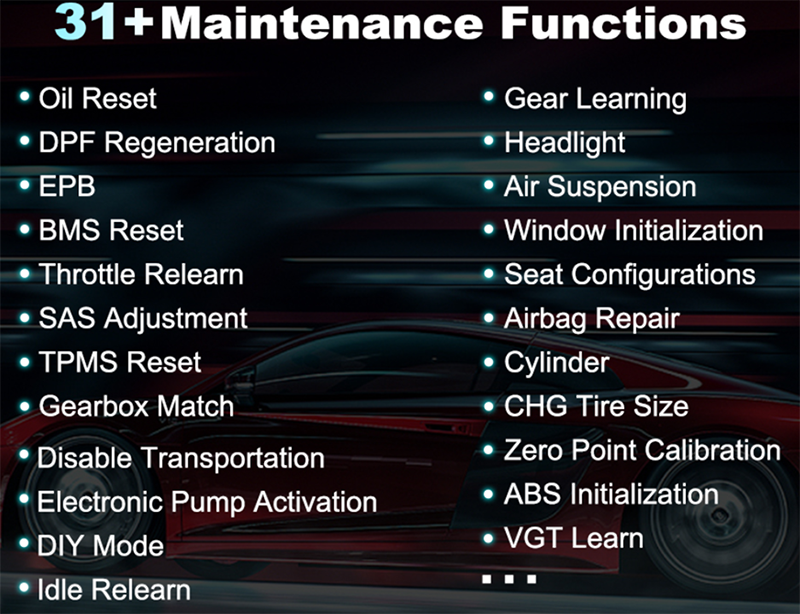 XTOOL D8 with 31+ Kinds of Special Functions (keep update)
1.Oil Reset:Close the oil service light and reset service mileage & service interval after replacing the engine oil.
2.Electronic Parking Brake Reset:Reset the new electronic parking brake for braking wheels safely again.
3.Throttle Relearn: Allows to reset the throttle actuators to accurately regulate throttle (or idle engine) operations, helps keep your idling and acceleration smooth.
4.Tire Pressure Monitor System Reset: Relearn TPMS sensors so that new sensors can be recognized by ECU.
5.ABS Bleeding: Get a firm brake pad after air exhaustion.
6.Key Programming/Immobilizer: Allows to disable a lost vehicle key to protect the vehicle from being stolen and add the new key.
7.DPF Regeneration: Allows to clear PM from the DPF filter through oxidation or combustion to stabilize the filter performance.
8.Injector Coding: Allows to write a new code to the ECU for accurate communication and Injection control. After the ECU or injector is replaced, the cylinder can better identify injectors to accurately control fuel injection.
9.SAS Calibration: Allow to clear the fault steering angle sensor memories, perform reset steering angle sensor, and turn off steering wheel warning light.
10.BMS Reset: Reset after replacing the battery to clear the low battery fault information of the original battery and protect the new battery.
11.DIY Mode:Programmer Car models Hidden functions (High configuration hidden function) And Windows Calibration, Seats Calibration.
12.Gearbox Match: Matching the gearbox/transmission after replacement.

Other special functions include Headlight Adjustment, Airbag Reset, Tire Reset, Language Change, Suspension Calibration, ABS Initialization, Seat Calibrations, Transport Mode, Tire Upgrade, Tooth Learning, A/F Reset, Coolant Bleed, Transport Mode and etc.

More…

Note: these special functions don't work on all cars, please send your vehicle model and year for us to have a check.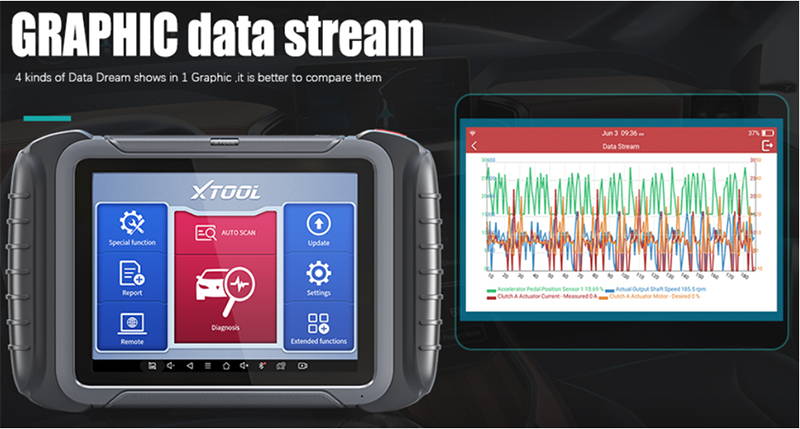 Live Data Stream
XTOOL D8 Display live data stream in text or graphs like misfire data, transmission oil temperature, fuel trim, O2 sensors, ATF temperature, cylinder balance rates, engine rpm, mass air flow sensor data, fuel pressure, actual fuel temperature vs desired fuel temperature and etc;

4 Ways VIN Selection
1.Auto VIN Scan
XTOOL D8 diagnostic system features the latest VIN-Based Auto VIN Scan function to identify vehicles and scan all the diagnosable ECUs and run diagnostics on the selected system. This function is compatible with 2006 and newer vehicles.
2.Manual VIN Input:
For vehicles not supporting the Auto VIN Scan function, you may manually enter the vehicle VIN.
3.Automatic Selection:
The Auto VIN Scan can be selected after selecting the test vehicle manufacturer.
4.Manual Selection:
When the vehicle's VIN is not automatically retrievable through the vehicle's ECU, or the specific VIN is unknown, the vehicle can be manually selected.

Remote Technical Support
Users can receive a remote support from XTOOL's technical engineers, colleagues, or friends, by allowing them to control this tablet device on their PC via the Team Viewer software.

Maintenance Help: Including How-to Videos, operation skills, and user manual, Q&A, Quick start guide, etc.

Diagnostic History: Once a vehicle diagnosis is performed, XTOOL D8 will record the every detail of the diagnostic process. you can record/review layback live data anytime .The History function provides quick access to the tested vehicles and users can resume from the last operation, without the necessity of starting from scratch

Diagnostic Feedback: allows you to submit any issues you can't immediately fix. With the support of professional experts, XTOOL will make great efforts to provide you with the best solutions as soon as possible.

Remote diagnose: On Tablet have the Quick-help engineer can enter your tablet and help you make diagnostic and provide professional technical support

XTOOL D8 Parameter
Operating Systems Android 5.0
Storage:2GRAM. 64G ROM
Processor:Quad care processor 1.8GHz
Camera:8.0Megapixel,Auto Focus rear camera with flash
Sensor:Sensor gravity sensing
Audio input: Microphone
Audio output: Speaker
Interface: USB 3.0 DC Charging port ,VAG interface
Battery: 10000mAh,3.7V lithium polymer battery
Input voltage 12V
woorking Temp :-10-50 Celsius
Relative humidity <90%
Tablet Size:274X175X33.8(MM)

PS:In order to better protect the battery ,it is recommend to charge the diagnostic equipment at the ambient temperature of 0-40 Celsius

Xtool D8 Package List
D8 Unit
OBD II-16
DB15 male to OBD II female Cable
USB 3.0 Cable
DC12V(AC100~240V) 3A
US power cable
EU power cable
Tool kit
Certificate of Quality
User Manual
Carton

Comparison between Xtool D7 vs Xtool D8