Product Description
XTOOL D7 Automotive All System Diagnostic Tool Key Programmer Auto Vin with 26+ Reset Functions Active Test

XTOOL D7 can support 15 kinds of language: English, Spanish, German, French, Italian, Finnish, Arabic, Japanese, Korean, Polish, Portuguese, Vietnamese, Russian, Simplified Chinese and traditional Chinese.
(please send us the S/N of the device and then we will help you authorize language, and you can free switch it)

What Features Does XTOOL D7 Have? and Why Will It Be Your Favorite Automotive Diagnostic Tool?
1.OE Level All Systems Diagnostic
D7 can support diagnostic in whole car system, for reading and clear codes, live data, freeze frame, active tests, ECU information and etc...
2.26+ Kinds of Reset & Service Functions,like ABS Bleeding, Injector coding, Oil reset, EPB reset, Key Programming,TPMS reset, DPF and etc...
3.Auto VIN Scan+ Active Test (Bi-Directional Control)
4.Extensive Vehicle Coverage of 85+ Car Brands
D7 can support 85+ car brands, more than 10000+ cars
5.D7 can support 14 kinds of language, no language barrier (send us the S/N)
6.Service:3 Years Free Update,2 Years Warranty and Lifetime Technical Support
7 Built-in rechargeable lithium-polymer battery, long-time Working Battery.
8 Powerful quad-core 1.6GHz processor with faster 2GB and reliable 32GB On-board memory, Dual-band wifi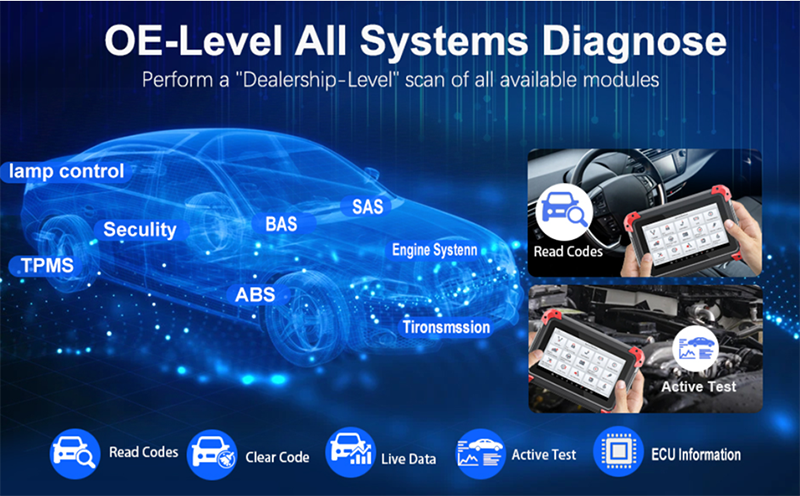 Want a Full-System scanner ?
As an OE level automotive diagnostic tool, XTOOL D7 can access most car ECUs to read, clear codes, retrieve live data, freeze frame, ECU information and perform active tests, matching, adaptation, turn off warning lights, reset monitors. Full range car models and full car system diagnose make it a professional automotive diagnostic tool.
Include : ABS System, Engine System, SAS System , TPMS System , IMMO System , Battery System ,Oil Service System , SRS System ,DPF System ,Air Conditioning System,Transmission System, etc...

Brief introduction of its capabilities in full systems diagnostic as follows:
1. For Engine System: Diagnostic tool XTOOL D7 can help detect the engine ignition, fuel injection, air and fuel ratio, and exhaust emission conditions in Engine system to enhance vehicle performance, save energy and reduce exhaust emission.
2. For Transmission: It makes great sense in the safety driving when your car is slipping or difficult to shift, this diagnostic tool can figure the problems out via reading codes in the Transmission system, or check the health status via live data viewing.
3. For ABS System: Diagnosing an ABS problem should always start with a visual inspection of all brake components, next you will need to retrieve ABS codes to tell you where the problem is, and this is what this diagnostic does for you.
4. For SRS System: SRS, safety restraint system, is made up of impact sensors, a control module, and the airbags themselves, and this diagnostic tool can detect every electronic parameter to check its health status.
5. To diagnose Brake System if you feel the brake pedal is mushy and notice unusual odor or noise, etc. A properly operating brake system is critical to ensure safe vehicle control and operation;
6. To diagnose Emission System if the system is affected by vehicle age or poor quality fuel. A good emission system reduces harmful gases to a large degree and protects you from being fined;
7. To diagnose Fuel system if vehicle won't start or "Check Engine" light is illuminated. Check car's fuel system regularly ensures the best performance of your car with the lowest emissions;
8. To diagnose Transmission if your car is slipping or difficult to shift. The system plays an important part in the overall performance of your car;
9. To diagnose Wiper System if you observe chattering or streaking wiper. If the car is not regularly checked, the accident might happen because you can't see clearly;
10:To diagnose Light System if you see rapid signal blinking or dimming lights. And many more ....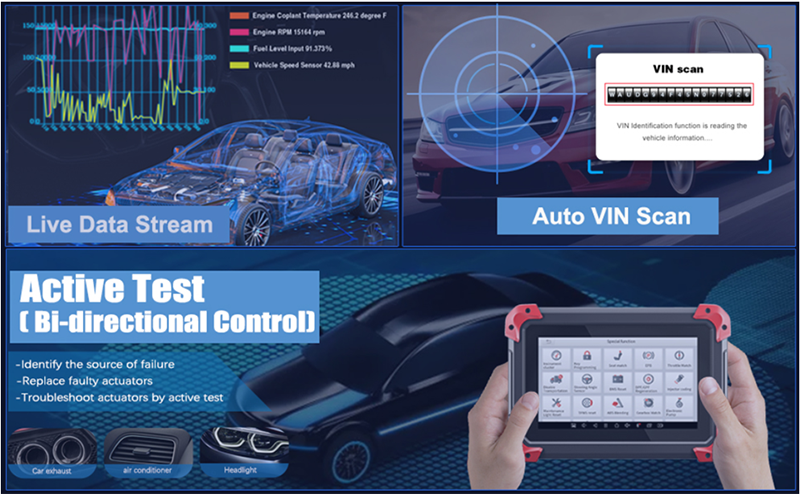 Active Test (Bi- Directional Control)
XTOOL D7 is with Bi-Directional Control capability and is capable of performing Active Tests to access vehicle-specific subsystems and component tests. The tester outputs commands to the ECU to drive the actuators in order to determine the integrity of the system or parts by reading the ECU data, or by monitoring the operation of the actuators, like EVAP test, Cylinder Deactivation, Cycling A/C Clutch On/Off, switch fuel injector on/off, cycling ABS motor pump, test car window, door, sunroof, wipers and etc to pinpoint fault locations easily and effectively.

Auto VIN & Auto Scan
XTOOL D7 features with Auto Vin function to easily read the vehicle identification number.
Once this diagnostic tool and the given car are properly connected, D7 perform a comprehensive scan of all available systems of your vehicle. With only one click, you can scan your car's detailed version information, also all diagnostic trouble codes and live data stream of full electrical control units. If needed, you can only view the diagnostic information of the selected systems in the forms of checks.

Live Data Stream
XTOOL D7 display live data stream in text or graph like misfire data, engine rpm, transmission oil temperature, mass air flow sensor data, cylinder balance rates, fuel pressure, actual fuel temperature vs desired fuel temperature and etc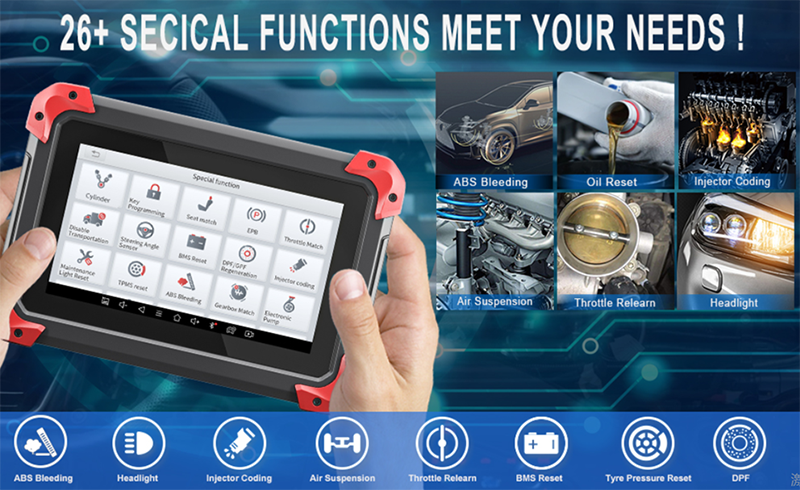 XTOOL D7 with 26+ Services & Reset Functions (keep updating)
1.Oil/Service/Maintenance Light Reset: Close the oil service light and reset service mileage & service interval after replacing the engine oil.
2.EPB Reset:Reset the new electronic parking brake for braking wheels safely again.
3.Throttle Relearn: Allows to reset the throttle actuators to accurately regulate throttle (or idle engine) operations, helps keep your idling and acceleration smooth.
4.TPMS Reset: Relearn TPMS sensors so that new sensors can be recognized by ECU.
5.ABS Bleeding: Get a firm brake pad after air exhaustion.
6.Immobilizer: Allows to disable a lost vehicle key to protect the vehicle from being stolen and add the new key.
7.DPF Regeneration: Allows to clear PM from the DPF filter through oxidation or combustion to stabilize the filter performance.
8.Injector Coding: Code the new injectors after replacement for accurate fuel injecting control and improve fuel efficiency.
9.SAS Calibration: Erase the fault steering angle sensor memories and make calibration for the Steering Angle Sensor.
10.BMS Reset: Register the newly replaced car battery into the ECU.
11.Window Initialization, Gearbox Match, Instrument Cluster, Headlight, Air Suspension, Gear Learning, EEPROM Adapter, Airbag Repair, Cylinder, Seat Configurations, Electronic Pump Activation, Disabled Transportation, Performance Tire Upgrade, A/F Setting, Stop/Start Reset, Language Change and etc…

More...

One Click Update Online & 3 Years Free Update
XTOOL D7 comes with one click online and 3 years free update to get the newest software that can support more functions and new vehicle models coverage.
The device still can work normally even when the free updates period expires.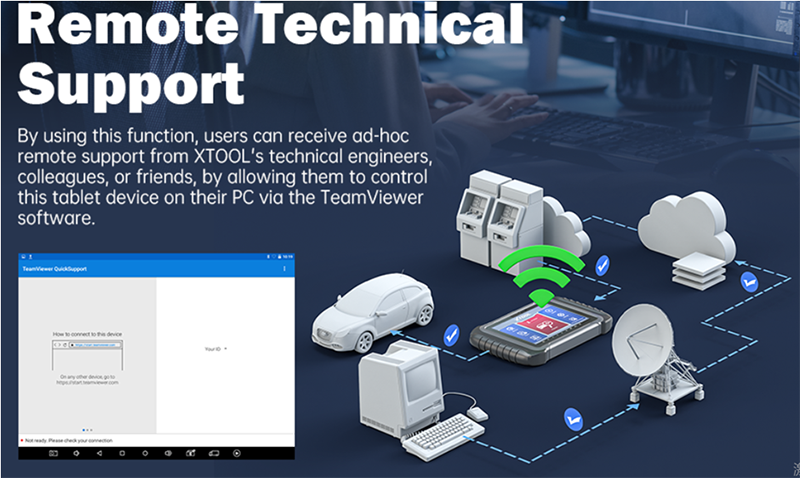 Remote Technical Support
Users can receive a remote support from XTOOL's technical engineers, colleagues, or friends, by allowing them to control this tablet device on their PC via the TeamViewer software.

Maintenance Help:
Including How-to Videos, operation skills, and user manual, Q&A, Quick start guide, etc.

Diagnostic History:
Once a vehicle diagnosis is performed, XTOOL D7 will record the every detail of the diagnostic process.you can record/review/playback live data anytime .The History function provides quick access to the tested vehicles and users can resume from the last operation, without the necessity of starting from scratch

Diagnostic Feedback:
allows you to submit any issues you can't immediately fix. With the support of professional experts, XTOOL will make great efforts to provide you with the best solutions as soon as possible.

Remote diagnose:
Configures XTOOL D7 as an I/M(Instant Messaging) tool, which enables technicians to exchange repair experience and perform remote assistance more conveniently.

Vehicle Health Report Share and Print:
With XTOOL D7 ,you can generate a full system Diagnostic Report by ONE-CLICK. The reports can be emailed to the office or directly to your customer. You can also print out the vehicle health report card .

XTOOL D7 Support Cars
Australia: For Demo ,for Ford
China: for DEMO,fro JAC,for CHERY,for GEELY,for GREAT WALL ,for BYD,for LIFAN
America: for DEMO,for GM,for FORD,for CADILLAC,for CHEVROLET, for GMC,for HUMMER,for JEEP,for SATURN,for PONTIAC,for LINCOLN,for DODGE,for CHRYSLER,for BUICK
Asia:for Demo,for TOYOTA -LEXUS ,for ISUZU,for MAZDA,for KIA,for INFINITI,for ACURA,for NISSAN,for RENAILTSAM,for HYUNDAICY,for HYUNDAI,for HONDA,for SUBARU,for SUZUKI,for MITSUBISHI,for SSANGYONG
EUROPE:for DEMO,for VW,for MINI,for LANDROVER,for SEAT,for FERRARI,for FORD,for OPEL,for ALFA for ROMEO,for VOLVO,for ABARTH,for SMART,for BMW,for FIAT,for LANCIA,for RENAULT,for ASTONMARTIN,for GAZ,for MASERATI,for MEREDES,for UAZ,for SKODA,for CITROEN,for DACIA,for AUDI,for JAGUAR,for PORSCHE,for PEUGEOT

XTOOL D7 Parameters
Operating Systems: Android 5.1.1
Storage: 1G RAM 32G ROM
Connection: USB and WIFI (2.4GHz and 5GHz)
Processor: Quad care processor 1.6GHz
Sensor: Gravity sensor and Light sensor
Audio input & output: Microphone & Speaker
Battery: 4000mAh,3.7V lithium polymer battery
Power Voltage: 5V
working Temp: -20 to 60℃(-4 to 140℉)
Relative humidity <90%
Tablet Size: 218*150*29mm

Package Includes:
1pc x OBDII-16 ADAPTER
1pc x DB15 TOVGA MAIN CABLE
1pc x MICRO USB CABLE
1pc x CHARGER FOR TABLET CHARGER US ADAPTER
1pc x CHARGER EU ADAPTER
1pc x USER MANUAL
1pc x PACKING LIST
1pc x CERTIFICATE OF QUALITY

XTOOL Product Comparison:
Model XTOOL D7 XTOOL D8 XTOOL D8BT XTOOL D9 XTOOL Anyscan A30M XTOOL EZ400 Pro
OE Full System Diagnoses √ √ √ √ √ √
Bidirectional Control Function √ √ √ √ √ √
Special Functions 26+ 31+ 31+ 31+ 21 16+
Battery Capacity 4,000mAh 10,000mAh 10,000mAh 10,000mAh × 4,000mAh
OS Android 5.1.1 Android 5.1.1 Android 5.1.1 Android 5.1.1 × Android 5.1.1
Storage 2G+32G 2G+64G 2G+64G 2G+64G × 1G+32G
Display 7" Touch Screen with 1024*768 Resolution 8" Touch Screen with 1024*768 Resolution 8" Touch Screen with 1024*768 Resolution 9.7" Touch Screen with 1024*768 Resolution × 7" Touch Screen with 1024*700 Resolution
Software Update 3-Year Free Updates 3-Year Free Updates 3-Year Free Updates 3-Year Free Updates Lifetime Free Updates 3-Year Free Updates
Please feel free to contact us ,If you have any question:
Email:
Sales@obdii.shop
Whatsapp: +8613428908617

Shipping Terms:
a) Items will be sent to all the countries over the world. This package will be sent by DHL, Post, Fedex, EMS or UPS .
b) Items will be checked carefully before sent out.
c) We will use air bubbles to wrap the items carefully.

Shipping Time:
a) Ships within 48 hours on working days after received the payment.
b) The shipping time is about 5-7 days via DHL, UPS, 5-10 days Via Fedex, 7-10 days via EMS, 7-30 days via Post to Worldwide
Note: We hope it arrive on time but since this is an international delivery, shipping time will be highly depended on the courier company and local customs/duties. Thank you for your understanding.
Return Policies:
Returns will be allowed only with prior authorization, and must be made within 30 days after package delivery.
Item conditions that allow returns Brand new Item, returns must include all accessories, Items must include original packaging
Other cases are as follows:
(1) When the item is defective, the item was sent in error, damaged in transit, or otherwise defective,It can not work once you receive it. In this case we allow returns. We bear the shipping cost.
(2) When you buy the wrong item, the item doesn't fit, or you don't want the item, the item you return need to be brand new. you need bear shipping costs.

Contact Us:
Our Email sales@obdii.shop 24 hours 7 days
And if nobody answer you online in time sometimes,do not worry.leave us a message or write down your desires,we will contact you as soon as possible.
Attention: PLZ leave your telephone number and address in detail when you take order in our website, it is very important to ship your order. (Customers from Brazil PLZ leave your Cutsom ID also, thanks!)