Product Description
JLR DoiP VCI Pathfinder Diagnostic & Programming Tool Plus Panasonic CF-C2 Laptop For Jaguar Land Rover from 2005 to 2022

1.The Pathfinder software
It is the only unit that will be compatible with the Pathfinder software and all JLR vehicles with the new vehicle architectures found in 2017 and newer vehicles (from the Range Rover/Range Rover Sport L405/L494). In addition to the 2017 and newer vehicles, the DoIP VCI will also be capable of interfacing with 2014 through 2022 Multi-CAN architecture vehicles (see application list below).
Note:The Pathfinder software (If you want to do programming ,you must have a online account)

Pathfinder software download link:
http://diagnosticdelivery.jlrext.com/pathfinder/Jaguar_Land_Rover_Connect_Updater_v2.exe

2.The SDD software(Support diagnosis and offline programming)
All 2014-2018 with no DOIP and earlier (2006 to 2014) land rover and Jaguar will still use the SDD JLR software.

SDD software download link:
http://diagnosticdelivery.jlrext.com/idscentral

Jaguar Land Rover DoIP VCI Functions:
Work with all Jaguar & Land Rover models after 2005 year.
Work with the models after 2017, support Pathfinder software application
The NEW JLR DoIP VCI is the newest interface for Jaguar and Land Rover vehicles.

Jaguar Land Rover DoIP VCI Functions:
Work with all Jaguar & Land Rover models after 2005 year.
Work with the models after 2017, support Pathfinder software application
Work with the models before 2016, support SDD software.
Support all of the SDD's diagnostic & programming protocol.
Support all of the Pathfinder's diagnostic & programming protocol
Support Pathfinder activation service offline.
Support WIFI connection
Support VBF file edit
Support EXML file edit
Support SDD engineering software application
Support Pathfinder engineering software application
Support online programming, coding & key programming
SDD software can update to the newest version in the assistance of manufactures' engineer, and perform online programming.
Pathfinder can update to the newest version in the assistance of manufactures' engineer, and perform online programming.
Can replace JLR VCI box
Can replace JLR DoIP VCI box

DoIP VCI Applications:
• XE (X760)
• F-Pace (X761)
• F-Type (X152)
• XF (X260)
• XJ (X351) – 16MY only
• Evoque (L538)
• Discovery Sport (L550)
• Range Rover (L405)
• Range Rover Sport (L494)

Jaguar Land Rover DoIP VCI is the only unit that will be compatible with Pathfinder and all JLR vehicles with the new vehicle architecture (from the Range Rover/Range Rover Sport (L405/L494)17MY onwards) or allow the enhanced diagnostics that Pathfinder will offer the retailer addition to the 17MY vehicle line applications,the DolP VCI will be capable of interfacing of interfacing with 14-18MY Multi-CAN architecture vehicle lines on the Pathfinder diagnostic system Pre-14MY and vehicles not detailed here will continue to use the current diagnostic system and VCls.

FAQ
Q: Must I have the JLR online dealer account to use this tool?
A: Yes, We will provide Pathfinder free account for one year. After purchase, contact Sales to get the account.
Note:We just provid the diagnosis function account (If you want to do programming ,you must have a online account)

Q: There is two software (SDD and Pathfinder) in the HDD?
A: Yes, Pathfinder software for JLR vehicle after MY2018, JLR SDD software for MY2014-2018.

Package including:
1pc x JLR DoiP VCI SDD Pathfinder Interface
1pc x second hand Panasonic CF-C2 Laptop (4GB Memory I5 CPU and 500GB SSD)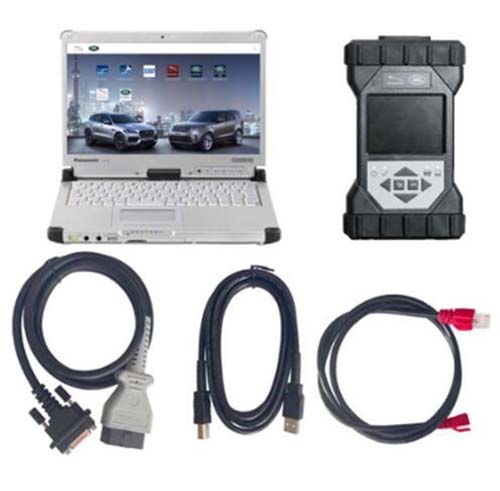 Second Hand Panasonic CF-C2 I5 4GB Laptop Specification:
Model No: CF-C2
Processor Type: Intel(R) Core(TM)I5 CPU i5-3427
Memory Size: 4096 MB
Available Memory: 3893 MB
Please feel free to contact us ,If you have any question:
Email:
Sales@obdii.shop
Whatsapp: +8613428908617

Shipping Terms:
a) Items will be sent to all the countries over the world. This package will be sent by DHL, Post, Fedex, EMS or UPS .
b) Items will be checked carefully before sent out.
c) We will use air bubbles to wrap the items carefully.

Shipping Time:
a) Ships within 48 hours on working days after received the payment.
b) The shipping time is about 5-7 days via DHL, UPS, 5-10 days Via Fedex, 7-10 days via EMS, 7-30 days via Post to Worldwide
Note: We hope it arrive on time but since this is an international delivery, shipping time will be highly depended on the courier company and local customs/duties. Thank you for your understanding.
Return Policies:
Returns will be allowed only with prior authorization, and must be made within 30 days after package delivery.
Item conditions that allow returns Brand new Item, returns must include all accessories, Items must include original packaging
Other cases are as follows:
(1) When the item is defective, the item was sent in error, damaged in transit, or otherwise defective,It can not work once you receive it. In this case we allow returns. We bear the shipping cost.
(2) When you buy the wrong item, the item doesn't fit, or you don't want the item, the item you return need to be brand new. you need bear shipping costs.

Contact Us:
Our Email sales@obdii.shop 24 hours 7 days
And if nobody answer you online in time sometimes,do not worry.leave us a message or write down your desires,we will contact you as soon as possible.
Attention: PLZ leave your telephone number and address in detail when you take order in our website, it is very important to ship your order. (Customers from Brazil PLZ leave your Cutsom ID also, thanks!)