Launch CNC603A Fuel Injector Cleaner & Tester Ultrasonic Cleaner 4/6 Cylinder 220V and 110V Optional

CNC-603A is an Ultrasonic Automotive Injector Cleaner & Tester from LAUNCH. We upgrade the shell design to the sheet metal on this latest generation for more durable and reliable usage. Combines the ultrasonic cleaning technology with microprocessor hydraulic control cleaning detection technology, CNC-603A can clean and inspect the car fuel injectors and fuel supply system.

Multi-language: English, Japanese, Russian, Korean, French, Portuguese, Italian, Chinese.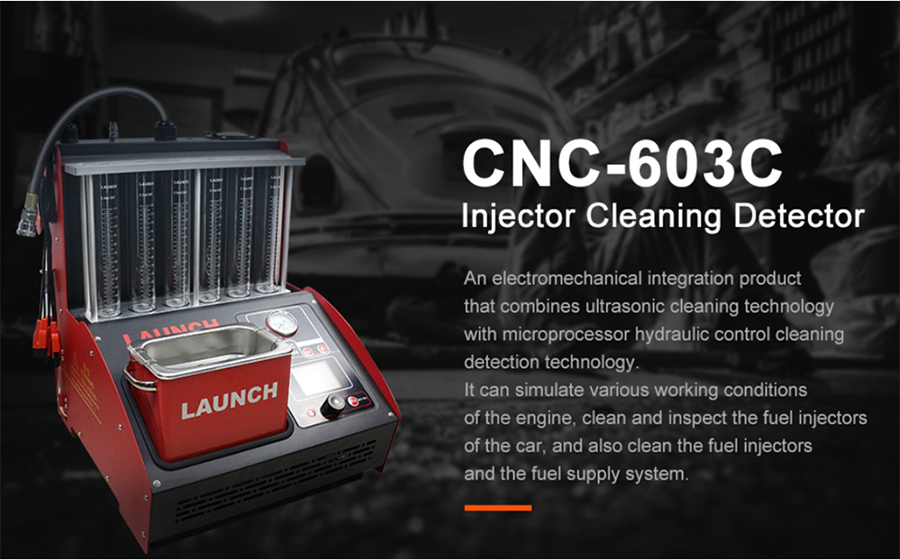 Launch CNC603A is an advanced electromechanical product, which can clean and test injectors by simulating engine working conditions. It can also perform cleaning on the injectors and fuel supply system on vehicles.

Adopting ultrasonic cleaning technology, CNC603A injector cleaner & tester presents a strong cleaning ability.

Launch CNC603A also adopts fuel pressure adjustment and control technology by microcomputer, which can ensure stable fuel pressure and wide adjustable range. It is applicable to vehicles equipped with a variety of gasoline injection systems. Meanwhile, the automation of injectors' cleaning and testing processes can be realized.

Thanks to the adoption of microcomputer automatic control and digital display technologies, the cleaning and testing processes can be controlled automatically and the parameters of the main status can be monitored in real time.
Automatic fuel drain during a certain test can be realized via a routine, owing to the adoption of automatic fuel drain control technology. Start or [stop] fuel drainage via the [Drain] button on the control panel in running or stop state.

Features:
1. The sheet metal shell design is good for durable and reliable usage
2. 2 in 1 design for more space saving, the cleaner can be separated from the device
3. Glass tube is resistant to high and low temperature
4. User-friendly design of the fuel intake and drain pipe for convenient oil filling and discharge
5. The seamless design of the key mask for better oil resistance
6. Apply the ultrasonic cleaning technology, support on-vehicle cleaning
7. Variety test includes uniformity and atomization detection, sealing test, fuel injection quantity detection, automatic cleaning detection
8. Automatic injector cleaning inspection
9. Automatic control of cleaning and detection process
10. Support both automatic and manual oil draining
11. Scan QR code and get access to LAUNCH platform, check equipment information and send product feedback

Supported Models:
For Audi, Australia Ford, Benz, BMW, Brilliance, Chevrolet, Chevy, Chrysler, Citroen, Dacia,Dadi, Daewoo, Daihatsu, Demo, Fiat, Ford, GM,Holden, Honda, Hyundai, Isuzu, Jaguar, Kia, Lancia, Land Rover, Mahindra, Maruti, Mazda, Mitsubish, Nissan, Opel, Peugeot, Porsche, Renault, Romeo, Rover, Saab, Seat, Skoda, Smart, Subaru, Suzuki, Tata, Toyota, Volvo, VW, Yamaha.

Product Specifications:
Power AC220V-230V,50Hz/60Hz 1.5Amax
Mechanical Power 300W
Ultrasonic Cleaning Power 100W
Speed Range for Simulation Test 10~9990rpm (step: 10rpm)
Timing Range 1~9999s Pulse
Width Range 0.5~25ms (step: 0.1ms)
Speed Range for Simulation Test 10~9990rpm (step: 10rpm)
Timing Range 1~9999s Pulse
Width Range 0.5~25ms (step: 0.1ms)
Operating Volume 2000ml
Packing Dimension 458mm×433mm×537mm
Main Unit Dimension 355mm×350mm×356mm
Net Weight 10.5kg
Gross Weight 13kg
Environment Temperature 0℃~+45℃
Relative Humidity <85%
Strength of External Magnetic Field <400A/m
Note: Open fire is strictly prohibited within 2M.

How to Use CNC603A Car Fuel Injector Tester Cleaner:
1.Clean injector's outside with cleaning liquid before opening the machine .Putting injectors in ultrasonic bathtub after the outside of injector is free of dirt. The cleaning fluid does not exceed the connection port of the pulse line.
2.Turn on ultrasonic system allowing the ultrasonic energy to dislodge any particles build-up inside the injectors. After cleaning, the remaining cleaning fluid can be recycled.
3.Fixed injectors on main machine, testing injectors for resistance, shorts, and current draw.The test liquid can be added to the half of the glass tube.
4.Performing leak test, spray pattern, and flow rate testing on flow bench.The injectors are now returned to the flow bench for retesting of all functions.

Package Includes:
1pc x Launch CNC603A