VXDIAG Jaguar And Land Rover DoiP Diagnostic Scan Tool JLR DoIP VCI With PATHFINDER V265 & SDD V159 Software
Notice :
We will install Pathfinder and SDD software on 500GB hard disk or Lenovo T410 laptop based your choice
VCX-PLUS
is a new generation of integrated automotive diagnostic equipment.A device can support both Pathfinder and SDD software at the same time. That is, a device can replace the JLR VCI+JLR DoIP VCI combination.It can reduce the cost of maintenance and operation for the users. It can be completely replaced.

1.The Pathfinder software V265
It is the only unit that will be compatible with the Pathfinder software and all JLR vehicles with the new vehicle architectures found in 2017 and newer vehicles (from the Range Rover/Range Rover Sport L405/L494). In addition to the 2017 and newer vehicles, the DoIP VCI will also be capable of interfacing with 2014 through 2020 Multi-CAN architecture vehicles (see application list below).

2.The SDD software V159
All 2014-2020 with no DOIP and earlier (2006 to 2014) land rover and Jaguar will still use the SDD JLR software.

Jaguar Land Rover DoIP VCI Functions:
Work with all Jaguar & Land Rover models after 2005 year.
Work with the models after 2017, support Pathfinder software application
Work with the models before 2016, support SDD software.
Support all of the SDD's diagnostic & programming protocol.
Support all of the Pathfinder's diagnostic & programming protocol
Support Pathfinder activation service offline.
Support WIFI connection
Support VBF file edit
Support EXML file edit
Support SDD engineering software application
Support Pathfinder engineering software application
Support online programming, coding & key programming
SDD software can update to the newest version in the assistance of manufactures' engineer, and perform online programming.
Pathfinder can update to the newest version in the assistance of manufactures' engineer, and perform online programming.
Can replace JLR VCI box
Can replace JLR DoIP VCI box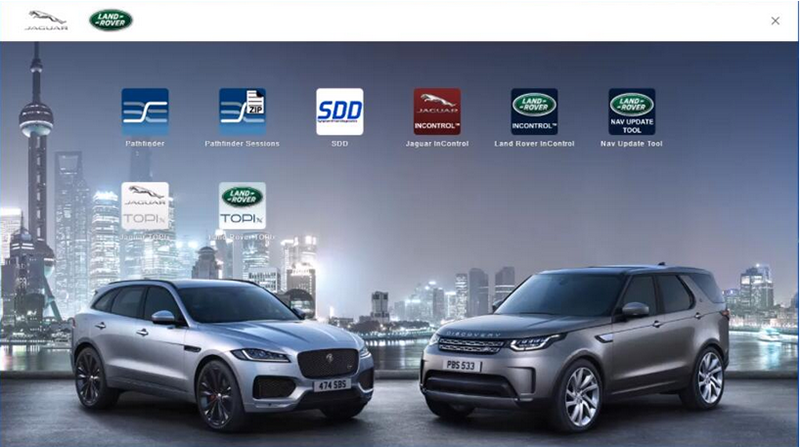 The new Land Rover scanner Interface named DOIP.
This new interface would be needed for all 2020 land rover and Jaguar vehicles.
The JLR DoIP VCI is the newest interface for Jaguar and Land Rover vehicles. It is the only unit that will be compatible with the Pathfinder software and all JLR vehicles with the new vehicle architectures found in 2020 and newer vehicles (from the Range Rover/Range Rover Sport L405/L494). In addition to the 2020 and newer vehicles, the DoIP VCI will also be capable of interfacing with 2014 through 2016 Multi-CAN architecture vehicles (see application list below). Vehicles 2014 and older vehicles not detailed here will continue to use the current diagnostic system and VCIs.

2014-2020 DoIP VCI Applications:
1: XE (X760)
2: F-Pace (X761)
3: F-Type (X152)
4: XF (X260)
5: XJ (X351) – 16MY only
6: Evoque (L538)
7: Discovery Sport (L550)
8: Range Rover (L405)
9: Range Rover Sport (L494)

All 2014 and earlier (2006 to 2014) land rover and Jaguar will still use the SDD JLR software for diagnostics and reprogramming.
The mongoose, Bosch and j2534 VCI would be only used with SDD software.
The new DOIP is not compatible with SDD software.

Packing List (1):
1pc x ALLSCANNER VXDIAG Main Unit
1pc x OBD cable
1pc x USB cable
1pc x network cable
1pc x HDD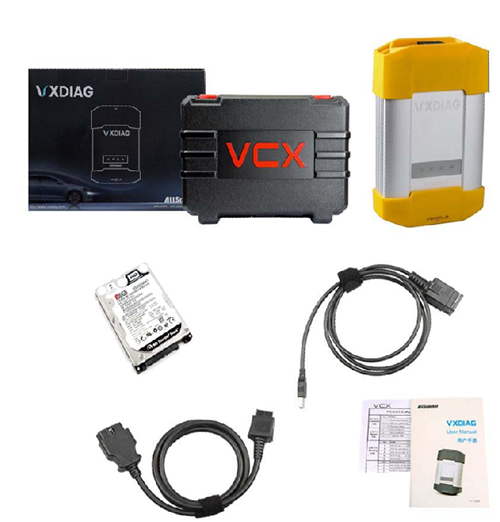 Our software can work for the laptop model as bellow :
DELL :5420, D630 , 6420, 6320 5430. 5520 E4300
LENOVO :E49, G400S , B49, T410, T420
Panasonic: CF30,CF52,CF-31,CF-19
Packing List (2):
1pc x ALLSCANNER VXDIAG Main Unit
1pc x OBD cable
1pc x USB cable
1pc x network cable
1pc x Second Hand Lenovo T410 Laptop I5 CPU 4GB Memory