Product Description
CG Pro 9S12 Super Programmer Full Version Including All Adapters
CG Pro 9S12 Highlights:
1.Crack a variety of strong encryption chips Stably and fast.
2.Real-time monitoring, anti-loss system with high-end technology
3.Complementary to the CG-100
4.Software frequently update online
5.Free Gift :CAS4 & BD25 Adapter
6.Support 80% of 35160WT, 35080, 35128 in the market can be erased
7.Multi-language: English, Chinese, French, Spanish, Turkish
8.Covers BMW Instrument Cluster from 2016, VVDI PROG doesn't cover
9.Read and write any BMW CAS 1-4, Porsche BCM, Mercedes-Benz EIS, Audi BCM2 Etc anti-theft computer
Product Description
1.With Free CAS4 DB25 TMS370 Adapter.
2.Make keys to BMW, Land Rover, Porsche.
3.Supports ECU IMMO, key Programming via EEPROM data.
4.Supports data read/write for BMW mileage correction and immobilizer reset, Mercedes-Benz automatically.
Operating HC705/908 Series Chip for repairing old anti-theft computer read write function and ELS lock of Mercedes-Benz,etc
Operating AM29F200/AM29F400/AM29F800 series chips for automotive computer repair, anti-theft computer repair,etc
Operating AM29BL802 series chip etc used in automotive computer repair anti-theft computer repair or Wei Zhi anti-theft cancellation
Software Version V2.2.5.0 NEW
(2021.12.22)
1.Chips, added support model.
CYPRESS - Traveo
S6J311AHAA
S6J311EJAA
S6J311EHAA
S6J311BHAB
S6J311CHAB S6J311DJAB
S6J311DHAB
S6J311DHBB
S6J311EJAB
S6J311EHAB
S6J311EHBB
S6J312AHAA
S6J320CQXA
S6J323C
S6J324C
S6J325C
S6J326C
S6J327C
S6J328C
S6J324CLS
S6J324CKS
S6J326CLS
S6J326CKS
S6J32A9
S6J32B9
S6J32C9
S6J32D9
S6J32AA
S6J32BA
S6J32CA
S6J32DA
S6J331E
S6J336A
Motorola - HC(9)08
HC908AS60 - 3J74Y(EEPROM)
HC908AS60A - 3K85K(EEPROM)
HC908AZ60 - 1L31V(EEPROM)
HC908AZ60 - 1L87J(EEPROM)
2. Fix bugs
New CAS4 DB25 Adapter Functions:
Reading CAS4 without cutting trace/removing components. (No Need to Remove Chip)
Free-to-Remove Operation Motorola, (Freescale) Series Chip
Such as BMW CAS4-5M48H (Convenience)
35160WT Adapter (Partly) works for the 35160WT (Partly) and 35128WT chip design that cannot be erased, it can directly repair the original vehicle red dot and directly use the original car chip.
With the CG Pro and 35160WT (Partly) adapter, you can fix the mileage without emulator.
CGPRO CAN V2.1 Adapter for CG Pro 9S12 Key Programmer support the following engine computer repair BMW E Series 3 Series or 5 Series, BMW F Series, BMW R Series (Mini), Bentley, Volkswagen MT60 MT80.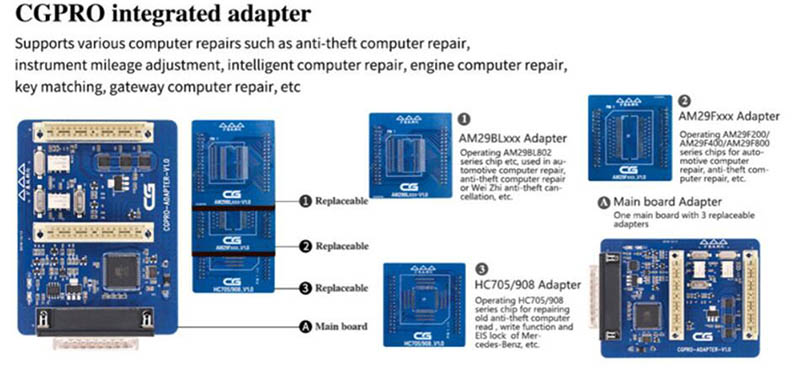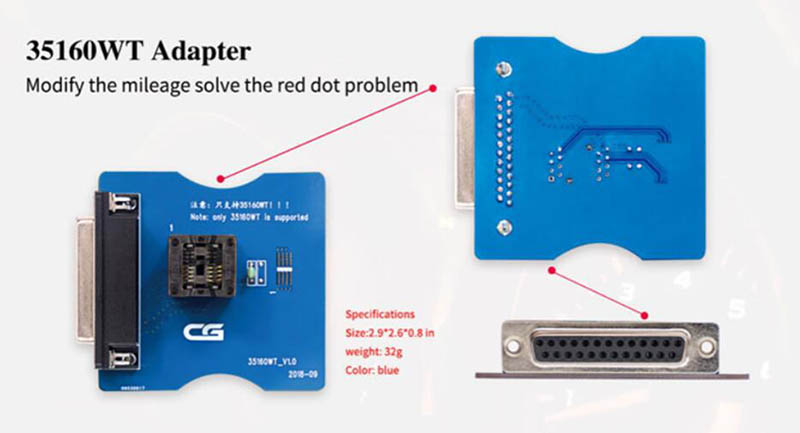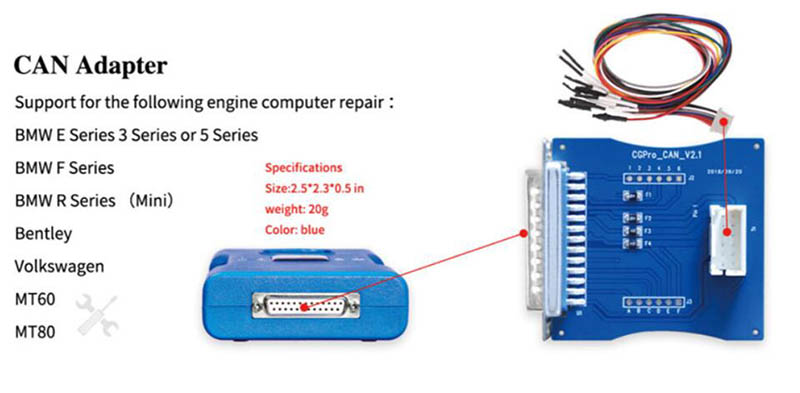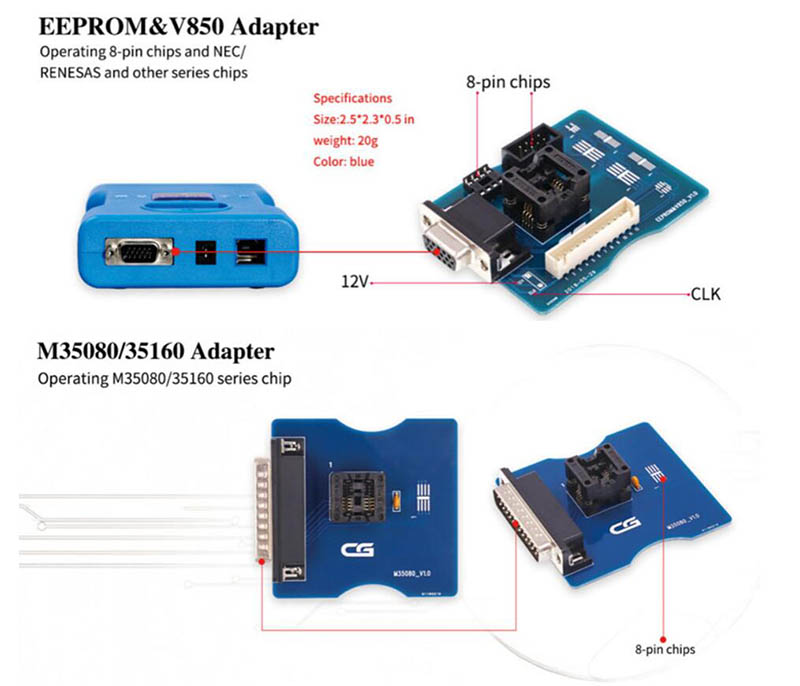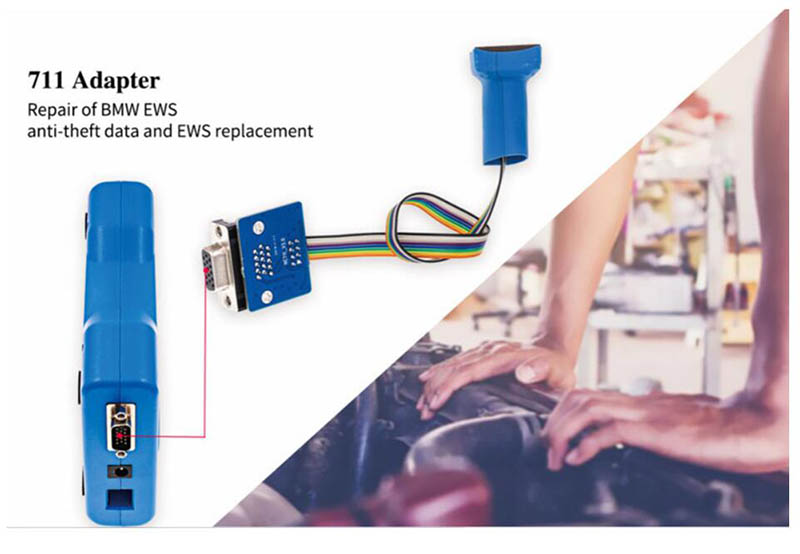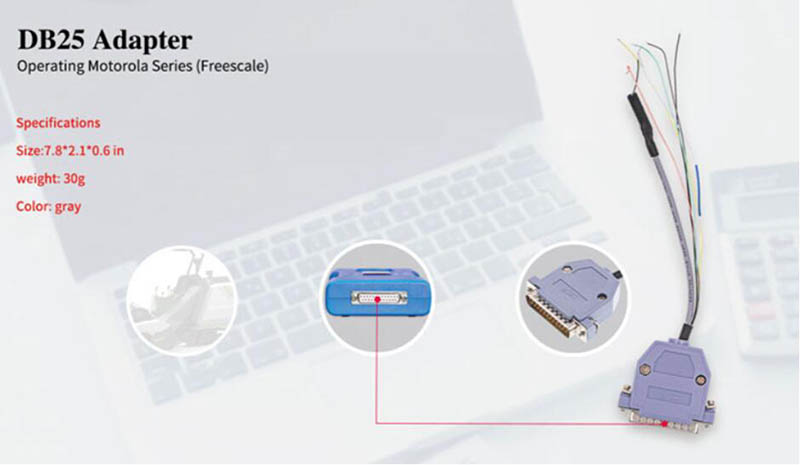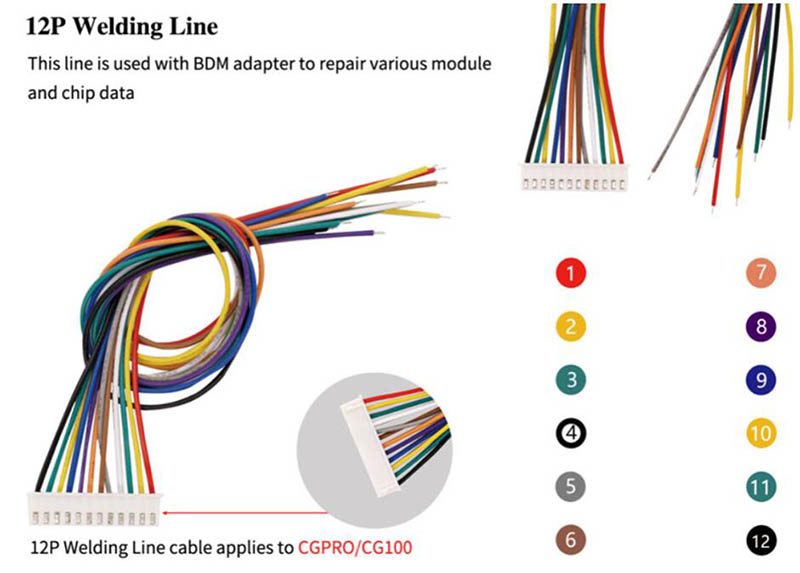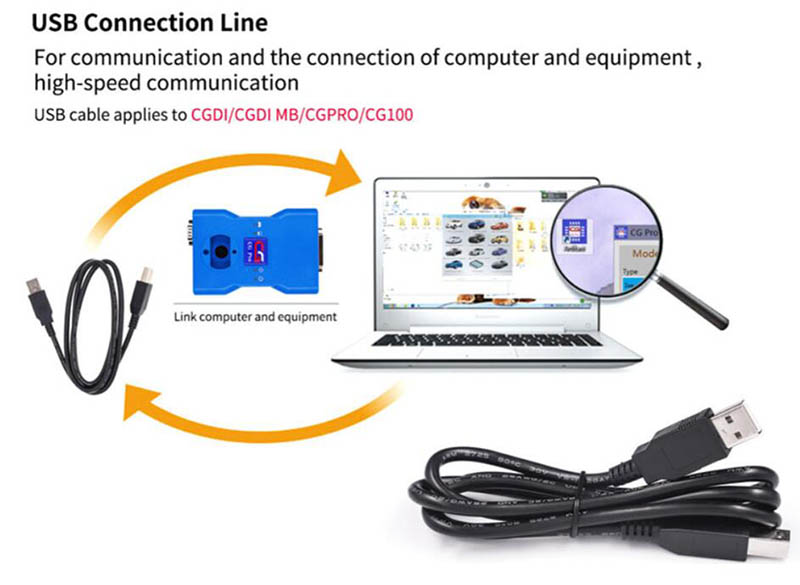 CG Pro 9S12 Features:
Support Freescale 705 series
Support Freescale 908 series
Support Freescale 711 series
Support Freescale 912 series
Support Freescale 9S12 series
Support NEC V850 series
Support engine computer changing and ISN reading
Support BMW, Mercedes-Benz automatic kilometer correcting
Support BMW, Land Rover, Porsche key programming
Support remote key renew

CG Pro 9S12 Supported ECU IMMO List:
BMW:
CAS4+ 5M48H/1N35H (9S12XEP100)
CAS4 1L15Y (9S12XDP512)
CAS3 0L15Y/0M23S (9S12XDP512 including CAS3+ series)
CAS3 0L01Y (9S12DG256)
CAS2 0L01Y/2K79X (9S12DG256)
CAS2/E66 0L01Y/2K79X (9S12DG256)
CAS1 0K50E (912DT128A Write FLASH data online)
EWS4 0L86D/1L86D/2L86D (9S12DJ64)
EWS3 0D46J/2D47J (MC68HC711EA9)
EWS2 1D47J (MC68HC711EA9)
( Support read/write data above for mileage correction and immobilizer reset )

BENZ:
EIS 211 ST12 3L40K/ 1L59W/ 4L40K/ 1L85D/ 0L85D/ 2L85D/
EIS 211 HC12 0K50E/ 3K91D
EIS 209 ST12 3L40K/ 1L59W/ 4L40K/ 1L85D/ 0L85D/ 2L85D/
EIS 209 HC12 0K50E/ 3K91D
EIS 215 ST12 3L40K/ 1L59W/ 4L40K/ 1L85D/ 0L85D/ 2L85D/
EIS 215 HC08 2J74Y/ 4J74Y/ 1J35D (Can directly reset EIS data with 08 adapter;and read write EEPROM without extra adapter)
EIS 220 HC05
0D53J/ 0D59J/ 0D62J/ 0D69J/ 0F62J/ 0F82B/ 0G47G/
0H51A/ 1D59J/ 1D69J/ 1H52A/ 2D20J/ 2D59J
EIS 210 HC05
0D53J/ 0D59J/ 0D62J/ 0D69J/ 0F62J/ 0F82B/ 0G47G/
0H51A/ 1D59J/ 1D69J/ 1H52A/ 2D20J/ 2D59J
EIS 203 HC08 1J35D/ 2J74Y/ 4J74Y
EIS 164 ST12 3L40K/ 4L40K/ 1L59W/ 0L85D/ 1L85D/ 2L85D
EIS 169 ST12 3L40K/ 4L40K/ 1L59W/ 0L85D/ 1L85D/ 2L85D
EIS 639 ST12 0L01Y
EIS 639 HC08 0L02M/ 1L02M/ 4J74Y/ 1J35D/ 2J74Y
EIS 199 ST12 3L40K/ 4L40K/ 1L59W/ 0L85D/ 1L85D/ 2L85D
EIS 230 ST12 3L40K/ 4L40K/ 1L59W/ 0L85D/ 1L85D/ 2L85D
(Support all above data read / write for mileage correction and immobilizer reset)

Roewe:
Roewe 750 IMMO 0M89C (Read/Write)

Land Rover:
EWS ST12 3L40K/ 4L40K/ 5L40K
RFA 9S12XEQ384 (1M12S 2M12S 1M53J 2M53J ) 9S12XET512 ( 3M53J 2M53J 1M53J)

Support Dash Type:
Benz
BMW
Domestic cars 9S12 dash
Land Rover
Mini

Audi:
Audi A4/A5/Q5-BCM NEC D70F3634/D70F3380
Audi ELV HC08GR 4L35K

Key Programming:
BMW CAS3 YES
BMW CAS3+ YES
BMW CAS4 YES
BMW CAS4+ YES
BMW EWS4
BMW EWS3
BMW EWS2
(Program key via eeprom data)

Porsche:
Porsche BCM-1N35H
Porsche BCM-2M25J
Porsche BCM-5M48H

Support Chip List:
Microcontroller:
Motorola:
9S12 series:
9S12XDP512-0L15Y
9S12XDP512-1L15Y
9S12XDP512-0M23S
9S12XEP100-1N35H
9S12XEP100-5M48H
9S12XEx512-2M25J
9S12XEx512-3M25J
9S12D64-2L86D
9S12DJ64-0M89C
9S12DT128-1L59W
9S12DT128-4L40K
9S12DT128-1L85D
9S12DG128-3L40K
9S12DG256-0L01Y(CAS)
9S12DG256-2K79X
9S12XHZ384-1M80F

HC912 serie:
HC912DG128-0K50E
HC912DG128A-0L05H
HC912DG128A-3K91D

HC908 series:
HC908AZ60-4J74Y
HC908AZ60-1J35D
HC908GR16-4L35K

HC711 series:
HC711EA9-2D47J

HC705 series:
HC705-0D69J
HC705-0D53J

NEC:
D70F3634
D70F3380

CPU:
ST:
35080DQ
35160DQ
35080_3/6
35080VP/V6

8-foot chip:
24C01
24C02
24C04
24C08
24C16
24C32
24C64
24C128
24C256
24C01A
24C01B
24C02B
24LC01A
24LC01
24LC02
24LC04
24LC16
24LC32
25010
25020
25040
25080
25160
25320
25640
25128
25256
93C46
93C56
93C66
93C57
93C76
93C86
93A86
93CS56
93CS66
93S56
93LC46
93LC56
93LC66
93LC76
93LC86
95010
95020
95040
95080
95160
95320
95640
95128
95256

AMD:
AM29BL802CB
AM29F200
AM29F400
AM29F800

Renew Key/Remote:
Audi
8K0959754C
8T0959754J_2 smart card
8T0959754J_CH
Generic type smart card
PCB2 8T0959754 433 remote control
PCB2 8T0959754D 868 remote control
PCB2 8T0959754F 433 smart card
PCB2 8T0959754G 315 smart card
PCB2 4H0959754DA 433 smart card
PCB2 4H0959754DB 315 smart card
PCB2 4H0959754DD 868 smart card

BMW
E series:
5WK49125 868MHz remote
5WK49127 315MHz remote
5WK49145 868MHz smart remote
5WK49147 315MHz smart remote

F series:
5WK49661 868MHz
5WK49662 434MHz
5WK49663 315MHz
HUF5661 868Mhz Huf
HUF5662 315Mhz Huf
HUF5663 434Mhz Huf
HUF5667 434Mhz Huf
HUF5661 868Mhz Huf
Huf 434 frequency
Huf 868 frequency

BYD:
K2TA3-74B smart card black
2TA3-76E smart card
K2TA3-H7J smart card white oval
K2TA4-30A smart card

Buick/Chevrolet
4-button smart key 315MHz F7952B
4-button smart key 433MHz F7952B
5-button smart key 315MHz F7952B
5-button smart key 433MHz F7952B

Chrysler/Jeep/Dodge
M3M chip screen printing:F7953
M3M Hitag2
M3N3322971XX
M3N5WY72XX
etc

Great Wall
H2 smart 434MHz PCB: CU1897L

Hyundai/Kia
SVI-CMFEU03
SVI-DMFGE04
SVI-DMFBA03
SVI-HMFEU04
SVI-HMFKP04
etc

Land rover
5E0U40247(434MHz)
YWX000061 (434MHz) Visteon
YWX000071 (315MHz) Visteon

Mitsubishi
GBD-644M-KEY (433MHz)

Nissan:
AES smart card- A232800800 5 key
AES smart card- A2C32801600
AES smart card- A232801600
Hitag2 smart FCCID-CWTWB1U82
etc

Porsche
7PP959753AJ 434MHZ
799595753BM 315MHZ
799595753BN 434MHZ
799595753BQ 315MHZ
799595753BS 434MHZ

Renault
285971998R smart card Hitag
285974100 remote control Hitag
285975779R smart card 433mhz
285979045R smart card 433mhz

Volvo
5WK49266 (900MHz) smart card
5WK49269 (433MHz) smart card

Packing List :
1pc x CG PRO host
1pc x M35080/35160 Adapter
1pc x EEPROM&V850 Adapter
1pc x HC705/908, AM29FXXX, AM29BLXXX Adapter 3-in-1
1pc x 35160WT adapter
1pc x CGPRO CAN V2.1 Adapter
1pc x CGPROG CAS4 Adapter New DB25 Adapter
1pc x 711 Adapter
1pc x DB25 Adapter
1pc x 12p Welding Line
1pc x USB cable
1pc x Packing box
Please feel free to contact us ,If you have any question:
Email:
Sales@obdii.shop
Whatsapp: +8613428908617

Shipping Terms:
a) Items will be sent to all the countries over the world. This package will be sent by DHL, Post, Fedex, EMS or UPS .
b) Items will be checked carefully before sent out.
c) We will use air bubbles to wrap the items carefully.

Shipping Time:
a) Ships within 48 hours on working days after received the payment.
b) The shipping time is about 5-7 days via DHL, UPS, 5-10 days Via Fedex, 7-10 days via EMS, 7-30 days via Post to Worldwide
Note: We hope it arrive on time but since this is an international delivery, shipping time will be highly depended on the courier company and local customs/duties. Thank you for your understanding.
Return Policies:
Returns will be allowed only with prior authorization, and must be made within 30 days after package delivery.
Item conditions that allow returns Brand new Item, returns must include all accessories, Items must include original packaging
Other cases are as follows:
(1) When the item is defective, the item was sent in error, damaged in transit, or otherwise defective,It can not work once you receive it. In this case we allow returns. We bear the shipping cost.
(2) When you buy the wrong item, the item doesn't fit, or you don't want the item, the item you return need to be brand new. you need bear shipping costs.

Contact Us:
Our Email sales@obdii.shop 24 hours 7 days
And if nobody answer you online in time sometimes,do not worry.leave us a message or write down your desires,we will contact you as soon as possible.
Attention: PLZ leave your telephone number and address in detail when you take order in our website, it is very important to ship your order. (Customers from Brazil PLZ leave your Cutsom ID also, thanks!)