Lonsdor Super ADP 8A/4A Adapter for Toyota Lexus 2017-2021 Proximity Key Programming without PIN and AKL License Used with K518
Product Description
1.Support 90% Toyota Lexus (up to 2021) proximity smart key programming without PIN.
2.8A: DST-AES 88 A8 A9 AA
3.4A: HITAG-AES
4.The ADP adapter works without Toyota AKL license nor upgrade subscription.
5.MUST BE USED with Lonsdor K518ISE/K518S.
6.All Keys Lost requires an LKE emulator as well.
7.Supports EU US ME Toyota all keys lost via OBD
8.Data read by ADP adapter can be reused for programming. (The rolling code from dealer changes each time.)
9.For smart keys only. This is not for blade key.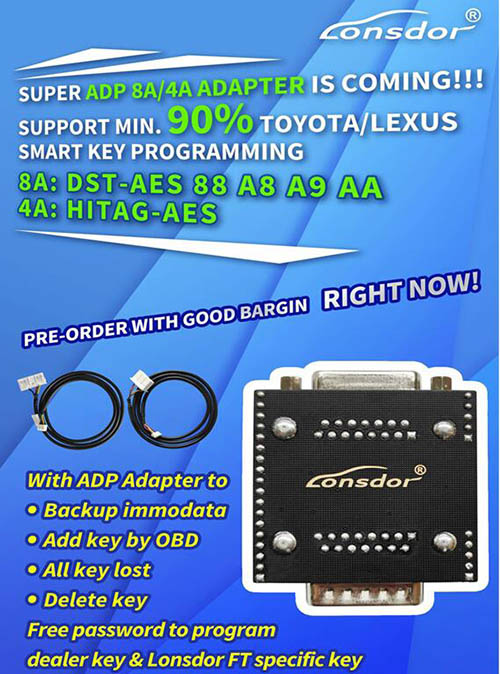 Function:
Backup immo data
Add key by OBD
All keys lost
Delete key
Free password to program dealer key & Lonsdor FT dedicated key
Operations:
Make sure the K518 key prgrammer WiFi connection is good, then you can do the following operations based on the tips on the K518 series machine.

1. Backup IMMO data
2. Generate emulator key AKL (8A/4A)
3. Add smart keys
4. Delete smart keys

Note: No need to generate Lonsdor LKE smart key emulator when adding smart keys. However, you must generate Lonsdor LKE smart key emulator when all your keys are lost.
Package Includes:
1pc x 27P cable
1pc x ADP-25 adapter
1pc x 24P cable