Product Description
Launch X431 Pro3S+ HDIII HD3 ECU Key Coding Car and Truck Full System Diagnostic Tool Scanner
2021 New arrival LAUNCH X431 PRO3S+ HDIII For 12V Car & 24V heavy Truck Full System Diagnosis tool, 31+ Reset functions , remote diagnosis ,Bi-directional Control,12 in 1 data stream ,5 Years warranty ,Multi Languages Supported + Global Version(Can be used in worldwide)+32GB Storage(Can be extended to 128GB)
LAUNCH X431 PRO3S+ HDIII Supports 24 languages :
English, French, Spanish, German, Russian, Korean, Japanese, Portuguese, Italian, Polish, Dutch, Hungarian, Finnish, Simplified, Czech, Turkish, Greek, Arabic, Danish Persian, Romanian, Serbian, Swedish, Chinese Traditional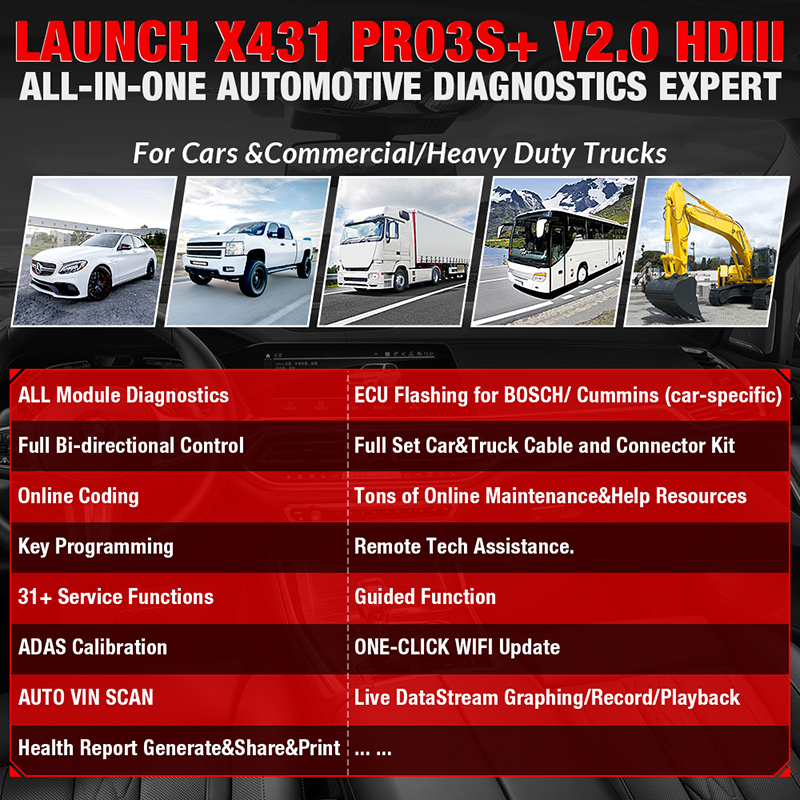 Product Description
LAUNCH X431 PRO3S+ HDIIII Car and Truck Full System Diagnosis, 15 reset functions , remote diagnosis ,support 12v car and 24v truck (truck ,bus, machinery)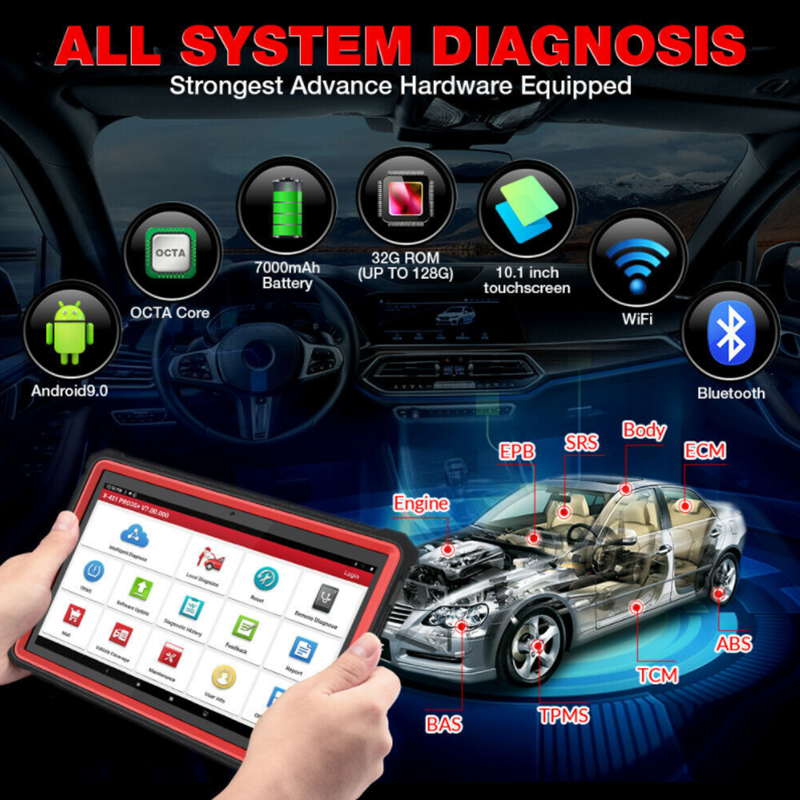 Why Choose LAUNCH X431 PRO3S+ HDIII For 12V Car & 24V heavy Truck Diagnostic Tool ?
1. ALL SYSTEM DIAGNOSTICS FOR 12V CAR & For Cars & COMMERICAL/HEAVY DUTY TRUCK
LAUNCH X431 PRO3S+ HDIII automotive scanner can read / erase codes, view live data, retrieve ECU version information, do active test and service functions for all systems including ECM, TCM, ABS, SRS, BCM, IMMO, BMS, TPMS, SAS, Fuel System, Light System and A/C system etc .
X431 PRO3S+ HDIII supports 99.99% 12V cars and 24V trucks in the world , more than 10000+ vehicles !
2. ECU Online Coding + ECU Flashing + Guiding Function , Powerful than X431 V+ .
LAUNCH X431 PRO3S+ HDIII supports Online Coding for VW, for Audi, for Skoda , for Seat ; Supports ECU Flashing for BOSCH/ Cummins (car-specific) ; Supports Guiding Function for VW, for Audi, for Skoda , for Seat .
3. ADAS Calibration Function +TPMS Diagnostic Function
Advanced Driver Assistance System (ADAS) is an electronic component in a vehicle, including various safety functions of the vehicle, such as automatic emergency braking (AEB), lane departure warning (LDW),lane keeping assist, blind spot elimination, night vision camera and Adaptive lighting.
The function on the equipment is disabled by default, and the user needs to activate the function with an activation card before using it. And this function needs to be matched with THINKCAR ADAS calibration tools. Mainly used to calibrate various camera and radar of driver assistance systems
4. 31+ Service Functions
X431 PRO3S+ HDIII diagnostic scanner gives you the ability to use dealership level relearn procedures to complete repairs or maintenance. Provides: Auto VIN Detect, ECU Coding, Key programming, ABS Bleeding, Injector coding, Gear Reset, SAS Reset, TPMS Reset, DPF Reset, IMMO Reset, BMS Reset, ETS Reset, Oil Reset, Brake Reset, AFS Reset, EGR Adaptation, GEARBOX, SUNROOF, SUS Reset and more to fully meet your needs.
5. Key Programming + Full Bi-directional Control ( ACTIVE TEST )+ 12-in-1 graphic data flow
X431 PRO3S+ HDIII scan tool can actuate solenoids and actuators for active testing, send commands to many systems/components to test their working status, without using the vehicle controls.it also supports PINCode reading for most cars before 2008 ,for vehicles after 2008,you need to have PINCode to do key programming .
X431 PRO3S+ HDIII is with 10.1 inch Tablet PC , it can with 12-in-1 graphic data flow , it is better to you compare them to check the problem .Powerful data analysis function, not only engine system, but also ABS, SRS and gearbox. >>>Automatic generation of main system diagnosis report, for the car problem at a glance. >>>Replay the frozen frame and record the history of the car. >>>Print out the data you want
6. Support Online Programming for 24V Trucks
X431 PRO3S + HD model supports Online Programming Function for 24V Trucks , does not support for 12V Cars !!!
7. Intelligent Diagnose
Automatically identify VIN upon connection to the vehicle for intelligent diagnosis , also supports Local Diagnostic , it supports VIN Scan , more intelligent , no need you write the VIN manually .
8. Remote Diagnosis: Device-To-Device & Device-To-PC).
This option aims to help repair shops or technicians launch instant messagingand remote diagnosis, making the repair job getting fixed faster.
9. Faster , best hardware
Powerful 8-core 1.8GHz processor, 3GB Memory with 34GB Storage (can up to 128GB)
9.0 Android tablet, 10.1 touch screen, 7000mAh rechargeable battery (up to 10+ hours battery life)
10.Global version , No IP limited , 1 year free update
Launch x431 pro3s+ support one key update via wifi , Update the new version of the software online quickly, such as client, firmware, diagnostic software.
Note : after the license expires, you can still use the device without being locked
11.Diagnostic history and diagnostic feedback
Generally once a vehicle diagnosis is performed, the tool will record the every details of diagnostic process. The History function provides direct access to the previously tested vehicles and users can resume from the last operation, without the necessity of starting from scratch.
For any problem found during the diagnoss, submit the vehicle issue to us for analysis and troubleshooting.
12. Extended Modules (need buy them on mall )
Introduction:
X-431 PRO3S+ V2.0 is a high cost-effective automotive diagnostic device developed based on Android 9.0 System. It can support both passenger car and commercial vehicle diagnosis with HDIII VCI module. X-43 1 PRO3S+ V2.0 can cover more than 98% of the car models in the market, realize the fault diagnosis of t the whole system, and has many advantages such as strong diagnosis function and accurate test data.
LAUNCH X431 PRO3S+ HDIII Features:
1.Actuation Test
This option is used to access vehicle-specific subsystem and component tests.Available test vary by vehicle manufacturer, year, and model.During the actuation test, the display tablet outputs commands to the ECU in order to drive the actuators, and then determines the integrity of the system or parts by reading the ECU data, or by monitoring the operation of the actuators,such as switching a injector between two operating states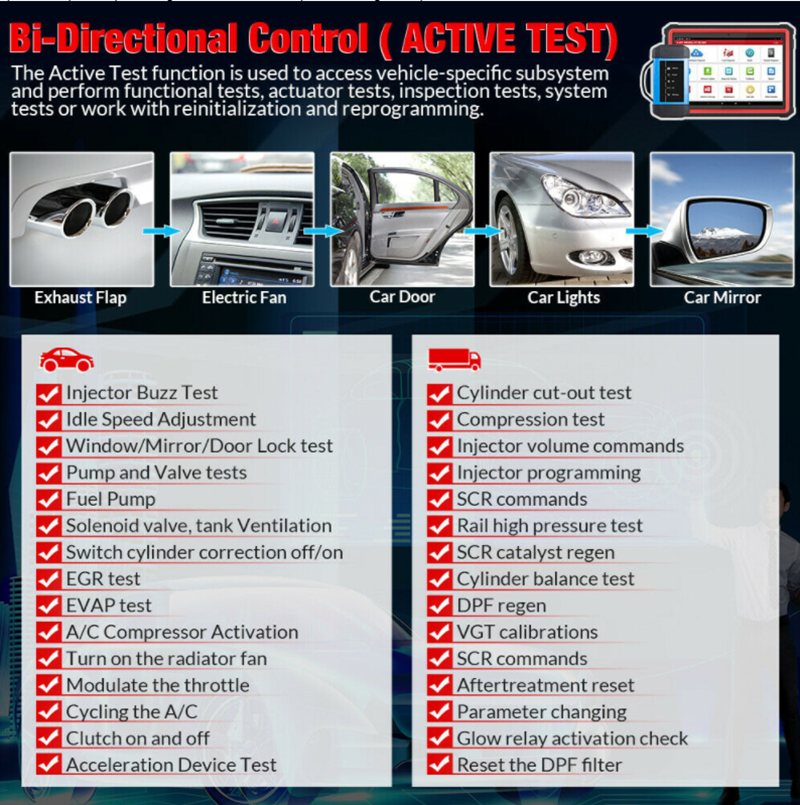 2.ECU Coding
X431 PRO3S+ advanced diagnsotic tool comes with advanced ECU coding & online ECU coding capability (on the majority of Volkswagen) to make full use of the hidden features like auto park, tilting rear-view mirrors, unfolding mirrors, customizing daytime running light, disabling auto engine start-stop and etc depending on the electronic features already built-in.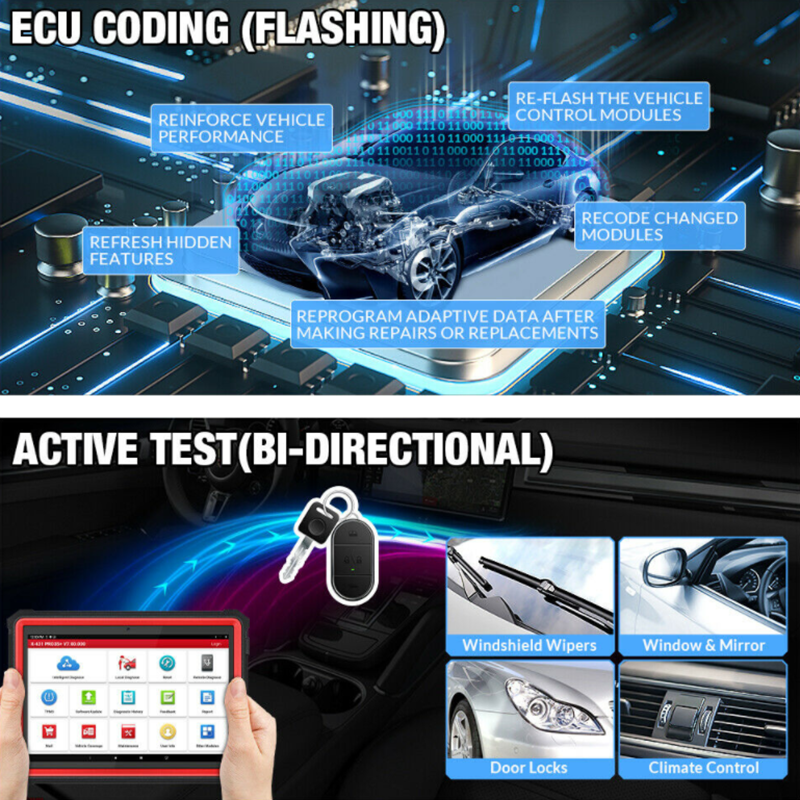 3.Key Programming
4.Full System Diagnosis
Engine drive system
ABS System
Automatic Transmission
SRS-Airbag
Suspenstion System
Safety Alarm System
Audio System
IMMO Immobilizer System
DPF System
ESP ASC Brake System
ACC System
Air Conditioning System
Auto Headlamp System
Car Radio Audio System ...........etc.
5.15+ Reset Functions
Except that the special functions can be performed from the diagnostic menus(See Chapter 5.2.3) of certain vehicle model, this module provides an easy dial to quickly access the special functions.
The most commonly performed service functions contain:
1.Oil Reset Service
2.Electronic Parking Brake Reset
3.Steering Angle Calibration
4.ABS Bleeding
5.TPMS (Tire Pressure Monitor System) Reset
6.Gear Learning
7.IMMO Service
8.Injector Coding
9.Battery Maintenance System
10.Diesel Particulate Filter (DPF) Regeneration
11.Electronic Throttle Position Reset
12.Gearbox Matching
13.AFS (Adaptive Front-lighting System) Reset
14.Sunroof Initialization
15.Suspension Calibration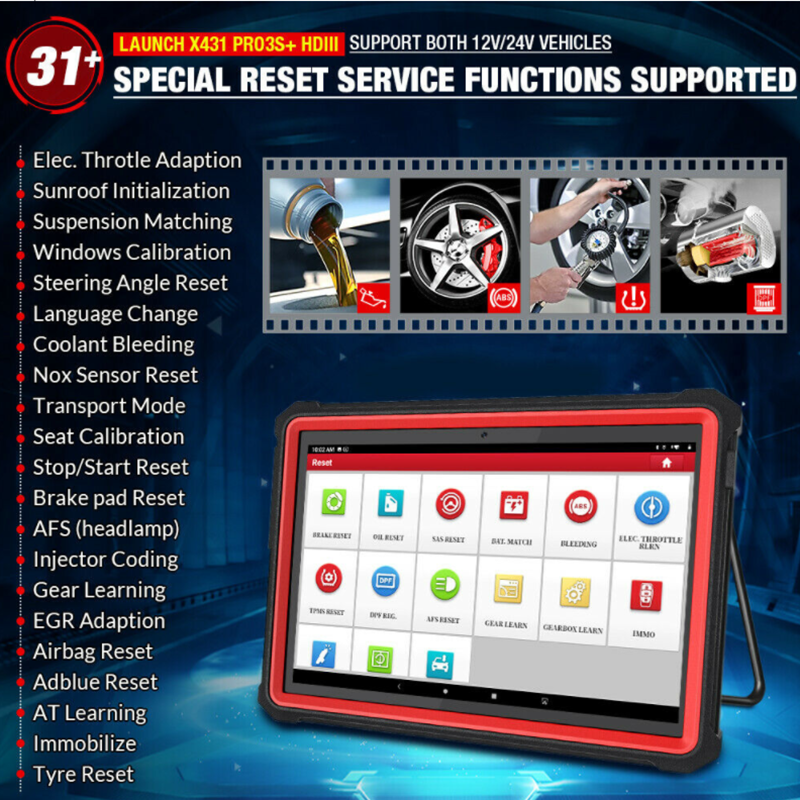 6.3 ways to display data flow.
There are 3 types of display modes available for data viewing, allowing you to view various types of parameters in the most suitable way.
a)Value – This is the default mode which displays the parameters in texts and shows in list format.
b)Graph – Displays the parameters in waveform graphs.
c)Combine – This option is mostly used in graph merge status for data comparison. In this case, different items are marked in different colors.
7.Remote Diagnosis.
This option aims to help repair shops or technicians launch instant messaging and remote diagnosis, making the repair job getting fixed faster.
8.Guided Function
This function is only for Volkswagen and Audi models. If you don't know how to operate the device, you can use this function for guided operation.
LAUNCH X431 PRO3S+ More other functions:
•Auto VIN Scan
•Diagnostic Feedback:This item allows you to feedback your diagnostic problems to us for analysis and troubleshooting.
•Health Report Generate&Share&Print
•Diagnostic History:Generally once a vehicle diagnosis is performed, the tool will record the every details of diagnostic process. The History function provides direct access to the previously tested vehicles and users can resume from the last operation, without the necessity of starting from scratch.
•Live DataStream Graphing&Record&Playback
•One-click Update:Lets you update your diagnostic software online.
Intelligent Diagnose: This module allows you to use the VIN information of the currently identified vehicle to access its data (including vehicle information, historical diagnostic records) from the cloud server to perform quick test.
LAUNCH X431 PRO3S+ V2.0 Vehicle Coverage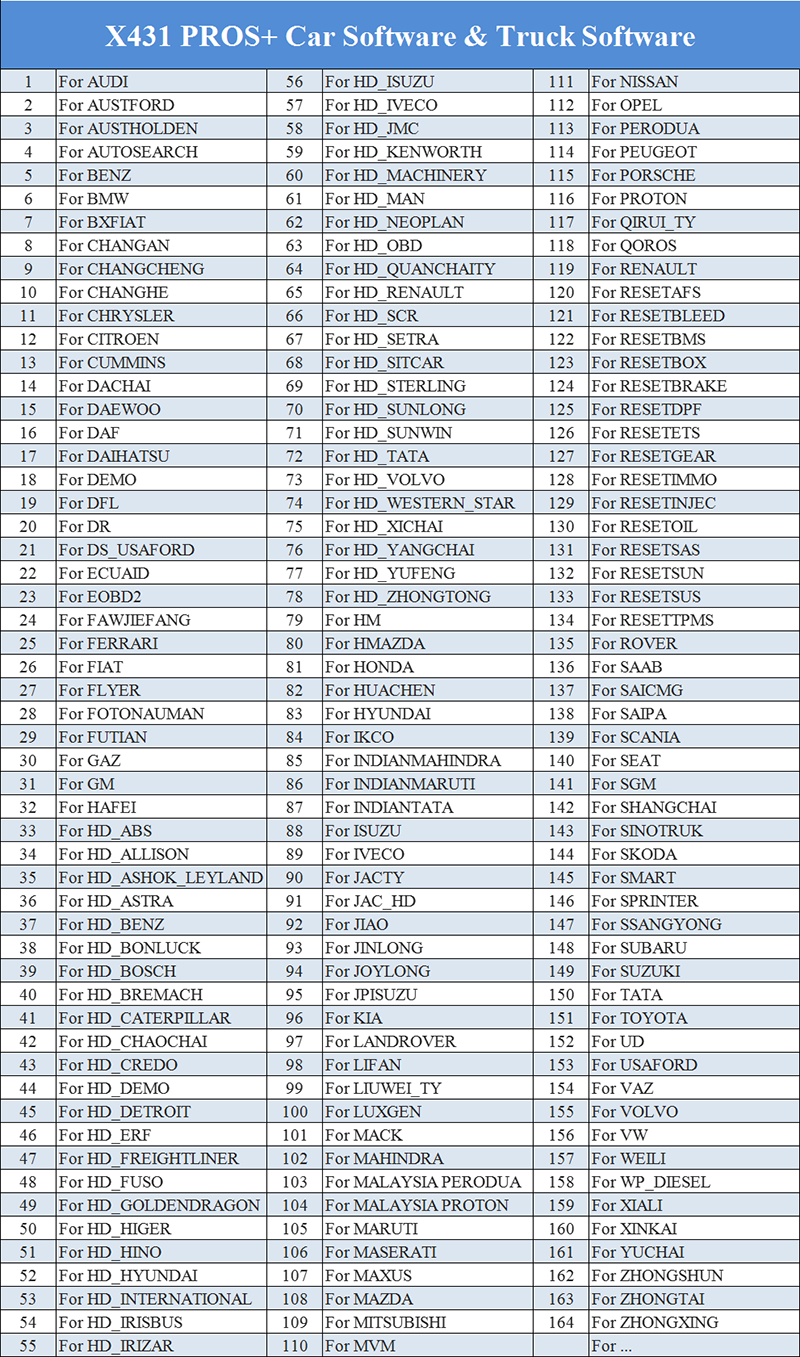 Package List: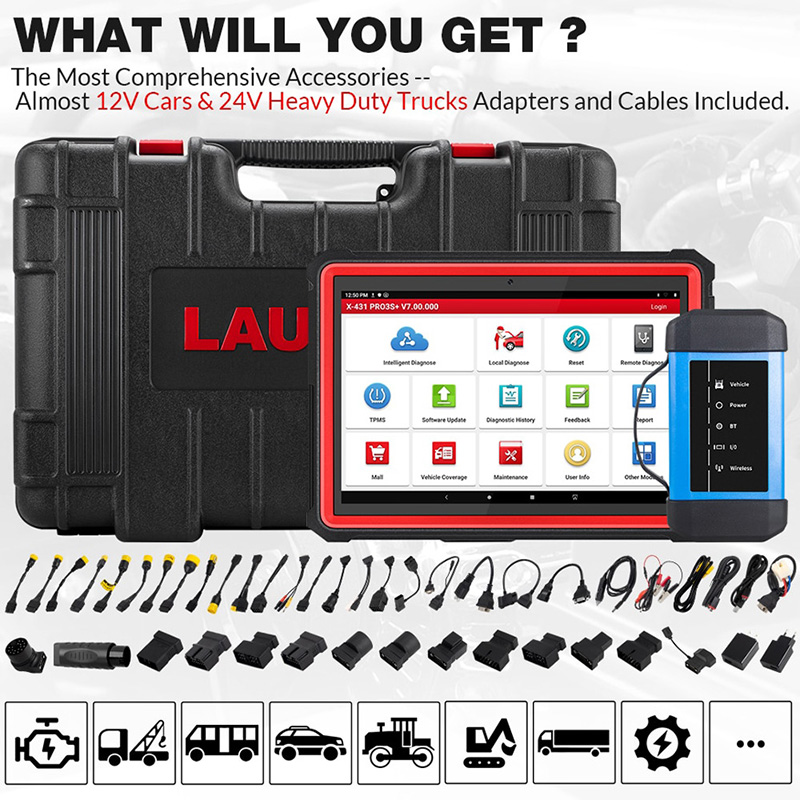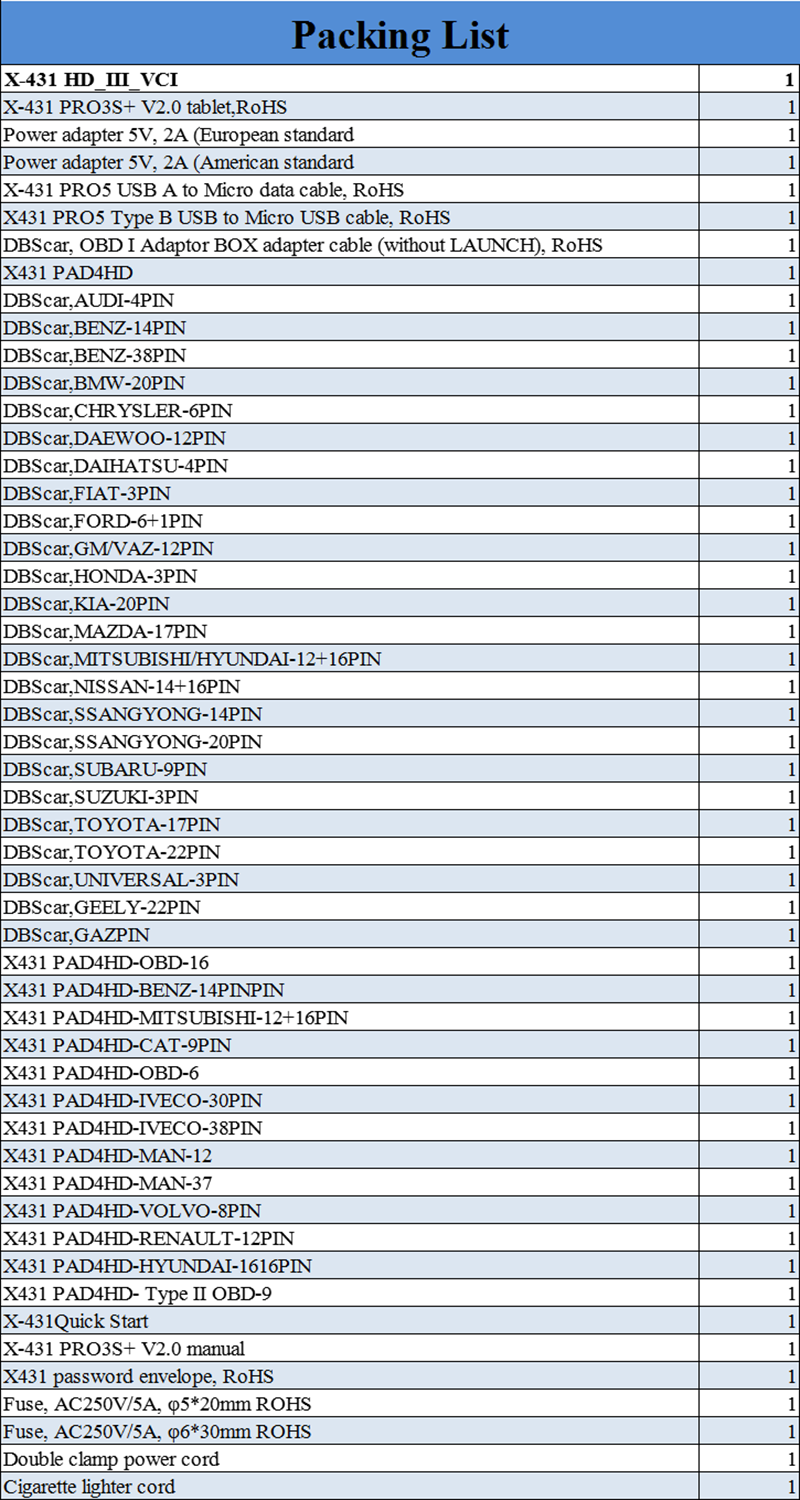 Please feel free to contact us ,If you have any question:
Email:
Sales@obdii.shop
Whatsapp: +8613428908617

Shipping Terms:
a) Items will be sent to all the countries over the world. This package will be sent by DHL, Post, Fedex, EMS or UPS .
b) Items will be checked carefully before sent out.
c) We will use air bubbles to wrap the items carefully.

Shipping Time:
a) Ships within 48 hours on working days after received the payment.
b) The shipping time is about 5-7 days via DHL, UPS, 5-10 days Via Fedex, 7-10 days via EMS, 7-30 days via Post to Worldwide
Note: We hope it arrive on time but since this is an international delivery, shipping time will be highly depended on the courier company and local customs/duties. Thank you for your understanding.
Return Policies:
Returns will be allowed only with prior authorization, and must be made within 30 days after package delivery.
Item conditions that allow returns Brand new Item, returns must include all accessories, Items must include original packaging
Other cases are as follows:
(1) When the item is defective, the item was sent in error, damaged in transit, or otherwise defective,It can not work once you receive it. In this case we allow returns. We bear the shipping cost.
(2) When you buy the wrong item, the item doesn't fit, or you don't want the item, the item you return need to be brand new. you need bear shipping costs.

Contact Us:
Our Email sales@obdii.shop 24 hours 7 days
And if nobody answer you online in time sometimes,do not worry.leave us a message or write down your desires,we will contact you as soon as possible.
Attention: PLZ leave your telephone number and address in detail when you take order in our website, it is very important to ship your order. (Customers from Brazil PLZ leave your Cutsom ID also, thanks!)