Professional EIS ESL Dashboard Gateway Testing Tool Support FBS4 Working with MB IM608 AVDI VVDI
Supports testing of FBS4 ECU, Working with Xhorse VVDI MB, Key Tool Plus, Autel MaxiIM IM508, IM608, CGDI Benz, ABRITES Programmer and so on.
EIS ESL Dashboard Gateway Testing Tool Highlights
1. Supports old and new FBS4 EIS testing
2. Built in Gateway enable you testing the EIS without connecting extra gateway
3. Compatible with Mercedes key programmers such as:
• VVDI MB Tool
• Abrites AVDI
• ZED-FULL
• CGDI Mercedes
• MBE TOOLS
• AUTEL IM508, IM608
• And others …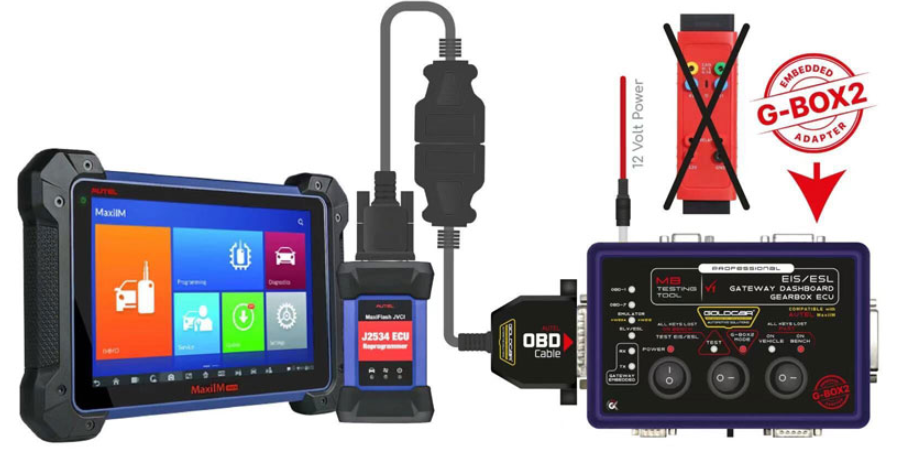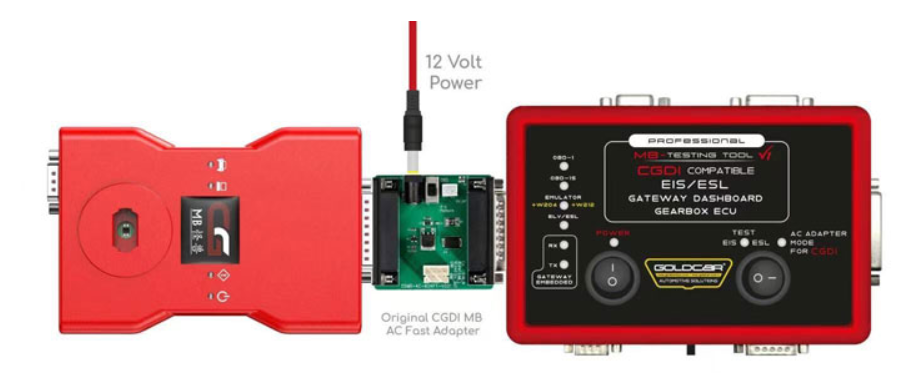 EIS ESL Dashboard Gateway Testing Tool Features:
1.The new device designed for on-bench testing of EZS (EIS), ESL (ELV), Dashboard & gateway Comes with built in ESL Emulator inside and has automatically mode switching
2.It enables you to test the EIS with the car ESL or with the emulator if original ESL / ELV is not available using Emulation mode.
3.You can test both old (Motorola based EZS) and new (NEC based) units without the car - just connect them with special set of cables.
4.The new Generation comes with built in ESL / ELV emulator for W204, W207 to test the EIS without the original ESL / ELV (must be programmed before testing)
EIS ESL Dashboard Gateway Testing Tool Supported List
EIS/EZS:
W208 / W210 ( Embedded Emulator ) Abrites and VVDI MBTOOL read password + Elv control + Obd control
W209 / W211 ( Embedded Emulator & Embedded GateWay ) Abrites and VVDI MBTOOL read password + Elv control + Obd control
W169 / W245 ( Embedded Emulator & Embedded GateWay ) Abrites and VVDI MBTOOL read password + Elv control + Obd control
W203 / W639 / VITO ( Embedded Emulator ) Abrites and VVDI MBTOOL read password + Elv control + Dash board control + Obd control
W906 / CRAFTER / SPRINTER ( Embedded Emulator ) Abrites and VVDI MBTOOL read password + Elv control + Dashboard control + Obd control
W215 / W220 Abrites and VVDI MBTOOL read password + Obd control
W204 / W207 / W212 Abrites and VVDI MBTOOL read password( W204/W212 Embedded Emulator ) + Elv control + Obd control + Dashboard control
W164 Abrites and VVDI MBTOOL read password ( Embedded GateWay )+ Obd control
W221 Abrites and VVDI mbtool read password + Obd control
W246 Abrites and VVDI mbtool read password + Dashboard control + Obd control
New - W212 Abrites and VVDI mbtool read password + Dashboard control + Obd control
New - W447 / W176 new model ( FBS4 + FBS3 ) read password ready + Dashboard control + Elv control + Obd control
New - W222 / W205 new model ( FBS4 + FBS3 ) read password ready + Dashboard control + Obd control
ESL/ELV:
W204 / W207 / W212 ELV cable ELV read and write OBD control ( EZS+ELV Personalize )
W208 / 210 ELV cable ELV read and write OBD control ( EZS+ELV Personalize )
W209 / W211 ELV cable ELV read and write OBD control ( EZS+ELV Personalize )
W203 / W639 / VITO ELV cable ELV read and write OBD control ( EZS+ELV Personalize )
W906 / CRAFTER / SPRINTER ELV cable read and write OBD control ( EZS+ELV Personalize )
NEW - W447 / W176 ELV cable ELV read and write OBD control ( EZS+ELV Personalize )
NEW - GEARBOX ECU OUT
( VVDI MB Mercedes Benz ECU Renew Cables Adapters Kit compatible )
Package includes:
1pc x EIS ESL Dashboard Gateway Testing Tool