Product Description

Autel-IM-case-study-youtube-link.pdf
Autel MaxiIM IM608 PRO KPA Auto Key Programmer & Diagnostic Tool with XP400 Pro IMKPA Accessories for Renew & Unlock
Autel MaxiIM IM608 PRO Highlights:
1. Upgraded Version of Autel IM608 Key Programmer
2. One Year Free Update Online on Autel Official Website
3. Comes with XP400 Pro which adds more functionality for BMW, Mercedes-Benz, as well as EEPROM reading
4. Used with IMKPA Accessories Which adds BMW EWS3 key learning, Benz NEC key learning and Benz ESL_W209 read/write/erase
5. Existing Autel IM508/ IM608 Users Can Upgrade To IM608 Pro by Purchasing XP400 Pro Programmer
AUTEL IM608 PRO Functions Supported:
1. IMMO Functions
Auto Detect Make/Model/Year/System
Read PIN (All Key Lost)
Key Learning
IMMO ECU Reset/Adaption
IMMO ECU Refresh/Coding
Remote Learning
AUDI Q5/A4/A5 2015-2017 Key Learning
VW MQB Key Learning
BMW FEM/BDC Key Learning and Adaption
BMW CAS4 Key Learning and Adaption
Mercedes Key Learning
2015-2018 Land Rover & Jaguar write key via dump
Volvo Smart Key Learning/knob-style smart key
Advanced Programming Functions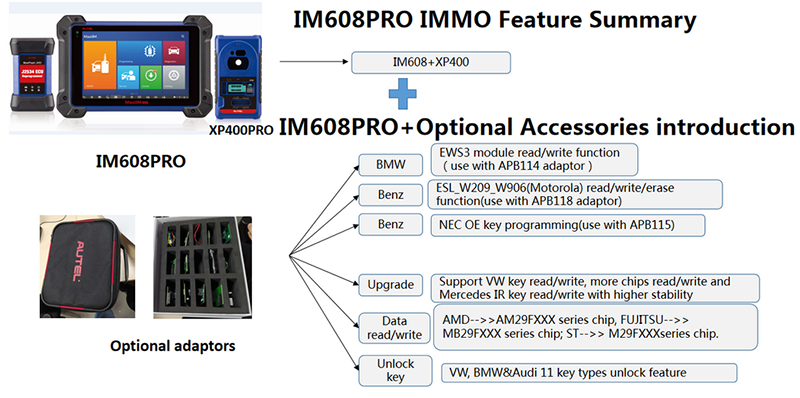 EEPROM Read/Write
MCU Read/Write
Key Programming
Mercedes Key Read/Write
Remote Frequency Detect
OE-Level Diagnostics
2. All system diagnostics and Advanced Service Functions (Work with the MaxiFlash JVCI (J2534 ECU Reprogrammer))
Oil Service Reset
Parking Brake Pad Relearn After Replacement
Steering Angle Sensor Relearn
Battery Registration and Reset
Diesel Particulate Filter Regeneration
Tire Pressure Monitoring System
Active Test
ECU Coding
VW/Audi Component Protection
Complete Service Functions
XP400Pro adds support for following chips:
EEPROM-->>AMD-->>AM29FXXX series chip
EEPROM-->> FUJITSU-->> MB29FXXX series chip
EEPROM-->> ST-->> M29FXXX series chip
Engine control module-->> ST-->> M29FXXX series chip
IMMO-->> BENZ-->> ESL_W209_W906 (Motorola) read/write/erase function
IMMO-->> BMW-->>EWS3 module read/write function
REMOTE_RENEW(renew key)-->> NEC-->> V51 and V5 chip read/write/erase
XP400 Pro adds support for following adaptor board:
APB113 PCF79XXadaptor board
APB114 EWS3 adaptor board
APB115 NEC Adapter board
APB118 NEC ELV adaptor board
APB119 TB28FXXXadaptor board
APB120 TMS370adaptor board
APB121 AM29FXXX Adapter board
APB122 AM29FXXX adaptor board1
APB123 AM29FXXX adaptor board2
APB126 M35080/D80 adaptor board
APB127 MC68HC0(7)05BXX adaptor board
APB128 MC68HC05X32 adaptor board
IMKPA accessories kit works with the XP400Pro and supports the following functions:
Currently supports over 10 key unlock types
BMW EWS3 key learning
Benz NEC key learning
Benz ESL_W209 read/write/erase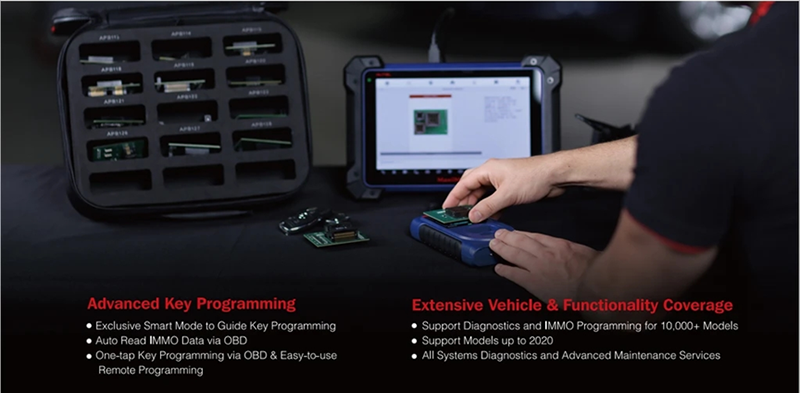 Advanced Key Programming Functions
Exclusive Smart Mode to guide Key Programming
Auto Read IMMO Data via OBD
One-tap Key Programming via OBD & Easy-to-use Remote Programming
With the newly upgraded key programmer XP400 Pro
Extensive Vehicle & Functionality Coverage
Support Diagnostics & IMMO Programming for 10,000+ Models;
Support Models Up to 2020;
All System Diagnostics and Advanced Maintenance Services;
Benz -- 3rd Generation IMMO CAN-Line / K-Line Add Key, All Key Lost via OBD;
BMW -- Support EWS3/4; CAS 1/2/3/4, FEM/BDC Add Key / All Key Lost;
Volkswagen / Audi -- Add Key / All Key Lost via OBD for 2013 - 2020 Models;
GM -- Read IMMO Password, Add Key / All Key Lost up to 2020;
Ford -- Add Key / All Key Lost (No PIN Needed) up to 2020;
Mazda -- Add Key / All Key Lost (No PIN Needed) up to 2020;
FCA -- Read IMMO Password, Add Key / All Key Lost up to 2020;
Renault -- Add Key / All Key Lost (No PIN Needed) up to 2020
Jaguar LandRover -- Add Key / All Key Lost up to 2019
Volvo -- Semi-smart Key Learning via OBD up to 2018; Smart / Blade / Fobik Key Learning via Dump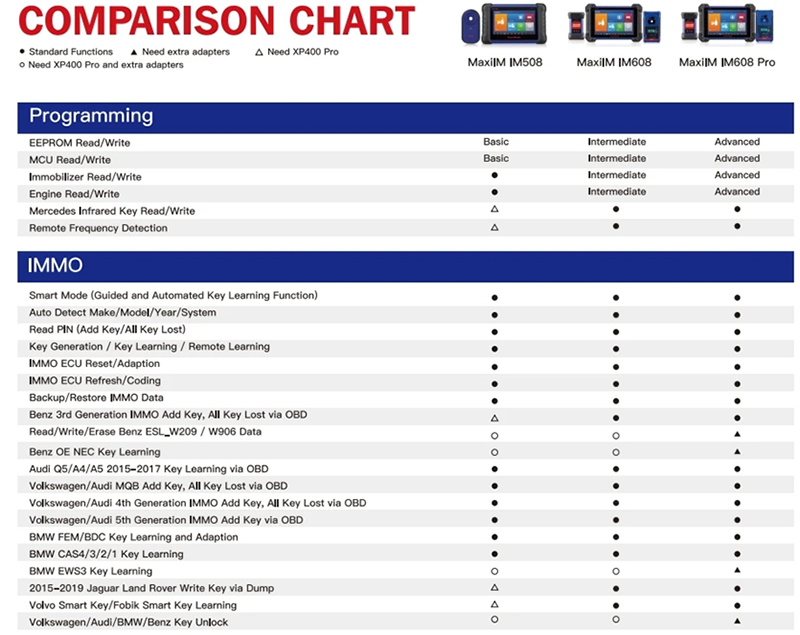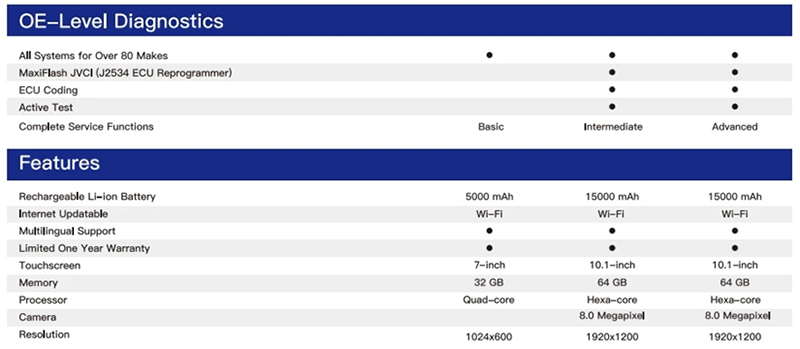 Autel IM608 Pro Packing List:
1pc x MaxiIM IM608 Tablet
1pc x XP400 Pro Key Programmer
1pc x MaxiFlash JVCI ECU Reprogrammer
1pc x Carry Case
1pc x Main Cable
1pc x USB Cable (2m)
1pc x Mini USB Cable
1pc x AC/DC Adapter (12V)
1pc x Light Fuse - 6*30mm (2pcs)
1pc x Cigarette Lighter
1pc x AAC001
1pc x APC101 (USB Cable)
1pc x APB129 (EEPROM Adapter)
1pc x APB125 (Mercedes Infrared Collector)
1pc x APB103 (MCU_PLCC52)
1pc x APB104 (MCU_FQFP64)
1pc x APB105 (MCU_FQFP80)
1pc x APB106 (MCU_FQFP112)
1pc x APB107 (MCU_FQFP144)
1pc x APB108 (MCU_FQFP176)
1pc x APB109
1pc x APB110 (MCU_FQFP176)
1pc x APB111 (MCU_FQFP176)
1pc x APA002 (EEPROM Socket)
1pc x APA101 (Signal Cable)
1pc x APA103 (EEPROM Clamp)
1pc x APA107 (ECU Clamp)
1pc x APA108 (MCU Clamp)
1pc x APA109 (MC9S12 Clamp)
1pc x Connect Cable
Package List of IMKPA Accessories
1pc x APB113
1pc x APB114
1pc x APB115
1pc x APB118
1pc x APB119
1pc x APB120
1pc x APB121
1pc x APB122
1pc x APB123
1pc x APB126
1pc x APB127
1pc x APB128
1pc x Storage Case
Please feel free to contact us ,If you have any question:
Email:
Sales@obdii.shop
Whatsapp: +8613428908617

Shipping Terms:
a) Items will be sent to all the countries over the world. This package will be sent by DHL, Post, Fedex, EMS or UPS .
b) Items will be checked carefully before sent out.
c) We will use air bubbles to wrap the items carefully.

Shipping Time:
a) Ships within 48 hours on working days after received the payment.
b) The shipping time is about 5-7 days via DHL, UPS, 5-10 days Via Fedex, 7-10 days via EMS, 7-30 days via Post to Worldwide
Note: We hope it arrive on time but since this is an international delivery, shipping time will be highly depended on the courier company and local customs/duties. Thank you for your understanding.
Return Policies:
Returns will be allowed only with prior authorization, and must be made within 30 days after package delivery.
Item conditions that allow returns Brand new Item, returns must include all accessories, Items must include original packaging
Other cases are as follows:
(1) When the item is defective, the item was sent in error, damaged in transit, or otherwise defective,It can not work once you receive it. In this case we allow returns. We bear the shipping cost.
(2) When you buy the wrong item, the item doesn't fit, or you don't want the item, the item you return need to be brand new. you need bear shipping costs.

Contact Us:
Our Email sales@obdii.shop 24 hours 7 days
And if nobody answer you online in time sometimes,do not worry.leave us a message or write down your desires,we will contact you as soon as possible.
Attention: PLZ leave your telephone number and address in detail when you take order in our website, it is very important to ship your order. (Customers from Brazil PLZ leave your Cutsom ID also, thanks!)