Product Description
V2022.06 VXDIAG Mercedes Benz Xentry diagnosis VCI BENZ C6 DOIP & AUDIO Function

Original VXDIAG For XENTRY Diagnosis VCI VXDIAG For XENTRY Diagnosis DoIP Pass Through Interface
VXDIAG For XENTRY Diagnosis VCI is the latest interface for For Mercedes & SMART vehicles can replace Star C4/C5. VXDIAG For XENTRY Diagnosis VCI acts as a Pass-through Interface, also called Star C6, For Benz C6 multiplexer to provide complete communication between a vehicle and the VXDIAG For XENTRY software loaded on a PC.
XENTRY Software Show (software version 2022.06):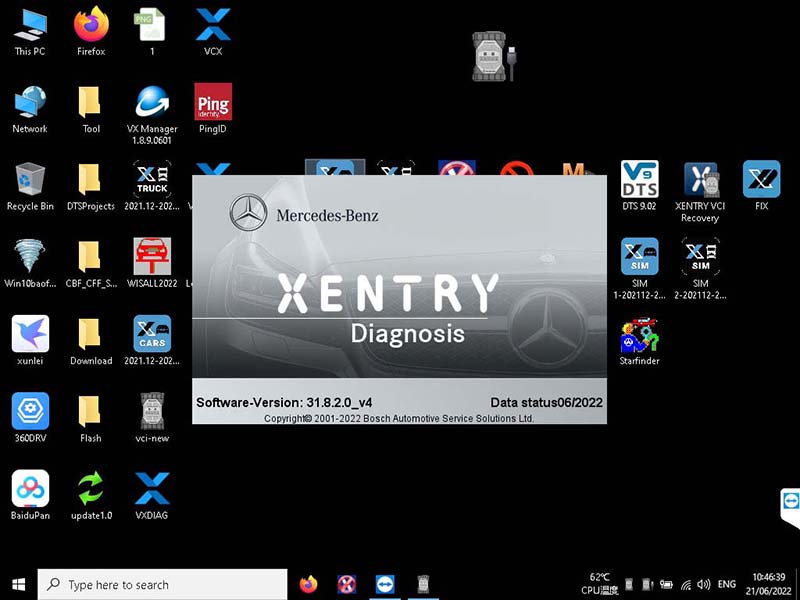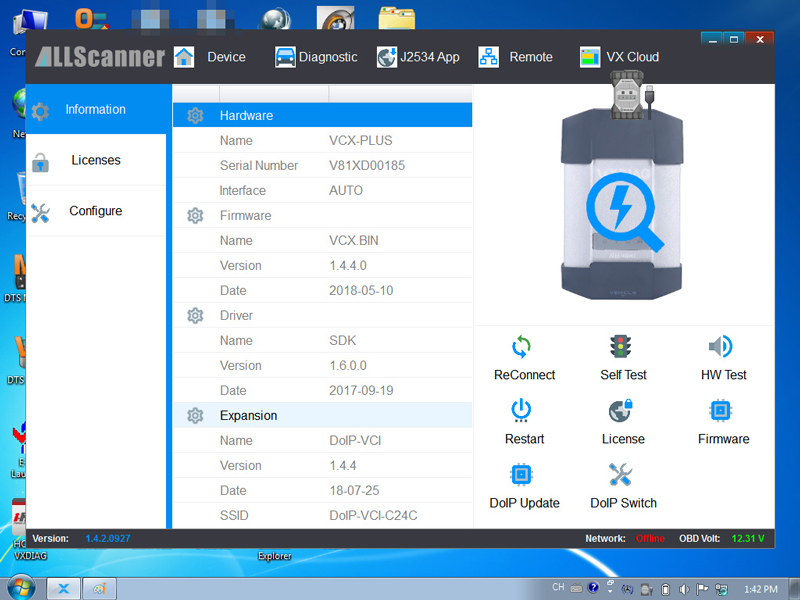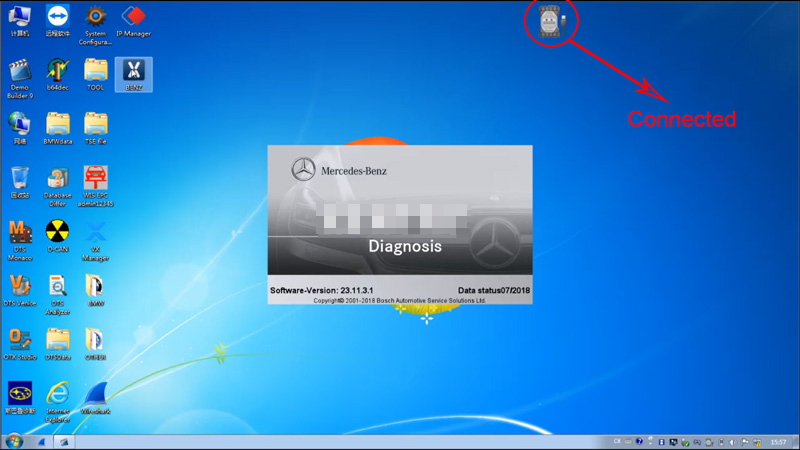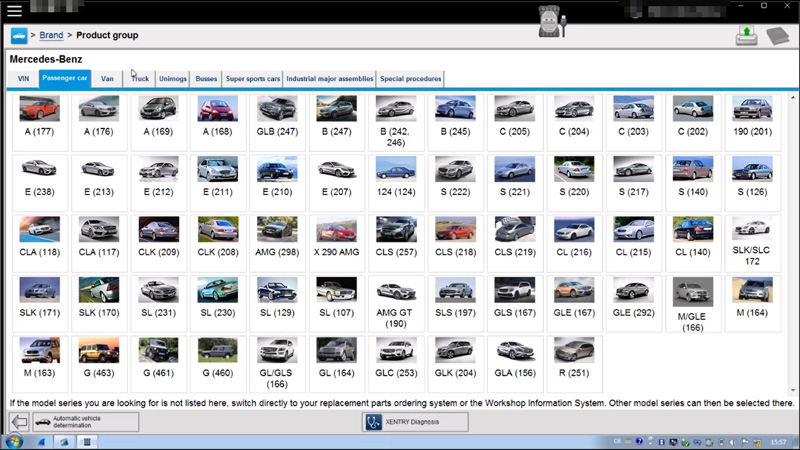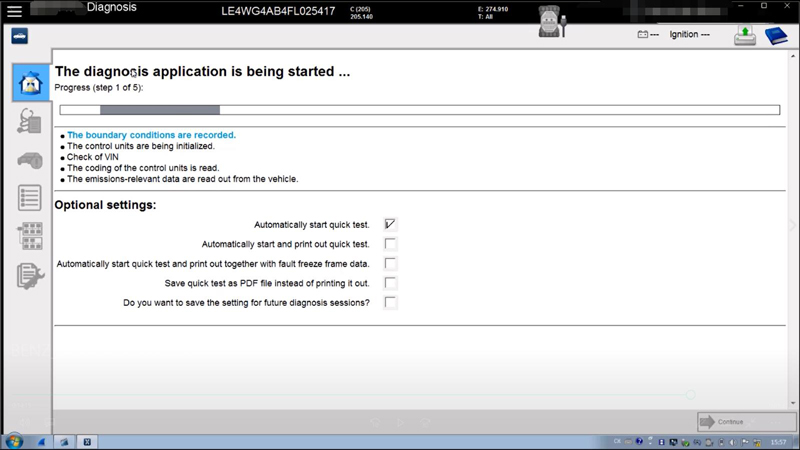 VXDIAG MB SD Connect C6 XENTRY Diagnosis VCI Overview:
Compatible Software:
XENTRY/Das Software (2022.06)
Support Vehicle:
Mercede For Benz & Smart vehicles
DoIP:
Support DoIP
Functions: Star Diagnostic & programming (SCN Coding)
Please pay attention that DOIP and SCN coding functions need you have an authorized online account .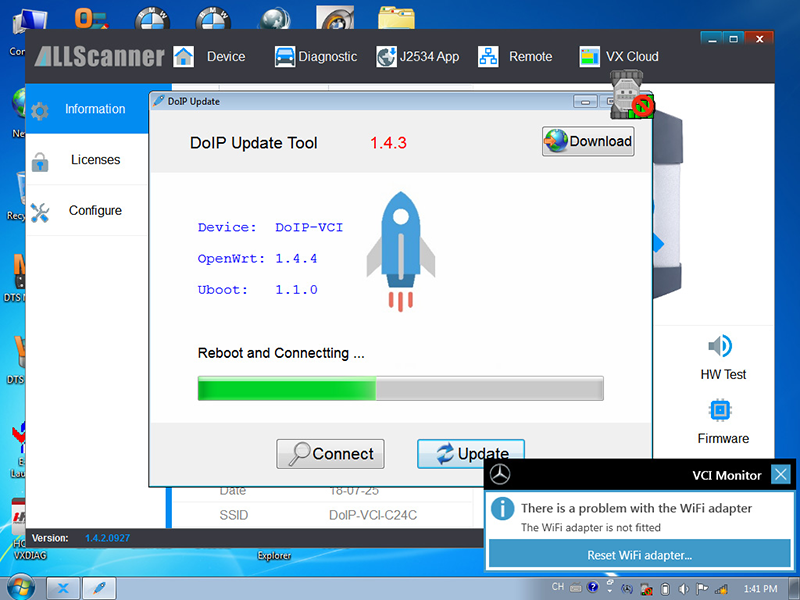 MB Star C6 Software Description:
1.DAS / Xentry 2022.06
2.WIS net 2019.07
3.EPC net 2018.12: Electronic Parts Catalog
4.ST Finder 2016: optional: a Part location finder
5.SDmedia 2015.01
6.DTS 8.14.016 Monaco
7.VX Manager 1.6.0
8.Vediamo Database (This C6 hardware not support Vediamo)

VXDIAG MB SD Connect C6 XENTRY Diagnosis VCI Features:
1. VXDIAG For XENTRY Diagnosis VCI can be used for all model series of For Mercedes For Benz vehicles
2. VXDIAG For XENTRY Diagnosis VCI support DoIP, cover more functions during SCN Coding than SD C4/C5
3. VXDIAG For XENTRY Diagnosis VCI functions including diagnosing, programming, simulation studying, repair information, automotive maintenance, technical service bulletin and so on
4. VXDIAG For XENTRY Diagnosis VCI Diagnosis updates no longer necessary – firmware updates required on rare occasions
5. VXDIAG For XENTRY Diagnosis VCI does not need a power supply unit for external power supply
6. VXDIAG For XENTRY Diagnosis VCI Handy multiplexer with a small, sturdy construction (no PC core, battery, fan, or display)
7. Engines (All Gasoline & Diesel Systems)
8. Transmissions and Electronic Selector Modules
9. Airmatic and Active Body Control Suspension Systems
10. Traction Systems: ESP / ASR / ETS / ABS / BAS / SBC braking systems
11. Supplementary Restraint Systems (SRS) / Airbag, All body modules OCP / UCP / LCP / SCM / SKF / KFB / RCM / DCM's
12. Drive Authorisation System
13. Sam (Signal Acquisition) Modules
14. Electronic Ignition System (EIS)
15. Pneumatic System Equipment and ATA functions
16. Air Conditioning / climate control Systems
17. Instrument Cluster
18. Tyre Pressure Control
19. Parktronic System
20. Keyless Go
21. D2b Command & Audio Gateway (D2B and MOST networks)
22. TV Tuner
23. Headlamp Range Adjustment
24. Seat Electronics
25. Rvc, RST & Vario Roof modules
26. Automatic Clutch System ACS
27. M-Class Body Modules (AAM / EAM / DAS / SEM / VG Transfer Case)
28. Assyst & ASSYST + systems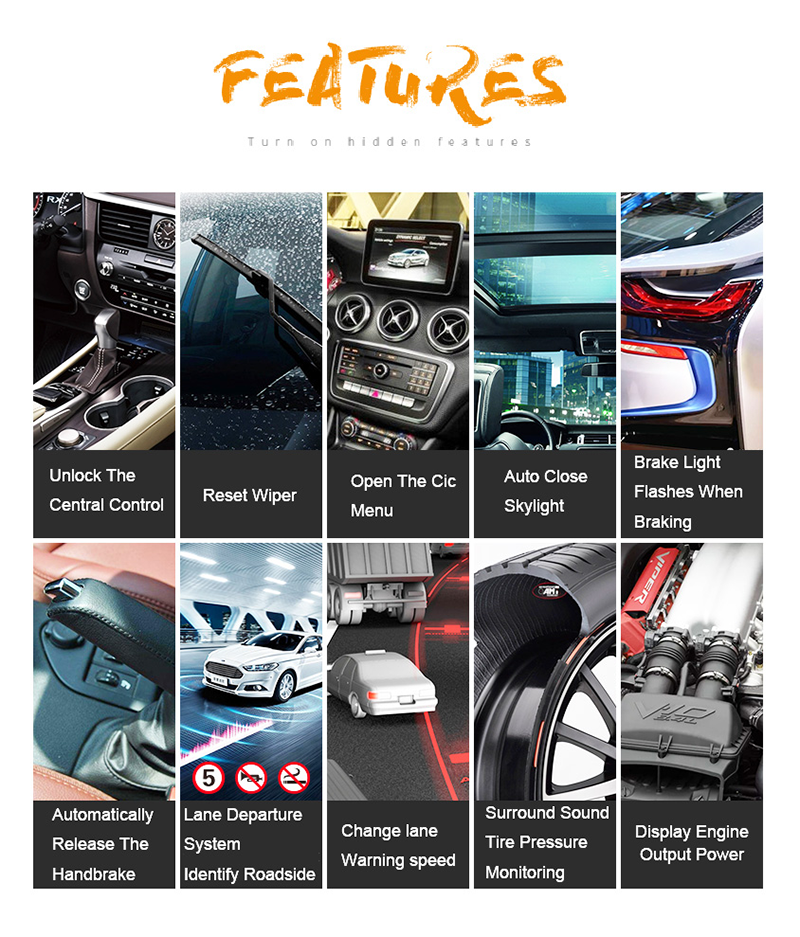 XENTRY Diagnosis VCI Summary:
The new VXDIAG For XENTRY Diagnosis VCI (Vehicle Communication Interface) multiplexer serves as the interface to the vehicle when performing diagnosis and repairs, and programming electric and electronic on-board vehicle systems.

The VXDIAG For XENTRY Diagnosis VCI does not have its own PC core, battery, fan, or display. It is operated using the VXDIAG For XENTRY Diagnosis Pad via WLAN or a USB cable connection.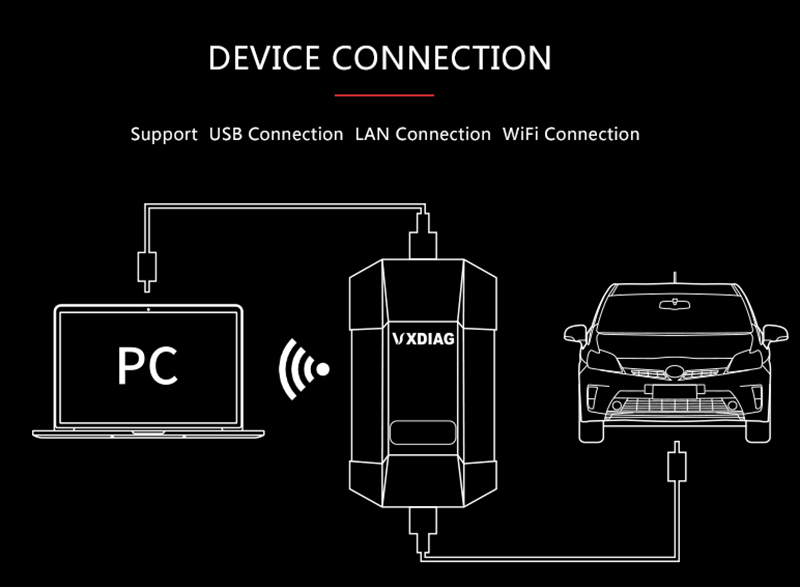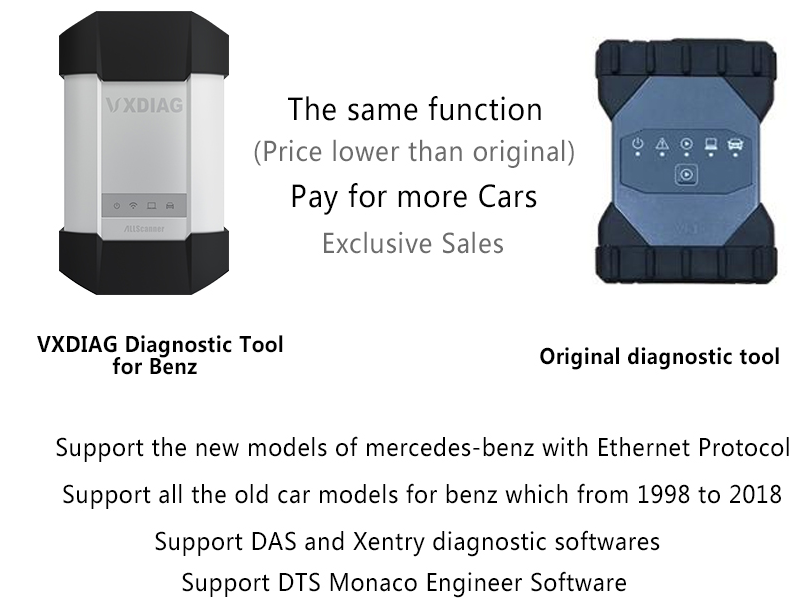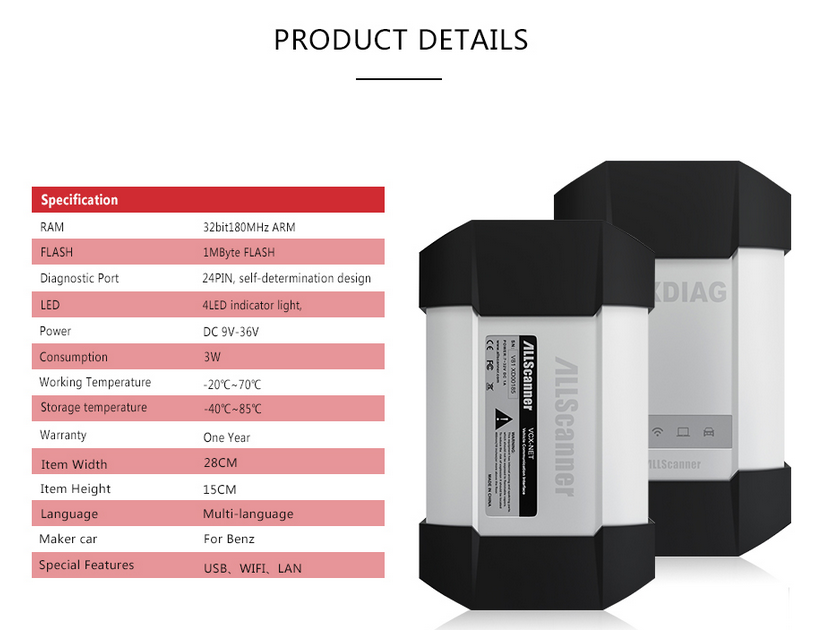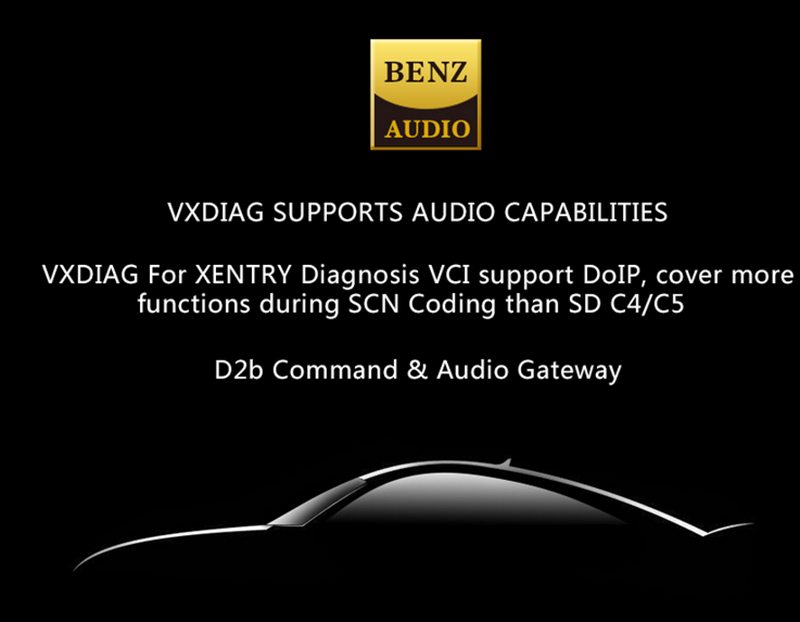 Notice:
1. If you select the laptop , please install the 500GB HDD on laptop above 4GB Memory and I5 CPU, and use it on one laptop only. If change laptop, software may get broken and need to ship HDD back to us to copy software again.
2.You also can watch more videos to get more technical support from official website: http://www.vxdiag.net
3.This VXDIAG can/'t support All Key Lost,needs one key at least.

Specification:
Item State
RAM 32bit180MHz ARM
FLASH 1MByte FALSH
Diagnostic Port 24PIN, self-determination design
LED 4 LED indicator light,indicate power and status.
Power DC 9V-36V
Consumption 3W
Working Temperature -20°C~70 °C
Storage Temperature -40°C~85 °C
Warranty: One Year

Option 1 :
1pc x VXDIAG VCX-PLUS
1pc x OBDII Cable
1pc x USB Cable
1pc x 500GB hdd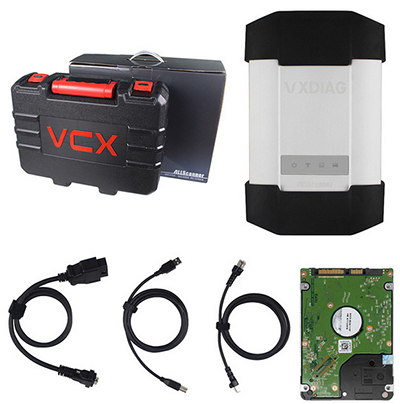 Option 2:
1pc x VXDIAG VCX-PLUS
1pc x OBDII Cable
1pc x USB Cable
1pc x Second-hand Lenovo T410 Laptop with 4GB Memory I5 CPU and 500GB HDD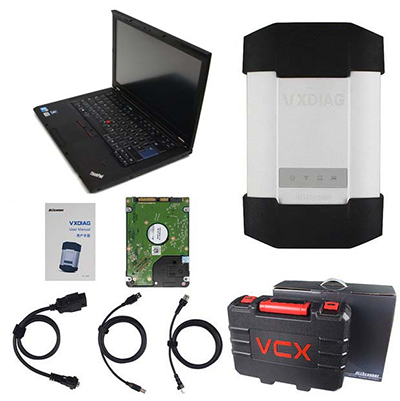 Option 3:
1pc x VXDIAG VCX-PLUS
1pc x OBDII Cable
1pc x USB Cable
1pc x New EVG7 Tablet PC with 4GB Memory and 500GB HDD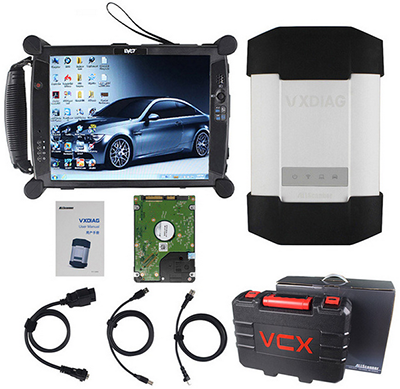 VXDiag MB SD Connect C6 support add more original software in feature, you only need buy authorization from us. Already released original software authorization has:
GM,Ford,Mazda,Toyota,Honda,LandRover,Jaguar,Subaru,Volvo,VW,and Porsche.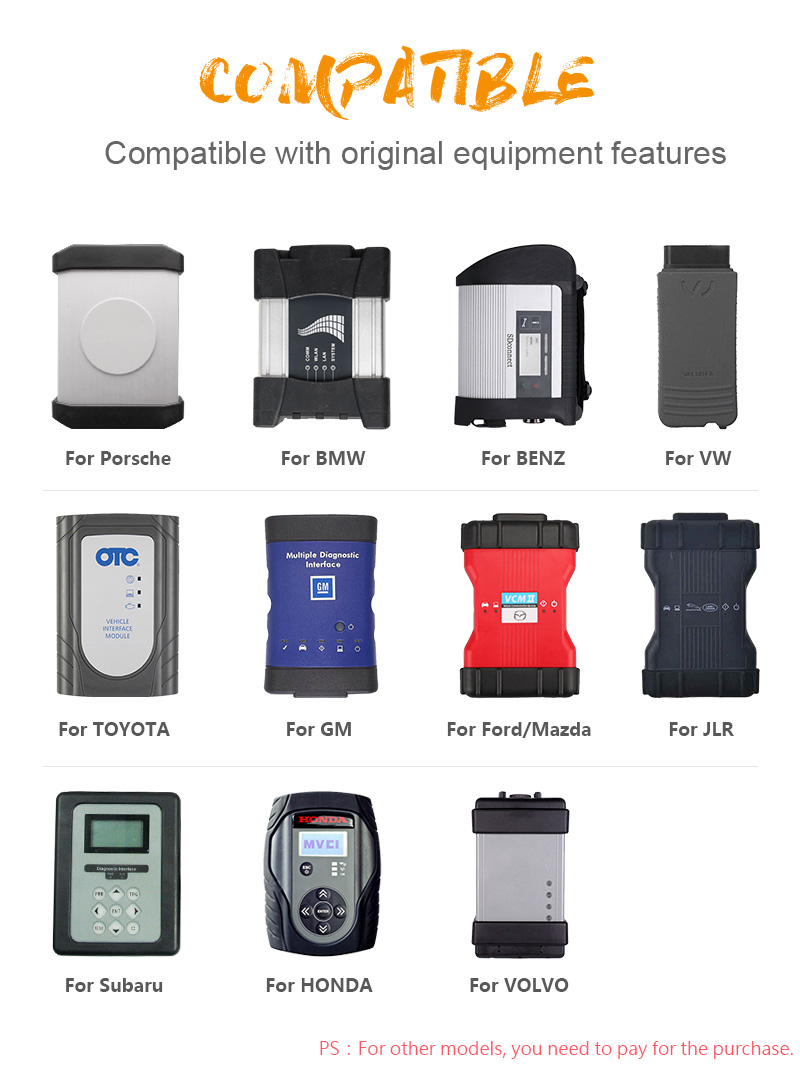 If you want to add the above software , you can contact us directly
Please feel free to contact us ,If you have any question:
Email:
Sales@obdii.shop
Whatsapp: +8613428908617

Shipping Terms:
a) Items will be sent to all the countries over the world. This package will be sent by DHL, Post, Fedex, EMS or UPS .
b) Items will be checked carefully before sent out.
c) We will use air bubbles to wrap the items carefully.

Shipping Time:
a) Ships within 48 hours on working days after received the payment.
b) The shipping time is about 5-7 days via DHL, UPS, 5-10 days Via Fedex, 7-10 days via EMS, 7-30 days via Post to Worldwide
Note: We hope it arrive on time but since this is an international delivery, shipping time will be highly depended on the courier company and local customs/duties. Thank you for your understanding.
Return Policies:
Returns will be allowed only with prior authorization, and must be made within 30 days after package delivery.
Item conditions that allow returns Brand new Item, returns must include all accessories, Items must include original packaging
Other cases are as follows:
(1) When the item is defective, the item was sent in error, damaged in transit, or otherwise defective,It can not work once you receive it. In this case we allow returns. We bear the shipping cost.
(2) When you buy the wrong item, the item doesn't fit, or you don't want the item, the item you return need to be brand new. you need bear shipping costs.

Contact Us:
Our Email sales@obdii.shop 24 hours 7 days
And if nobody answer you online in time sometimes,do not worry.leave us a message or write down your desires,we will contact you as soon as possible.
Attention: PLZ leave your telephone number and address in detail when you take order in our website, it is very important to ship your order. (Customers from Brazil PLZ leave your Cutsom ID also, thanks!)